NHL All Star Game 2011: Our Picks For The League's First All-Star Draft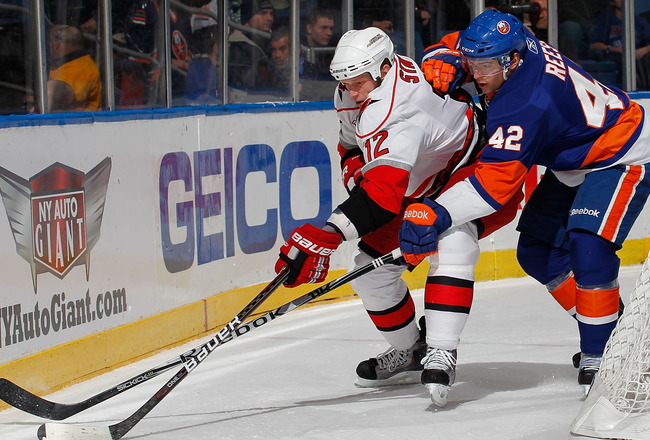 Paul Bereswill/Getty Images
So we've finally arrived at the NHL All-Star Weekend, and perhaps the most important part of the weekend, the All-Star Fantasy Draft.
To be honest, I think the Draft will probably attract more people than the actual game itself, although the NHL All-Star Game is what it is: an exhibition. While I'm not a huge fan of All-Star Games, at least the NHL should get credit for thinking outside the box and taking a shot with this fantasy draft idea. It can't make the All-Star Game much worse than the North America vs. The World format, and even that was more watchable than the Pro Bowl.
We've heard a lot about this format and what could happen with this fantasy draft tonight. Heck, how many stories have we seen about who could be picked last? I still think they should really go grassroots and use street hockey rules to pick the teams - put everyone's stick in a pile, divide the pile into two and those are the two teams - but that's just me. This will have to do for now.
So with that in mind, here's the Mock Fantasy Draft heading into tonight.
(A quick note to keep in mind: All goalies must be selected by the tenth round and all defensemen must be selected by the 15th round. Also the 12 rookies will be divided up and put onto teams).
Team Captains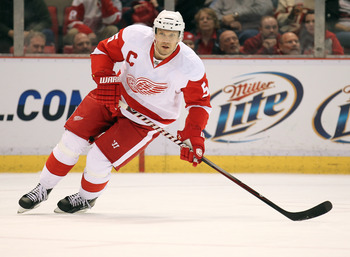 Claus Andersen/Getty Images
Team Staal: Eric Staal, C, Carolina
Most people probably would've figured Sidney Crosby would be one of the captains, but from a PR perspective it made sense to make it Staal. He's the most identifiable player from the host team and the crowd will definitely go nuts when he's announced Sunday. Plus he's a pretty good player to boot
Team Lidstrom: Nicklas Lidstrom, D, Detroit
One of the greatest defensemen of our era, Norris Trophies galore, four Stanley Cup rings, the first European-born captain to win the Stanley Cup, a great ambassador for the game. Is there anything Lidstrom hasn't accomplished? He even had a hat trick.
Assistant Captains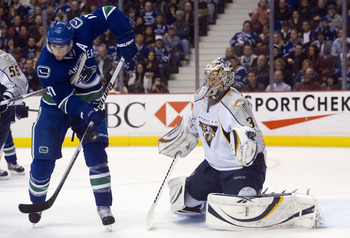 Rich Lam/Getty Images
Team Staal: Ryan Kesler, C, Vancouver
Kesler is one of the better two-way forwards in the game and had a very good chance of being named the Canucks' captain earlier in the year. He's also having a career year and is probably a lock for the Selke Trophy and possibly getting Hart Trophy love as well.
Team Lidstrom: Martin St. Louis, RW, Tampa Bay
How many years have we heard this will be the year St. Louis slows down? Yet it's never happened yet. He's not scoring goals like he used to, but he's still one of the better offensive talents in the game and a great right-hand man for Steve Stamkos.
Assistant Captains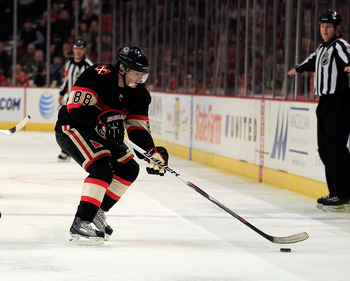 Jonathan Daniel/Getty Images
Team Staal: Mike Green, D, Washington
Green is not having a Mike Green-type season, which led some to believe that this was possibly a publicity pick. But Green still has the ability to be one of the elite offensive players in the game from the blueline.
Team Lidstrom: Patrick Kane, RW, Chicago
With Crosby out, Kane might be one of the remaining players in the game that has non-hockey appeal and a name the casual fan might recognize. He's not having a Kane-like season either, but he still has the ability to burst out at any time.
First Round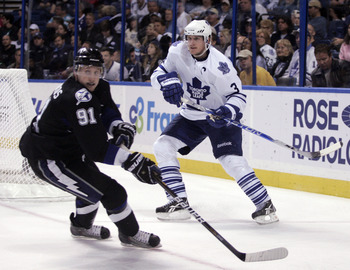 Justin K. Aller/Getty Images
Who selects first will actually be decided by a coin toss, but for the purpose of the Mock Draft, we'll have Team Staal select first
Team Staal: Steven Stamkos, C, Tampa Bay
With no Sidney Crosby available, Stamkos is the best player available, not to mention the scoring leader entering the All-Star Break. Regardless of the team, he'll be the No. 1 pick, especially with teammate Marty St. Louis an assistant captain for team Lidstrom.
Team Lidstrom: Henrik Sedin, C, Vancouver
It could very well be Alex Ovechkin here, but if you're going by statistics, Henrik is having the far superior year. He's fallen back into his pattern of being more of an assist man than a goal-scorer like he was last season, but he's a proven No. 1 center and a dominant force.
Second Round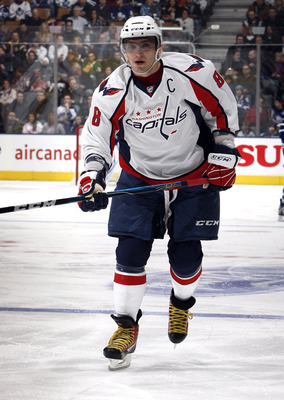 Abelimages/Getty Images
Team Staal: Daniel Sedin, LW, Vancouver
With Henrik off the board, Ryan Kesler will have Staal's ear hard for brother Daniel, who's near the top of the league in goals. Mike Green will be pushing hard for Alex Ovechkin as well, but the other Sedin is the pick here as a left wing to go with Stamkos. Plus, part of me really wants to see the Twins on separate teams.
Team Lidstrom: Alex Ovechkin, LW, Washington
Ovechkin won't last past the second round and Lidstrom knows the type of talent Ovechkin is. Plus, a center like Sedin who's more of a passer than a shooter is a perfect fit for Ovechkin, who loves to shoot and loves the spotlight.
Third Round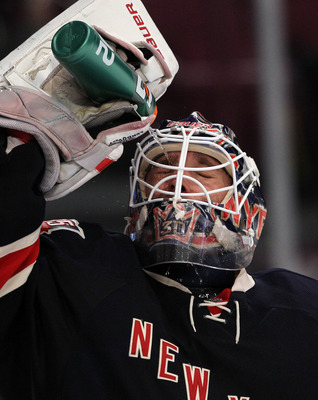 Bruce Bennett/Getty Images
Team Staal: Henrik Lundqvist, G, New York Rangers
Expect goalies to start getting looks in Round 3, and while Staal might have his eye on teammate Cam Ward, Lundqvist is the best choice here. After a tough start, he's been outstanding considering the amount of injuries in front of him and perhaps the best goalie in the All-Star Game.
Team Lidstrom: Shea Weber, D, Nashville
Perhaps the most underrated young defenseman in the Game today and an absolute force. Plus, just think of that power play unit. Henrik Sedin with his passing, Lidstrom with his just overall skill and Weber Fulton Reed-ing shots from the point. And oh yeah, those Ovechkin and Kane guys.
Fourth Round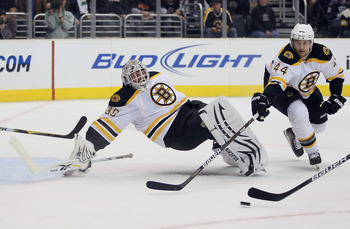 Jeff Gross/Getty Images
Team Staal: Dustin Byfuglien, D, Atlanta
Staal goes with a defenseman here with Weber off the board, and while they could have Duncan Keith, Byfuglien is extremely versatile as both a forward and a defenseman and can be moved around in certain situations, especially on the power play.
Team Lidstrom: Tim Thomas, G, Boston
With Lundqvist off the board, Lidstrom goes for possibly the second best goaltender available in Thomas. He may be getting older and his style is unconventional, to say the least. But the man still gets it done and he still wins, finding any way he can to keep pucks out of the net.
Fifth Round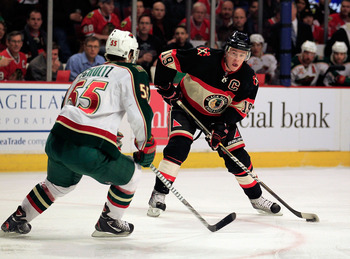 Jonathan Daniel/Getty Images
Team Staal: Duncan Keith, D, Chicago
This is where you'll start to see defensemen and goalies get real long looks because of the rules and there are plenty of good forwards to be had later on. Keith brings offensive upside, but more importantly, can be a defensive stopper, which Staal doesn't have yet.
Team Lidstrom: Jonathan Toews, C, Chicago
Kane will be pushing for Toews, and even though his numbers aren't superb, he's just a winner who does everything well who you'd love to have on your team. Kane and Toews together on the same line, that equates to magic and driving Team Staal crazy.
Sixth Round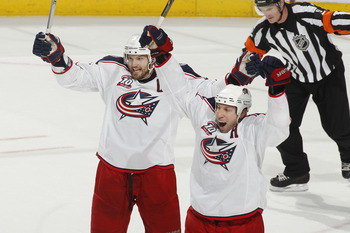 Joel Auerbach/Getty Images
Team Staal: Rick Nash, LW, Columbus
Staal knows Nash from his days last winter in Vancouver, and Nash is just one of those guys you'd love to have on your team. He's a leader, he's gritty and he just a guy who no one has a bad word about. He's also pretty darn good, too.
Team Lidstrom: Jonas Hiller, G, Anaheim
From being in the West, Lidstrom knows more than most how good Hiller can be when he's on. He's the reason why Anaheim is battling for a playoff spot and he's proven he can carry them in the postseason before. Lidstrom gets a steal here.
Seventh Round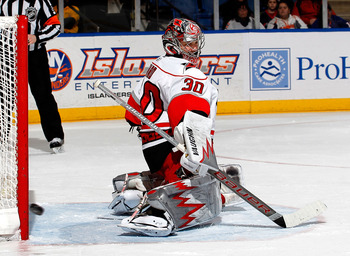 Paul Bereswill/Getty Images
Team Staal: Cam Ward, G, Carolina
Staal waits long enough and takes his teammate Ward as his second goalie. Ward might not be as highly publicized as some of the other choices, but he's just as consistent and when he's on, just as good. He's been healthy this season too, which is a big plus for Staal and the Hurricanes.
Team Lidstrom: Kris Letang, D, Pittsburgh
Lidstrom should be familiar with Letang, considering they faced each other in the Final two consecutive years not that long ago. Letang's finally blossomed into an all-around defensemen who's solid defensively and also stepping into the role of power play quarterback offensively. Easily his best season as a pro so far.
Eighth Round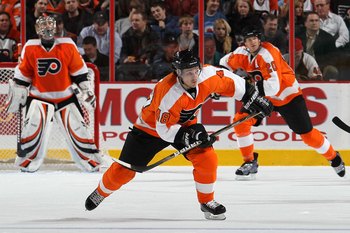 Jim McIsaac/Getty Images
Team Staal: Daniel Briere, C, Philadelphia
It wasn't too long ago there was talk about Briere not living up to his contract and being possible trade bait. Now entering the All-Star Game, he's among the league leaders in goals, playing on the team with the most points in the league and playing well enough that there was outrage he wasn't originally selected to the team.
Team Lidstrom: Patrick Sharp, LW, Chicago
A former Flyer who's turned into a star in Chicago. He can play either center or wing, is having a career year and is very comfortable contributing in a secondary scoring role. Plus, Kane'll want him too to fill out a line with him and Toews.
Ninth Round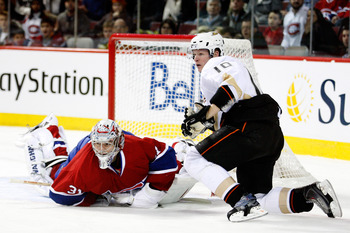 Richard Wolowicz/Getty Images
Team Staal: Corey Perry, RW, Anaheim
A physical power forward with pest-like qualities, a mean streak and one of the better offensive players in the game to boot. You think Brian Burke doesn't wish he could've taken Perry with him to Toronto?
Team Lidstrom: Marc-Andre Fleury, G, Pittsburgh
When Fleury's off, it can get pretty ugly with some of the goals he lets in. But boy when he's on...
10th Round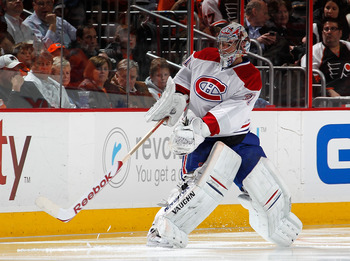 Paul Bereswill/Getty Images
Team Staal: Carey Price, G, Montreal
Because of the rules, all six goalies have to be taken by Round 10 and with one goalie left, Staal has to take Price here. He's not getting a bad deal, however. Some nights Price is the only reason the Canadiens are in the hunt for a playoff berth, especially considering the injuries.
Team Lidstrom: Zdeno Chara, D, Boston
Lidstrom takes another big defenseman with two-way capabilities, although using the word big to describe the hulking Chara might be somewhat of an understatement. Quietly does his job and is still one of the best in the game.
11th Round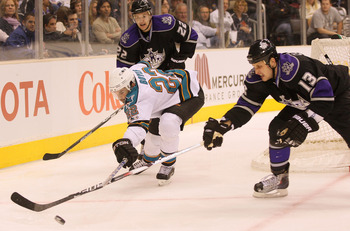 Victor Decolongon/Getty Images
Team Staal: Dan Boyle, D, San Jose
Staal could use a defenseman, and with Boyle still available in the 11th round, he'll steal him here. Boyle can quarterback a power play, be a puck-mover and can also push the play and make a very good outlet pass out of the zone to the forwards. In other words, he's Mike Green, but he can also play defense.
Team Lidstrom: Claude Giroux, C, Philadelphia
Lidstrom can appreciate a strong two-way winger, and Giroux's one of the better ones. He kills penalties, plays the power play, is a top-six type of talent, and is dangerous any time he's on the ice. There are a bunch of teams who would love to have Giroux, and Lidstrom will sweep him up here.
12th Round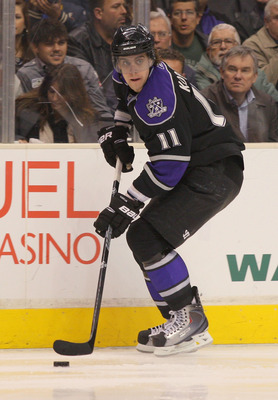 Victor Decolongon/Getty Images
Team Staal: Marc Staal, D, New York Rangers
Did we really think this wasn't going to happen, even when Marc joked his brother Eric was "too mouthy". Unless Lidstrom pulls him out earlier, Eric will take Marc. Because we all know never to go against the family. The Godfather and Marie Barone taught us that.
Team Lidstrom: Anze Kopitar, C, Los Angeles Kings
Lidstrom sees that move and counters by taking the very underrated (and very good) Kopitar from the Kings, who's turned into an offensive force as well as an adequate and responsible defensive player. Just the type of player Lidstrom loves to have on his team.
13th Round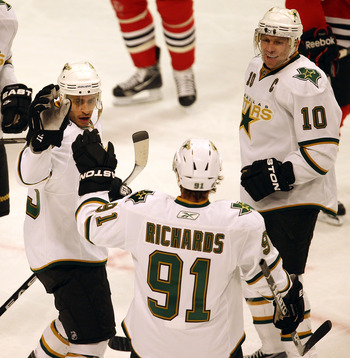 Jonathan Daniel/Getty Images
Team Staal: Brad Richards, C, Dallas
Staal takes Richards with Kopitar off the board, a play making center who can dazzle as well as play all three forward positions and the point on the power play. Sometimes a forgotten star, even though he's been rumored to be traded for months.
Team Lidstrom: Brent Burns, D, Minnesota
A solid two-way defenseman, but he's been very good offensively this season. He's second among defensemen in foals and quarterbacked the Wild power play. Best of all, he's been healthy this season, which is great news for Lidstrom and for Burns.
14th Round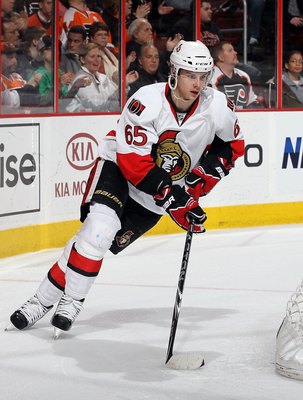 Jim McIsaac/Getty Images
Team Staal: Keith Yandle, D, Phoenix
The defensemen have to be gone by the next round, so Staal takes his last defenseman in Yandle, who leads the league in scoring by a defenseman. He's quietly put up another great season in the desert (is there any other way to have a good season for the Coyotes other than quietly) and also brings size as well.
Team Lidstrom: Erik Karlsson, D, Ottawa
The lone representative in what has been a trying season for the Senators, Karlsson struggled mightily early but has come on late. He's very young and has great offensive upside, so the future is looking up for him. Plus considering he's Swedish, odds are he probably watched Lidstrom growing up.
15th Round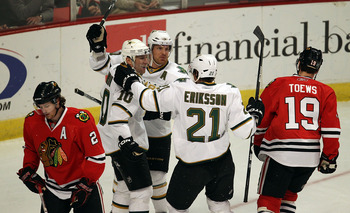 Jonathan Daniel/Getty Images
Team Staal: Loui Eriksson, RW, Dallas
Staal takes the initiative of pairing up Richards with his normal winger in Eriksson, who's starting to become one of the game's great young snipers.
Team Lidstrom: Matt Duchene, C, Colorado
One of the great young players in the game and having another strong season for the Avalanche, which is still battling for a playoff spot despite some growing pains in his sophomore season.
16th Round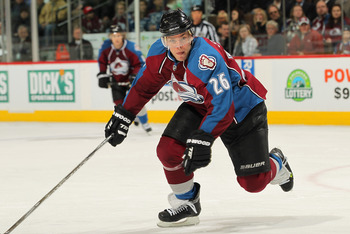 Doug Pensinger/Getty Images
Team Staal: Paul Stastny, C, Colorado
On a young Colorado team, Stastny is the elder statesman. He brings a play making style to his game and is very good in this type of environment. He was one of the better players for Team USA back in the Vancouver Olympics.
Team Lidstrom: David Backes, C, St. Louis
Backes is a grit guy who'd fit in perfectly centering the third or checking line and doesn't mind playing a more defensive type of game. He's a perfect fit for that team.
17th Round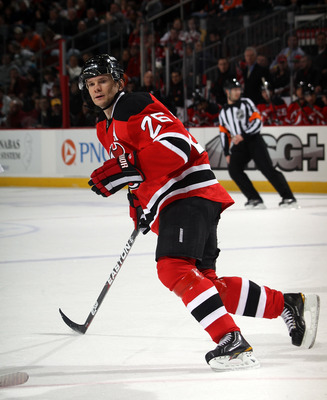 Bruce Bennett/Getty Images
Team Staal: Patrik Elias, LW, New Jersey
Why Elias is here, I don't know. To be honest no Devil should really be in the All-Star Game this year. Yet here we are and Elias will have to be picked by someone, so why not just put a veteran presence on a pretty young team.
Team Lidstrom: Martin Havlat, LW, Minnesota
Havlat has had a bounce-back season after a very poor campaign last year. It won't make him the No. 1 overall pick, but it's good enough to keep him from the bottom of the All-Star Barrel.
18th Round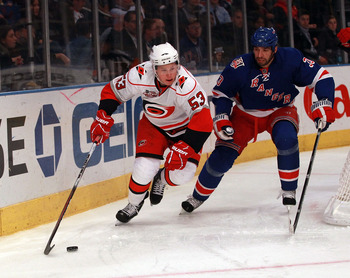 Bruce Bennett/Getty Images
The last round. I have an image of two guys sitting in an empty conference room looking at each other while everyone else whispers in the captain's ear about who to take.
Team Staal: Jeff Skinner, F, Carolina
Staal has no choice here, he has to take the rookie Skinner, who could very well end up winning the Calder Trophy. Plus, it'd just work out to have all three Hurricanes on the same team representing the host club. Do we smell conspiracy?
Team Lidstrom: Phil Kessel, RW, Toronto
The NHL's Mr. Irrelevant. It makes sense he's a Maple Leaf. Although if there was any Leaf worthy of an All-Star nod, it's Kessel. I'd think he'd have to be for what they gave up for him.
So Who Wins?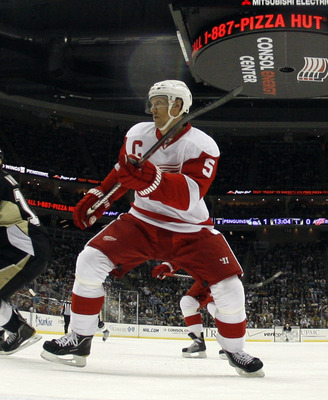 Justin K. Aller/Getty Images
Both teams are loaded with talent and game breakers who can take over a game. Stamkos is one of the best young scorers around and Ovechkin can break through at any time. Defense is not going to be a point of emphasis by any stretch of the imagination, and both of these teams can put up goals.
So it will come down to who has the better goaltenders and which group plays better. All six of these goalies have that game-stealing potential, but I think I like the trio of Thomas, Hiller and Fleury a little bit better than I do Lundqvist, Ward and Price.
With that in mind, I'm going with Team Lidstrom (I could've very easily made a bunch of Twilight jokes in this slide show but I didn't) to get the win and take home the All-Star title.
Keep Reading