Senior Bowl 2011: 10 Bold Predictions for Saturday's NFL Draft Spotlight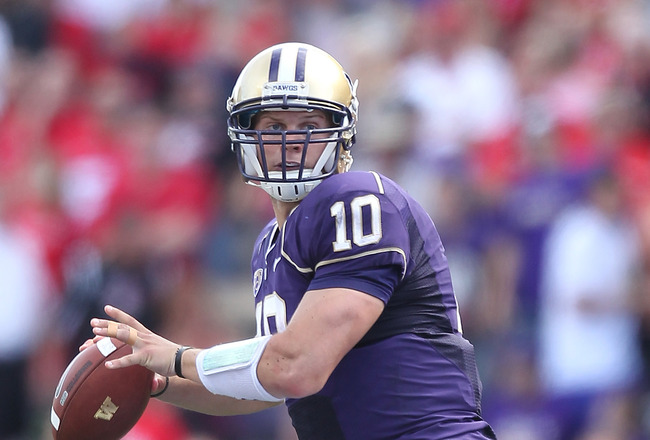 Otto Greule Jr/Getty Images
Senior Bowl 2011 is almost upon is.
The game will take place tomorrow at 4 p.m. EST from Ladd-Peebles in Mobile Alabama, and is the last chance for many college football players to prove themselves before their Pro Days or the NFL combine.
Both the North team and the South squad have stacked rosters, ones that are filled with guys who will be impact players at the NFL level.
And given the importance of this game for the graduating seniors, we should expect to see these players laying everything on the line.
But we also don't know how the game will shape up because "anything can happen."
Still, that won't stop me from offering 10 bold predictions for Saturday's oh-so-important Senior Bowl game.
10. The Most Impressive Defensive Player Will Be Purdue's Ryan Kerrigan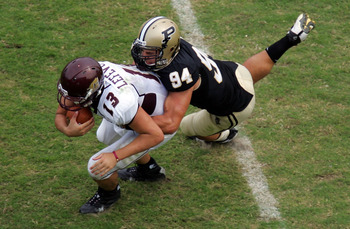 Ronald Martinez/Getty Images
At 6'4", 255 pounds, Ryan Kerrigan is a bit of tweener, who played defensive end at Purdue but could make the switch to 3-4 outside linebacker at the NFL level.
Either way, he's sure to be a forceful presence.
As a Boilermaker, Kerrigan tied the all-time FBS record for forced fumbles (14), led the nation for tackles for loss this season (26), and racked up 70 tackles and a whopping 13 sacks in 2010.
He's been flying up draft boards ever since. I expect him to continue that ascension during the Senior Bowl.
Though it's hard to predict stats because playing time is a bit unknown, Kerrigan should be the most impressive defensive player in this game.
He's like the Energizer bunny after drinking two Red Bulls and a shot of espresso--he just doesn't stop.
9. He Won't Win The MVP, But a Defensive Player Will
Jed Jacobsohn/Getty Images
Though I think Ryan Kerrigan will be the most impressive defensive player in the game, that doesn't necessarily translate to the game's MVP award.
In fact, the last defensive player to be named the Senior Bowl's MVP was Derrick Brooks all the way back in 1995.
That trend will end this year when a defensive player wins the MVP award and breaks the curse.
Take your pick. I'll go with Cameron Jordan as my early favorite because he has wowed scouts at the Senior Bowl practices.
8. The Game's MVP Will Be a First-Round Draft Pick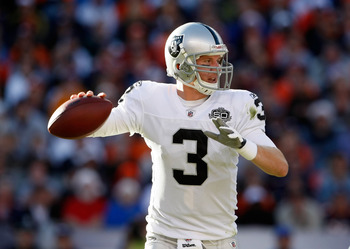 Jeff Gross/Getty Images
Since 2000, all but two players--Tony Hunt (2007) and Charlie Frye (2005)--who won the game's MVP award were drafted in the first two rounds of the NFL draft, while six of the 11 players were drafted in the first round.
Of course, you'll have to remember reading this article come draft time and say, "Hey, that Bleacher Report guy said the MVP of the Senior Bowl would be chosen in the first round of the draft."
Even if I misfire on the Cameron Jordan pick--and how dare you think I would be wrong!--I'm confident that the Senior Bowl MVP will be selected in the top 32 picks in April.
After all, six out of 11 (54.5 percent) is pretty decent odds.
So bookmark this article on Internet Explorer and hit me up if I'm wrong.
7. The Best Player You've Never Heard Of: Vincent Brown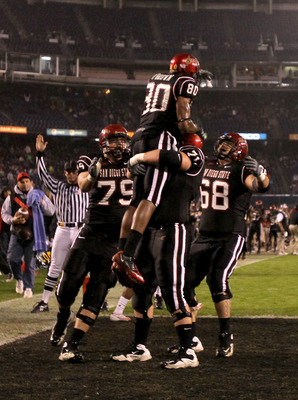 Stephen Dunn/Getty Images
Unless you are a San Diego State fan--or spend way too much time reading scouting reports--you probably have never heard of Vincent Brown.
But as has been reported by Yahoo! Sports, the former Aztecs wide receiver is getting some lofty praise: "Some analysts are calling him the best receiver here this week."
Well, pencil Brown in as the guy from the small school who scouts fall in love with.
That way, you can always erase it if I'm wrong.
6. Titus Young Will Outperform Austin Pettis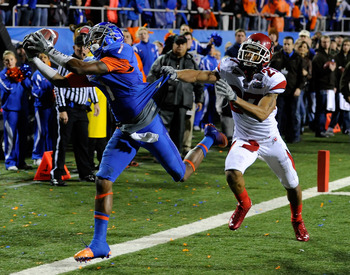 Ethan Miller/Getty Images
Austin Pettis and Titus Young were both star wide receivers at Boise State, but who will make the better pro?
Well, here's what ESPN college football guru Bruce Feldman tweeted about Young: "NFL Network guys speaking very highly of Boise State WR Titus Young, evoking the game-breaking talents of DeSean Jackson & Percy Harvin."
Jackson and Harvin? Um, let's not get ahead of ourselves.
But it's interesting to note that Young has been the better of the two former Broncos all week, surprising scouts and couches with his athleticism, quickness and agility.
As for Pettis? He's got some work to do, because he's been pretty inconsistent during practice.
5. The Most Disappointing Player Will Be Wisconsin's Gabe Carimi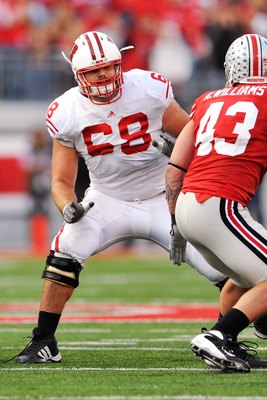 Jamie Sabau/Getty Images
Of the numerous players whose draft stock is taking a hit during Senior Bowl week, Wisconsin's Gabe Carimi is one of them.
Deemed early on as a poor man's Joe Thomas, Carimi has proved to be nothing more than a poor pass blocker.
Though solid against the run, the 2010 All-American has been surprisingly bad in pass protection because of a lack of good footwork.
Given that Carimi's looking to play tackle in the NFL, that's certainly not a good thing. He's even spent some time at guard because of said struggles in the passing game.
Be sure to pay special attention to Carimi because he's been abused at times in practice this week and could be manhandled in this game as well.
4. Leonard Hankerson Will Become a Top-Five Wide Receiver Prospect
Mike Ehrmann/Getty Images
According to the talking heads over at ESPN--that's Todd McShay and Mel "Hair Gel" Kiper--Miami's Leonard Hankerson is the No. 14 wide receiver prospect in the draft.
Well, they've appeared to be further from the truth than Bill Clinton at this point.
Hankerson has done just about everything he can to show the scouts that he's a complete receiver prospect, from his route running to his separation skills and amazing hands.
In fact, he's been so good in practice--and will be in the game--that he'll pass Titus Young and Gregory Salas (who are playing in the Senior Bowl) as well as a slew of others to become a top five receiver prospect and a potential second-round pick.
3. Jake Locker Will Cement His Status As a Top-10 Pick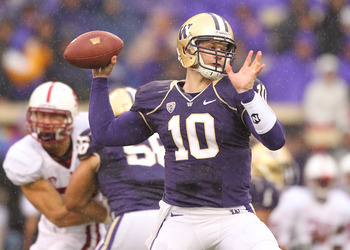 Otto Greule Jr/Getty Images
Of all the players in this game, Jake Locker might have the most to lose...or win.
He's gone from potential No. 1 overall pick to potential early-second round pick and everywhere in-between so far, but he's really impressed the coaches this week.
From athleticism to arm strength and most importantly, leadership ability, Locker has shown it all at Senior Bowl practice.
He seems to be steadily moving up draft boards. There are multiple teams in the top-10 of the NFL draft (Buffalo, Cincinnati, Arizona, San Francisco, Tennessee and Washington) who could all be looking to take a quarterback.
Though Locker likely won't overtake Blaine Gabbert as the No. 1 QB prospect, I fully expect Locker to continue his stellar showing at the Senior Bowl and make himself a prime target of the 49ers, Titans and Redskins.
2. The Offensive Star Of The Game Will Be DeMarco Murray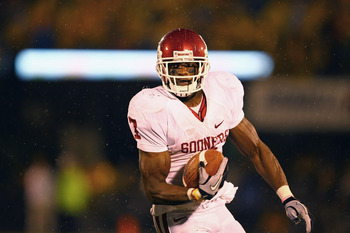 Dilip Vishwanat/Getty Images
If you take the word of the NFL Draft Bible--and who doesn't follow the Bible?--Oklahoma running back DeMarco Murray has been doing his best Adrian Peterson impression this week.
He has been an explosive runner and continued to do what earned him his helmet stickers as a Sooner: catch the football out of the backfield.
Murray entered the week as a second-round prospect, who would be used more as a third-down or change-of-pace back.
But his spectacular week of practice has scouts and coaching thinking otherwise. I'm jumping on the Murray bandwagon as well.
I will buy you all a steak dinner if he isn't the offensive star for the North and the entire game.
1. The South Will Beat The North By at Least 17 Points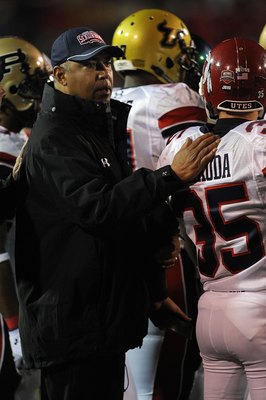 Ronald Martinez/Getty Images
In the nearly 60-year run of the Senior Bowl, it's been a pretty even split between the two teams.
The South has won 29 games, the North has won 26 and there have been three ties.
And over the last 10 years, each team has won five games.
But the coach of North in this year's game is Marvin Lewis of the Cincinnati Bengals. Lewis lost both games he previously coached by 18 points in 2004 and by 17 in 2009.
So in 2011, it will be the exact opposite result of the Civil War.
The South will win in a blowout.
Keep Reading

Washington Huskies Football: Like this team?