Kevin Garnett: Do Garnett's New Shoes Know Something That We Don't?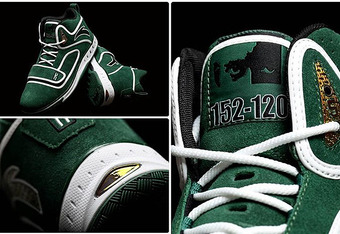 Kevin Garnett: Do Garnett's New Shoes Know Something That We Don't?
The Boston Celtics have had a fantastic year up to this point. They are 35-10, leading the eastern conference by four games over Chicago and Miami. They look like they are the team to beat in the east this year.
Earlier this week, Celtics PF Kevin Garnett unveiled his latest shoes and they are called "Beat L.A." There's no explanation necessary since the title really speaks for itself. But it got us thinking, do the Celtics have what it takes to "Beat L.A." if the two meet in the NBA Finals once again?
The Celtics are going to cruise into the eastern conference playoffs. As much as people want to give Miami credit because they have their "big three," Boston's big three, really their big four now, is much better than Miami's. Chicago and Orlando are the only other potential threats to Boston and they both have serious issues that wouldn't bode well for them in a seven game series with the Celtics.
If the Lakers were to advance to the NBA Finals, which is in serious jeopardy because right now they wouldn't beat San Antonio and would probably struggle with Dallas and Oklahoma City, they would not be able to compete with the Celtics.
Boston has a great mix of youth and experience on their roster. Rajon Rondo is probably the best player on the team and the Lakers don't have an answer for him. They have never really had any significant struggles this year, unlike the Lakers.
As much as people would like to poke fun at Garnett for coming out with such a brash title for his new shoes, there is something to it. If the Celtics and Lakers meet in the NBA Finals, and both teams are at full strength, the Celtics would dominate the series and win in five games.
Related Story: Why The Next Eight Games Will Tell Us Everything We Need To Know About The Celtics
Most recent updates:
This article is
What is the duplicate article?
Why is this article offensive?
Where is this article plagiarized from?
Why is this article poorly edited?