Erin Andrews: 50 Hottest Pics of the Sports Reporter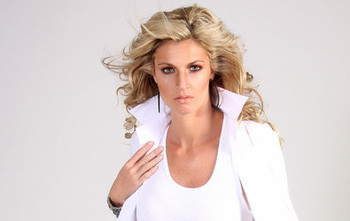 Erin Andrews has long since established herself as America's Sexiest Sportscaster.
In fact, Playboy magazine went ahead and made it official, as they gave her that very same designation in 2007 and 2008.
Thus, you really don't need me to give you some kind of lengthy treatise on why Erin Andrews is one of the most valuable hotties in the sports world. She argues the point all on her own every time she steps in front of the camera.
Nevertheless, it has dawned on me that a truly proper tribute to Andrews has never been done, and that's a damn shame.
So for your viewing pleasure, I have constructed said tribute in the form of the 50 hottest pictures of Erin Andrews that I could find, which I have arranged for you in the following slideshow.
Enjoy.
50. Erin Gets Dirty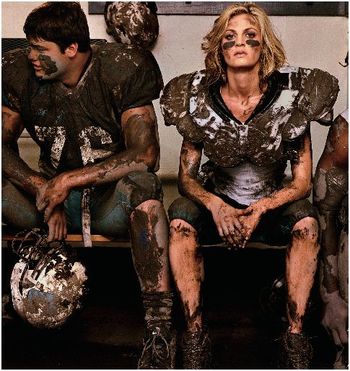 I decided to start this list off in style by bringing you the dirtiest picture of Erin Andrews you're going to find on the web.
Meanwhile, I just can't help but wonder if Erin has ever covered mud wrestling. If not, ESPN needs to make it happen.
49. Erin Gets Not So Dirty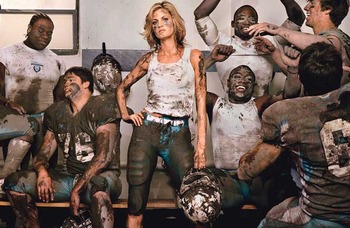 Shoulder pads gone, still dirty, and she clearly means business.
48. There's the Erin We Know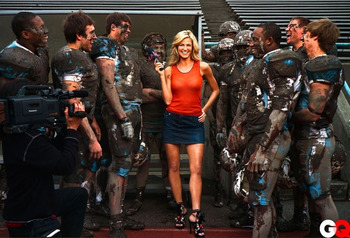 Suddenly, like water into wine, Erin has magically transmogrified into a sexy sports reporter!
And there was much rejoicing.
47. Looking Good on the Red Carpet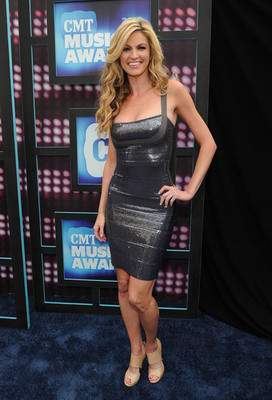 With your permission, I would like to transition this slideshow out of some smelly locker room and onto the red carpet. After all, that's where Erin is at her very best.
Now, this shot is very good. Erin is wearing a very sexy dress, and there's really nothing to get upset about.
46. Looking Good Here Too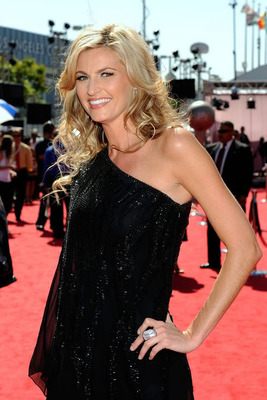 That last dress didn't do it for you, you say?
How about this one?
45. Never Mind the Dresses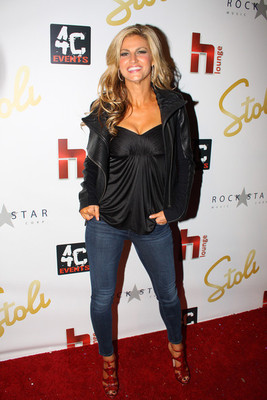 I don't usually care too much to comment on such things, but I really dig the outfit Erin is rockin' here. It's just so damn punk, which works well in front of a sign that advertises Rock Star and Stoli.
44. DWTS No. 1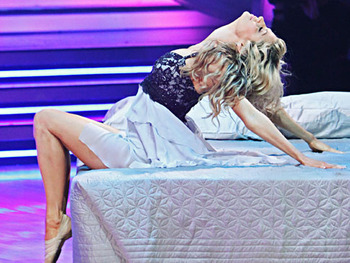 I would like to interrupt my ESPN duties to bring you some sexy shots from Erin's work on Dancing With The Stars.
If you come home to find Erin doing something like this on your bed, that's how you know you've done something right.
43. DWTS No. 2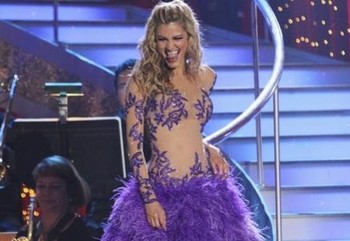 Moving on, if you do something that gets Erin to make that face, you've done something right.
If she happens to make said face while wearing that dress for you, then whatever you're doing simply is not fair, sir.
42. DWTS No. 3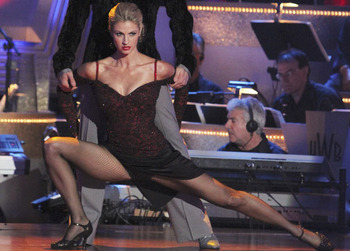 Just in case you had doubts about Erin's flexibility, I would like you to observe this picture.
Okay, this is the last Dancing With The Stars picture.
This is because I'm collecting royalties from ABC too, and they told me I had to have at least three pictures.
They also told me they would let my dog go. Yup, TV networks are pretty evil. If you can avoid it, don't deal with them.
41. Why You Should Watch the ESPYs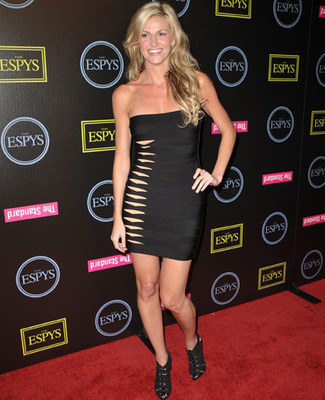 Honestly, how many of you can actually claim to have sat down and watched the entirety of the ESPYs before?
I'm not seeing many hands here...
Can't say I'm surprised. This is because ESPN markets the darn thing all wrong. All they need to do is show pictures of Erin whenever ESPY season rolls around.
40. More ESPY Goodness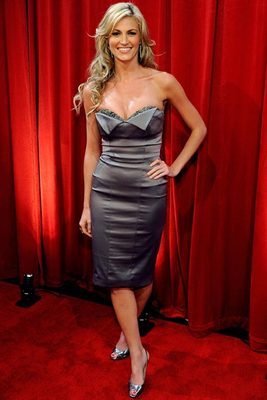 See what I mean? Don't you feel like watching the ESPYs?
39. You're Welcome, ESPN
How about now? Don't the ESPYs sound like fun now?
For those of you who are wondering, ESPN told me they would give me $1,000 if I peddled the ESPYs for them.
They also told me they would let my family go, and that they would consider letting me live, too.
38. Reebok Shoot No. 1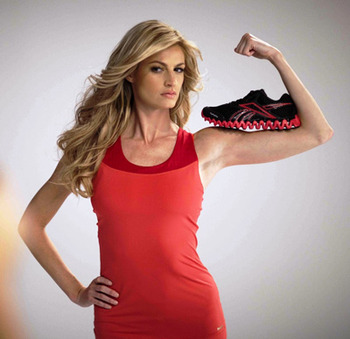 ABC has assured me that my check and my dog are in the mail, so it's time to move on to Reebok.
Indeed, given all the red carpet pictures and Dancing With The Stars goodness, you may have forgotten why we're celebrating Erin in the first place. It's because of her sporting appeal, of course.
37. Reebok Shoot No. 2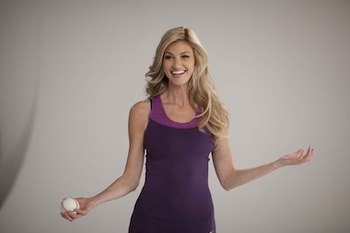 This is part of Erin's pitch to remake Clueless as a baseball movie.
And no, you will never find a better pun than that in all the universe.
Don't thank me, though. Thank Erin.
36. Stretching for Reebok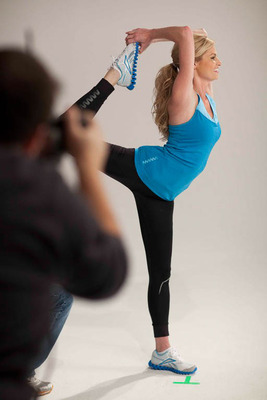 This is just. This is just amazing.
That being said, I sure wish there was a way to get that jerk photographer out of the way.
35. Stretching Closeup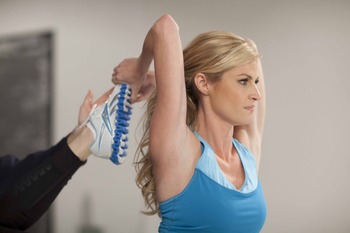 That's better.
Now, the reason I love this picture is because it reminds me of Natalie Gulbis stretching.
If you take the time to click on that link, you will see why this is a good thing.
34. Back to the Carpet!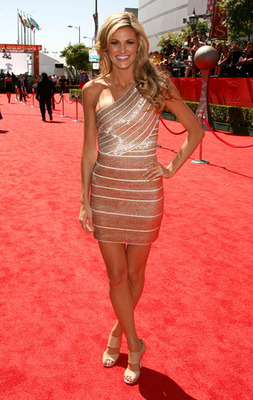 Okay, that last slide might have had a little bit too much awesome in it, so let's go back to the red carpet.
Yes, I know that this slide is pretty good, too, but just try and catch your breath anyway.
33. Oh... Hullo...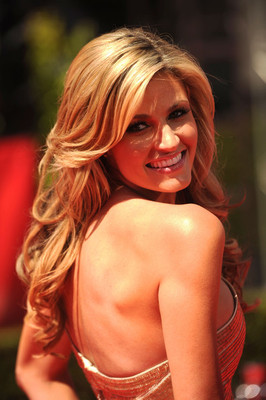 Still feeling excited?
I'm really not helping, am I?
32. Black and White Beauty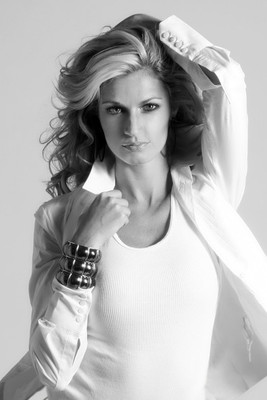 I promised something truly awesome, and this would be me delivering.
Once again, you can thank Erin.
31. Black and White Beauty, Part II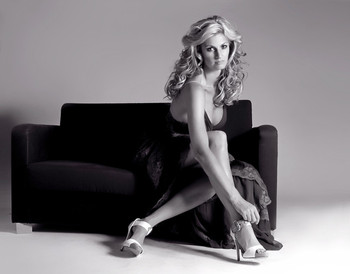 After all the zooming in our friend the disembodied photographer has done for us thus far in this slideshow, it's nice to see that he (or she) can still work wonders when zooming out as well.
That look is so alluring.
30. In Living Color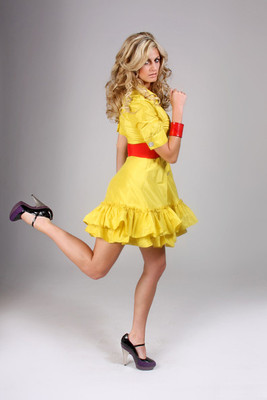 OMG she's back in color and she's in a sexy yellow dress!
Proof that Erin loves us and that she wants us to be happy.
29. One More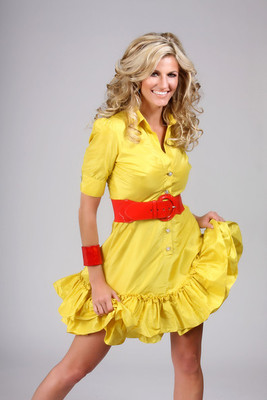 I like where this is going.
28. Never Mind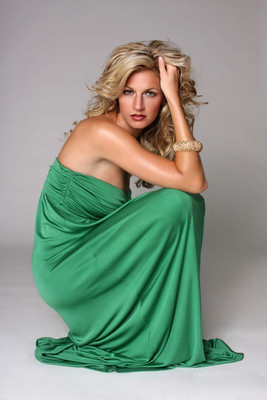 Oh, I guess I should have known it wasn't going to be that easy.
Nevertheless, thanks to this picture, I am still feeling quite happy.
27. Blue Looks Good Too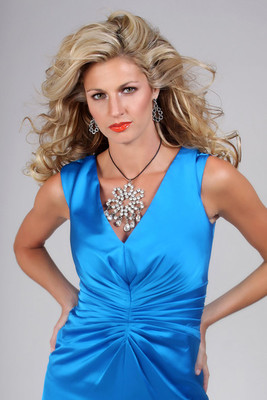 Erin looks decidedly high class in this picture.
This is not surprising, however. She is, after all, Erin Andrews.
26. Home Stretch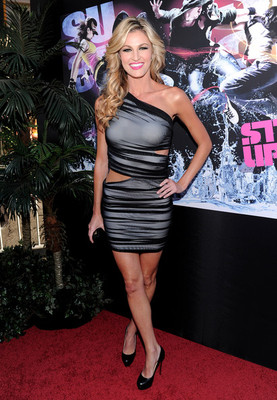 Speaking of Erin being dressed at the height of fashion, I have decided to head back to the red carpet so I can bring you this picture or her in a rather awesome outfit.
25. Erin and Kendra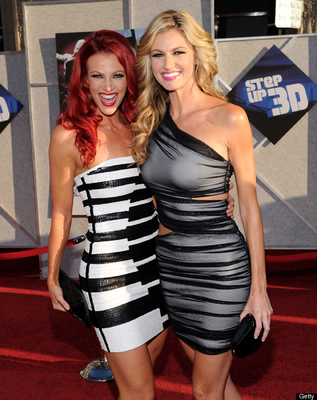 And here is a picture of Erin and her sister, Kendra.
Why?
Because two Andrewses are better than one. Duh.
24. Killer Looks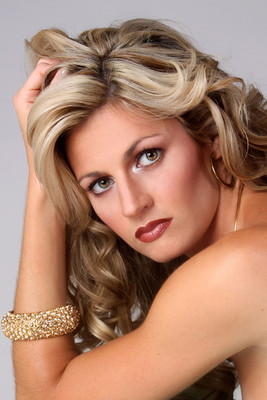 Okay, back to the good stuff.
Except maybe not so good. Because as you will find out, this look will kill you.
Yes, you are now dead, and this slideshow is being shown outside the Pearly Gates.
Further proof ahead.
23. Oh Wow...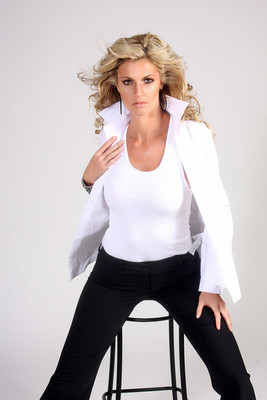 22. Back to Real Life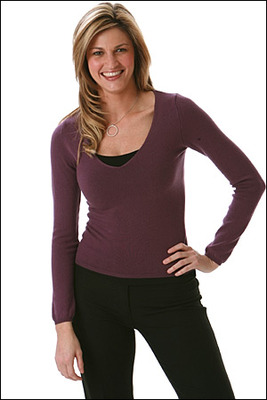 Okay, you have now been revived.
Welcome back to real life. And it just so happens that, at long last, it's time to check out pictures of Erin in her natural habitat.
All you have to do is turn the page.
21. Looking Good at Work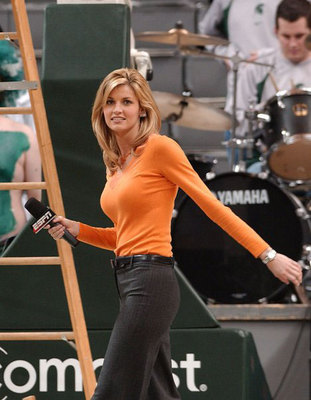 There are few people on earth who can show up to work looking this good. You and me are perfect examples of a truth like that.
And then there's Erin, who is not.
20. Low Angle Reveals...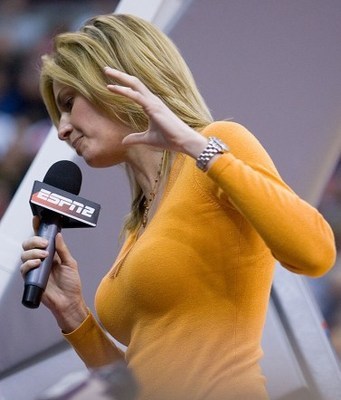 I want you to imagine, if you will, a giant albino rhinoceros with the head of a wildebeest and the tail of a dragon.
If you actually did, your attention is clearly in the wrong place, my friend.
19. Prison Stripes FTW!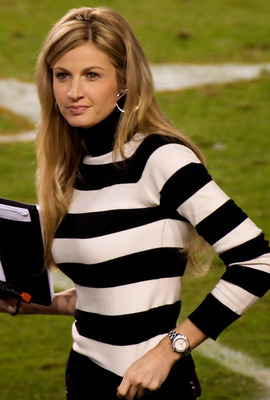 Did you know that the NFL has an "Erin rule"?
It's true. It's a little-known rule that requires Erin Andrew to stay out of sight of the players on the field whenever they're in the middle of the action.
So when you see somebody drop a pass or take a sack, it's because they were distracted by Erin Andrews. And that's because she's not going to let the NFL restrict her in any way.
18. The NCAA Should Feel Lucky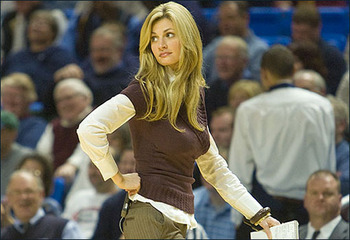 College basketball has a very similar rule.
Once again, Erin could give a [bleep].
17. Form Fitting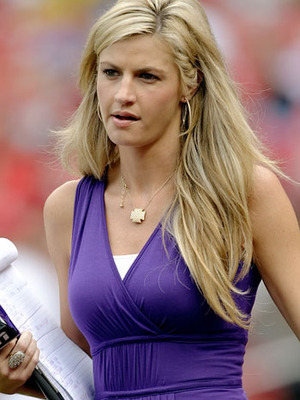 There's an awful lot of kidding going on in this slideshow, but I should point out that Erin is indeed a consummate professional.
That's what is going on in this picture.
Nevertheless, I would prefer a smile.
16. Win!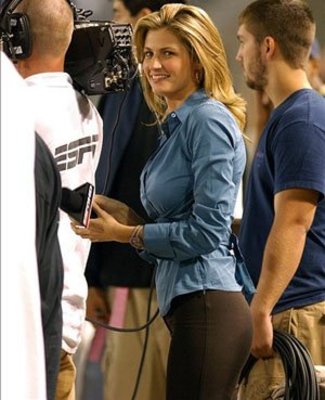 That's better.
There's other stuff going on in this picture, too.
15. Take a Look
What you will see here is simply how in awe people are around Erin Andrews.
You may also notice something else.
14. Out and About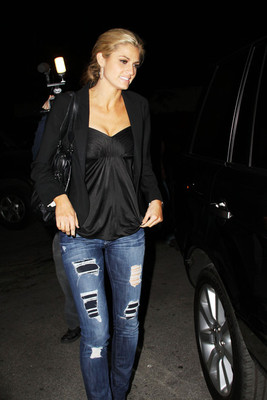 Yes, Erin does have a private life, too. But clearly, she's too hot to ever be ignored.
Typically when paparazzi take shots of celebrities just out and about doing stuff on their own time, it's pretty unusual that said celebrity actually looks good.
As you can see, this is not the case here.
13. Nothing Spec... WTF!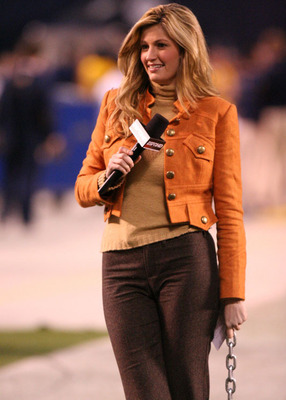 I didn't think there was anything special about this picture at first.
Then I noticed the chain, which Erin presumably uses to fend off creepers outside her hotel room. Also those who ogle her on the internet.
Consider that a warning.
12. Erin vs. Footballs
Just kidding. You're probably safe. For now anyway.
In any case, let's wrap this thing up in style, shall we?
To start the race to the finish, I present to you this picture of Erin crushing footballs. It's strangely hot.
11. Erin Wins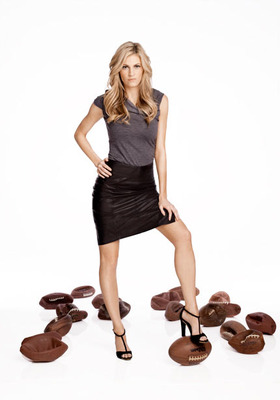 As you can see, those footballs were no match for Erin.
Flawless victory!
10. Statue of Liberty?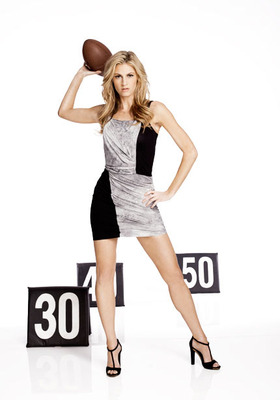 Erin looks like she's about to run the old Statue of Liberty play right here.
If so, I imagine Oklahoma fans across the country just went running for the liquor cabinet.
9. What Baseball Is Missing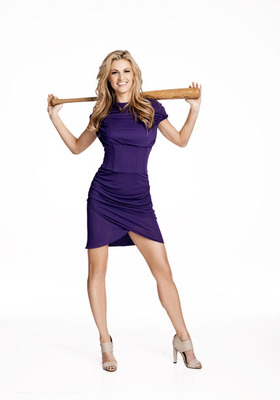 Do you think baseball would get better ratings if they found a way to incorporate hot chicks into the action?
Clearly, that's the dumbest question ever asked by a human being. Of course it would.
Shoot, all Bud Selig needs to do is check out the ratings for the games Erin Andrews was at.
8. Batter Up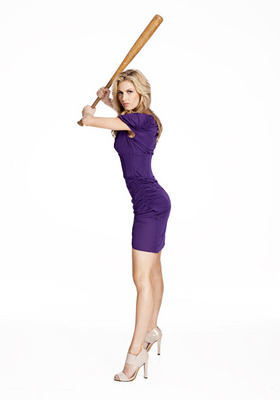 This is her "I dare you to throw it high and tight" look.
7. Batter Out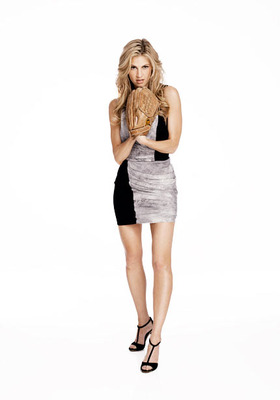 Just when you thought you were safe, it turns out that Erin can take to the mound as well.
I mean, this is just not fair. How am I supposed to concentrate on hitting the ball when Erin Andrews is just 60 feet and six inches away?
6. To the Finish Line!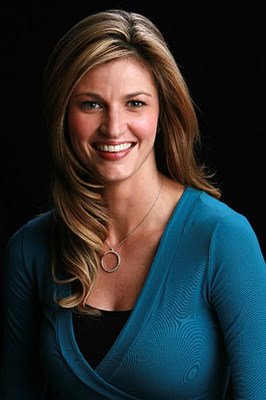 Now that you're probably somewhat scared, what we need to truly go out with a bang are some pictures that once again re-establish Erin's unshakable hotness.
So far so good.
5. Nearly There...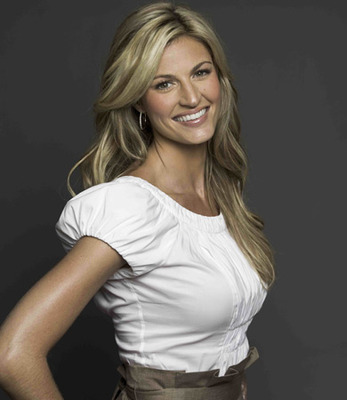 I have never felt so welcome in my entire life.
4. Unfair Hotness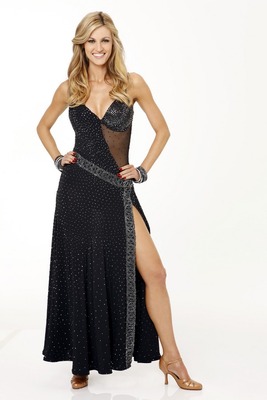 Honestly, this kind of hotness just isn't fair.
I mean, I can't be the only one who thinks so, right?
3. Another Killer Look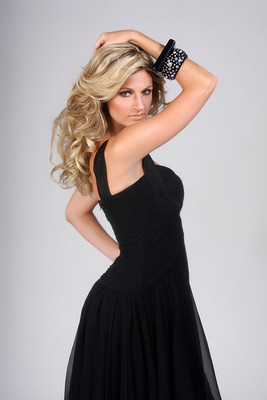 Uh oh, the killer look is back.
Yup, you're dead again.
Sorry.
2. Heaven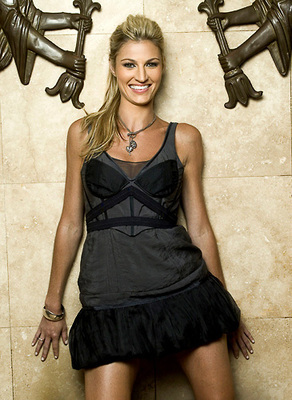 But this time, Erin herself has appeared at the Pearly Gates, and she's happy to see you.
The good news is that, after a brief interview, you will soon be back in your own home.
The bad news is that Erin won't be there.
1. Surprise!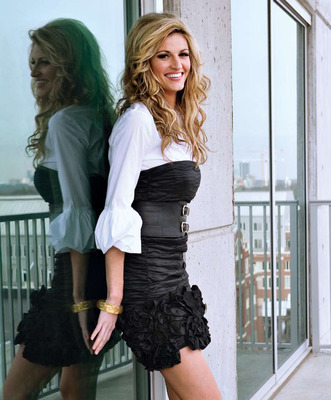 Just kidding. She is at your home, and she's looking good.
And you lived happily ever after, to the end of your days.
Hope you enjoyed the show, folks. I know I did.
Keep Reading