2011 Senior Bowl: 10 Defensive Players Washington Redskins Fans Should Watch
Jed Jacobsohn/Getty Images
Since 1950, the Senior Bowl has invited a special group of college football seniors every year to participate in one of the most respected contests in the game. Since its inception, the Senior Bowl has hosted 30 future NFL Hall of Famers including names like Walter Payton, Dan Marino, and Joe Greene.
Although hosting a select bunch of seniors, the Senior Bowl is usually an honest and telling event of a legitimate NFL prospect's weaknesses and strengths.
For the Washington Redskins, the 2011 Senior Bowl will play a vital role in the team's draft this April. Realistically speaking, the Redskins could have a close eye on at least 20 participants. Here's my prediction of the top 10 defensive players on their radar. You can read my list of top-10 offensive players here.
1.) Allen Bailey (DT / 6'4 / 288)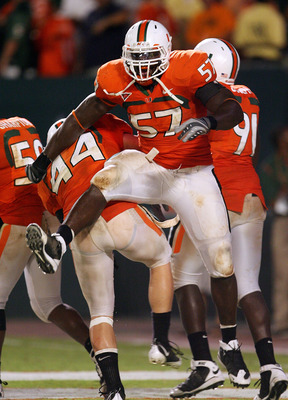 Doug Benc/Getty Images
After negative reports from Tuesday's practice at the Senior Bowl, it's not yet safe to say that the verdict is out on Allen Bailey.
Blessed with an incredible physique and the sure-fire ability to play at the next level, Bailey is being compared to some pretty tough competition this week (specifically, a guy who is part of this list). Once thought of as a late first-round selection, Bailey will need to show improvement this week and blow people away at the Combine.
As far as the Redskins are concerned, Bailey could likely play the defensive end position in a 3-4 attack but, again, he needs to step his game up. With a pick like No. 10 and even in the case of a possible trade back for Washington, Bailey may not be the best selection for Shanahan.
2.) Greg Jones (ILB / 5'11 / 222)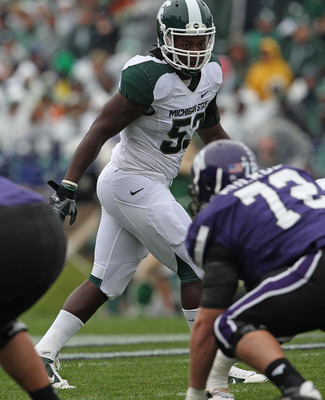 Jonathan Daniel/Getty Images
A very decorated football player while playing for Michigan State, Greg Jones is an elite talent and he has a very sharp nose for the football. He understands the game, he's knowledgeable, and he is very versatile. The only knack on Jones is his size. However, Redskins fans are familiar with a so-called undersized linebacker that has been more than impressive for over a decade.
That being said, Jones is an interesting prospect for Shanahan and the Redskins, and hopefully the team's radar is locked-on. Jones' vision is some of the best in this draft class and he is very serviceable in the sense that he can blitz the quarterback or effectively drop back into coverage.
Really liking this guy for the Redskins...
3.) Jeremy Beal (DE / 6'2 / 268)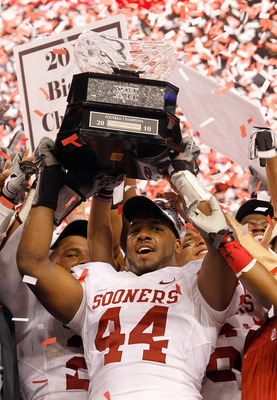 Tom Pennington/Getty Images
Coming into Senior Bowl week with impressive size, Jeremy Beal is an experienced defensive end in Oklahoma's 4-3 defense. Because of his athletic ability and strong pass-rushing skills, NFL scouts have noted that Beal is a legitimate prospect for a 3-4 outside linebacker position.
Unsure of where Beal's draft stock is at this point, you can bet that he's looking to have a standout week of practice. The Redskins would like to have someone on the opposite side of Brian Orakpo and Beal would be a good fit if he's selected with the pick's value in mind.
4.) Rashad Carmichael (CB / 5'9 / 185)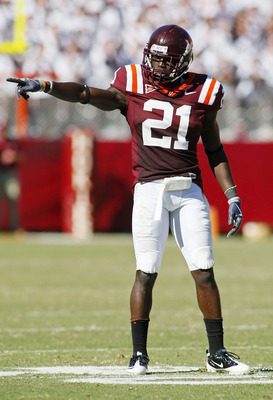 Geoff Burke/Getty Images
Not to bash the young man at all, but Virginia Tech's Orange Bowl stomping did nothing to help Rashad Carmichael's draft stock. With that in mind, Carmichael will have to show up very big this week and during the Senior Bowl game.
So far, so good for the experienced speed corner, who has three interceptions (two from Locker) through just two days of practice this week in Mobile, Alabama.
Shanahan will look to address the secondary in this draft and Carmichael is a prospect worth noting. He's a local talent that has received plenty of scouting attention (I'd guess) and his speed is very impressive. Although not as great of size as the other corners in this draft, Carmichael has good hands and seems to move his hips with ease.
5.) Cameron Jordan (DE / 6'4 / 287)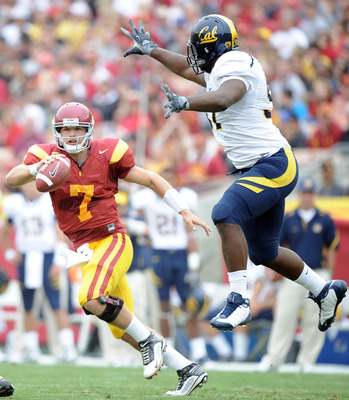 Harry How/Getty Images
According to reports, there's no one more impressive so far at Senior Bowl practice than California defensive end Cameron Jordan.
Jordan weighed in with great size and had already earned the reputation of being a very coachable player with experience in the 3-4 defensive scheme.
Through two days of practice, Jordan has apparently made great use of his hands and tore through any potential blocker in his way. However, Colorado tackle Nate Solder has held his own against Jordan.
Jordan is explosive off the end and some reports commend his leadership ability on the field, and that's a positive for any team. The Redskins could certainly use it and Jordan seems like he'll be a very good player.
As predicted, this guy will rise a lot before April.
6.) Ryan Kerrigan (DE / 6'3 / 251)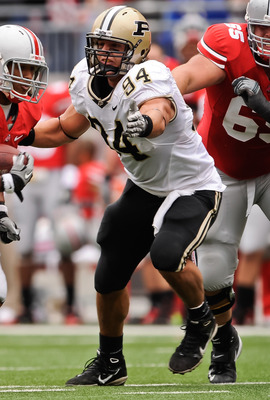 Jamie Sabau/Getty Images
Another defensive line prospect to arrive at the Senior Bowl with good size, Kerrigan has shown a great first step off the line so far in practice. He has showed a good combination of strength and leverage to get underneath blockers and he appears to be on pace for a good week.
Kerrigan seems like a Shanahan-type player with a great motor and all the upside in the world. Although Jordan may steal the spotlight this week in practice, Kerrigan shouldn't be far behind. Here's another one I think is a serious possibility for the Redskins at No. 10.
7.) Von Miller (OLB / 6'2 / 237)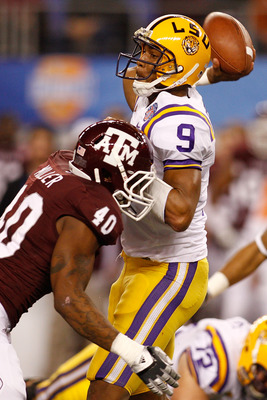 Chris Graythen/Getty Images
Update: ESPN's Adam Schefter and Rotoworld reported today that Von Miller is likely to be a top-five pick in the Draft. Scouts were very impressed with Miller after Wednesday's practice, as they praised his speed, lateral movement, and fluidity in coverage. At this point, Von Miller won't be available at No. 10.
Original: Von Miller, like Jordan from Cal, comes from a Texas A&M defense that ran the 3-4 scheme and his experience is very valuable heading up to the draft.
So far at the Senior Bowl practices, Miller has done everything well but nothing off the charts. This isn't necessarily a bad thing, but one would like to shine amongst their class of elite peers.
Miller is a possibility with the Redskins first pick but he'll have to improve, in my opinion, to get in the top-10. I assume his practices this week will get stronger, he'll be noticed in the Bowl game, and his Combine will be enough to lock him in the top-15.
8.) Stephen Paea (DT / 6'1 / 295)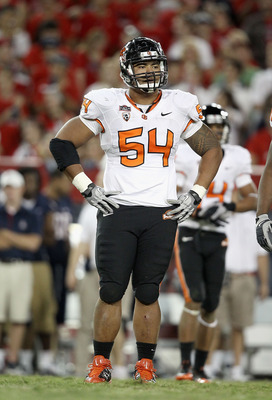 Christian Petersen/Getty Images
As I've mentioned before, I don't think Paea fits as a nose tackle in the NFL, but the kid is impressive. With such great size and mobility, Paea also shows off his athleticism with his ability to shift his body and change direction in order to better his angles.
The Redskins would love a shutdown nose tackle but Paea is really cut out for the 4-3. Depending on his workouts, including this week at the Senior Bowl, Shanahan may have the thought of making him a defensive end on the line.
9.) Curtis Brown (CB / 5'11 / 180)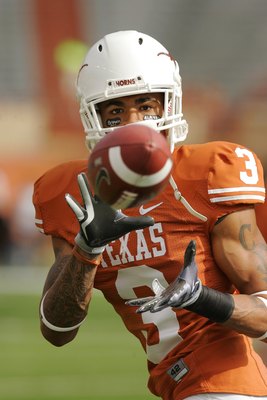 Brian Bahr/Getty Images
Brown possesses great reads on the ball and he is considered one of the more aggressive cornerbacks this week. He has decent size for a corner but his speed has been a bit exposed against good receivers.
The Redskins won't think about Curtis Brown in the first round, but he's a viable option in later rounds. Brown is a well coached player with valuable college experience and his aggression can lead to turnovers, something the Redskins defense needs. And one of the best things about Brown? He's got a chance to play safety.
10.) Ahmad Black (S / 5'9 / 183)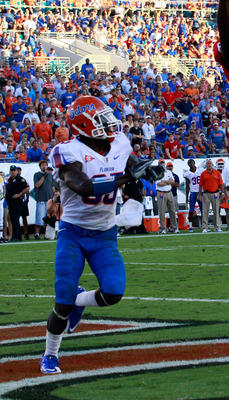 Sam Greenwood/Getty Images
According to Optimum Scouting, which is at the Senior Bowl practice, Ahmad Black has shown instincts and reads on opposing quarterbacks like no other player.
Black's size was disappointing for a safety but scouts have hinted towards the cornerback position and how the Florida senior may be able to make the jump.
Shanahan knows that his secondary needs help and a veteran player with veteran instincts like Ahmad Black could be a big help. The obvious question: what position can he play the most effectively?
Keep Reading

Washington Redskins: Like this team?