Jay Cutler: Jay Cutler Dines Out and Uses Stairs After Loss to Packers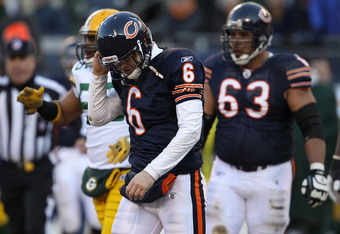 Jay Cutler: Jay Cutler Dines Out and Uses Stairs After Loss to Packers
Jay Cutler is a quitter. Jay Cutler is a cry-baby. Jay Cutler has no heart.
We've pretty much heard all of the anti-Cutler remarks over social media and all over the Internet in the two days since his Bears fell to the Green Bay Packers in the NFC title game.
But after word got out that Cutler had indeed suffered an MCL tear, some of his haters went into retreat.
Jaguars running back Maurice Jones-Drew backed off his Sunday remarks of calling out Cutler for coming out of the game. Even good old Charles Barkley, a man who's not shy about giving his opinion, came to Cutler's defense.
But now that we have new information, let's reignite that anti-Jay talk.
For all the Cutler haters, here's more ammunition, courtesy of a local paper. According to the Chicago Tribune: "Jay Cutler and girlfriend Kristin Cavallari dined at Mastro's Steakhouse on Sunday after the Bears' 21-14 loss to the Packers in the NFC championship game.
"Cutler, who left the game in the third quarter with a knee injury, was not on crutches but 'he limped a tiny bit,' according to a source. The couple was joined by 11 other people in Mastro's private upstairs dining room, and our spies tell us that he took the stairs rather than the elevator."
Here we go again. Are we going to question Jay's injury?
There's probably no question he did hurt himself in that game—it's hard to refute those MRI tests. But if he's as tough as his teammates say he is, he could have just sucked it up and kept on playing.
Philip Rivers and Brett Favre have played through worse.
The problem with Cutler is his stoic demeanor does not get received well by the general public. It doesn't look like he cares and he doesn't appear to be motivated.
That's what makes it hard to give him the benefit of a doubt.
People will take offense once they hear about Cutler's walk up the stairs of a classy Chicago restaurant hours after leaving a big rivalry NFC title game early.
Maybe he was properly motivated by hunger? What was his motivation to walk up the stairs and pass on an elevator?
It must have been some really good steak.
Most recent updates:
This article is
What is the duplicate article?
Why is this article offensive?
Where is this article plagiarized from?
Why is this article poorly edited?