Duke Football Recruiting: Top 10 Positional Needs For The 2011 Blue Devils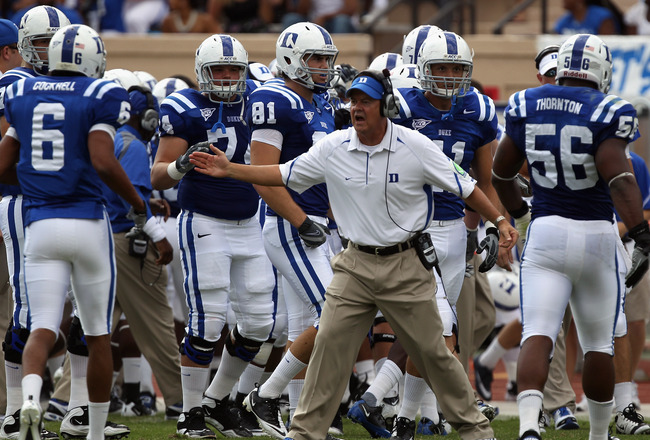 Streeter Lecka/Getty Images
Duke's 2010 campaign was a little less than what many had hoped given its recent improvement. That being said, David Cutcliffe continued to build for the future.
Unlike last year's team that lost several key players on both sides of the ball, the 2011 edition will return a number of key players. The needs of the 2011 recruiting class will center around building depth for continued success down the line.
Here is a look at some of the key needs as signing day approaches and if and who the Blue Devils have commitments or targets for those needs.
Tight End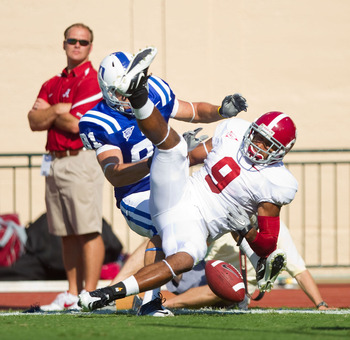 Brian A. Westerholt/Getty Images
Key Returner: Cooper Helfet
Key Loses: Brandon King, Brett Huffman
Commitments: None
Targets (Interest): David Reeves (Medium) Beau Smith (Medium) Mitch King (Medium)
Duke looses two of its primary tight ends in Huffman and King, though both were injured a good portion of the 2010 season.
Helfet, a junior college transfer, showed glimpses of the down-field threat he could become for the Blue Devils' offense. In order to sure up that position down the line David Cutcliffe is going to want to get more tight ends in the mold of Helfet, big strong and fast.
So far there are several targeted but none with a high level of interest though King a two star recruit has Duke in his top three.
Cornerback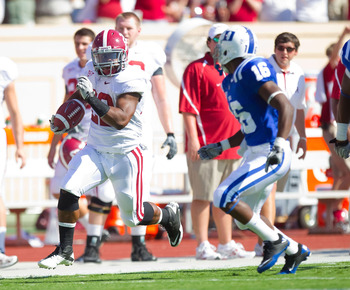 Brian A. Westerholt/Getty Images
Key Returner: Ross Cockrell, Johnny Williams
Key Loss: Chris Rwambukamba
Commitments: Tim Burton (3-stars), Jared Boyd (3-stars), Jameson Crowder (3-stars)
Duke's strength in the defensive backfield was a mixed bag in 2010. The were anchored by solid safety play but the corners were often exposed.
Rwambukamba, a senior corner was the anchor, but didn't get much help on the other side. Cockrell showed some promise as a red-shirt freshman, but Williams looked lost a good amount of the time.
Cutcliffe will definitely want to sure up this part of the secondary with more speed and strength. He is adding three 3-star targest which in time should help improve the overall depth and speed.
Linebacker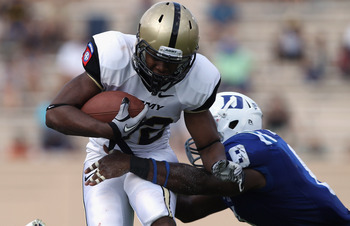 Streeter Lecka/Getty Images
Key Returners: Austin Gamble, Kelby Brown
Key Loses: Abraham Kromah, Damian Thornton
Commitments: Kyler Brown (3-stars), Johnathan Woodruff (2-stars), David Helton (2-stars), Britton Grier (2-stars)
The Duke line backing core struggled in 2010 stopping the run. For starters the experiment going to a 3-4 defensive scheme didn't work due to a lack of required personnel up front.
Many times linebackers were blocked out of a chance to make plays at the line of scrimmage, and against the better competition, there was little penetration into the opponents' back fields.
There is some young talent in the stables, but like most positions, especially on the defensive end, the Blue Devils need to build depth and add better athletes.
While none of Duke's four linebacker commitments will likely see much action this season, they will only get better and eventually add to the overall depth at that position.
Wide Reciever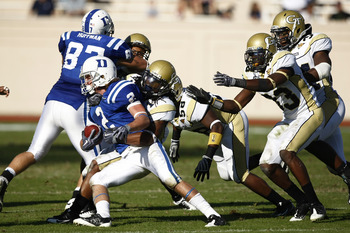 Joe Robbins/Getty Images
Key Returners: Donovan Varner, Connor Vernon
Key Loses: Austin Kelly
Commitments: Blair Holiday (3-stars), Nick Hill (2-stars)
Duke's greatest strength may be its wide receivers and of course is quarterback. The tandem of Vernon and Varner is perhaps the best in the ACC.
In 2010 they were suppose to get help from Kelly, but the senior never was consistent enough to take some of the pressure off Duke's dynamic duo. Still Varner has one year and Vernon two years of eligibility left so that is the good news.
The bad news is who takes over when they leave. This position is critical to build skill and depth for the future. The targets Duke has landed weren't highly regarded but Cutcliffe will aim to develop the talent others over look in his goal to rebuild the program.
Kicker/Punter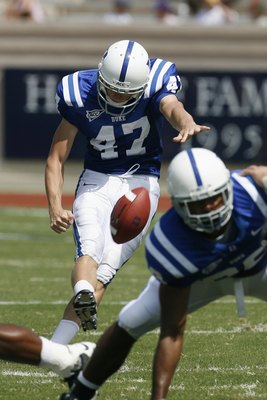 Kevin C. Cox/Getty Images
Key Returners: Will Snyderwine, Alex King
Key Loses: Nick Maggio
Commitments: Will Monday (3-star punter)
Targets: None
The kicking game is one that David Cutcliffe has worked hard to improve since arriving at Duke. He has found a solid kicker in Snyderwine, and King replaced former starter Kevin Jones early in the year.
The Blue Devils though will need to address finding a reliable backup in recruiting because expecting to find another walk on who contributes like Snyderwine would be asking for too much.
Duke has a commitment for the class of 2011 in punter Will Monday who will hopefully be the long term solution at punter. In terms of kicker, Cutcliffe will need to keep his eyes pealed for a replacement for Snyderwine who is a senior this year.
With no options being targeted in the 2011 class this position need will have to wait until 2012.
Running Back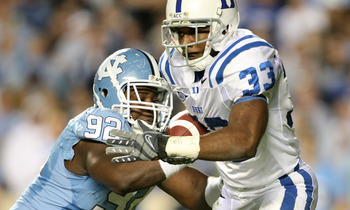 Streeter Lecka/Getty Images
Key Returners: Desmond Scott, Jay Hollingsworth, Juwan Thompson, Patrick Kurunwune, Josh Snead
Key Loses: None
Commitments: Jalen Simmons (3-stars)
With the depth Duke has at running back it is hard to see why that position would be of high priority. But given how bad the Blue Devils running game has been it comes as no surprise that Cutcliffe is keeping his eyes open for new talent.
Still any one added in 2011's class and that includes Jalen Simmons for now, is just adding to the stable of backs.
Offensive Guard
Streeter Lecka/Getty Images
Key Returners: Brian Moore, Dave Harding, John Coleman
Key Loses: Mitchell Lederman
Commitments:Cody Robinson (3-stars), Matt Skura (3-stars), Lucas Patrick (3-stars)
Duke's advantage on the offensive line is its youth but that is also its disadvantage. The loss of Lederman, while not a starter, affects the Blue Devils depth.
There are a few other members of the line, Harding and Coleman, that have experience, but like most every position for Duke, depth is the key that has to be addressed through recruiting and player development.
Cutcliffe has three players coming in that play guard. While most will likely red shirt, the experience getting stronger and practice will only help improve the Duke offensive line down the road.
Defensive Nose Guard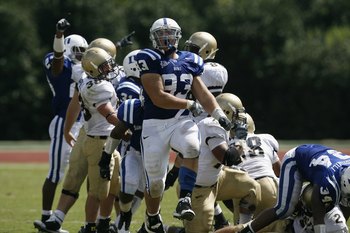 Kevin C. Cox/Getty Images
Key Returners: Charlie Hatcher
Key Loses: None
Commitments: Lucas Fisher (3-stars), Sam Marshall (3-stars)
If Duke is going to adopt or play more of the 3-4 scheme on defense it will need someone who can effectively play nose guard and still slide over and play defensive tackle.
Right now that man is Hatcher, but with only one other player on the roster, freshman Steven Ingram, that position needs a major injection of depth, experience, and talent if the 3-4 is a long term solution on defense.
The two commitments are really defensive tackles but if any or either show the propensity and versatility that Hatcher has, then they could earn time at the nose guard in the 3-4 scheme.
Center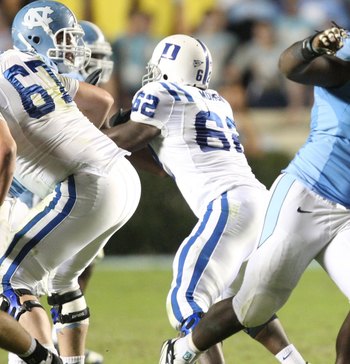 Streeter Lecka/Getty Images
Key Returners: Joey Finison
Key Loses: Bryan Morgan
Commitments: None
Targets: None
It is hard to replace a great player, but even harder to replace a greater leader. That is what Bryan Morgan was to Duke's offensive line and the team as a whole.
To make matters worse the Blue Devils have only one other center left on the roster. This position will have to be addressed through position changes made during spring practice and recruiting.
With only one recruit on Duke's board according to Scout.com and no offer made, it looks as if some position changes will have to be made in the spring.
Defensive End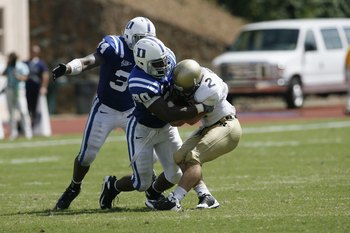 Kevin C. Cox/Getty Images
Key Returners: Sydney Sarmiento,
Key Loses: Wesley Oglesby, Patrick Egboh
Commitments: Carson Ginn (2-stars), Mario Sanders (2-stars)
Duke looses a lot of experience on the defensive front with the departure of Egboh and Oglesby. Sarmiento had a solid season getting experience playing in relief though.
Cutcliffe will need to find a book end on the other side of the defensive line, plus develop some young talent while finding future stars in recruiting.
Those stars might come from a couple of two-star recruits in Ginn and Sanders, but their time will likely not be until after the 2011 season.
Keep Reading