College Prospects and Their Current NFL Counterparts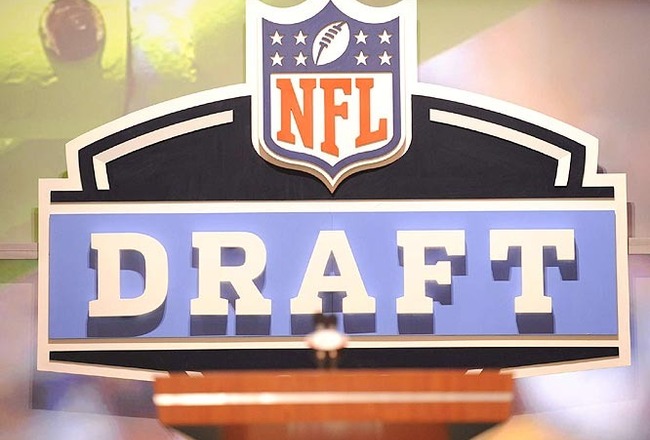 Each year when draft season rolls around, everyone is giving their opinion on who they think will be the next Peyton Manning or Tom Brady. Draft gurus such as Mel Kiper Jr. and Todd McShay give comparisons on who these prospects most closely resemble in today's NFL.
We all wonder what these kids in the draft will turn out to be once they get to the NFL. Everyone wants the next phenom on their respected teams.
Here is a list of who this year's draft prospects most closely represent in the NFL today.
Quarterbacks: Blaine Gabbert And Matt Cassell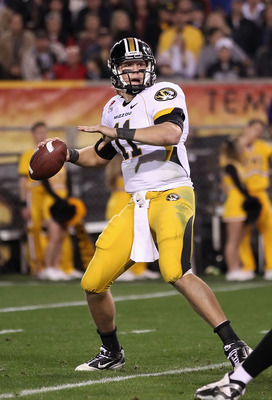 Christian Petersen/Getty Images
Both quaterbacks are very smart and have above average arm strength. They each possess good foot skills and can scramble if necessary. They closely resemble one another with their decision making and do not try and fit the ball is small windows that are not there.
Cam Newton and Josh Freeman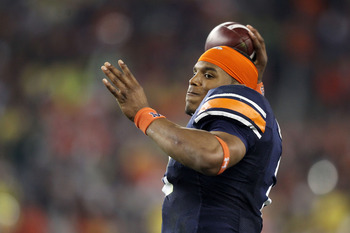 Cam Newton
Christian Petersen/Getty Images
Cam Newton and Josh Freeman are two of the best pure athletes at the quarterback position. They can kill teams with both their feet and their strong arms. The only question concerning Cam Newton is his decision making on and off the field.
Ryan Mallett and Joe Flacco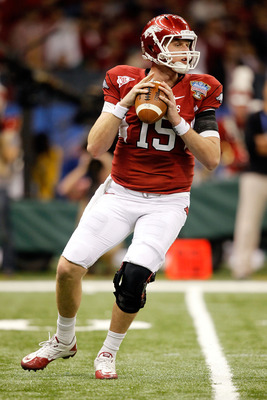 Ryan Mallett
Matthew Stockman/Getty Images
Ryan Mallett definitely resembles Joe Flacco in his size and strength. There are no questions with his arm strength either. Like Flacco, Mallett has slow feet and has trouble moving around in the pocket. Accuracy is also a question with him.
Jake Locker and Tony Romo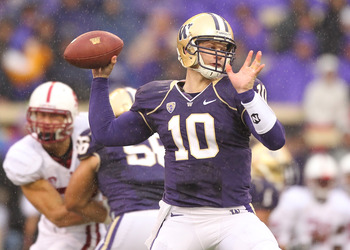 Jake Locker
Otto Greule Jr/Getty Images
The one thing that stands out the most with these two is their ability to move around in the pocket and make throws on the move. Both are pretty accurate passers and have above average arm strength. The major question with Locker and Romo is the ability to win big games and their leadership on the field.
Running Backs: Mark Ingram and Michael Turner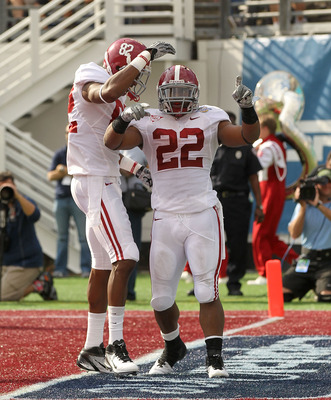 Mark Ingram
Mike Ehrmann/Getty Images
Mark Ingram and Michael Turner are both very strong runners and will run right through a defender or around him. The knock on both of them is their pass catching ability is a little suspicous. One of their best attributes is their ability to hold on to the ball. Ingram rarely coughed the ball up while at Alabama, and Turner averages only one fumble per every 100 carries through his NFL career.
Demarco Murray and Matt Forte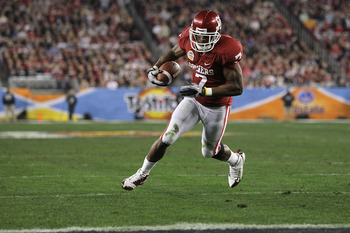 Demarco Murray
Ronald Martinez/Getty Images
Murray and Forte each are very athletic and can help the team win in many ways. They have that breakaway speed and both can kill a defense with their pass catching abilities. Murray caught 71 balls this past season for the sooners, and Forte brought in 51.
Mikel Leshoure and Steven Jackson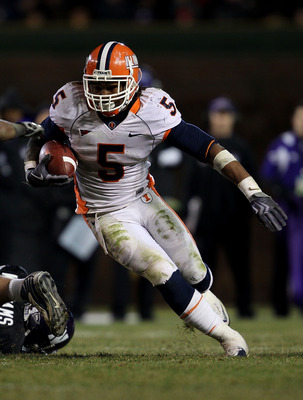 Mikel Leshoure
Jonathan Daniel/Getty Images
These two players both have great size for someone at the running back position. Leshoure and Jackson each have the ability to run through an opposing tackler and are also a big play threat every time they touch the ball.
Jacquizz Rodgers and Darren Sproles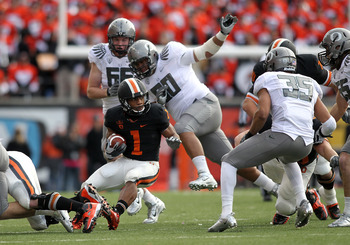 Jacquizz Rodgers
Jonathan Ferrey/Getty Images
The two players that resemble each other the most are these two. Both are not an every down back but can help a team win in many ways. They can be returners and third down backs. Whenever these speedsters touch the ball there is no teling what will happen. There is an opportunity for a touchdown every time they get their hands on the ball.
Wide Receivers: A.J. Green and Calvin Johnson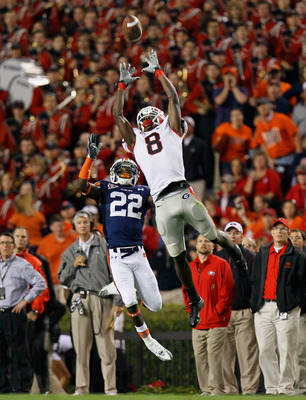 A.J. Green
Kevin C. Cox/Getty Images
These guys are both very gifted athletically and can jump through the roof. Green has the best hands in the draft, and like Johnson, runs great routes. Both of them are deep threats, and if the quarterback just tosses it up, most likely they will come down with it.
Julio Jones and Braylon Edwards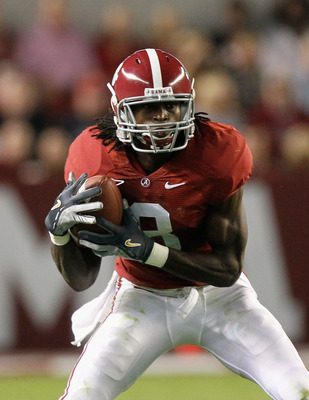 Julio Jones
Kevin C. Cox/Getty Images
I believe physically these two receivers are identical. They are both big strong receivers who present a matchup problem with any secondary. Both tend to have the drops here and there and can be inconsistant at times. Jones can easily be a top receiver in the league within two to three years.
Jonathan Baldwin and Terrell Owens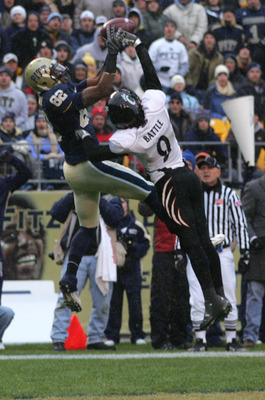 Jonathan Baldwin
Jared Wickerham/Getty Images
Baldwin is my choice for steal of this year's draft.
The only way to physically descibe him is freakish. I heard he even jumped over a kid from Quaker Valley high and dunked on him back in his high school basketball days. Baldwin stands 6'5" and weighs 230. That is the size of a NFL tight end. Compared to T.O. they can both go up and get any ball thrown their way, and both are very good route runners. Like Owens, Baldwin has been called inconsistant at times by scouts, but that is misleading because he has had a terrible quarterback throwing him the ball.
Keep Reading