Kim Kardashian and the Hottest Twitpics in Sports
Thanks to social media tools such as Twitter, average folks are able to get a small glimpse into the lives of our favorite athletes, celebrities and the beautiful women that surround them.
Twitter tweets give us an idea on what they're thinking or doing. But picture posts on twitpics give us a very up-close and personal look into their daily lives.
There's a reason why Kim Kardashian has a long list of loyal followers: She posts plenty of sexy twitpics!
With hot and sexy pictures of sports hotties in mind, here's Kim Kardashian and the hottest twitpics in sports!
Begin Slideshow

»
This former pop star was once a slim and trim sex symbol.
These days she's turned top-heavy and is now engaged to former NFL tight end Eric Johnson.
But she still gets attention for her bigger bust and cleavage shots such as this.
Tila was once an MTV personality with her own dating reality television show.
When the bicurious Tila couldn't work things out with that season's winner, she went out and snagged herself an NFL player, linebacker Shawne Merriman.
Apparently this is a shot of Tila heading to a San Diego Chargers game.
Where's the jersey at?
They call Mayra Veronica, rumored to be Reggie Bush's new flame, a Kim Kardashian clone.
This booty shot is exactly why she gets those comparisons.
But unlike Kim, Mayra can actually sell music albums.
Her recent single If You Wanna Fly, has peaked at No. 5 on Billboard Dance/Electronic sales.
Paris has been known to cause trouble wherever she goes.
Some Cardinals fans remember her as being a distraction for young Matt Leinart in his first season with the team.
And Bears fans also know her for reportedly hooking up with star linebacker Brian Urlacher.
With a lot of time on her hands, a wild partying attitude, and the Hilton fortune at her disposal, athletes better watch out.
In case you haven't heard, Trina and Kenyon Martin have supposedly split up.
That means those fishnet stockings are available.
Get an up close look at Olivia Munn, a former sideline reporter in her younger years and now the super famous host of G4's Attack of the Show.
There's nothing sexier than a girl gorging on chocolate chip cookies.
Ok, a hot girl gorging on chocolate chip cookies.
Meet LaLa Vasquez, wife of Carmelo Anthony.
For her bachelorette party, she flew to Las Vegas with the likes of Kim Kardashian and Kelly Rowland from Destiny's Child.
How much closer do you want to get to LaLa?
With Twitter, you're right there.
In bed.
Kim K hanging with LaLa—is there a possible New Jersey Nets deal in the works here?
You may not be able to tell but that's Kendra Wilkson, one of Hef's former flames.
She's backing that booty up.
But this sexy booty started a social media war between Kendra and former adult film star Jenna Jameson.
Of all people, Jameson criticized Kendra for being an unfit parent because she was doing on-stage booty shakes.
Hmm.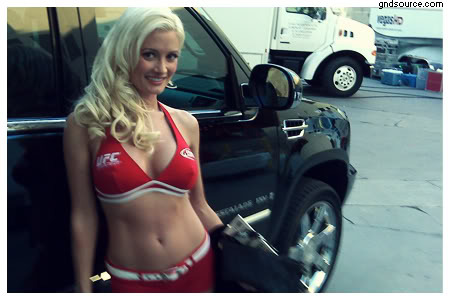 Just like Kendra, Holly's found herself a new reality show, Holly's World, after her stint on The Girls Next Door.
Holly's also hooked up with an MMA fighter, and that gave her motivation to become an honorary ring girl.

Newly single Rihanna has celebrated her breakup from Dodgers outfielder Matt Kemp by hanging with her friend Nicki Minaj.
They're so close, they've been known to kiss. Each other.
No, that's not Nikki.
Rihanna just likes kissing so much, she kisses skulls.
This twitpic is a winner. Because there's not one, but two Andrews sisters.
We all know Erin, the hottie ESPN College GameDay reporter and former Dancing with the Stars contestant.
She's chilling with her real-life dancer sister, Kendra, who played a role in the movie Step Up 3D.
Her sister Kendra may be the professional dancer in the family.
But Erin's got moves. She was on the Florida Gators dance team in college and made it all the way to the Dancing with the Stars finale.
You're looking at two former Pussycat Dolls.
Nicole Scherzinger is the former lead singer of the group and the girlfriend for race car driver Lewis Hamilton.
Consider yourself lucky for getting a twitpic of three supermodels.
But Andy Roddick is even luckier.
He's married to Brooklyn Decker, the hot one in the middle.
What a beautiful view.
I'm not talking about the greenery in the background.
Whether she's blonde or she's brunette...
Kim K knows her curves are what get her a lot of attention.
Kim K likes awards so much, she wants to eat it.
No Kim. Your booty will get too big if you take a bite.
Not the cat either.
Don't do it.
Please be nice to the kitty.
Kim clearly took this photo so she can show off her brand name aviator glasses.
What do you think?
Too big?
Or just right?
How many Twitter followers does Kim Kardashian have?
Nearly 6 million.
That's probably more than everyone on this list combined.
Why do they follow her?
So they can get treated to cleavage shots such as this one.
And jaw-dropping photos like this one.
She may not be the most favored WAG around. But you can't deny Kim's popularity.
With a twitpic like this one, don't you just want to sign up to follow her?
You can find her here: @KimKardashian
And check out her photos here: Twitpic