NBA Trade Rumors: 10 Teams Gerald Wallace Would Fit Best On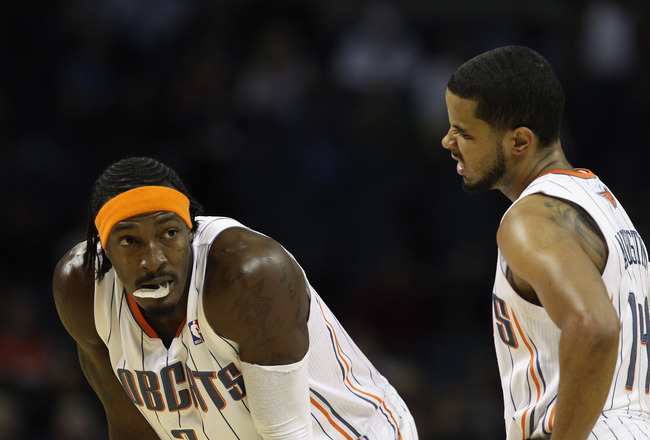 Streeter Lecka/Getty Images
Gerald Wallace finds himself the subject of the typical All-Star Break Trade Rumor Squad (say that three times fast).
It seems as though every year the All-Star break puts the idea into everyone's head that no player is safe and that everyone is going to be traded. Well, in that spirit I have decided to give Charlotte fans a reason to panic.
Why don't we talk about where Wallace could find himself this year?
10. Denver Nuggets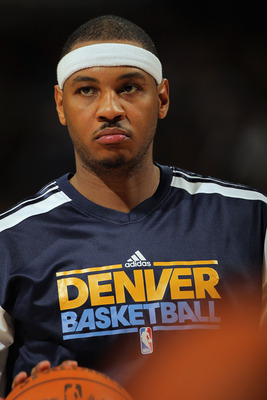 Doug Pensinger/Getty Images
Complementary Trade Pieces: Not needed

Possible Targets: Carmelo Anthony
The way the 'Melo situation is going, I figure it really does not make a difference as to what team is in the trade rumors.
In many ways, it is possible to see the Bobcats making a play for him. In other ways, it is one of the dumbest ideas one could think of.
Either way, it is worth mentioning simply because of how weird the whole experience has been.
9. Cleveland Cavaliers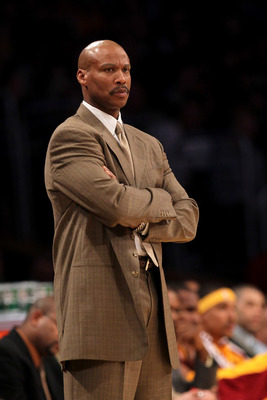 Stephen Dunn/Getty Images
Complementary Trade Pieces: Not needed

Possible Targets: Picks, J.J. Hickson
I'll admit that this trade looks really good on paper, but something is keeping me from putting it any higher.
First of all, Wallace wants to play for a winner by all accounts. Cleveland and winning are polar opposites of each other.
With or without Wallace, the Cavs will lose games and Wallace will not be any happier if he is on their roster. That is why I simply believe that this trade will never happen, because of Wallace protesting it to the point where they have to turn it down.
Cleveland will log one of the worst NBA seasons in recent memory and Wallace will not soothe the pain by any means.
8. Sacramento Kings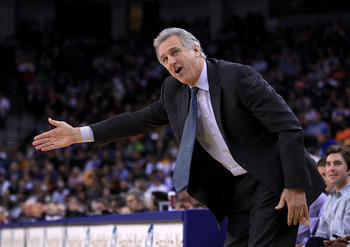 Ezra Shaw/Getty Images
Complementary Trade Pieces: Selected role player(s)
Possible Targets: Picks, Donte Greene, Omri Casspi
This trade could be great for both sides, considering neither team seems to have any clue as to what to do with this NBA season.
The Kings are trying to find a identity and maybe they can solve some of their problems by getting Wallace.
I am not suggesting specific trades, but I am throwing out ideas and letting you think this through. I am one fan and, hopefully, if this is popular, you are many.
This trade could really be very nice for Sacramento and could give the Kings a better second half to the season and set up a great year ahead.
The Bobcats will get some great young talent and hopefully, if things go right, they will receive some picks.
7. Utah Jazz
Stephen Dunn/Getty Images
Complementary Trade Pieces: Not needed

Possible Targets: Picks, Paul Millsap
You will notice that almost all of my team choices have draft picks to spare. That is no coincidence; the Bobcats need a new identity and young raw talent with potential.
This trade would essentially be a swap of players and make the Jazz almost instant contenders. Wallace would compensate for their poor rebounding and even score some points with his hustle and athleticism.
He will also be playing on a winning team that would stand right by him.
He also plays the almost stereotypical Jerry Sloan ball, hustling for rebounds, playing defense and working hard.
This would make the Jazz a great team to watch.
6. Washington Wizards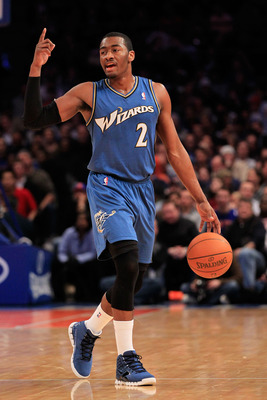 Chris Trotman/Getty Images
Complementary Trade Pieces: Not needed

Possible Targets: Picks, Andray Blatche
Something is not working for this Wizards team and, yet again, it is Gerald Wallace to the rescue.
His speed and athleticism will fit in great with this young and fast team, and he should quickly build chemistry with the young John Wall.
While the current season has been a disappointment for the Wizards, it is hopefully going to be something to build off.
Or, more specifically, something which would show them how to not play ball.
Nonetheless, this would be a simple trade and more players can be added, but at this point I think maybe the Wizards don't want to complicate things too much by getting a whole new squad.
5. New York Knicks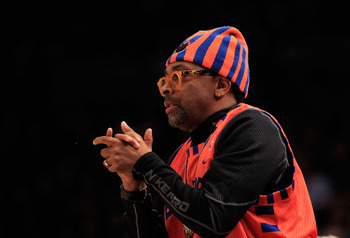 Chris Trotman/Getty Images
Complementary Trade Pieces: Not needed
Possible Targets: Spike Lee, Wilson Chandler, picks
This trade is more basic and, in many ways, less complicated than some others.
However, I do believe the Knicks want to make some moves, and with the way Chandler has played recently, one has to wonder if he will stay on the team long.
Other trades could work here, but the main reason for the Knicks being here is because I think they want a guy like Wallace for his all-around game, and they are looking for moves to make.
You just never know with the Knicks.
4. New Jersey Nets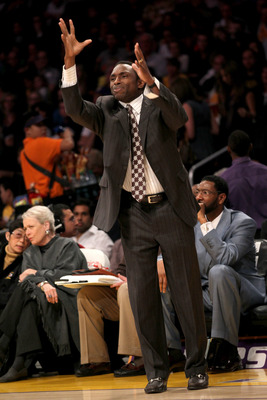 Stephen Dunn/Getty Images
Complementary Trade Pieces: Not needed
Possible Targets: Draft picks, money, Travis Outlaw, Devin Harris

The Nets are going to move somebody somewhere. That is a no-brainer.
Their current roster is completely useless and they need a player who is skilled on both sides of the ball and is young enough to stay for multiple years. Here is where Wallace comes in.
The Bobcats can acquire some first round picks, which should be higher in the lottery. If they want they can also make a play for Devin Harris, but I highly doubt that simply because of the upcoming draft and because they might move other players.
3. Dallas Mavericks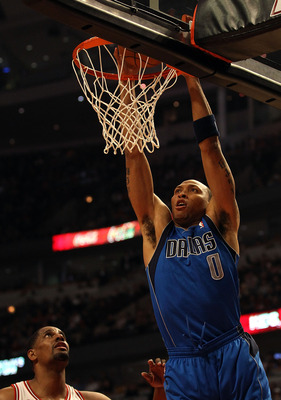 Jonathan Daniel/Getty Images
Complementary Trade Pieces: Not Needed

Possible Targets: Shawn Marion, Role player
Surprised? Don't be.
The Mavericks are looking for pieces which could possibly make them real contenders this season, and Gerald Wallace would be a great addition to the roster.
Shawn Marion has not been a consistent performer and a player of Wallace's level can provide a great boost to the Mavericks on both ends of the court.
If the Bobcats make up their mind to trade him, they could receive Marion and a role player of their choice from the Mavs—a guy like Peja Stojakovic or Brian Cardinal.
If they are really good at bargaining, they could try to get some draft picks, which will probably be top priority considering this season has been a complete bust.
2. Phoenix Suns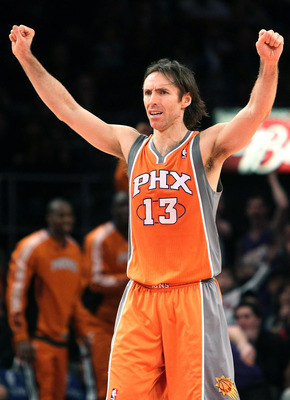 Nick Laham/Getty Images
Complementary Trade Pieces: Not needed/minor player

Possible Targets: Steve Nash, Vince Carter, picks
Speaking from a perspective of a loyal Phoenix fan, I must say this trade makes too much sense not to occur.
The season has been an up-and-down roller coaster for the Suns, and they need something to spark them. Gerald Wallace would be a perfect candidate.
The only reason it is not No. 1 is because Nash is up there in years, and if they could land Vince Carter, that would not solve much either.
Wallace would also become less effective if he doesn't have Nash on the floor with him.
1. Philadelphia 76ers
Jonathan Daniel/Getty Images
Complementary Trade Pieces: D.J. Augustin/ minor player
Possible Targets: Andre Iguodala, picks, Evan Turner

It would be nearly impossible for me to find a more perfect trade available in the entire NBA than the one laid out here.
The most likely scenario is a swap of Iggy and Wallace, but if you mess around with the pieces, there is a possibility the Bobcats could land Evan Turner and Iggy.
This trade would be huge for both the Sixers and Bobcats and would solve some of their problems.
The Bobcats need some bigger and faster guys: Iggy more or less replaces Wallace and Turner makes up for the rest.
D.J. is a big loss, but some picks could soften the deal a little.
Again, this trade still needs more players, and this is in no way a final draft: I am simply writing that this trade seems like it works in its basic form.
Well, thanks for reading and please comment down below on your thoughts. Mess around with some ideas and see what trades you can come up with!
Keep Reading

Charlotte Bobcats: Like this team?