O Tannenbaum: New York Jets GM Has Hands Full in Shaping Super Bowl Champion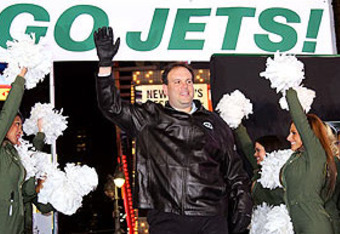 It's now up to Mike Tannenbaum to keep the Jets a serious playoff contendor

If you are Mike Tannenbaum you are in for one really busy offseason.
The Jets had a great season in 2010. Even though the team lost in the AFC title game for the second straight year, it was still a special season, full of highlights Jets fans will never forget.
It wasn't easy getting to the AFC title game in 2010-2011. The Jets had to win four games via the grace of the football gods, against Denver, Houston, Cleveland and Detroit. They had to rebound from hideous losses to the Patriots and Dolphins in consecutive weeks that left everyone wondering if this team would even make the playoffs.
Luck, solid, clutch plays, and of course health all contributed to the Jets' success in 2010.
However, as the 2011 offseason begins, questions abound about the Jets' ability to get back to this very spot for the third straight year.
The Jets have 16 free agents on their roster, some of whom are key cogs to the Jets' plans moving forward:
Brad Smith
Santonio Holmes
Jason Taylor
Shaun Ellis
Al Bello/Getty Images
Eric Smith
Nick Folk
David Harris
Antonio Cromartie
Kellen Clemens
Drew Coleman
Steve Weatherford
Brodney Pool
Trevor Pryce
Wayne Hunter
James Indedegbo
Lance Laury
Then there are these question marks that have contracts with Gang Green, but who the Jets may choose to release:
Mark Brunell
There are some pretty big names on these lists. Typically the free-agency madness doesn't get rolling until mid to late March, but with the potential of a players union strike expected to start this March because of failed negotiations on a new CBA, it will delay and even hamper the Jets and any other team's plans this offseason.
Who is the most imporant free agent for the Jets?
It is easy to think that a team can get back to an AFC title game or a Super Bowl after they have done it. However in the world of free agency, injuries and the wackiness of an NFL season, nothing is guaranteed.
It is safe to say the Jets will be comfortable saying bon voyage to Brunell, Clemens, Laury, Indedegbo, Pryce, Hunter, Pool, Eric Smith and Jason Taylor, and I am sure they will be more than happy to see Nick Folk and Steve Weatherford go too.
It's the biggest names on this list that will cause Jets fans to grow some gray hair this winter and spring.
Let's start with LaDainian Tomlinson. He will be 32 years old next year, and has another year left on his deal for $2.4 million. Early in the year Tomlinson was the man in the Jets backfield, averaging 5.5 yards per carry and proving to be the Jets' best scoring threat.
However as the season wore on, so did Tomlinson. He became less and less of a threat out of the backfield, and soon gave way to Shonn Greene in the playoffs. Maybe that was the design the Jets had in mind for this season, but next year they will need a steadier one-two punch.
Joe McKnight is a promising running back, who really didn't get much of an opportunity this year. His time is now to show the Jets what he can do. As for Tomlinson, since he is fairly affordable, he should be back, but as the Jets' third down back.
Michael Heiman/Getty Images
Brad Smith has become a heck of a player the last two seasons. He had 50 kick returns this year for 1,432 yards and two touchdowns, highlighted by his 97-yard kick return for a touchdown to open up the first Pittsburgh Steelers game.
Smith was used primarily out of the Wildcat formation, and did a fairly good job, rushing for 299 yard on 38 carries with a TD. Smith is also a quarterback, but only threw the ball three times.
Let's face it—Smith is very valuable. Sure the Jets can go out and get another kick returner, but Smith's contributions to the offense spikes up his importance.
Don't expect the Jets to break the bank for him—they may try to sign their other important free agents before getting to Smith. However if they wait, I would not be shocked to see New England or Miami swoop in to sign him.
Shaun Ellis is the longest-tenured Jet on the 2010 roster, having spent 11 seasons with Gang Green. That alone might preclude the Jets re-signing him, but it probably shouldn't. Even though Ellis had a big game against the Patriots, sacking Tom Brady twice, he is getting up there in age, and has never really been the ultimate pass rusher the Jets needed off the edge.
In the last six years Ellis has only one season with eight sacks, and hasn't recorded a double-digit sack season since 2004. He's 33 years old, and it is time for the Jets to get younger at the position, and find a couple of guys with the speed and power to get to the quarterback.
Al Bello/Getty Images
Antonio Cromartie had an up-and-down year. One minute he is shutting down Randy Moss in Week 2, and the next he is getting burned by Pierre Garcon in the Wild Card Game of the playoffs.
The guy is a very physical corner, and somehow finds ways to avoid getting called for pass interference more often. His three interceptions were tied for the team lead. Cromartie will probably find more money on the open market, since teams will value him as a No. 1 corner, but if he is willing to take less money and remain on a team that has deep playoff aspirations, then he could stay.
Keep in mind that Oakland Raiders cornerback Nnamdi Asomugha is also a free agent. He will command a steep price as well, and depending on when he signs, it could impact Cromartie's asking price.
If the Jets lose Cromartie, or don't want him back, could they go after Asomugha? Imagine a secondary with Asomugha and Darrelle Revis? Talk about shutdown corners! But, realistically if the Jets want to have enough money for some of their other free agents, the second-best corner in the NFL may be out of their reach.
Then there are the biggest free agents: David Harris, Braylon Edwards and Santonio Holmes.
Harris led the team in tackles each of the last two years, and has recorded 8.5 sacks combined in 2009 and 2010. He is not a flashy player who creates big headlines, a la Ray Lewis and Brian Urlacher, but Harris is a solid soldier in the middle of the Jets defense, and it is hard to find steady middle linebackers in this league.
Al Bello/Getty Images
Harris should be the first person the Jets re-sign this offseason. They wanted to sign him in the summer, but with the Nick Mangold contract extension and the Darrelle Revis holdout madness, Harris' contract negotiations were pushed back to now.
Finally there is Edwards and Holmes. Should the Jets keep both? Can they keep both? Which one should they keep?
This is very difficult. Both receivers had their share of trouble early in the year—Holmes with a suspension and Edwards a DUI in Week 2—yet both came together to play unselfish football, and were the main reasons this offense soared to the AFC title game.
Holmes made his mark with spectacular game-changing touchdown catches this year. Whether it was his overtime touchdown catch against Cleveland or his corner of the end zone touchdown against Houston, among others, he has always been a big fixture on the field.
Edwards as well has been valuable. He has made the tough catches down the middle, converted the big third downs and made some big catches that put Gang Green in position to win games.
One of these two guys will get paid. Both will ask for No. 1 receiver salaries, or something close to it. Andre Johnson of the Texans is the highest-paid receiver in the NFL earning $10.5 million per season.
If the Jets have to choose, Holmes might be the best bet because of his uncanny ability to come up big in the clutch. Then again it could also be argued that the very presence of Edwards allows Holmes to make big plays in single coverage.
Mark Sanchez's progress this season should be credited to those two wide receivers. They gave him the deep threats, and talent that he needed to succeed in his second year. Clearly the wide receiver is the biggest position of concern for New York moving toward 2011.
It's all up to Mike Tannenbaum to get it done. He has been lauded as a salary cap guru for some time, and he will be tested big time this year. The decisions he makes in the next five months will go a long way to setting this team up for another Super Bowl run.
This article is
What is the duplicate article?
Why is this article offensive?
Where is this article plagiarized from?
Why is this article poorly edited?

New York Jets: Like this team?