Boston Celtics: 4 Scenarios We've Yet To See This Season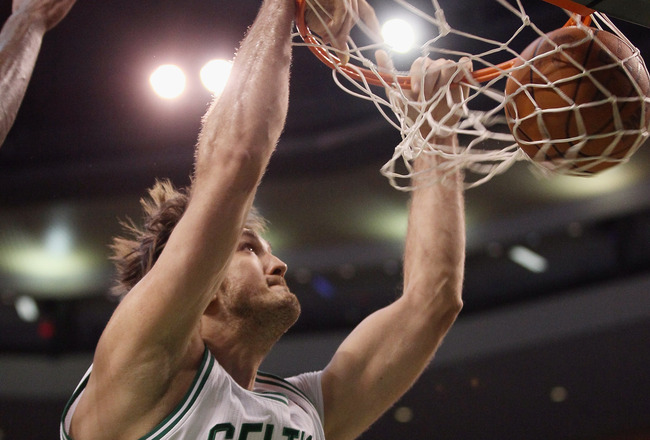 Elsa/Getty Images
Despite a number of injuries, it's been a great year so far for the Boston Celtics.
They currently sport a 33-10 record (0.767), second in the NBA only to the spurs (37-7) and the best in the Eastern Conference by 2.5 games.
Despite the resurgence of Kevin Garnett, the continued excellence of Paul Pierce and Ray Allen, the fast-improving Rajon Rondo and even the contributions of guys like Shaquille O'Neal and Glen Davis, the C's have yet to reach their full potential.
Due entirely to injuries, the Celtics and the coaching staff, led by Doc Rivers, have had to take a number of measures to ensure that the team maintains its high level of play and is healthy in time for the playoffs.
For the better part of the entire season, the Celtics have had to take the "one game at a time approach."
The gameplan is adjusted from day-to-day to give the Celtics the best chance at winning.
The Celtics just haven't had enough healthy bodies to develop a unique rotation and a core group of players. Because of all the injuries, guys who weren't expected to have large roles (Semih Erden, Luke Harangody, Von Wafer and even Avery Bradley) have given this team meaningful, albeit sporadic minutes.
But come playoff time, the Celtics could have a few added weapons, barring any new injuries or significant setbacks to recovering players.
Nate will get to wave in more threes upon the return of Delonte West
Elsa/Getty Images
Here are five scenarios we have yet to see from the men in green this year.
A Delonte West/Nate Robinson backcourt:
During the preseason, the West-Robinson combo had nearly every Celtics fan raving with possibilities. Not only would West finally be the long sought backup to Rondo, he would allow "Nate to be Nate," which means playing off the ball and scoring, without the responsibility of running the offense of the second unit.
Defensively, Doc Rivers was excited about using the pair to pester opposing backcourts. Both guards are small and quick, and provide the potential for some press/trap packages.
The idea was to create turnovers, getting the reserves some easy buckets while simultaneously bringing the energy off the bench and giving the starters extended periods of rest.
After serving a ten-game suspension, West appeared in just five games before fracturing his non-shooting wrist. He had surgery and is expected back sometime after the All-Star break. He's already resumed non contact basketball activities like shooting, but he hasn't been cleared to put pressure on the wrist and the Celtics just flat-out are overconservative when it comes to bringing players back from injury.
Last year in the playoffs, we saw Shrek and Donkey wreak havoc, but this wear we have the potential to see Batman & Robin(son).
Elsa/Getty Images
Given time, these two could develop into one of the best bench tandems in the league. Both can score, both can shoot, we know Delonte is a hard nosed defender and Nate at times has shown that, and both should be able to feed off each other and create for their teammates.
The Shutdown Defensive Presence of Jermaine O'Neal:
If you've watched real closely, you've seen glimpses of this so far in the season.
There have been a select few occasions where Jermaine has really brought the second unit together and looked like the defensive stopper that the Celtics signed him to be. However, Jermaine has been plagued with a knee injury and has played in fewer games (17) than he has missed.
He's not expected back for at least another month.
If O'Neal can get back to an acceptable level of health (able to give them 15-20 mins a night), then he brings something that the Celtics currently don't have. Both Kendrick Perkins and Kevin Garnett are the teams best defending big men.
Both are capable of leading a defensive unit. However, both are in the starting rotation, and ideally neither would be on the floor when Jermaine is.
The defensive tenacity and shotblocking ability is something that few benches have, and should be key in matching up with the likes of Dwight Howard, Brandon Bass, Chris Bosh, Andrew Bynum, Pau Gasol, Lamar Odom and/or Tim Duncan should the Celtics meet up with their respective teams in the playoffs.
We've yet to see anything on the level of "Shrek & Donkey" so far this season.
Ronald Martinez/Getty Images
Elite big men need to be contained at all times, and Pau Gasol's offensive rebounding-fest during Game 7 of the finals last season is just a small indicator of the importance of having multiple defensive-oriented bigmen.
The Emergence of A True Bench Chemistry:
At the start of the season, the Celtics were pegged as one of the deepest teams in the NBA—and, for the most part, they've lived up to that billing.
However, this year, the benched has served more as an extension of the starting unit than as an entirely separate group.
Ten different players have started a game this year for the Celtics and as a result, no unique rotation or chemistry has really emerged.
The bench has been used mostly as a way to plug up the holes caused by injury, and playing time is often dictated by whoever matches up best with an opposing team.
Because of this, the play of guys like Nate Robinson and (at times) Glen Davis has been poor. They've both been asked to start and fill a number of different roles that they wouldn't normally have to fill.
Because of this, their confidence has sometimes wavered as they've struggle to fill an ambiguous role.
Once guys start getting back from injury, the jobs of guys like Baby and Robinson will go back to being what they originally were. As a result, the bench will be able to carve out their own niche and function as a unit.
Jim Rogash/Getty Images
The Championship Starting Five:
The Celtics have lost just two games in which their starting five (Rondo, Allen, Pierce, Garnett, O'Neal) have played in.
Impressive, but it's even more significant when you realize that the Celtics have yet to play a game with their true starting center, Kendrick Perkins.
After offseason knee surgery, Perk is right on schedule. He's set a target return date of February 4th and should be back to his defensively dominating ways in no time.
It's a bit odd to realize, but the same group that won a championship in 2007-2008 is midway through their fourth full season together as a unit. We've seen Pierce, Allen and Garnett (for the most part) maintain the same level of play that they arrived in Boston with; we've also seen the transition of Rondo and Perkins from role players into the future and current stars of this league.
At this point, there can't be more than a handful of starting rotations on the same level as the Celtics in terms of chemistry.
By now, these guys know each other like the back of their hands and with Rondo running the show and getting everyone a proper amount of looks, they shouldn't have any problems outhinking and outplaying the best of the rest.
What's most impressive to me is that despite all the injuries, the Celtics have put themselves in a position to capture either the best record in the East or even the NBA.
They're still waiting on more than one high impact player to return, and yet they're still operating on one of the highest levels in the NBA.
It's a scary thought to think that the Celtics stand to get much better, very quickly, but that's the reality of the situation.
Dan is a Boston Celtics and Red Sox featured columnist. Follow him on Twitter @danhartelBR.
This article is
What is the duplicate article?
Why is this article offensive?
Where is this article plagiarized from?
Why is this article poorly edited?

Boston Celtics: Like this team?