MLB Rumors: Ranking Vladimir Guerrero and the Top 15 Free Agents Remaining
Christian Petersen/Getty Images
Back in early December, I went over the 20 best pitchers remaining on the free agent market. A few days before 2011 began, I returned to the topic of free agency to take a look at the 12 best bargains left on the free agent market.
Between those two lists, just four players remain. With pitchers and catchers reporting in just a few weeks, it shouldn't come as much of a surprise that most of the leagues top free agents have already signed. But that doesn't mean the remaining players offer no value.
Which remaining players might make a meaningful impact in 2011? Here's 15.
15. Jeremy Bonderman, SP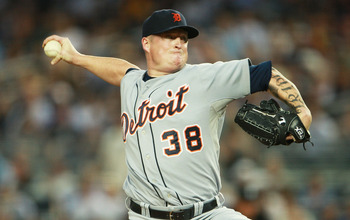 Andrew Burton/Getty Images
Once a promising young starting pitcher, Jeremy Bonderman may be best known for losing 19 games as a 20-year-old for the Detroit Tigers in 2003. That's just the way his career has gone. With a 4.89 ERA in 193 starts, Bonderman is having trouble finding work at just 28 years old, with plenty of experience under his belt.
Should some team take a risk on Jeremy Bonderman? It would be tough to justify. Bonderman was once a hard-throwing strikeout pitcher. Now he rarely tops 90 miles per hour, and his strikeout rate is below six. His control has always been solid and still is, but he's far from Greg Maddux.
At the same time, Bonderman was once a good young pitcher whose high ERA in 2007 was probably inflated by a bit of bad luck. And before last season, 2007 was his last real shot as a big league starter. Injuries really limited his time on the field, and his effectiveness, over the past several seasons.
Those injuries may have permanently robbed Bonderman of his powerful fastball and high strikeout rates, and if that is the case, he will probably never be more than a journeyman in the major leagues. But he's still on the right side of 30. He's worth a spring training invite just to see if there's anything there.
Prediction: Texas Rangers.
14. Chris Ray, RP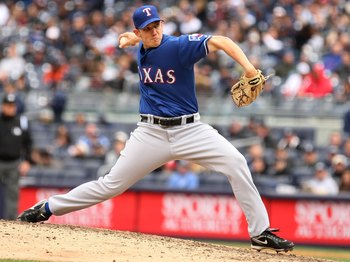 Al Bello/Getty Images
Traded to Texas as part of the Kevin Millwood deal last offseason, Chris Ray had somewhat of a bounce-back season posting a 3.72 ERA, his lowest since 2006. But the former Orioles closer also posted the lowest strikeout rate of his career, and his strikeout-to-walk rate hovered at an abysmal 1.24. At the end of the season, he was non-tendered by the San Francisco Giants. So what should we expect?
For one, he will probably get a major league job. There are simply too many positives here, even with the declining strikeout rate. He's not too old (29), he used to close, and he was very good at it for a couple of seasons. He still throws very hard and he had a sub-4.00 ERA last season. His career ERA is 4.02.
Secondly, he could be pretty solid. I don't like that strikeout-to-walk rate. I don't like that FIP. I don't like that he didn't dominate hitters last year, especially given his poor control. But he still throws just as hard as ever, and one season of poor strikeout numbers does not make him a poor strikeout pitcher. He's also always outperformed his fielding independent numbers.
Ray is a low risk, low reward kind of signing. Despite what he did in Baltimore, he just doesn't have the skill set to be a closer. But he'll also be a cheap and a potentially solid middle reliever. He throws hard, usually strikes batters out, and has had a pretty nice career. Worth a shot.
Prediction: Minor league deal.
13. Freddy Garcia, SP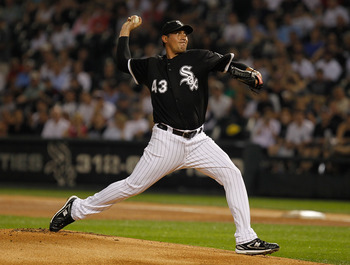 Jonathan Daniel/Getty Images
Yes, Freddy Garcia is still in baseball and still generating some interest around the league. He last posted an ERA under four when the White Sox won the World Series in 2005, and he hasn't come particularly close since. But every offseason, teams come calling.
Last season, Garcia made 28 starts for the White Sox, pitching to the tune of a 4.64 ERA. He struck out just 89 batters in 157 innings. On the plus side, Garcia made 28 starts. He's just 34, and he wont kill you with the walks. The opponent might hit him hard, but he won't beat himself.
Freddy Garcia is still good enough to start for a bad team, towards the back of their rotation. He's also good enough to spend the season in AAA waiting for a shot with a playoff contender. But he won't make a good rotation out of spring training. A major league deal is unlikely.
Prediction: New York Yankees.
12. Orlando Cabrera, SS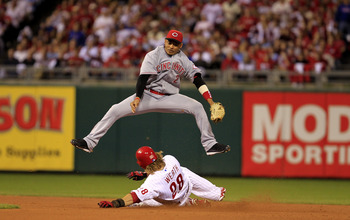 Chris Trotman/Getty Images
Orlando Cabrera's slow march towards mediocrity turned out to be more of a spring last season. The former Gold Glover is still a solid defensive shortstop and that glove will get him a job in the big leagues next year, but it's no longer good enough to make his offense tolerable.
Cabrera hit .263 last season and stole just 11 bases, his lowest total since the Clinton administration. After hitting eight or nine home runs in five straight seasons, Cabrera hit four last year. His on-base percentage dipped dangerously close to the .200s.
Cabrera is now 36 and this decline is not surprising. Were he, say, a third baseman, this would probably be it. But he's not. He plays shortstop, so teams will put up with some pretty horrendous offensive numbers. And he's also a good defensive shortstop with an even better reputation.
He probably shouldn't start next season, but I wouldn't be surprised to see him in an opening day lineup come 2011. That's just the nature of the position.
Prediction: San Francisco Giants.
11. Kevin Millwood, SP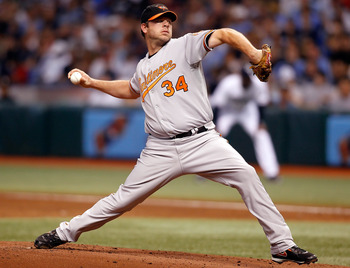 J. Meric/Getty Images
There isn't much upside with Kevin Millwood. At 36, Millwood has established himself over the past several seasons as the pitcher you throw out there hoping for an offensive explosion. He'll keep you in the game on occasion, and he might pitch a good one now and then, but he's strictly a back-of-the-rotation option.
Yeah, there was 2009. But Millwood's ERA of 3.67 was far out of whack with his FIP, and his 2007, 2008, and 2010 seasons seem more like the norm. But if the norm is an ERA north of five, why bother?
For one, Millwood probably isn't that bad. He still has solid control and a solid strikeout-to-walk rate. He's been a victim of bad defense in Texas and Baltimore. But more than that, he's durable. He'll give you 30 starts and they wont be that bad. More often than not, you'll have a chance to win the game.
Prediction: Baltimore Orioles.
10. Bengie Molina, C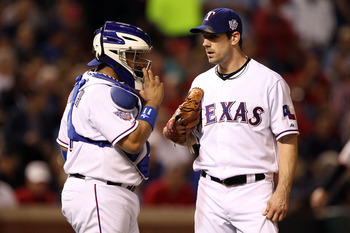 Ronald Martinez/Getty Images
Bengie Molina is in a similar position to Orlando Cabrera. An aging player with a solid track record, Bengie was never a great player, but his slow decline sped up last season, and despite playing for both World Series teams, Molina had one of the worst seasons of his career.
The Giants re-signed Molina going into last season in case Buster Posey wasn't ready. And when Posey was ready, Molina was shipped off to Texas. Between the two league champions, Molina hit just .249 with an OBP in the 200s. While Molina showed a surprisingly patient approach at the plate, his power disappeared. After hitting 20 home runs in 2009, he hit just five last season.
But Bengie is a catcher. He's said to be good at managing a pitching staff, and he's solid behind the plate. He's a year removed from 20 home runs and he has a long track record. There simply aren't enough good catchers in baseball for Bengie Molina not to get a job next year.
Prediction: Colorado Rockies.
9. Jose Guillen, OF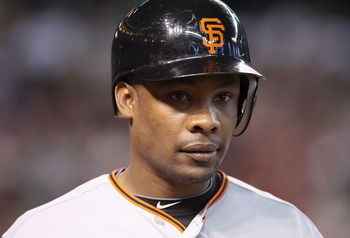 Christian Petersen/Getty Images
Jose Guillen has always been, in my opinion, a bit overrated. It's probably the on-base percentage. He hits for a reasonable average most years, and he has some power, and he's been called an "RBI machine," but he can't get on base and that hurts his teams.
Still, at this point in the game, you take what you can get. Guillen clearly has some offensive talent, and he's not a terrible defensive outfielder either. He was at least a league average hitter last season, and if you put him towards the bottom of the middle of your lineup, you can minimize the OBP hit.
Guillen is unlikely to start, but he should get a job off the bench somewhere.
Prediction: Texas Rangers.
8. Scott Podsednik, OF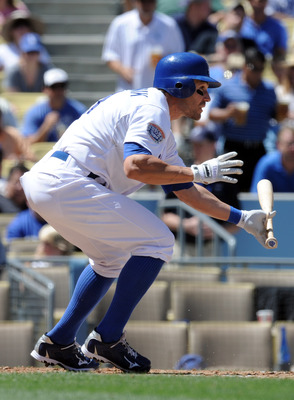 Harry How/Getty Images
Scott Podsednik was having a very nice year before a mid-season trade to the Dodgers.
At 34 years old, Podsednik was hitting .310 and was among the league leaders in steals as a member of the Kansas City Royals. He was also playing solid defense, and his .353 OBP, while not ideal for a leadoff hitter, matched his OBP from 2009 and exceeded his career average.
Podsednik struggled after the trade, and his full season numbers are nothing special. But his time in Kansas City did show us something. Scott Podsednik can still run, and he can still make contact, and his rebound 2009 wasn't a total fluke.
Podsednik will never hit for any power, nor will he take a walk. But he'll hit for a good average, and steal bases, and play solid defense. And while that's not quite enough to make him a starting left field option for many teams, he's a good fourth outfielder who can start if needed.
Prediction: Toronto Blue Jays.
7. Justin Duchscherer, SP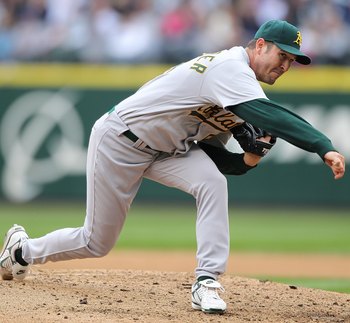 Otto Greule Jr/Getty Images
Justin Duchscherer had one good season as a starting pitcher. That season was 2008, and he's still riding the coattails of a single good year. But that wasn't too long ago, and prior to his success as a starter, Duchscherer was a very good relief pitcher for Oakland.
Injuries and ineffectiveness have kept Duchscherer down over the past few years. He missed all of 2009, and he made just five (relatively good) starts last season. But just a few years ago, the Athletics' former ace pitched to the tune of a 2.54 ERA and a 2.79 K/BB rate.
This is simply a case of low risk, high reward. If Duchscherer can successfully come back from the injuries that have plagued him since 2008, he could really help any team. And even if he can't stay healthy, he'll come cheap. So why not?
Prediction: Boston Red Sox.
6. Russell Branyan, 1B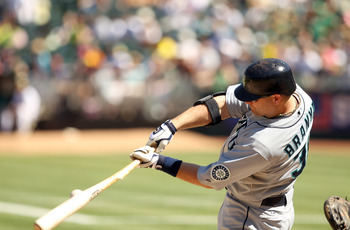 Ezra Shaw/Getty Images
Russell Branyan was not bad last year. The Mariners and Indians first baseman did hit .237, but he also hit 25 home runs in just 109 games, and his .810 OPS was 25 percent above the league average. Still, it seems as though Branyan has been completely forgotten.
This is the player who hit 39 home runs in 2009, to go along with a .867 OPS, and who also posted an OPS well above .900 the season before. While those should be nothing but positives on his record, they seem to contribute to the lack of interest in his services. He struggled in the second half of 2009, and his 2010 didn't live up to the surprise slugger he had been over the past two years. But that doesn't make him a bad player.
In the musical chairs that was this offseason's market for first baseman, Branyan might be the odd man out. But as a 1B/DH/PH, you could do worse.
Prediction: Colorado Rockies.
5. Nick Johnson, 1B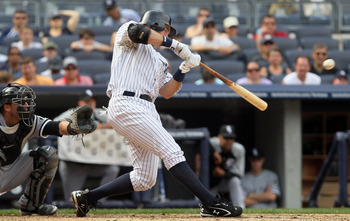 Jim McIsaac/Getty Images
Nick Johnson gets a lot of heat, some of it reasonable and some of it unreasonable.
Johnson returned to the Yankees last year after six years away, and fans seemed ready to welcome him with open arms. But a poor batting average soured fans right away. Instead of a positive, his high on-base percentage was a point of criticism. He had to "get the bat off his shoulders." Not uncharacteristically, Johnson went down with an injury a month into the season and didn't get back on the field all year.
There is a lot of on-the-field risk here. Johnson is always hurt, and moving him to DH last season didn't help. He simply can't stay healthy. But he's also going to be very cheap, and at this point in the offseason, you aren't going to get potential impact without taking a little risk.
Johnson has potential impact. He hits for a good average, gets on base better than just about anyone in the league, has 20 homer pop, and plays solid defense at first. He's probably going to get hurt, but if you get 100 games out of Nick Johnson it's worth quite a bit.
Prediction: Tampa Bay Rays.
4. Jim Edmonds, OF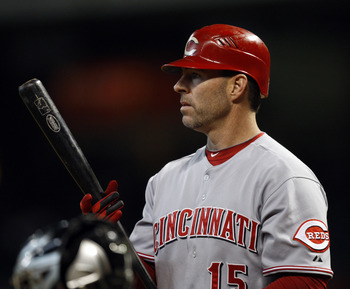 Bob Levey/Getty Images
Jim Edmonds may be 40-years-old, but he can still play. The aging former Gold Glover hit .276 with a solid .342 OBP, and a SLG over .500 last season, playing 52 games in center field and playing them well, and also playing a few games in right field and at first base. As with most aging players, health is an issue.
Jim Edmonds may not even play next year, so it might not be fair to include him on this list. But he's left the possibility open. Given his success the past couple of seasons, even at his age, he'd be one of the best free agents left on the market. Should he decide to play next year he'll have offers.
At this point, Edmonds probably isn't a full-time starter. But his position flexibility and offensive/defensive combo are positives.
Prediction: Cincinnati Reds.
3. Troy Glaus, 1B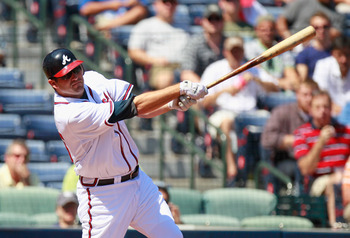 Kevin C. Cox/Getty Images
For Troy Glaus, it was the tale of two seasons. After starting off cold, Glaus played well in May and June before fading down the stretch to finish with one of the worst years of his career, coming off a missed year in 2009.
But despite Glaus' poor numbers, he showed he could still, at times, be a productive player. He's not too old at just 34 and he's got a very good track-record. With the exception of a couple of injuries in Arizona, Glaus was a well above-average offensive player from 2000 to 2008.
A bad season coming off an injury has hurt his reputation, and he could very well be declining. But with the other options out there right now, Glaus is certainly worth a shot.
Prediction: San Diego Padres.
2. Andy Pettitte, SP
Stephen Dunn/Getty Images
Like Jim Edmonds, Andy Pettitte may very well retire. Unlike Jim Edmonds, we know with almost complete certainty where he will play should he play in 2011.
Pettitte had a very good year with the Yankees in 2010, though injuries kept him out of most of the second half. He posted an ERA in the low threes to go along with an 11-3 record. He was also solid in 2009, and at 39, his 2008 ERA is looking like an outlier. This guy can still pitch.
Does he want to pitch, though? We don't know. He's said to be leaning towards retirement, but with Cliff Lee in Philadelphia, the Yankees are likely going after him hard. They've reportedly offered Pettitte something in the range of $12-13 million for one year.
Prediction: New York Yankees.
1. Vladimir Guerrero, OF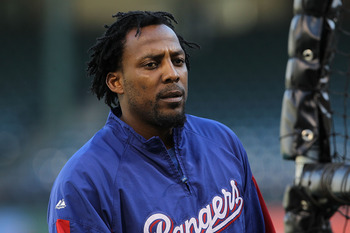 Ronald Martinez/Getty Images
The only true impact player left on the market, Vlad Guerrero is the clear choice for the No. 1 player on this list. The aging future Hall of Famer had a rebound 2010 season, and seems poised to play into his late 30s.
Guerrero hit .300 on the nose last season with 29 home runs and 115 RBI. His .345 OBP was certainly not great, but far from terrible, and acceptable given his other offensive numbers. His .841 OPS represented a 47 point increase from 2009, and his 122 OPS-plus was 15 points higher.
Despite fading down the stretch, Vlad's numbers were good. His numbers in 2009 weren't actually as bad as some made them out to be. And this is still Vlad Guerrero. We all know what he's capable of. Leaving Arlington would certainly hurt those numbers a bit, but he's still an attractive option for any team.
Guerrero now seems unlikely to return to Texas, and the Angels may have just blocked another potential landing spot, so Vald's options are thinning, but he'll find a solid one-year deal and a starting role next season.
Prediction: Baltimore Orioles.
Keep Reading