NFL Playoffs 2011: How to Find the Perfect NFL Cheerleader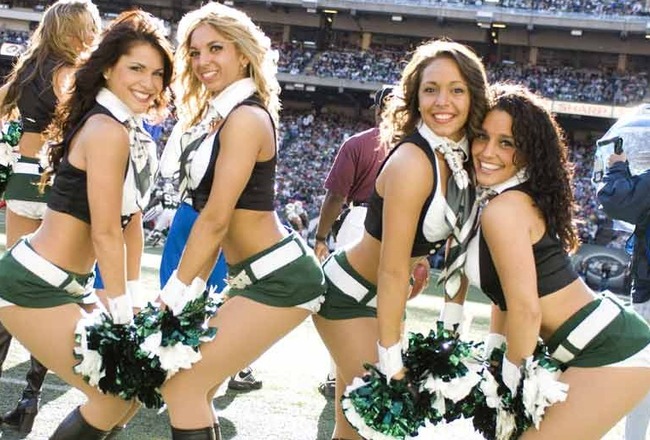 With the Chicago Bears, Green Bay Packers and Pittsburgh Steelers all lacking cheerleaders heading into their games this weekend, this proves to us that you don't need cheerleaders to win football games.
But come on now, cheerleaders can't hurt. They keep up team morale and help entertain fans.
It's time for the teams to listen. Cheerleaders are sometimes viewed as a distraction. However, that's not necessarily a bad thing.
Those three teams need to take a page from the Jets' playbook and bring on the cheerleaders!
Here's a how to guide in finding the perfect NFL cheerleader.
5. Team Spirit: New York Jets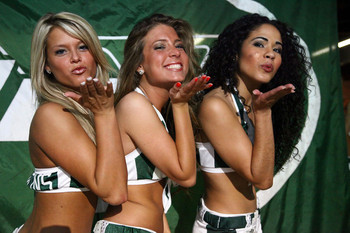 Team spirit is integral in an NFL cheerleader.
Not only do you have enjoy the sport, you also have to love your team.
That means wearing team colors and showing a lot of pride.
5. Team Spirit: Pittsburgh Steelers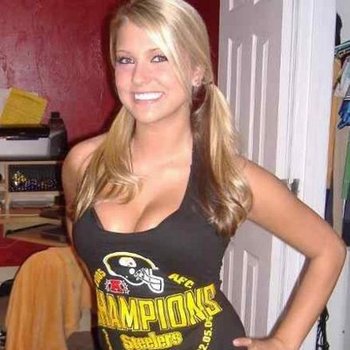 Here's a great recruit for the Steelers:
A busty blonde, wearing an AFC championship Steelers tank top.
She's bursting with team pride!
5. Team Spirit: Chicago Bears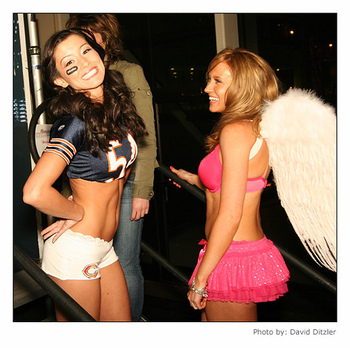 Whether she really likes the Bears or just likes wearing costumes, people will gladly go to games to watch her in Bears colors.
5. Team Spirit: Green Bay Packers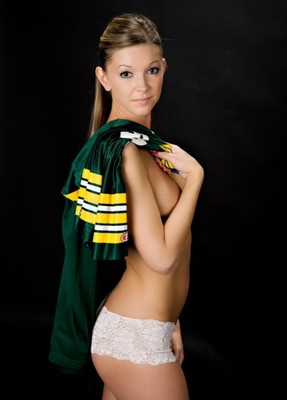 Since 2007, the Green Bay Packers have opted to use college cheerleaders on a limited basis to pump up the crowd during home games.
It's time to go pro.
College kids have midterms and finals to worry about.
This girl just needs to worry about keeping her shirt on.
4. Hotness: New York Jets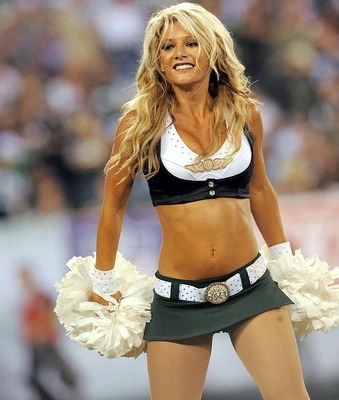 Hotness is indeed a quality trait of a cheerleader.
Call it superficial, call it unfair.
But who wants to look at ugly cheerleaders at NFL games?
Eye-candy keeps fans entertained.
4. Hotness: Pittsburgh Steelers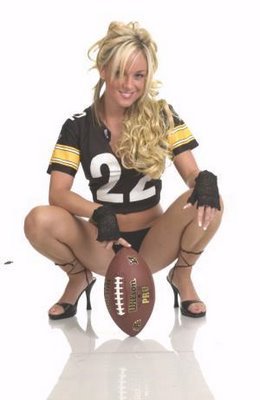 Who wouldn't mind seeing her on Heinz Field rooting her heart out?
She may have to do something about those heels though.
4. Hotness: Chicago Bears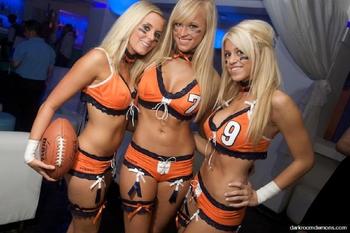 True or False? There are not that many hot women with a passion for football in Chicago.
False!
Meet the Chicago Bliss. A group of hotties dedicated to playing football while wearing nothing but lingerie.
Suit up the Bliss!
4. Hotness: Green Bay Packers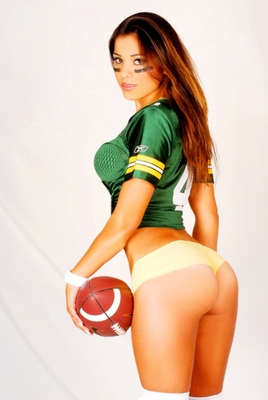 Meet the hot girl holding a football.
She makes Packers fans all giddy simply be wearing that jersey.
3. Dance Moves: New York Jets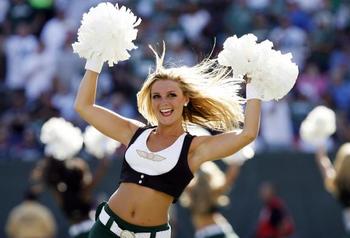 Cheerleaders have to look good in team colors. But they also have to be coordinated enough to
3. Dance Moves: Pittsburgh Steelers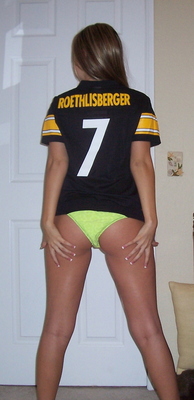 She can dance. Don't doubt her.
The rest of the league has already learned not to doubt No. 7.
3. Dance Moves: Chicago Bears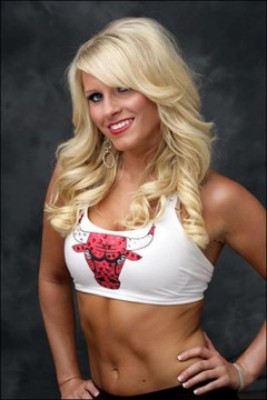 The Bears need dancers?
They need to look no farther than their basketball-playing counterparts, the Chicago Bulls.
The Bulls could have a few extra able-bodied dancers hanging around.
3. Dance Moves: Green Bay Packers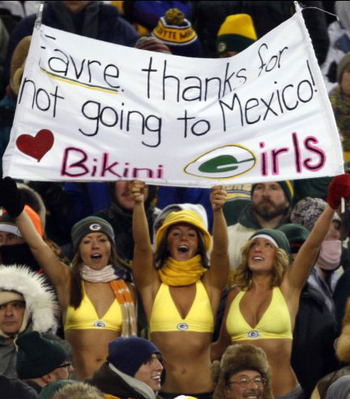 If these girls can stand the frigid wintry weather in Green Bay, they can cut it as cheerleaders.
Throw them on the field and teach them some basic steps.
That's not a bad idea.
2. Flexibility: New York Jets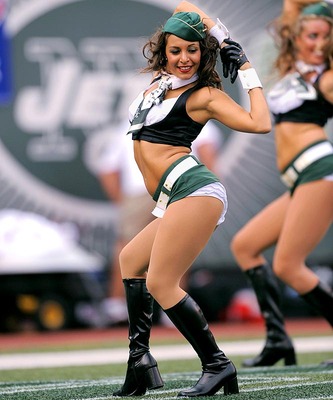 Ah yes, flexibility.
Cheerleaders have to be able to move and contort their bodies to do some unnatural things.
Why? Because flexibility can impress us.
2. Flexibility: Pittsburgh Steelers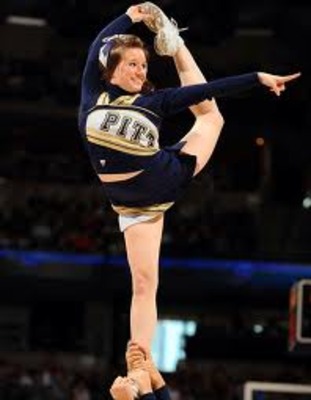 There are some possibilities for Pittsburgh if they ever decide to bring in some cheerleaders to their home games.
They can recruit from nearby universities.
After this co-ed graduates from Pitt, how else is anyone going to see her flexibility?
2. Flexibility: Green Bay Packers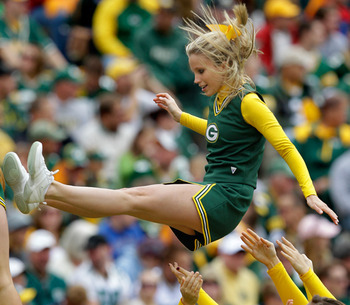 Aw you missed it. She was just doing some heel stretches on top of the pyramid.
2. Flexibility: Chicago Bears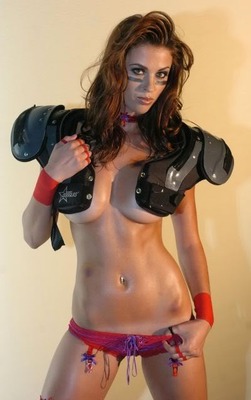 She's not showing much flexibility with that pose.
But you can bet she can do a lot of things with that body.
She can probably tackle too.
1. Personality: New York Jets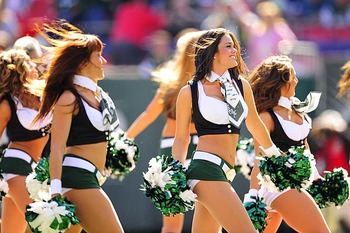 Personality also goes a long way. Without it, you can be just plain boring.
The reason Rex Ryan grabs a lot of attention is because he's got a life-sized personality.
1. Personality: Pittsburgh Steelers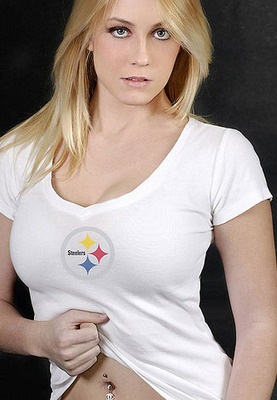 Check out this Pittsburgh Steelers fan.
She looks quiet and sweet.
But you can just tell there's something naughty about her.
1. Personality: Chicago Bears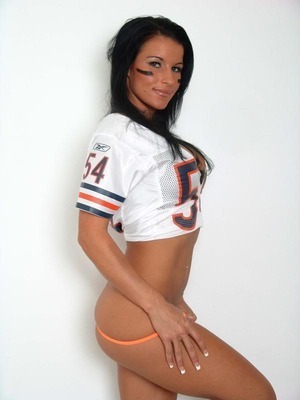 Personality is very important in a cheerleader.
Even in an NFL quarterback. No offense, Jay Cutler.
1. Personality: Green Bay Packers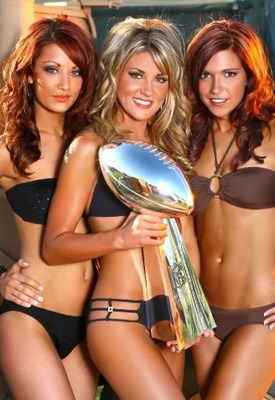 The Packers appear to be Super Bowl bound.
Their offense has rolled with Aaron Rodgers and their defense continues to make big plays.
But one of the biggest things that's missing from the team are the cheerleaders.
Not being able to celebrate a Super Bowl with cheerleader is just a big disappointment.
Keep Reading