Sandman: Each Positions Player That No One Should Sleep On In 2011 NFL Draft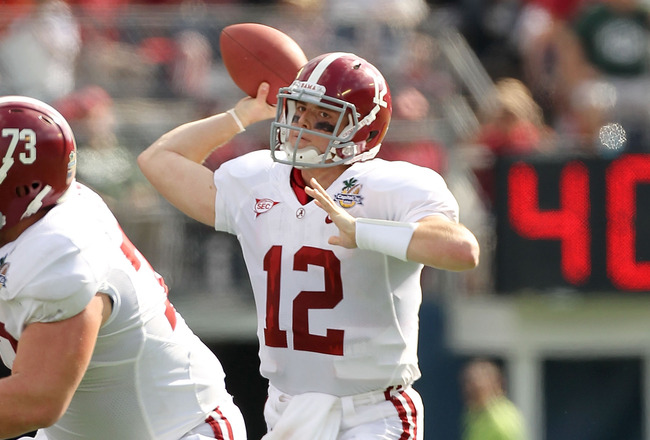 Mike Ehrmann/Getty Images
Every year in the NFL Draft there are players that everyone sleeps on. These players can turn out to be Pro Bowlers if they are given the chance to play.
Look at Tom Brady, Kurt Warner, Zach Thomas, Jason Taylor, Warren Moon, and Dick 'The Night Train' Lane. Barley anyone knew who those players were when they went throughout the draft process. Look at them now, most of these guys will end up in the Hall of Fame someday.
Who from this year's class will end up like those six? Who are the players that no team should sleep on in the Draft?
Tie QB: Greg McElroy QB Alabama SR.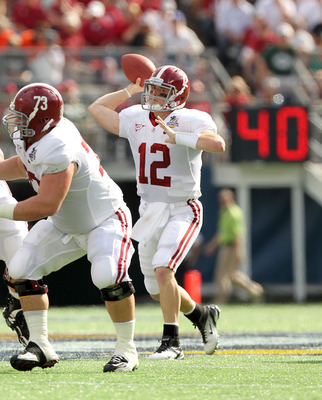 Mike Ehrmann/Getty Images
Ht: 6'3
Wt: 225
McElory is the making of a franchise quarterback. Throughout High School and College, he lost only 3 games as the starting quarterback. Now that's something.
An experienced quarterback, McElroy can make all the throws needed of an NFL quarterback. He has great accuracy and decision making. While not very mobile, McElroy is one of the smartest quarterbacks out there. He knows the game inside and out which really makes the difference at the next level.
Right now he is projected as a late round pick, but good workouts at the Combine and a a good Senior Bowl game could get McElroy as high as the 3rd round.
Whoever gives the Alabama quarterback a chance will get results.
Tie QB: Andy Dalton TCU SR.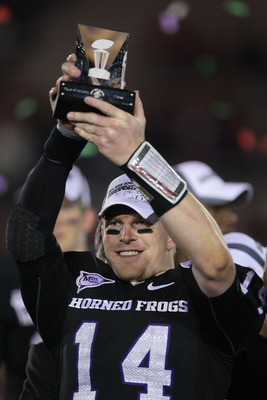 Stephen Dunn/Getty Images
Ht: 6-2
Wt: 220
With a 42-8 Career record as the starter of the Horned Frogs football team, Andy Dalton is one of the most accomplished quarterbacks in the Nation. With a Rose Bowl win this year Dalton solidified himself as one of the greatest Non-AQ quarterbacks ever.
Dalton has a pretty good arm that would fit a West-Coast Offense or a run-orientated team. He can make plays with his feet which is good and has great accuracy, while making few mistakes.
If Dalton can play well in the Senior Bowl, his stock could go sky-rocketing. Like McElroy, Dalton is a proven winner, and if given the chance, will be a franchise quarterback.
RB: Roy Helu Jr. Nebraska SR.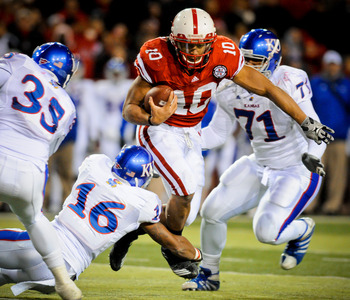 Eric Francis/Getty Images
Ht: 6-0
Wt: 220
The bruiser from Nebraska is one of the many physically gifted backs in this years draft class. At 6' 220, Helu has the size to play in the NFL. With 4.4-4.5 speed, Helu can run past defenders, or run through them.
Helu could have easily broken 1500 yards rushing this year if Nebraska didn't use a 3-headed rushing attack instead of making Helu the primary back.
Helu also has good pass-catching skills and runs good routes. With similar size and skills to former running back Edgerrin James, Helu would be a steal in this years draft.
WR: Jeff Maehl Oregon SR.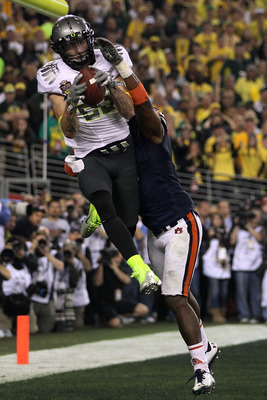 Christian Petersen/Getty Images
Ht: 6-1
Wt: 185
Jeff Maehl is the most underrated prospect in this years draft.
The senior from Oregon hauled in 77 passes for 1076 yards and 12 touchdowns. Not bad numbers for an Oregon team that was a run first team.
While Maehl lacks size, he has great talent. He is physical for his size, runs great routes, has good, but not great speed, and beats opponents at the line and some great hands.
Mahel could be a solid number 2 receiver in the NFL and has some great skills. He reads the DB's well.
Right now he is projected as a late round draft pick, but if he has a good showing in the Shrine Game, and 4th to 5th round selection could be in-store. He could be another Blair White.
TE: Lance Kendricks Wisconsin SR.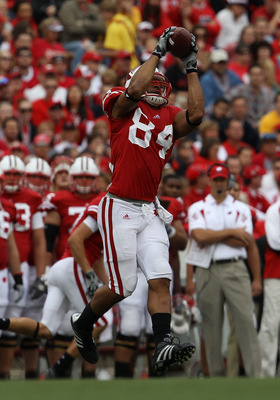 Jonathan Daniel/Getty Images
Ht: 6'4
Wt: 241
Lance Kendricks has all the tools that you want in an NFL Tight End.
Kendricks possesses good size at 6'4 241.
A former wide receiver, Kendricks was great in the 'passing-offense' at Wisconsin. With the Badger being a run first team (see the 3 running backs who had 900+ rushing yards each). With good speed for a tight end and some great hands, you would think Kendricks is just a receiving tight end. Wrong.
Kendricks was a great blocker for the Badgers and kept the Big Ten's best defenders at bay to protect the running backs and the quarterback.
Frankly Kendricks is the most complete tight end in this years draft and should edge out Kyle Rudolph as the top tight end because Kendricks never dealt with injuries.
Right now Kendricks is projected as a 3rd round pick, but a good performance in the Senior Bowl today and a good Combine could make him a Fringe 1st rounder at the highest.
OT: James Carpenter Alabama SR.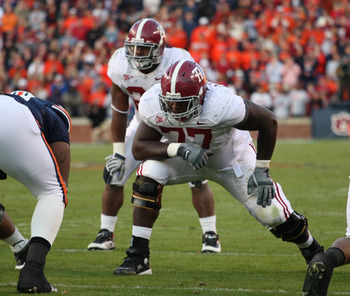 Ht: 6'5
Wt: 300
In a draft filled with Top Tier offensive lineman, James Carpenter out of Alabama is a name that will likely get overlooked.
Coming out of Junior College, Carpenter immediately started at LT for the Crimson Tide, and boy did he do a good job.
Providing great protection to give QB Greg McElroy a career year, Carpenter has good size and speed to play in the NFL.
Right now Carpenter is projected as a low round draft pick but with a good combine and Senior Bowl today, he could move into the 2nd or 3rd round.
OG: Benjamin Iljalana Villanova SR.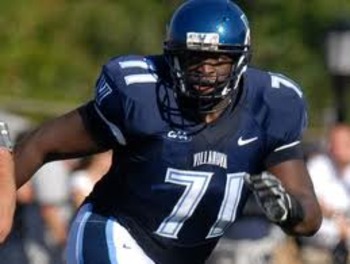 Ht: 6'4
Wt: 320
Iljalana is a great prospect at the offensive guard position, and could even play offensive tackle in the NFL. With monster size at 6'4 320, Iljalana is one of the most interesting prospects in this years draft.
His size and speed make him a great prospect, but having played at Villanova don't really go too well. And no disrespect to the FCS at all, but let's face it, the FCS is a lot weaker then the FBS.
Iljalana's will have to prove that he is more than just talent in today's Senior Bowl game to get him 2nd round consideration in the draft.
Projected as a 3rd or 4th round pick, Iljalana can boost his draft stock at the Combine and Senior Bowl, much like Maurkice Pouncey did last year, minus the Senior Bowl however.
C: Jordan Holmes Oregon SR.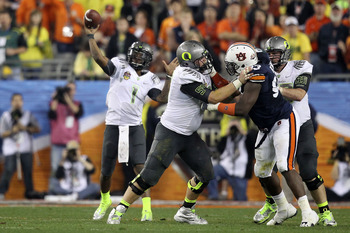 Christian Petersen/Getty Images
Ht: 6'5
Wt: 300
Holmes, like Iljalana, is a very interesting prospect. Holmes played great at Oregon and was a semi-finalist for the Rimington Trophy (Nation's Best Center). Holmes does not make many mistakes, did great with snapping the ball, and has good size.
However Holmes played in a wide-open Spread Offense that will not help his draft stock. Holmes did not play in either the Senior Bowl or East-West Shrine Game which didn't help his draft stock at all.
If Holmes can do well at the Combine and can get some good coaching on playing Center in a Pro-Style offense, he can move up into the 4th round at the highest.
DE: Greg Romeus Pitt SR.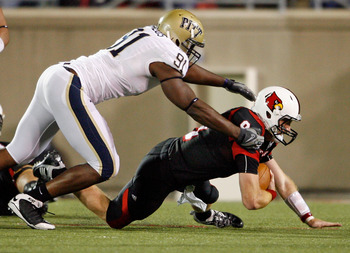 Andy Lyons/Getty Images
Ht: 6'6
Wt: 270
Romeus possesses great size and speed to play defensive end in the NFL. He was a master pass-rusher and run-stopper his Junior year and was projected as a 1st round pick after his Junior Year. Romeus returned for his Senior Year which was supposed to improve his draft stock a lot.
However Romeus played in 2 games in 2010 after battling injuries all season. That dropped him into the 5th round range and it will be hard to get out of it.
The only way Romeus can hope to improve his draft stock is by having great off-season workouts to show that he is a great prospect.
If a good 40 time and bench press come Romeus' way, he could move into the 2nd round and even into the 1st round if he is lucky. The Sky is the limit for Romeus.
DT: Phil Taylor Baylor SR.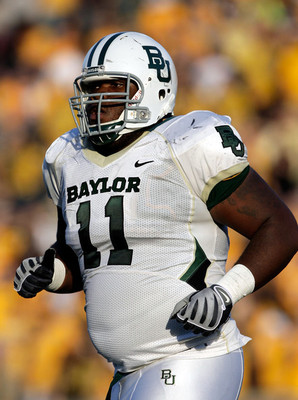 Ht: 6'4
Wt: 330
Taylor is a behemoth at 330 lbs. and is the definition of 3-4 Nose Tackle. Taylor is big, a great run-stopper and can break double coverage to get to the passer.
Taylor is one of those prospects that oozes with potential and can be one of the best Nose Tackles in the NFL in a few years.
Relentless and strong, whoever stands in Taylor's way is going down.
If Taylor can run a sub-5 40 at the combine, he could jump from the 3rd round into the 1st round.
OLB: Kenny Rowe Oregon SR.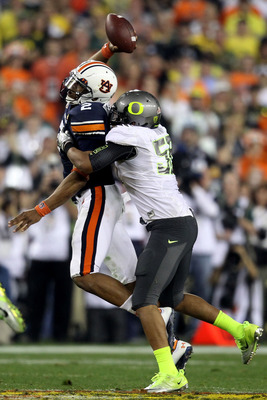 Christian Petersen/Getty Images
Ht: 6'3
Wt: 230
Rowe was an absolute beast for Oregon in the National Championship game. Rowe made life miserable for Cam Newton and kept him in check for pretty much the whole night.
Rowe lacks pure strength and is too small to play DE in the NFL. At 230 pounds, he could be too small to play OLB even.
But what Rowe lacks in size and strength, he makes up for with his determination to bring the ball-carrier down and the speed to get to them. Look again at the Nation Championship game, the 230 lb. Rowe was bringing the 250 lb. Newton to the ground with relative ease.
Rowe needs to bulk up by Oregon's pro-day to get selected in this year's draft. If he can get to 240-250 by then, he will be a fifth to sixth round prospect.
CB: Jason Teague TCU SR.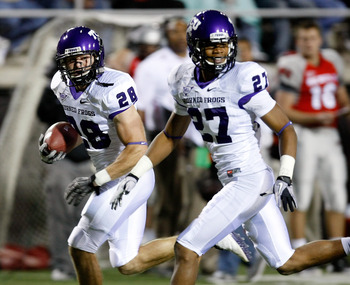 Ethan Miller/Getty Images
Ht: 6'2
Wt: 197
Teague is a huge sleeper prospect because he has loads of talent, but did not have much production in his one year starting at TCU.
Teague has great speed and strength, is a hard hitter, is smart and makes quick reactions and has the size to dominate receivers at the next level.
Teague does not make many mistakes and that is key in the NFL.
If Teague has good workouts during the off-season, he could move from the fifth round into as high as the third.
S: Ahmad Black Florida SR.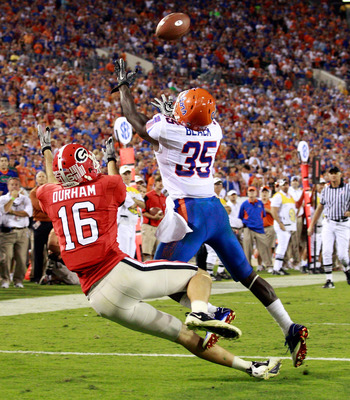 Sam Greenwood/Getty Images
Ht; 5'9
Wt: 190
Black may be small at 5'9, but he plays big. Black has great speed and hits receivers like he means it. With great vertical ability, Black is one of those guys that makes a name for himself despite his small size.
Black totaled 227 tackles, 2 forced fumbles, 13 interceptions, 2 sacks, and 3 TDs in his 4 years at Florida. Three of those years Black started at Safety
With experience, speed, production, vertical ability, and the heart of a champion, Black could end up like Bob Sanders before he started getting injured.
Black projects as a third round prospect right now.
Keep Reading