National Signing Day 2011: Which Top Recruiting Classes Will Suffer the Most?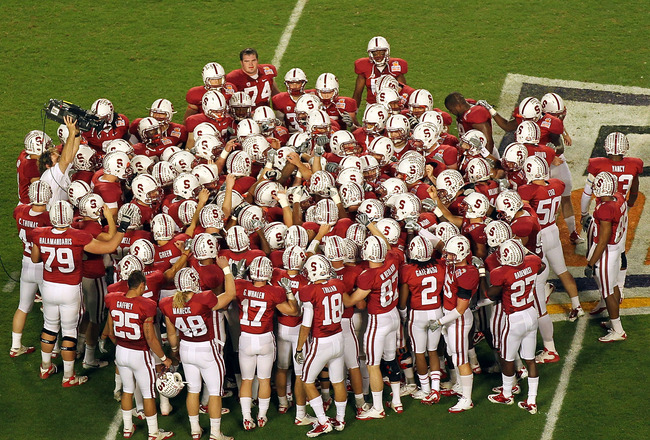 Mike Ehrmann/Getty Images
Over the course of the next two weeks, the college football recruiting landscape is likely to look completely different than it does now.
Teams ranked at the top of the recruiting class polls may slide down a few pegs while late commitments could push teams fighting for position on that poll all the way to the top.
With many of the nation's top-ranked players still uncommitted, the way the landscape looks at the end of the recruiting season is truly anyone's guess.
But, as in any sport, there must be a winner and a loser. As the final days pass before National Signing Day, some teams will make the final push needed to finish the year with a recruiting class that can help them make a difference on the field. Others will suffer through a down time and spend the time leading up to the 2011 season wondering what exactly happened.
Here are the five teams that will see their recruiting classes suffer as National Signing Day approaches.
Texas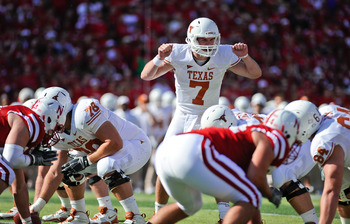 Eric Francis/Getty Images
On the bright side, the Longhorns now know. But on the flip side, what they now know is likely to be devastating.
The news I'm referring to, of course, is today's verbal commitment to Auburn by former Texas commit and top-ranked offensive tackle Christian Westerman.
The one-time solid Longhorns verbal reopened his recruitment after the coaching carousel changes that hit Texas and never seemed to fully resolve themselves. As soon as he was on the market, USC and Auburn—two of the schools that missed out on him the first time—came calling, quickly.
After dispelling USC as an option, he remained Auburn's post-National Championship No. 1 priority. And it paid off for the Tigers.
The only question that remains for Texas is this: Are there players to follow?
USC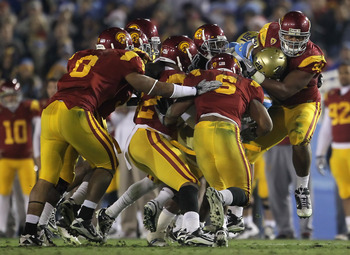 Jeff Gross/Getty Images
The Trojans have had an up-and-down month of January.
After being snubbed at the U.S. Army All-American Bowl where it they expected to hear good news from a few key targets, the Trojans went back to the drawing board. Things seemed to pick up a bit as George Farmer and De'Anthony Thomas solidified their verbals and maintained their commitments to USC.
While the Trojans are considered finalists for a handful of solid prospects, most of those players are Southeast natives and are also consider ACC and SEC schools as finalists.
With Marqise Lee, Cyrus Hobbi and Troy Niklas, among others, targeted as potential commits, it is likely going to be hard for USC to continue to improve. And in the Pac-10, where teams like Oregon, Stanford, Cal and Utah are only improving, that may cause USC to suffer.
Ohio State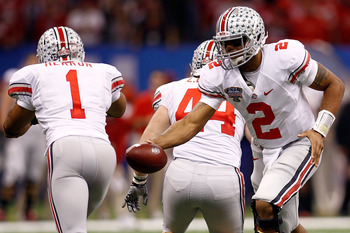 Chris Graythen/Getty Images
The Buckeys have, as per usual, compiled a recruiting class worthy of recognition. Pulling from rich prep areas in Ohio, Pennsylvania, Michigan and beyond, Ohio State always seems to perform well against the best the Big Ten and the rest of the nation has to offer.
Given their targets as National Signing Day approaches, however, it may be tough for the Buckeyes to continue the upward trend.
Ohio State considers Curtis Grant, Darius Jennings and Aundrey Walker potential commits but the Buckeye class—ranked 11th by Rivals.com—doesn't seem to be pulling in the strong feelings from those players as the final two weeks begin to tick off the recruiting season.
Florida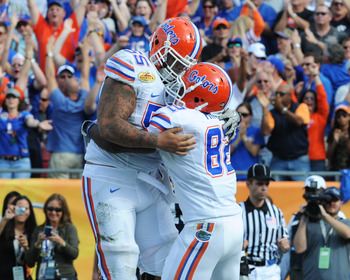 Al Messerschmidt/Getty Images
The Gators have been a bit of a mirage this season on the recruiting trail.
After starting out hot, Florida took major hits after Urban Meyer announced that he would step down. Before Will Muschamp took over at the helm for the Gators, a handful of verbal commits and players considering the Gators, looked and went the other way.
Still, Florida has marched on and has continued to recruit.
With a host of players targeted as potential commits in the final weeks of the recruiting season, there only seems to be one feeling in store for the future in Gainesville: disappointment.
Even if the Gators can land a realistic number of their 13 potential commitments, it would be considered a disappointment. Players like Tim Jernigan, Jonathan Jenkins and Curtis Grant are reported to be leaning elsewhere and it seems like Florida may not finish the season as it had hoped.
Stanford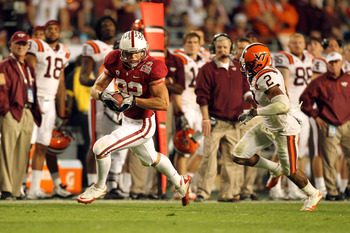 Mike Ehrmann/Getty Images
Much like the departure of Urban Meyer from Florida, Stanford's loss of Jim Harbaugh has done anything but good for the Cardinal's recruiting efforts.
With James Vaughters, Wayne Lyons and Brendon Austin, among others, committed for next season, the Cardinal take aim at defensive end Lake Koa-Ka'Ai, cornerbacks Ronnie Harris and Jermaine Whitehead and offensive tackle Troy Niklas.
All told, the departure of Jim Harbaugh may be just too much for Stanford to overcome.
Keep Reading

Ohio State Football: Like this team?