Venus Williams, Monica, NFL Playoffs and Friday's Top Sports Stories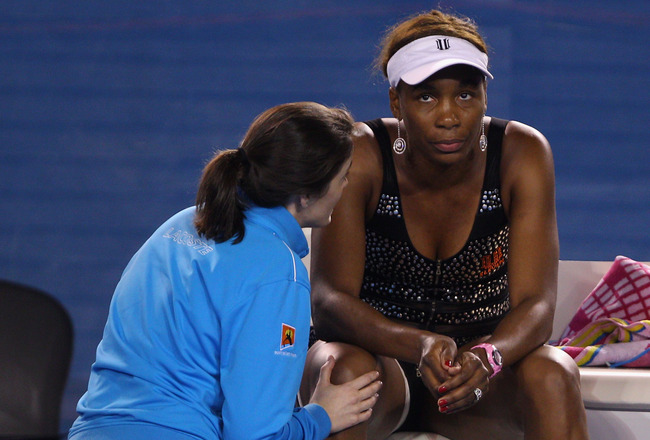 Mark Kolbe/Getty Images
Venus Williams, Monica, NFL Playoffs and Friday's Top Sports Stories
It's time to get you updated on Friday's top stories as we head into the weekend.
Venus Williams' return to tennis was stopped short after an injury forced her out of the Australian Open Thursday as the action heats up down under.
Meanwhile, which NBA player is apparently married to R&B star Monica?
And of course, this weekend is Conference Championship Weekend in the NFL. The Packers and Bears meet for the NFC Championship, while the Jets and Steelers meet for the AFC title in Pittsburgh. Expect to hear many references to the impending lockout, Rex Ryan and Vince Vaughn's new movie Sunday.
This is the place to get the latest sports news, so keep reading for these stories and more.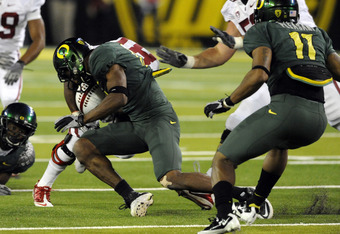 2011 NFL Draft: Oregon Safety Javes Lewis Taking His Talents To The NFL Draft
Javes Lewis is not a star on a star-studded Oregon squad. He wasn't even a starter this year after losing his starting spot entering the season. Yet he's decided to leave school and enter the Draft, according to the Oregon Daily Emerald.
According to the report, Lewis started 12 games for the Ducks in 2009 before he lost out on the starting role. He's started to train in Arizona in preparation and has also withdrawn from the University, according to the Daily Emerald.
The Daily Emerald and OregonLive.com's John Hunt said that Lewis is not expected to be drafted in April.
For more NFL news: 2011 NFL Draft: Top 15 Projected Draft Board Risers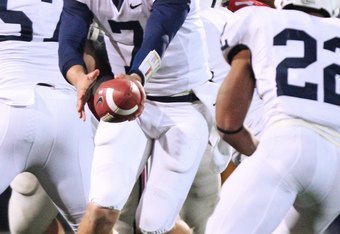 2011 NFL Draft: Players Looking To Prove Themselves at East-West Shrine Game
The East-West Shrine Game is not the spotlight game for players who already know where they will end up in the first round. Instead, the Shrine Game is the chance for others to improve their draft status before the scouting combine and a last chance to be seen by scouts in a game setting.
There are a few bigger-named prospects that will be at the game, including Wisconsin quarterback Scott Tolzien and Virginia Tech's Tyrod Taylor, according to the AP. But an interesting case will be Delaware's Pat Devlin, also outlined in the AP story, who transferred from Penn State and put up fantastic numbers in FCS replacing Joe Flacco. He doesn't have the high-profile name, but he could be a very good prospect.
For more NFL news: 2011 NFL Draft: Top 15 Projected Draft Board Risers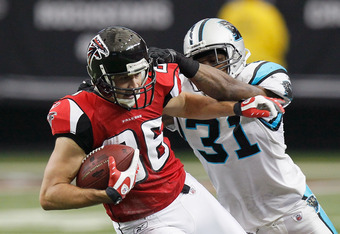 2011 NFL Draft: Who Will The Carolina Panthers Select With The Top Overall Pick
In terms of Draft news, all eyes will now be on the Panthers, who hold the No. 1 pick in the Draft. Early on, it was a given the Panthers would go with Stanford's Andrew Luck. He knew, the experts knew it, the Panthers even said they would do it.
But with Luck out of the running, the focus now shifts to what the Panthers will do now. Nick Fairley has risen to the top of most Mock Drafts, though CBSSports.com has the Panthers taking Patrick Peterson, the cornerback out of LSU. Georgia's phenomenal wideout A.J. Green could be an option as well.
For more NFL news: 2011 NFL Draft: Top 15 Projected Draft Board Risers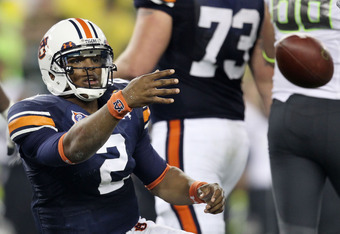 2011 NFL Draft: Cam Newton To Be Represented By Brett Favre's Agent
For all the electrifying plays Cam Newton provided during this past season of College Football, he definitely was controversial during Auburn's run to the National Championship.
So isn't it ironic that Newton, who's expected to be a first round pick, is signing with the agent of the most controversial pro quarterback right now.
Bus Cook, the agent of Brett Favre, will be Newton's agent entering the Draft in April, according to USA Today. The report also said Cook will share duties with an agency that's also representing Newton's brother, who's a free-agent offensive lineman.
For more NFL news: Cam Newton: 10 Flaws That Will Keep Him From NFL Stardom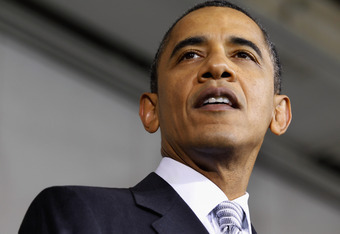 Packers Vs. Bears: President Obama Proclaims The Winner
Everyone knows that when it comes to sports, President Obama wears his love to Chicago on his sleeve. We all knew that even before he wore a White Sox cap with a Nationals jacket when he threw out the first pitch in Washington this past Opening Day.
So was it any surprise that two days away from the NFC Championship Game, who the President was picking?
(Spoiler Alert: It's the Bears).
From the AOL blog Politics Daily and correspondent Tom Diemer:
"In his Thursday press briefing, White House spokesman Robert Gibbs revealed that the president will watch the big game at Chicago's Soldier Field on television, and said Obama expects Da Bears to win by a field goal."
Diemer reported Obama even gave a final score: 20-17.
For more NFL news: NFL Power Rankings Week 17: Jets, Steelers Packers Top Final 2010 Edition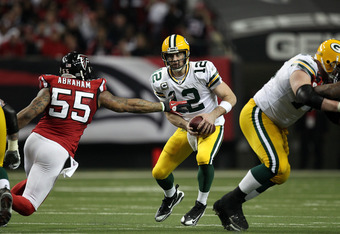 Aaron Rodgers: Packers' Quarterback Riding Momentum Into NFC Championship Game
Aaron Rodgers has to be loving life right now. He's become one of the stars of these playoffs and he's the hottest quarterback in the league right now. He leads all playoff quarterbacks in passing yards, has thrown six touchdowns with no interceptions and has completed close to 80 percent of his passes.
So the focus for the Bears entering the NFC Championship Game Sunday will definitely be stopping Rodgers, which no one has been able to do of late. The Bears were able to get a pass rush last week, but that was against Matt Hasselbeck and the Seahawks. The Packers are a much better team and Chicago will need a strong performance from Julius Peppers, for example, to have a chance.
For more NFL news: In Over Their Heads: 10 Reasons The Packers Will Bring Down The Chicago Bears
Mike Tomlin Reporter: Tomlin Criticizes ESPN Reporter For Revealing Play
Mike Tomlin has come to have his own identity as the coach of the Steelers. He's a no-nonsense guy who tells it like it is and also not afraid to speak his own mind. And that includes going after a reporter.
Earlier this week, ESPN's Bob Holtzman reported the Steelers had planned to use a trick play against the Ravens. The New York Daily News reported Holtzman said the Steelers would use someone who doesn't normally throw the ball throwing a pass.
So when Holtzman asked Tomlin during his weekly press conference (about 1:30 in) how much preparation it takes to get ready for Rex Ryan, Tomlin had a simple answer:
"It depends on whether or not you give him my plays."
He's definitely not afraid to speak his mind.
For more: Mike Tomlin Reporter Video: Watch Steelers Coach Call Out Bob Holtzman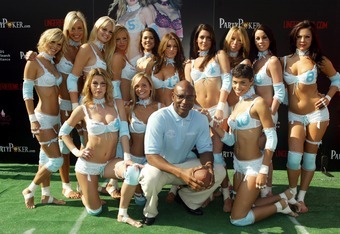 Lingerie Football League Playboy: Players To Pose For Magazine's February Issue
Well ever since it's inception, the LFL (that's the Lingerie Football League) has been trying to find good publicity. Not that the league hasn't found a niche in the "women playing football while wearing sexy lingerie" market, but it's always been on the fringe somewhat.
The league is probably hoping that a 10-page pictorial in the February issue of Playboy, which features some of the players, out of uniform to say the least, will bring some attention to the league. And to be honest it probably will. But the women also want to stress the league is more than just women playing football in lingerie.
For more: The 50 Hottest Athletes Of 2010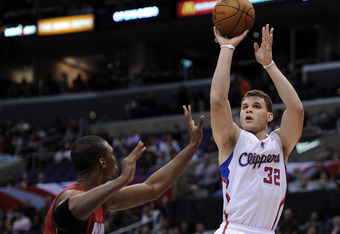 Blake Griffin Girlfriend: Report Claims She Doesn't Even Exist
So apparently Blake Griffin isn't just heating up the NBA these days. The internet has been aflutter with rumors recently about Blake Griffin's supposed girlfriend, a student at USC named Jasmine. The rumor has taken off, with bigger and bigger sites posting it as fact.
So how shocked will the world be if it turns out she doesn't even exist?
The sports blog SportsByBrooks has a detailed report on the matter, claiming that the girl, Jasmine Shein isn't real. It's a lengthy post and somewhat confusing, but the report basically claims that the entire rumor was one big publicity grab done by another web site, done by creating a fake Facebook page and using photos from some random girl to make it seem real.
It's basically the Mike Wise "experiment" again only with gossip. And once again, it somewhat worked.
For more NBA news: Blake Griffin: 10 Reasons He Will Lead The Los Angeles Clippers To The Playoffs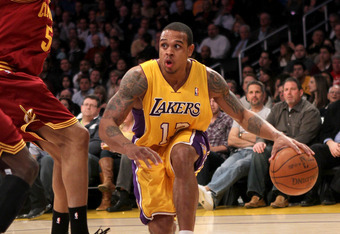 Monica: Shannon Brown Reportedly Marries Monica in Secret Ceremony

Shannon Brown has had a pretty good year so far. He's playing more and putting up good numbers off the bench for the Lakers.

And apparently, he's now married.
R&B singer and performer Monica confirmed this week that she married Brown back in November, a month after the couple were engaged. UPI.com reported that UsMagazine.com wrote the wedding took place at the couple's home Nov. 22. UPI.com also reported the two started dating last summer after Brown appeared in the singer's latest video.
For more NBA news: Los Angeles Lakers: 10 Reasons They'll Never Be "The Other L.A. Team"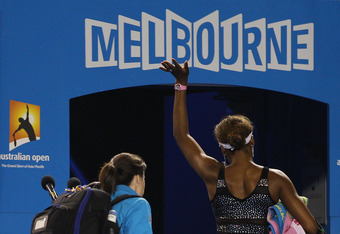 Venus Williams: Star Forced To Withdraw From Australian Open With Injury
Venus Williams is one of the most recognizable players in women's tennis, and is probably one of the more recognizable names the sport's ever had.
But she's never had to withdraw from a major singles match early until Friday when an injury to her side, which she described as "the muscle that flexes her hip and spinal column" according to the AP, forced her to withdraw from her third-round match against Andrea Petrovic.
The AP reported Williams had also injured her right thigh during her second-round match. The Australian Open was her second tournament back after missing several months with a knee injury.
For more tennis news: Australian Open 2011: Latest News, Updates and Schedules from Down Under