NFL Lockout-Ending Storylines To Follow This Summer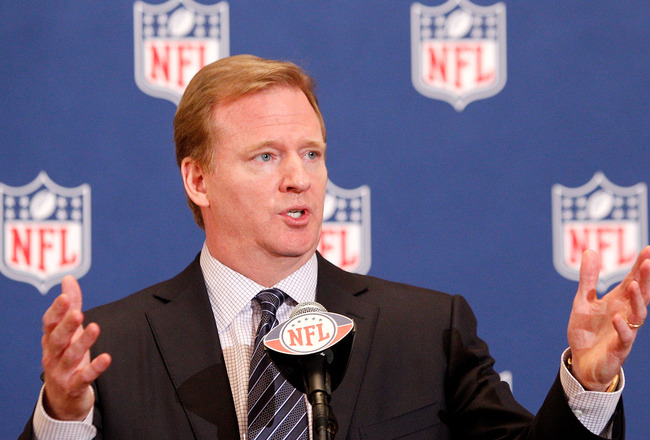 Roger Goodell will be booed at every park he visits this year, even though the season was saved.
Sean Gardner/Getty Images
Well, well, well. It looks like all of the doom and gloom scenarios that NFL fans have heard for the past four months will finally go by the wayside.
The NFL and its players are nearing the completion of a brand new CBA that will be seven to 10 years in length. The two sides agreed on a new rookie wage scale and are nearly complete in negotiating the rest of the financial packages in the deal.
Players' safety, offseason programs, compensation for losing out in offseason workouts this year and the litigation web of Brady et al vs. the NFL is still on the table and being dealt with according to NFL.com.
No real financial details regarding player revenue have been released, yet it is believed that the salary cap will be around $123 million for the upcoming season.
So all of the optimism that we have heard about over the past few weeks, finally seems real.
The NFL could be up and running by mid week next week, if both sides can take care of the legal issues in Minnesota, and then ratify the new CBA.
When the league opens for business, hopefully next week, it will begin what will be a crammed and crazy offseason and training camp. It doesn't matter what team you happen to root for, everyone will feel the aftershocks of this hideous moment in NFL history.
But, as the old saying goes, with the lockout pretty much over...are you ready for some football?
James Harrison's Big Mouth Could Lead to Big Fine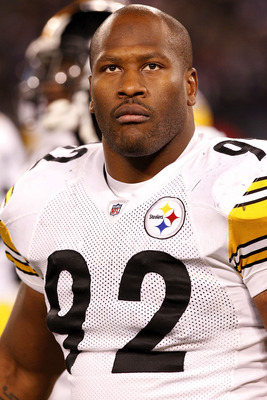 Geoff Burke/Getty Images
It remains to be seen what kind of penalty, if any, Roger Goodell levees on outspoken Steelers linebacker James Harrison.
In case you were living under a rock the last couple days, Harrison was quoted to Men's Journal as saying that Goodell was a "crook" and the "devil," including calling him a gay slur. He even said that if Goodell "was on fire and I had to piss on him, I wouldn't do it," Harrison told the magazine.
He even went on to rip Rodney Harrison, Teddy Bruschi and the New England Patriots, as well as his own teammates Ben Roethlisberger and Rashard Mendenhall.
He was even photographed posing with two handguns in the magazine.
Harrison said that he was sorry for the comments, but it might be too late.
If Goodell doesn't punish Harrison with a heavy fine, the Steelers might.
Remember last year, the Steelers were more than happy to dump Santonio Holmes after he was caught for substance abuse, and they even contemplated trading Roethlisberger after he was charged with raping a girl in a nightclub.
Harrison is a very good athlete, and one of the Steelers top linebackers, but Pittsburgh is notorious for finding new talent very quickly. Unfortunately for Pittsburgh, they didn't have a offseason program to find out if they have that guy from their rookie class.
He probably won't be traded, but with all of his shenanigans, wouldn't he make a perfect New York Jet?
Will the Jets Keep Their Free Agents and Return to AFC Title Game?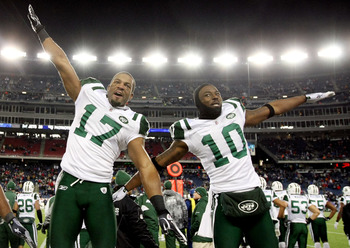 Al Bello/Getty Images
Speaking of the Jets, they have 16 pending free agents including the two guys above—Braylon Edwards and Santonio Holmes.
Both Holmes and Edwards helped ignite a Jets offense that was 11th in the NFL in total offense. You could say that Mark Sanchez benefited greatly form having the duo. Both Holmes and Edwards made the tough catches and even rescued some of Sanchez's bad passes. Plus, both receivers had a knack for the dramatic.
Holmes won two games by himself with game-winning touchdowns against Cleveland and Houston. Edwards did his part as well. He had big catches down the sideline against Houston to set up the victory and even had a huge catch down the sideline in Indianapolis to set up the winning field goal in the AFC Wild Card game.
The Jets have to find a way to keep both, but it might be difficult. Edwards and Holmes will want No. 1 receiver money, and there is no guarantee that one or both will return. Rumors swirled yesterday from NFL Network's Jason La Confora that the Washington Redskins are interested in Holmes, and Dan Snyder usually gets his man.
In addition to Holmes and Edwards, Brad Smith, Shaun Ellis and Antonio Cromarite highlight the Jets free-agent class. With Nnamdi Asomough probably looking at a contract of $15 million a year, the Jets have to hope they can convince Cromartie to sign a deal that will be far less than what Asomough will command.
This is also a team that is in desperate need of a pass-rusher or two. They don't know what they will get from rookies Muhammad Wilkerson and Kendrick Ellis, and those two guys had really no time to learn Rex Ryan's complex 46 defense.
The lockout could hit the Jets the hardest, depending on how quickly they can sign their own free agents.
If you are a true diehard Jets fan, you are probably a cynic—you probably will be convinced that only the lockout could destroy the Jets chances at greatness.
Remember it's the Jets; usually, whenever they get this close to greatness, the rug is always taken out from underneath them.
Where Will Nnamdi Asomugha Go?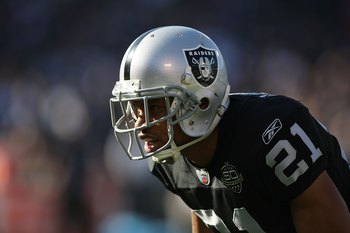 Jed Jacobsohn/Getty Images
Expected to be the No. 1 free agent in this blitzkrieg offseason, everyone will be able to spell the name of Nnamdi Asomugha by the time the regular season starts September 8.
Considered to be, at the very least, the second-best corner back in the NFL behind the Jets Darrell Revis, Asomugha is your prototypical shutdown corner.
At 6'2", he is big enough to line up against some of the game's most talent receivers, and his ability to shut down top receivers makes him a potent pick up for whomever gets him.
Asomugha burst onto the scene in 2006 when he had 50 tackles, 11 passes defense and eight interceptions. Since that time, his stats have gone down, because NOBODY wants to throw in his direction. That's pretty good.
It would not be surprising if the Redskins or Cowboys go hard after him. Both teams love to get the marquee name in free agency, even before all this nonsense with the lockout. With the salary cap expected to be around $120 million this year, rumors are Asomugha could command a salary of $15 million per year.
Every team in the NFL could use this guy. Sorry Raider Nation and the people of the Black Hole, Asomugha is not returning to Oak Town.
Who Will Emerge as the Quarterback in Denver?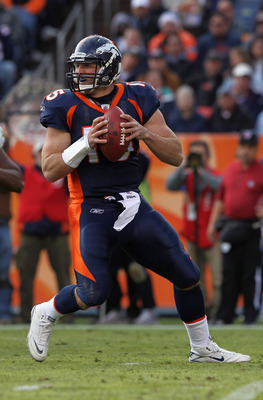 Doug Pensinger/Getty Images
There is a ragging debate in Denver about who should be the starting quarterback, Kyle Orton or Tim Tebow?
This is going to be the big issue for head coach John Fox this year as he tries to re-establish his own coaching career in Mile High.
From my perspective I like the prospects of both of these quarterbacks, but Orton stands out the most. The guy has quietly put up some impressive numbers the past couple years in Denver. He threw for 3,800 yards with 20 touchdowns and 12 picks in 2009, then nearly bettered that effort with 3,653 yards, 20 TD's and only nine interceptions.
He knows how to protect the football, has a big arm and keep in mind he is only 28 years old. The only knock on Orton, and this is big, is that he is not a winner. He didn't win in Chicago, even though he was better than Rex Grossman, and he has not won for the Broncos.
That could change with John Fox around, who is turned around a 1-15 Panthers team into a Super Bowl contender.
Still the ambiguity with Orton has brought Tebow into the mix. Tebow, who has received a lot of criticism from football fans for his clean-cut image and heavy Christian beliefs, started three games in Denver and looked pretty good. He wasn't awful and did lead a second-half comeback against the Houston Texans last year for a win. There is potential there.
The big knock on Tebow, other than his image, is his mechanics. He has a very awkward delivery of the football, and people are still waiting to see if he can hone his craft to transition to the NFL game.
If the Broncos want to compete, and they certainly have a shot at it in the pretty weak AFC West, then going with Orton now is their best bet.
Kevin Kolb Will Land in...?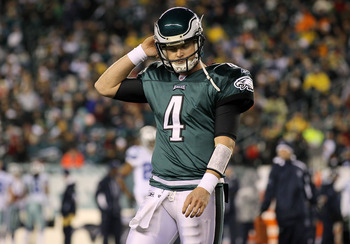 Jim McIsaac/Getty Images
The last time we saw a young quarterback with great promise, who never really got a shot to start for a team was Matt Schaub, who was traded from Atlanta to Houston, because of the superior talents of Michael Vick.
While the Falcons may have regretted that trade for the short term, when Vick was arraigned for dog fighting in 2007, the Texans got one of the game's top passers as a result.
As Yogi Berra once said, it's deja vu all over again.
Kevin Kolb was supposed to be "the man" in Philadelphia last season, but a concussion in Game 1 against Green Bay, led the way for the Michael Vick resurgence. Vick impressed big time in that 27-20 loss to Green Bay and never gave up the job as he led the Eagles to an NFC East division crown.
Kolb sat on the bench.
Now Kolb is the most coveted veteran quarterback on the market.
Already, there are rumors that the Arizona Cardinals, San Francisco 49ers and Seattle Seahawks are the favorites to land him.
Is Kolb the sure bet here? Nobody knows. He only has a handful of games under his belt, where he went 3-4 and didn't distinguish himself enough when he returned from injury to take his old job back.
The best place for him would be Arizona, who has talented players there in Steven Breaston and Larry Fitzgerald and was in the Super Bowl just two short years ago.
Once the season opens up next week, teams will be lining up for this guy; if you are a fan of either the Cardinals or Seahawks, you better hope the hype is worth it.
Will Carson Palmer Play This Year?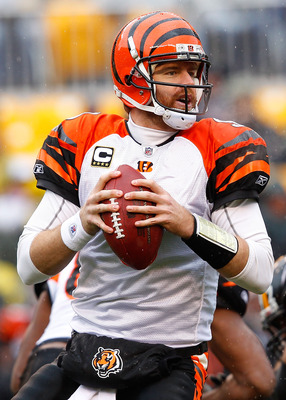 Jared Wickerham/Getty Images
Speaking of veteran quarterbacks who could control the market, what about Carson Palmer?
In the weeks following the 2010 season, Palmer made it clear that he was not happy being a Cincinnati Bengal anymore and wanted out of his contract.
The Bengals refused to trade or release the quarterback, prompting Palmer to "retire."
With the NFL ready to re-open its doors, Palmer vs. the Bengals will become a huge drama for the rest of the summer.
The Bengals seem steadfast on not trading Palmer anywhere, and the quarterback is steadfast in his assertion that he will sit out the season if the Bengals don't move him.
The Dolphins, Vikings, Cardinals, 49ers and Seahawks are all teams that could be very interested in acquiring the former USC product.
Miami and Minnesota would be great spots for him. The Dolphins still have talented Ronnie Brown in the backfield, and they have Brandon Marshall at wide receiver. If the Dolphins ever got a quarterback, they could compete with the Patriots and Jets for either the division title or wild-card slot.
The Vikings of course are just a quarterback away. They have one of the games best defenses and one of the games best running backs in Adrian Peterson.
Since the Bengals never do anything right, and I mean NEVER, I would not be surprised if Palmer does in fact sit out the season. If he does it would be another comedy of errors of the bumbling Bengals franchise.
Where Will Donavan McNabb Play?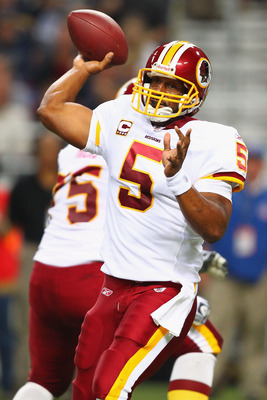 Dilip Vishwanat/Getty Images
Speaking of the Minnesota Vikings needing a quarterback, there was always talk from media pundits that Minnesota would be a logical place for Donavan McNabb to play.
They run a very similar offense to that of the Philadelphia Eagles, and with that tremendous supporting cast, McNabb could succeed there.
McNabb had a rough 2010 season. First, he was told that he was traded within the NFC East to the Redskins, before going on to have a fractured relationship with coach Mike Shanahan, who benched McNabb in favor of...(gasp)...Rex Grossman.
McNabb is still under contract with the Skins, but there was never any indication that they would be willing to keep him. He's probably good as gone.
With the lockout nearing a conclusion, it will be interesting to see if Washington will still be hot to let him go. They didn't draft a quarterback in the 2011 draft, and the options of Grossman and John Beck won't spark enthusiasm for this Redskins team.
Keep in mind Shanahan has a tendency to screw up a quarterback situation. While in Denver in 2006, with his Broncos on the charge to the postseason at 7-4, Shanahan decided to bench Jake Plummer in favor of rookie Jay Cutler. As a result Denver finished 9-7 and missed the playoffs.
Smart move.
Will Plaxico Burress Return to His 2007 Form?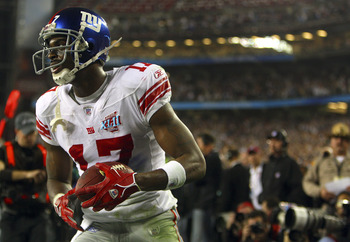 Donald Miralle/Getty Images
Plaxico Burress is out of jail, and with that, another old wide receiver hits the free-agent market.
Burress has several teams on his wish list, including the Philadelphia Eagles, New York Jets and Chicago Bears.
The big question surrounding Burress is how much he has left? At 34 years old, his legs may not be as up to par as it should be, especially coming out of prison. Plus Burress brings with him plenty of baggage. He was notorious for getting underneath Tom Couglin's skin as he was late to meetings and showed lack of effort on the field sometimes.
Still, he's a talent. He would help the Eagles, who need another playmaker at receiver to complement DeShawn Jackson.
The Bears have never had a legit wide receiver during the Lovie Smith era. They got to the Super Bowl in 2006 without an offense and got to the NFC title game last year with just Jay Cutler and no help around him.
Devin Hester is a fun player to watch, but he's better off as a special teams guy. Burress would finally give Cutler that big target he hasn't had since Brandon Marshall in Denver.
The Jets would be interesting too. Burress still lives in New Jersey, and if New York losses either Braylon Edwards or Santonio Holmes, the Jets and Rex Ryan could be his new home.
Is There a Team Ready To Pick Up Randy Moss?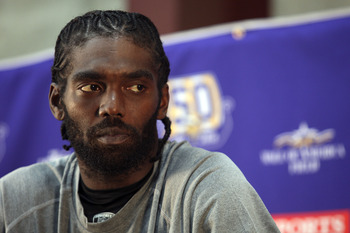 Adam Bettcher/Getty Images
Any takers? Any? No? Maybe?
Randy Moss just keeps finding trouble. Playing in the perfect spot with one of the NFL's best teams, the talented receiver found a way to destroy his reputation in New England last year, when he consistently complained about his place on the franchise.
Feeling disrespected by the Patriots, Moss even felt the need to get into arguments with quarterback Tom Brady, and in doing so, punched his ticket out of town.
When he landed back in Minnesota, he made things even worse for himself when he openly criticized coach Brad Childress (who wouldn't) leading to a trade to the Tennessee Titans where Moss spent the rest of the year on the bench.
The question now is, who would be crazy enough to take Moss on now?
Moss is reportedly motivated and will play with a chip on his shoulder, at least that is the jazz coming out of the Moss camp from his agent Joel Segal.
At 34, it is hard to believe that there will be many teams willing to gamble on this guy, considering the headache that he eventually becomes.
Unlike Plaxico Burress, there really hasn't bee a lot of heavy speculation on where Moss will eventually land. There was specualtion two months ago that the Jets could look at Moss, if they should lose out in signing either Braylon Edwards or Santonio Holmes. The Chicago Bears, who are in need of a deep threat, could also be in the mix, but this is all speculation.
Whoever gets Moss is asking for trouble for sure.
Moss would play the role of a good shoulder, but eventually, he will find something to take issue with and rub people the wrong way all over again.
Best advice for NFL teams out there—don't bother.
Peyton Manning's Neck: Is the Former MVP Ready To Play?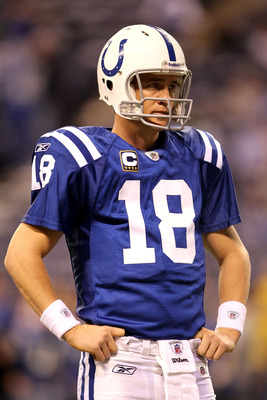 Andy Lyons/Getty Images
It's hard to believe that Peyton Manning is about to enter his 15th NFL season—wow, and with it, comes questions regarding the health of the future Hall of Fame quarterback.
This spring, Manning had his second neck surgery in 15 months, to remove a disk.
The Colts believe that Manning will be ready when the season begins, and his post-surgery recovery was supposed to be a six to eight week process. By the time training camps open in a week, Manning will be nearing the end of his recovery from neck surgery.
If he's fine, don't expect much drop off from Manning this year. It would be a plus if he can get Dallas Clark, and Anthony Gonzalez back and healthy this year. Manning really missed having Clark to throw to last year.
Contractually is where it gets a little interesting regarding the four-time NFL MVP. Before the lockout, the Colts put a franchise tag on Manning. Nobody knows how franchise tags will work in the new CBA, until more details are released. However, if the tag remains, he will make $23 million this year alone.
If the Colts and Manning can get back to the negotiating table as soon as camp opens, expect them to hammer out a long-term deal soon, so Manning can finish his career in Indy.
How Willl Cam Newton and Other Rookies Handle a Crash Course Training Camp?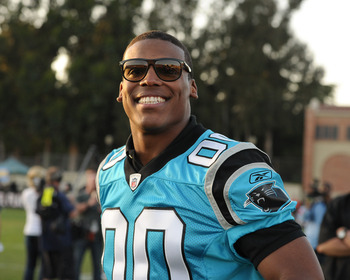 Noel Vasquez/Getty Images
It's established knowledge that a rookie year in the NFL is process. It takes time for a player, especially a quarterback, to learn the ropes of being the leader of an NFL franchise. From studying the playbook, to working with teammates, and trying to win over veterans, being the new kid on the block is never easy—especially when you're getting hazed.
This year's training camp will be even more critical for rookies. Without a full offseason to work out in their new team's facility, inability to truly learn the in's and out's of their playbook and full complement of teammates, this year's class is at a huge disadvantage, especially if there are high expectations.
Cam Newton, this means you.
The controversial quarterback, who won people over with his big-play ability at Auburn last fall, was selected No. 1 by the Carolina Panthers.
He is expected to become the starting quarterback over Jimmy Clausen who was terrible last season in his rookie year. Even though it's unfair to give up on Clausen, who is really the same age as Newton, money talks and Newton will see the big bucks when the league opens for business next week.
Newton will be expected to become the face of the Carolina Panthers, and the pressure will be on from day one. Training camp will be a crash course for the quarterback, and I find it hard to believe that he will distinguish himself that quickly, unless he's a genius.
Rookie years are usually a bump ride—this could get ugly.
Can Rookie Head Coaches Get To Know Their New Teams Quickly Enough?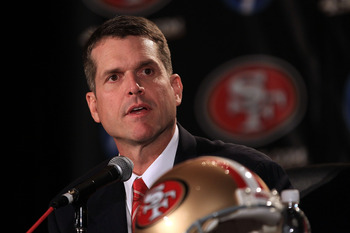 Ezra Shaw/Getty Images
If you think this season will be tough on the rookie players, just imagine what this entire lockout has been for rookie head coaches.
The Tennessee Titans (Mike Munchak), Cleveland Browns (Pat Shurmur), San Francisco 49ers (Jim Harbaugh), Carolina Panthers (Ron Rivera) and Oakland Raiders (Hue Jackson) are all welcoming coaches who have never served as head coaches in the NFL.
The Denver Broncos (John Fox), Dallas Cowboys (Jason Garrett) and Minnesota Vikings (Leslie Frazier) have NFL head coaching experience; in fact, Garrett and Frazier have an edge since they coached their respective teams down the stretch last year.
The other coaches know very little about their teams, except for what they have seen on tape, the reports they received via email and texts messages this spring and early summer when players held their own workouts. That's it.
It's going to be very hard for these new coaches to drill their message home and establish themselves in just a month or two in front of the players. This is going to take time.
At least these teams are the dregs of the NFL.
Nobody was expecting much of anything from the Tennessee Titans, Cleveland Browns and Carolina Panthers this year. There were some expectations for the Niners and Raiders, but that might be tempered a lot, since neither team has a legit quarterback, and the fact that their head coaches will only now get the chance to infuse their playbooks into the system.
Oh No, Not Favre Watch!!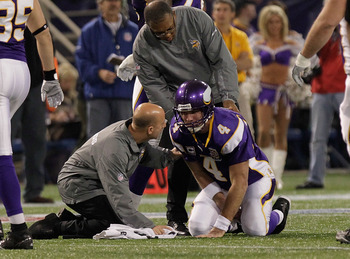 Nick Laham/Getty Images
What's summer time without the good ole "Favre Watch." I'm sure Jenn Sterger is excited!
Let's hope that this doesn't happen, but NFL.com Gil Brandt reported a few weeks ago that he believes Favre does have some interest in returning to the gridiron in 2011, but is not sure if there is a team in need of him.
Who the heck would want a washed up bum like Favre anyway?
Sure Favre was great two seasons ago, but last fall, he was abysmal and even saw his consecutive starts streak come to a screeching halt in December because of injuries.
The guy just never knows when to call it quits, and I hope we don't have to watch live reports from Favre's home in Mississippi for the next month.
Then again, anything would be better than watching lawyers walk in and out of buildings in New York, Minnesota and Boston, ya think?
Keep Reading