2011 College Football: Which Conference Has the Most BCS Championship Contenders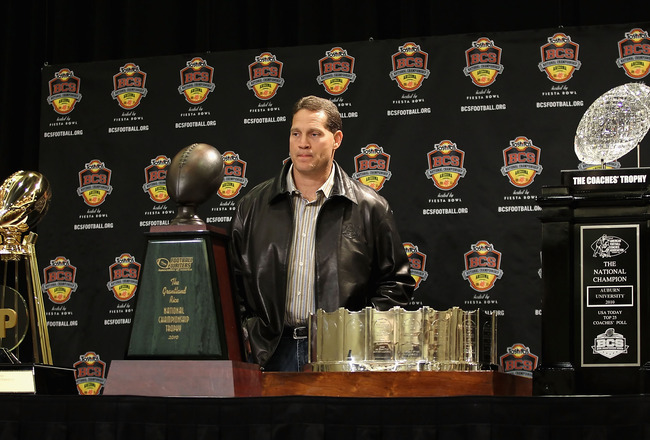 Christian Petersen/Getty Images
With the ink still drying on the books that kept track of the 2010 college football season, it's now time to look ahead to 2011.
One of the things that we sports fans love to debate is the superiority of certain conferences. For a while now, the SEC has reigned supreme, and that will probably be the case once more during the upcoming season, but the battle for second is still being hotly contested.
These rankings will rank the conferences from worst to best based on the number of BCS championship contenders that each conference has.
Keep in mind that this is based on quantity and quality. The only time quality will have a major impact among the contenders is as a tiebreaker. Also remember that when I say a team could compete for the national title in the earlier slides, it's a best-case scenario that most likely will not happen.
For this article, I'm going to be using the set of rankings that I published on January 20th. You can read through them here: College Football 2011: Power Ranking Every Program Heading into 2011.
Read on and be sure to leave your thoughts!
12. Sun Belt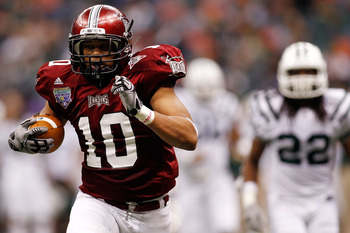 Chris Graythen/Getty Images
The best team in the Sun Belt, the Troy Trojans, placed a meager 68th in the rankings.
They will have a dynamic offense despite the loss of wide receiver Jerrel Jernigan, but there is no shot at making it to the BCS championship.
Troy may have made it to the New Orleans Bowl and defeated Ohio handily, but they're quite a ways from making it to the big game.
11. MAC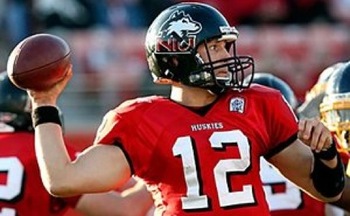 The MAC really isn't that bad of a conference.
They lack elite talent, hence the low placement in these rankings. However, there are quite a few teams that could find themselves in bowl games.
In my rankings, I had Miami (Ohio) at No. 77, Temple at No. 61 and Northern Illinois at No. 52.
If Northern Illinois can sufficiently replace Chad Spann, they'll be especially dangerous. But even then, none of the teams in the MAC will be contending for the BCS championship.
10. WAC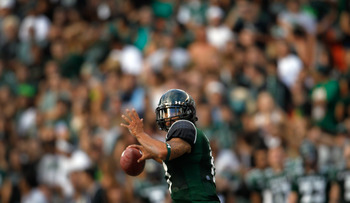 Kent Nishimura/Getty Images
Now that Boise State has left the WAC for the green pastures of the Mountain West (at least until TCU leaves in 2012 for the Big East), the WAC slips down significantly in these rankings.
The three best remaining teams are No. 75 Fresno State, No. 60 Nevada and No. 48 Hawaii.
Nevada fell precipitously after losing Vai Taua and Colin Kaepernick. Also, as talented as Hawaii quarterback Bryant Moniz is, he lost his top three receivers and four members of his offensive line.
9. Big East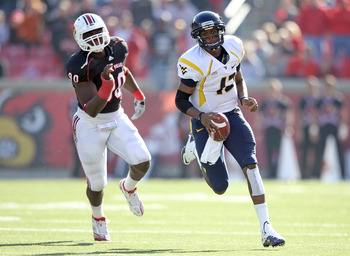 Andy Lyons/Getty Images
This may come as somewhat of a shock due to the fact that the Big East champion automatically qualifies for a BCS bowl, but there is not a single team in this conference that is capable of making it to the national championship game.
Instead, the Big East will feature a bunch of teams mired in mediocrity.
No. 46 South Florida, No. 41 Connecticut, No. 37 Pittsburgh and No. 36 West Virginia will all engage in a season-long battle for the BCS bowl berth, but I can guarantee that that bowl game will not be the actual BCS National Championship Game.
8. Conference USA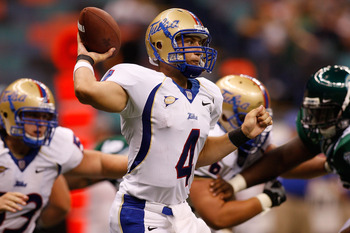 Chris Graythen/Getty Images
The Conference USA doesn't have a single team that could compete for a national title, but they still boast some very good teams.
My rankings placed Southern Miss at No. 62, Houston at No. 40, Central Florida at No. 39 and Tulsa at a lofty No. 20.
If the Golden Hurricane's 19 returning starters can somehow run the table in conference play, there's a very small chance that they could be playing in a big-time bowl game. But the chances of seeing Tulsa in a BCS bowl game are slim to none.
7. Independents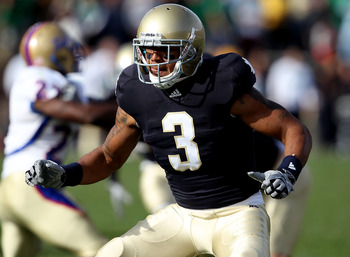 Jonathan Daniel/Getty Images
The only two teams worth mentioning out of the four independent schools are the BYU Cougars and the Notre Dame Fighting Irish.
BYU placed 27th in my rankings, and they could rise even higher if Jake Heaps can direct an offense that returns 10 starters even more successfully than he did in 2010.
As for Notre Dame, they come in at No. 18 and could go even higher. I expect Michael Floyd to be competing for the Biletnikoff Award all year long. The Fighting Irish have a ton of talent but play a murderous 2011 schedule.
These two teams are on the cusp of competing for the BCS title, but they're not there yet.
6. Mountain West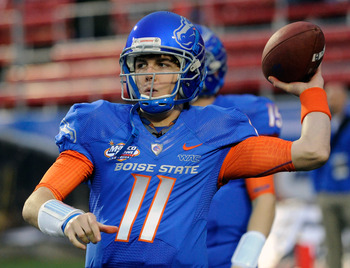 Ethan Miller/Getty Images
There are two true contenders in the Mountain West now that a certain team with a blue field has joined the conference.
San Diego State will also be a threat (they're ranked No. 29 in my predictions), but the two teams that both have a legitimate shot at making it to the national championship are the TCU Horned Frogs (No. 13) and the Boise State Broncos (No. 7).
Both will have their fair share of difficulties, but neither can be left out of the championship conversation.
5. ACC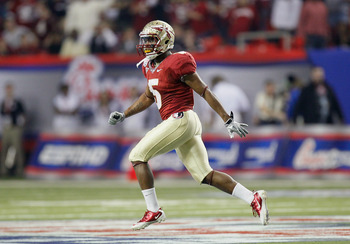 Kevin C. Cox/Getty Images
In the ACC, there are three teams with a shot, albeit a slightly unrealistic one for two of these programs, to make it to the national championship.
Out of the Atlantic Division, we have No. 26 North Carolina State and No. 9 Florida State. The Seminoles have to be the favorites to take the conference right now, and if E.J. Manuel proves to be better than Christian Ponder, as many think he could be, this team will be virtually unstoppable.
In the Coastal Division, the only team to worry about is Virginia Tech. The Hokies came in at No. 23 in my rankings after losing both Tyrod Taylor and Ryan Williams.
4. Pac-12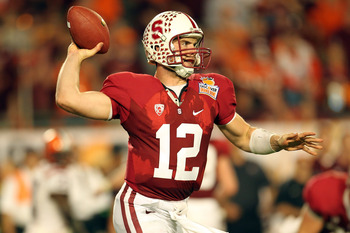 Mike Ehrmann/Getty Images
The newly renamed Pac-12 has two extra teams to choose from now, but they still only boast two, maybe three, teams that can compete for the championship.
If No. 30 Arizona State somehow found itself in contention, it would mean that quarterback Steven Threet is having a Heisman-caliber season. We'd all be shocked if it happened, but it's worth mentioning simply because they're a great football team.
The two realistic contenders are No. 3 Stanford and No. 6 Oregon. Oregon is fresh off a championship appearance and needs to replace a bunch of starters on the defensive side of the ball. Stanford faces a similar problem but has the benefit of a morale boost thanks to the return of quarterback Andrew Luck.
The notable exception from this slide is USC. While the Trojans have the talent to compete for a title, they're banned from the postseason in 2011.
3. Big Ten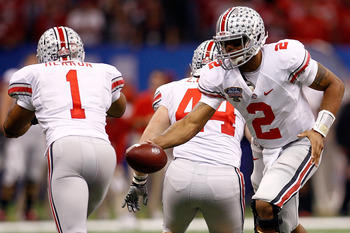 Chris Graythen/Getty Images
There are four teams in the Big Ten (which does indeed now have 12 members) that could become contenders for a title.
The Michigan Wolverines are a borderline fifth team. I have them ranked at No. 45 in the country, but if the defense somehow learns how to play and Denard Robinson can stay healthy despite taking shot after shot during Big Ten play, there's a minute chance that we could be hearing about this team in January of 2012.
The four legitimate contenders are No. 28 Nebraska, No. 15 Wisconsin, No. 14 Michigan State and No. 8 Ohio State.
Nebraska will have to figure out the Taylor Martinez situation and make up for some losses on defense. Wisconsin will need to replace 11 starters, while Michigan State will fight hard to make sure its last season isn't perceived as a fluke.
As for the conference favorite, the Buckeyes will need to win the first five games, including a tough one against Michigan State, without Terrelle Pryor and the rest of the suspended players. If they can do that, an away game against Nebraska will be the only truly tough game between them and an undefeated regular season.
2. Big 12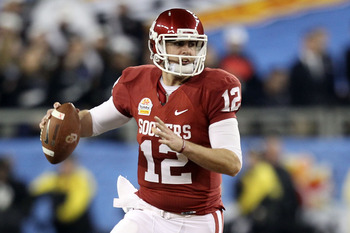 Christian Petersen/Getty Images
The Big 12 (which now inexplicably has just 10 teams but is still called the Big 12) has five teams that could possibly compete for a national title.
Leading off those five are two dark horse contenders, and by dark horse I mean pretty much jet black horse. The Texas Longhorns and the Missouri Tigers are ranked 21st and 19th respectively by yours truly, and both have unproven talent galore.
The more realistic contenders are the No. 12 Texas A&M Aggies, No. 5 Oklahoma State Cowboys and No. 2 Oklahoma Sooners.
The Aggies won six of their last seven games after Ryan Tannehill took over. Oklahoma State has the luxury of watching Brandon Weeden throw to Justin Blackmon yet again. And the Sooners are just an incredible football team in every facet of the game.
It wouldn't surprise me to see any of these teams in the hunt.
1. SEC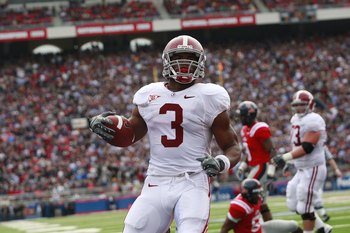 Dave Martin/Getty Images
Once more, the SEC, winners of five straight BCS national championships, stands alone at the top.
You may call me crazy, but there are nine teams out of the 12 in the conference that have at least an outside shot at making it to the title game. After all, remember that no one thought Auburn was going to have such a stellar season.
Alabama is the best team in the country, backed by a defense that is far superior to any other in the nation. South Carolina and LSU are other true contenders.
Then there's Auburn, Arkansas and Mississippi State. None of them are considered favorites right now, but it wouldn't surprise most people to see them up in contention.
The dark horses in the conference are Georgia, Florida and Tennessee. All have great young talent that could take massive strides forward in 2011.
Keep Reading