The Top 20 All-Time English Premier League Goal Scorers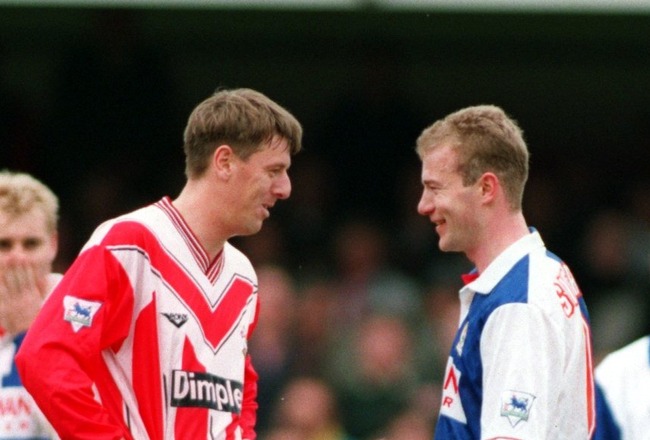 Chris Cole/Getty Images
The Premier League era in English football has been filled with action and excitement. Many of the world's greatest players have graced the league and played for some of world football's most storied clubs.
Here we look at the Top 20 Goal Scorers of the English Premier League (EPL) era; this list goes beyond simply who scored the most goals, that list can be found below and makes for interesting reading.
How many people knew James Beattie scored more Premier League goals than Dennis Bergkamp?
http://www.premierleague.com/page/Statistics (search 'All Seasons')
This list takes into account goals total, goals per game average, Golden Boot wins and a certain level of opinion.
There is no skill more match changing in football than putting the ball in the back of the net, and these guys did it best.
20. Frank Lampard
EPL Clubs: West Ham United, Chelsea
EPL Goals: 131
Goals Per Game: 0.28
Golden Boot Wins: None
A product of the famed West Ham United youth academy, Lampard has established himself as Chelsea vice-captain and the best goal scorer from central midfield in Premier League history.
As well as producing consistently good work in the engine room for Chelsea, Lampard times his forward runs to perfection and has amassed 131 Premier League goals, all while playing midfield.
Lampard is particularly dangerous from long range, and has a number of free kicks and strikes from outside the penalty area in his career total.
Lampard's goals have been a driving force in the three Premier League titles Chelsea have won since 2004. Lampard was also awarded the Premier League 'Player of the Decade,' an award based on official stats.
19. Darren Bent
EPL Clubs: Ipswich Town, Charlton Athletic, Tottenham Hotspur, Sunderland, Aston Villa
EPL Goals: 82
Goals Per Game: 0.43
Golden Boot Wins: None
Bent burst onto the Premier League scene with Ipswich Town, scoring his first EPL goal against Middlesbrough in 2002. Bent had a successful Ipswich career before sealing a 2.5 million-pound move to Charlton Athletic.
Bent was a storming success at Charlton, and his 18 goals in the 2005-2006 season made him the highest scoring Englishman in the EPL. Bent enjoyed a successful partnership with his namesake Marcus Bent, and helped the Addicks achieve seven consecutive seasons of Premier League football before their eventual relegation in 2007.
Bent went on to Tottenham, where he had less success before reviving his career with an excellent spell of goal scoring under Steve Bruce at Sunderland. Bent netted a career-best 24 goals in 2009-2010 for the Black Cats, but handed in a transfer request last week despite a successful spell at the club.
Bent is set to make his Villa debut this weekend, and will be hoping to fire the Villains clear of the relegation fight.
Bent has excellent pace, makes a living on the shoulder of the last defender and is a constant threat to be released on the through ball. He is a nightmare for EPL defenders and will likely be higher up lists like this by the time his career ends.
Critics of Bent claim he has in fact scored only 81 legitimate EPL goals, and the strike in the video should have been credited to 'A Balloon.'
18. Robbie Keane
EPL Clubs: Coventry City, Leeds United, Tottenham Hotspur (twice), Liverpool
EPL Goals: 121
Goals Per Game: 0.36
Golden Boot Wins: None
Irish speed merchant Robbie Keane has made many stops in his career both inside and outside the EPL. It seems that he has earned a soft spot in the hearts of fans of every club he played for.
The honest work rate and lethal finishing ability of Keane is something that excites fans, and he has rarely failed to deliver when it comes to scoring goals.
Keane rose to prominence as a youngster at Wolverhampton Wanderers before earning a move to then-Premier League club Coventry City. Keane played well for Coventry and his success earned him a move abroad to Inter Milan.
Keane came back to the EPL with a very successful Leeds United team before moving to Tottenham Hotspur, the club where he would enjoy his greatest success.
Keane's success at Tottenham was interrupted by a bizarre spell at Liverpool, where he was bought and sold by Rafa Benitez in the same season.
He has also been loaned out to Glasgow Celtic during his time at Tottenham. Despite the time away from the club, Keane has netted 91 Premier League goals for Spurs.
Sadly, in a reflection of Keane's career, by the time you read this, he may have left White Hart Lane and be playing for his fifth different EPL club.
17. Matt Le Tissier
EPL Clubs: Southampton
EPL Goals: 101
Goals Per Game: 0.37
Golden Boot Wins: None
When it comes to producing highlight reels, Matt Le Tissier may be the greatest EPL goal scorer of all time.
Whether it was casually flicking a free kick up to himself before unleashing an unstoppable volley into the net, or dribbling through the Manchester United defense before lobbing the great Peter Schmeichel, Le Tissier had a flair for brilliance.
Le Tissier is also a test case in club loyalty, despite multiple opportunities to leave for bigger clubs he stayed at Southampton, a place where he is known by fans simply as "Le God."
Le Tissier had fantastic technique and ball control matched by few players in Premier League history.
It is sad that due to his lack of trophies he is sometimes not included in all-time great lists, but the video here illustrates one of English football's great talents.
16. Dion Dublin
EPL Clubs: Manchester United, Coventry City, Aston Villa
EPL Goals: 111
Goals Per Game: 0.36
Golden Boot Wins: 1998 (joint with Michael Owen and Chris Sutton)

One of the best target men in Premier League history, big Dion Dublin was a physical presence that roughed up many a defender on his way to netting over 100 goals in the EPL.
Dublin was groomed in the Norwich City youth academy as a central defender, and was actually signed by Cambridge United as a defender in 1988. Few would have believed what a great goal scorer 'Big Dion' would go on to be back then.
Dublin had fantastic success in the lower league with Cambridge and earned his Premier League break with a million-pound move to Manchester United in 1992.
Dublin got his Man U career off to a good start with a late winning goal against Southampton, but broke his leg soon after and missed a sizable chunk of time. Dublin received a medal for United's Premier League win in 1992-1993, but his impact was minimal.
By the time he recovered from his injury, Mark Hughes and Eric Cantona were established as United's first-choice strike partnership, and Dublin moved to Coventry City.
Rather than the beginning of a spiral downwards, the move to Coventry sparked a career resurgence for Dublin, and he went on to become one of the club's greatest players ever.
Dublin scored 62 EPL goals for Coventry, and many of them earned points that would prove invaluable in tight relegation battles that the club survived.
Dublin won the Golden Boot during the 1997/1998 season, an achievement that is not easy when you are playing in a mid-table side.
What makes Dublin's career of goal scoring more impressive is that his career totals include games played in central defense.
Another frightening thought, is as good a forward as Dublin was, many judges believe he would have been an even better defender.
The video shows a compilation of Coventry goals from the 1990's, a treat for any Sky Blues fans reading. The first two goals give an idea of the physical presence, aerial ability and good touch that Dublin possessed.
MLS fans watching the video may also recognise a younger, more spritely Darren Huckerby.
15. Wayne Rooney
EPL Clubs: Everton, Manchester United
EPL Goals: 108
Goals Per Game: 0.4
Golden Boot Wins: None
Wayne Rooney exploded onto the Premier League scene in spectacular fashion, and has not looked back since.
As an unheard of 16-year-old, Rooney rocketed a winning goal past England keeper David Seaman to end the 30-match unbeaten run of EPL Champions Arsenal. The goal also set the record for youngest goal scorer in Premier League history.
Rooney had two spectacular seasons at Everton, and was the hottest young property in English football when he sealed a 25.6 million-pound deal to join Manchester United.
Rooney has scored 93 EPL Goals at United, and helped the club win three Premier League titles in the process.
Rooney has twice been named in the Premier League Team of the Year, and was the Premier League Player of the Season in 2009/2010.
Rooney has a creativity and flair that is not typical of an English forward, and his bulldog spirit and sky-high work ethic make him an impossible problem for defenders to solve when he is on form.
At the age of only 25, it is certain Rooney will add significantly to his current tally of EPL goals, and will be much higher on lists like this by the end of his career.
14. Cristiano Ronaldo
EPL Clubs: Manchester United
EPL Goals: 84
Goals Per Game: 0.43
Golden Boot Wins: 2008
Many players have scored more goals than Cristiano Ronaldo in Premier League history, but few have done so in such prolific and spectacular fashion.
Ronaldo scored 66 EPL goals between 2006 and 2009, including a 31-goal haul in the 2007/2008 term that saw him crowned with the Golden Boot.
Ronaldo primarily played out wide in a three-man attack, but interchanged with the central striker with devastating impact.
Ronaldo had the ability to torture EPL defenders in a variety of ways, whether beating a defender off the dribble, striking from distance or rocketing home lethal free kicks, many a team found themselves unable to keep the Portugese wing wizard off the score sheet.
Ronaldo's stay in the Premier League was cut short when he moved to Real Madrid in the summer of 2009.
The video shows the variety and quantity of goals Ronaldo managed to score. It is amazing to think that every goal in this video was scored in the same season.
13. Nicolas Anelka
EPL Clubs: Arsenal, Liverpool, Manchester City, Bolton Wanderers, Chelsea
EPL Goals: 120
Goals Per Game: 0.36
Golden Boot Wins: 2009
Nicolas Anelka began his career as one of many exciting young teenagers introduced to the Premier League by Arsene Wenger. Anelka scored his first EPL goal in a 3-2 home win over Manchester United, and won a 1997/1998 Premier League title with the Gunners.
Anelka fired in 17 goals the following season before becoming surly and demanding a transfer, a pattern that would become familiar in the career of the man known as 'Le Sulk.'
Anelka moved to Real Madrid in 1999, and did not return to the Premier League until Liverpool signed him on loan from Paris Saint-Germain in 2002.
Anelka scored four EPL goals for Liverpool, but was not signed permanently amid rumors of him being a negative presence in the dressing room. See a pattern developing yet?
The Frenchman then signed for newly promoted Manchester City, and netted 37 EPL goals before moving to Turkey in 2005.
However, the lure of the EPL struck again in 2007 and Anelka returned yet again as a member of Bolton Wanderers. Nico banged in 21 goals for the Trotters and earned a move back to the upper echelons of the Premier League with Chelsea.
Anelka's EPL tally of 19 goals in 2008/2009 won him the Golden Boot as league-leading goal scorer, and he reached double figures the following season as Chelsea won the Premier League title.
The strengths of Anelka include lightning speed, a direct and aggressive style of play and the ability to finish from a range of angles and distances.
He is still scoring for Chelsea, and likely has a few more seasons to add to his career tally before all is said and done.
12. Dwight Yorke
EPL Clubs: Aston Villa, Manchester United, Blackburn Rovers, Birmingham City, Sunderland
EPL Goals: 123
Goals Per Game: 0.33
Golden Boot Wins: 1999 (joint with Michael Owen and Jimmy Floyd Hasselbaink)
The man known as 'The Smiling Assassin' had a clear enjoyment of playing the game and played with an ever-present grin on his face. Dwight Yorke also raised many a smile from Premier League fans with his goal-scoring ability and superb link-up play.
Yorke was discovered by Aston Villa manager Graham Taylor on a preseason tour of the West Indies in 1989.
The Trinidad & Tobago striker signed for Villa, and had a highly successful spell at Villa Park, scoring 60 Premier League goals for the club before moving to Manchester United for 12.6 million pounds in 1998.
Yorke enjoyed a spectacular first season at Old Trafford, scoring prolifically as the team won its legendary treble of the Premier League, FA Cup and UEFA Champions League title in 1998/1999. Yorke also became the first foreign winner of the Golden Boot Award in this season.
Yorke finished his Old Trafford career with 48 EPL goals and three Premier League titles.
After leaving United, Yorke made stops at Blackburn Rovers, Birmingham City and Sunderland. While he found the net at all of those clubs, he never again hit the heights of his Old Trafford glory days.
11. Teddy Sheringham
EPL Clubs: Tottenham Hotspur (twice), Manchester United, Portsmouth, West Ham United
EPL Goals: 147
Goals Per Game: 0.35
Golden Boot Wins: 1993
Sheringham was already renowned as a top division forward when the Premier League era began. After successful spells with Millwall and Nottingham Forest, Sheringham signed for Tottenham Hotspur before the inaugural Premier League season in 1992/1993.
Sheringham set the pace with 21 goals in his first season for Spurs, and was crowned the first EPL Golden Boot winner in 1993. Teddy went on to score 76 EPL goals for Tottenham and moved to Manchester United in the summer of 1997.
The first three seasons at Old Trafford were less prolific for Sheringham, but he did hit 16 EPL goals and play a part on the club winning three Premier League titles.
He played a crucial part in the famous treble-winning season of 1998/1999.
The third of those EPL title wins came in Sheringham's final season at Old Trafford, and he scored 15 EPL goals in 29 games that season.
Sheringham left Old Trafford to rejoin Spurs, where he scored a further 22 goals for the White Hart Lane club. He finished his Premier League career at Portsmouth and West Ham United.
Teddy was over 40 years old when he played for West Ham, and during that spell he set all-time records for the oldest outfield player to play, and also to score a goal in EPL play.
10. Ian Wright
EPL Clubs: Arsenal, West Ham United
EPL Goals: 113
Goals Per Game: 0.53
Golden Boot wins: None
Ian Wright was an elite goal scorer long before the Premier League era, Wright scored 28 top division goals for Crystal Palace, and netted 24 in the last season of the old First Division. Wright continued at a good pace and hit 104 EPL goals for Arsenal.
While you look at Arsenal now and see forwards playing in a creative team and handed plenty of chances by excellent midfield play, that was not necessarily always the case during Wright's career.
Arsenal were a defensive-oriented team that used Wright as their spearhead in a more direct style of play.
The speed and finishing ability of Wright was notorious for deciding one-goal games in Arsenal's favor, and spurned the famous chant "One-Nil to the Arsenal."
Wright netted 10 goals as Arsenal won the Premier League title in 1997/1998, although he did miss the run in with a hamstring injury.
Wright ended his Premier League career at West Ham United, scoring nine goals, before he finished out his career in the lower leagues and Scotland.
Throughout his EPL career, Wright scored beyond the "goal every two games" measuring stick used for a striker.
9. Les Ferdinand
EPL Clubs: Queens Park Rangers, Newcastle United, Tottenham Hotspur, West Ham United, Leicester City, Bolton Wanderers
EPL Goals: 149
Goals Per Game: 0.43
Golden Boot Wins: None
Les Ferdinand was somewhat ahead of his time in terms of physical presence. The man who went onto be known by fans as 'Sir Les' had an astounding blend of size, pace and physical power.
While that is now common for a Premier League forward, it was not as typical in the early days of the Premier League, when Ferdinand rattled in 60 goals for Queens Park Rangers.
Ferdinand's success earned him a move to Kevin Keegan's Newcastle United, where Ferdinand would play his part in a golden era for the Toon Army and form a lethal partnership with the legendary Alan Shearer.
Sir Les scored 41 goals in two EPL season at Newcastle, and the video shows the part he played in one of the great days in the club's history.
Newcastle destroyed defending Premier League Champions Manchester United 5-0, and Ferdinand found the score sheet as the Toon Army moved to the top of the league.
A move to White Hart Lane followed Ferdinand's time at Newcastle, and the striker scored 33 goals for Tottenham before making stops at West Ham United, Leicester City and Bolton Wanderers. Ferdinand scored for every Premier League club he played for.
During his time at Tottenham, Ferdinand scored the 10,000th Premier League goal in a contest against Fulham.
8. Ruud Van Nistelrooy
EPL Clubs: Manchester United
EPL Goals: 95
Goals Per Game: 0.63
Golden Boot Wins: 2003
Ruud van Nistelrooy's stay in the Premier League was relatively short compared to many players on this list, but as his goals per game average shows, the rate he scored at was simply phenomenal.
The Dutch goal machine rattled in 95 goals in five seasons at Old Trafford, scoring over 20 goals in four of those seasons.
In 2002/2003, van Nistelrooy scored 25 EPL goals and was awarded the Golden Boot as the league's top scorer. Ruud's goals also fired United to a Premier League title that season.
The goal scoring exploits of remarkable, and made more impressive that he was not a striker gifted with exceptional speed, skill or dribbling ability. Van Nistelrooy developed a reputation for simply always being open, and consistently finding open space in a shooting positions.
He was an exceptional finisher, and the kind of player you can shackle for 89 minutes, only for him to get free for one and score the decisive goal in a game.
He was also renowned for his mastery of the offside law, and ruthlessly exploiting the ongoing rule changes. Many a time his ability to drift offside to lose defenders, and time his runs back onside in time to receive a ball drew scorn from opposing players and managers.
In the summer of 2006, rumors swirled of a fight with Cristiano Ronaldo, and van Nistelrooy left Old Trafford to sign for Real Madrid.
Many United fans were sad to see the back of the man known, possibly affectionately, as 'Old Horse Face.'
7. Didier Drogba
EPL Clubs: Chelsea
EPL Goals: 93
Goals Per Game: 0.49
Golden Boot Wins: 2007, 2010
The lone forward formation is becoming more and more popular in today's game, and strikers like Drogba are the reason why. Having the ability to beat defenders off the dribble, score from all angles and distances and hold the ball up and wait for support under defensive pressure, Drogba is a prototype for the modern day forward.
Since being signed by Jose Mourinho for Chelsea in 2004, Drogba has enjoyed seven spectacular seasons at Chelsea, scoring 93 goals and winning three Premier League titles. Drogba has also twice been the league's leading goal scorer, and won the Golden Boot Award in 2007 and 2010.
His best season at Chelsea came in 2009-2010, when he fired the Blues to a league title by scoring 29 goals in 32 Premier League games.
It appears that Drogba will enjoy many more successful seasons in the Premier League, and will likely be higher up lists like this by the time he retires.
6. Jimmy Floyd Hasselbaink
EPL Clubs: Leeds United, Chelsea, Middlesbrough, Charlton Athletic
EPL Goals: 127
Goals Per Game: 0.44
Golden Boot Wins: 1999, 2005
Born as Jerrel Hasselbaink in 1972, the man known as Jimmy Floyd would go on to become one the great Premier League goal scorers. Whether it be the manner he scored goals, or his ebullient personality, subtlety has never been Hasselbaink's way.
Hasselbaink is renowned for jackhammer strikes that break the net, usually followed by wild celebrations. He was introduced to the Premier League when he was signed by George Graham for Leeds United in 1997.
He scored 16 EPL goals in his first season at Leeds, and followed that up with 18 goals the following year when he won the Golden Boot Award. Hasselbaink moved to Spain from Elland Road but returned to the Premier League when he signed for Chelsea in 2000.
Hasselbaink netted 23 goals in both of his first two seasons at Stamford Bridge, by the time he left to join Middlesbrough in 2004, Hasselbaink had scored 70 EPL goals for Chelsea and became a cult hero with the fans.
The feeling was mutual and was demonstrated and the end of his Premier League career when he scored for Charlton Athletic in a game at Chelsea, and rather than celebrate, he held up his hands in a apologetic gesture to the Chelsea fans.
Before joining Charlton, Hasselbaink scored 23 goals in two seasons at Middlesbrough, and played his part in what was one of the most successful spells in Boro history.
The lasting memory of Hasselbaink with many fans is his shooting power and that is demonstrated by the video, when he smacked home one of the more well hit free kicks of all-time.
5. Robbie Fowler
EPL Clubs: Liverpool (twice), Leeds United, Manchester City, Blackburn Rovers
EPL Goals: 163
Goals Per Game: 0.43
Golden Boot Wins: None
Robbie Fowler was a boyhood Everton fan, who would go on to become a legend in the red half of Merseyside. Fowler joined Liverpool as a 10 year old, and turned professional on his 17th birthday.
Fowler's success at Liverpool was nothing short of spectacular, he scored 120 EPL goals for the Reds and honed a reputation as one of the best natural finishers in the English game.
In the 1994/1995 season Fowler scored a hat-trick against Arsenal in four minutes and 33 seconds, a feat that still stands as the fastest hat-trick in the history of the Premier League.
Fowler had an infectious enthusiasm that made him a cult hero with fans, he also showed a sense of honesty that is less common in today's game.
Fowler was awarded a UEFA Fair Play Award when after being awarded a penalty for falling over David Seaman, Fowler argued with referee to not award the spot kick.
Fowler subsequently missed the penalty, but the sense of fair play was somewhat ruined when Jason McAteer slammed home the rebound and celebrated in delirious fashion.
Fowler's success led to increased media attention and that is something he did not always deal with well. He headed a group known as 'The Spice Boys' that were branded as players who focused on the nightlife as much as the hard work involved in professional football.
The forward known to Liverpool fans as "God" left the club in 2001, and played at Leeds United and Manchester City without quite hitting the heights of his Anfield brilliance.
Fowler returned to Liverpool in 2005 and netted eight goals in two seasons before leaving again. Fowler ended his Premier League career at Blackburn Rovers, where he failed to find the net.
While his career burned out and many negative rumors surround Fowler, his first spell at Anfield cemented him in history as one of the all-time great Premier League goal scorers.
4. Michael Owen
EPL Clubs: Liverpool, Newcastle United, Manchester United
EPL Goals: 148
Goals Per Game: 0.48
Golden Boot Wins: 1998 (joint with Chris Sutton and Dion Dublin), 1999 (joint with Jimmy Floyd Hasselbaink and Dwight Yorke)
Michael Owen was another boyhood Everton fan who would go on to earn legendary status at bitter rivals Liverpool. Owen made his Liverpool debut as a 17-year-old, when he came off the bench and scored against Wimbledon at the end of the 1996/1997 season.
Owen would spend seven more seasons and record over double figures in goal in each one. The pacey forward had netted 118 EPL goals for Liverpool before he moved to Real Madrid.
After only one season in Spain, Owen returned to the Premier League with Newcastle United. Like Fowler before him, Owen would struggle to match the heights he reached while playing for Liverpool.
He scored 26 EPL goals in four seasons for the Toon Army, and has scored four goals in two seasons so far in his current spell at Manchester United.
Owen made his living in his early career as a lightning-quick forward who was a constant threat to be released in behind the defense.
That speed is not there as much nowadays, but he still has the finishing touch that could see him add a few more EPL goals before his Old Trafford days are over.
3. Andy Cole
EPL Clubs: Newcastle United, Manchester United, Blackburn Rovers, Fulham, Manchester City, Portsmouth, Sunderland
EPL Goals: 187
Goals Per Game: 0.45
Golden Boot Wins: 1994
Andrew Cole was a product of the Arsenal youth academy, but did not make the grade at the Gunners. Cole had lower league success before moving to Kevin Keegan's Newcastle United. Cole fired Newcastle to promotion and achieved spectacular success in the Premier League.
During his glory days he was known universally referred to as Andy Cole, and despite making a request to be known as 'Andrew' later in his career, his name stuck and he will forever be known to football fans Andy Cole.
In Newcastle's first EPL season, Cole hit an astounding 34 goals in 40 games, a feat that is tied with Alan Shearer for the most goals in a Premier League season. Cole had scored nine goals by December of the following season, and he was shockingly transferred to Manchester United.
Cole hit the ground running at Old Trafford and scored 12 goals in 18 games the season he joined. His haul included five in one game as the Red Devils routed Ipswich Town 9-0.
Cole would go on to score 93 EPL goals and win five Premier League titles with Manchester United. His partnership with Dwight Yorke is regarded as one the best in the history of the club, and played a major part in the famous treble winning campaign of 1998/1999.
Cole left Old Trafford and would go on to play for five Premier League clubs between 2001 and 2008, adding 24 goals to his career tally.
Blessed with lightning pace and a remarkable ability to finish first time with balls coming at him from seemingly any angle and height, Andy Cole will be remembered forever as a match-winning striker on the history of the Premier League.
2. Thierry Henry
EPL Clubs: Arsenal
EPL Goals: 174
Goals Per Game: 0.69
Golden Boot Wins: 2002, 2004, 2005, 2006
It is often said that great players make great achievements look easy, and Thierry Henry supports that theory.
The notoriously cool Frenchman had a grace and elegance matched by no player in Premier League history, his ability to blow by defenders in seemingly nonchalant fashion made him a cult hero with fans and an opposing defender's worst nightmare.
Henry was signed by Arsene Wenger as a left winger from Juventus. Wenger immediately converted Henry to a central striker, and the move would go on to pay spectacular dividends.
Henry would go on to score 174 EPL goals for the Gunners, and as the statistics above show, he scored them at a prolific rate of well over a goal every two games.
Henry went on one of the most dominant runs of any striker in Premier League history when he won four Golden Boot Award's as the league's top scorer between 2002 and 2006.
The 2003.2004 season was magnificent for Henry on an individual and team level for Henry. The French striker scored 30 goals while Arsenal won the Premier League title, going the entire league season undefeated.
Henry also won the double honor of the Premier League title and Golden Boot during the 2001/2002 season.
The spectacular fashion that Henry scored in makes him all the more memorable for any Premier League fans.
Whether it was the time he impudently flicked the ball up to himself and turned to slam a spectacular volley past Fabian Barthez, or the time he dribbled from inside his own half to score past Manchester United, Henry etched himself into history as a legendary goal scorer in EPL history.
In addition to his fantastic talents, Henry also did a lot of good work for the 'Kick Racism Out of Football' campaign, and had one more thing going for him. The man just oozed cool!
1. Alan Shearer
EPL Clubs: Blackburn Rovers, Newcastle United
EPL Goals: 260
Goals Per Game: 0.59
Golden Boot Wins: 1995, 1996, 1997
When it comes to a top 20 list, many spots on the list can be debated, however this one surely cannot be. Alan Shearer is simply the most prolific goal scorer in Premier League history.
For some perspective, the gap between Shearer and the next highest scorer, Henry, is 86 goals. That is more goals than the legendary Eric Cantona scored in his entire EPL career.
Shearer emerged in the old First Division as an exciting young forward with Southampton, and was signed by Blackburn Rovers in time to begin the Premier League era.
Shearer scored 112 EPL goals for Rovers, and won three consecutive Golden Boot Awards between 1995 and 1997. In the 1994/1995 season, Shearer tied the Premier League mark for goals in a single season, when his 34 strikes fired Rovers to their only Premier League title in the club's history. He followed that season with 31 goals in 35 games the following year.
In the summer of 1996, Shearer signed for his boyhood heroes Newcastle United for 15 million pounds. He won his third Golden Boot Award in his first season back home as he rattled in 25 goals in 31 games.
Shearer finished his Newcastle career with 148 EPL goals for the Toon Army, and with his status as the Premier League's greatest goal scorer assured.
What makes Shearer's achievements even more impressive is the style of play he adopted on the way to his scoring feats. Shearer began his career with lightning pace and made a living chasing balls down in the channels and smashing home goals from all angles.
Shearer suffered a severe knee injury, but despite losing a yard of pace, he packed on some extra muscle and placed more emphasis on playing with his back to goal.
Throughout his career, Shearer has possessed the ability to finish with both feet and score from both inside and outside the area. He also possessed outstanding physical presence and aerial ability. If you can think of a possible way to score a goal, then Alan Shearer was capable of it.
Keep Reading