Washington Capitals Look To Cure What Ails Against New York Islanders Tonight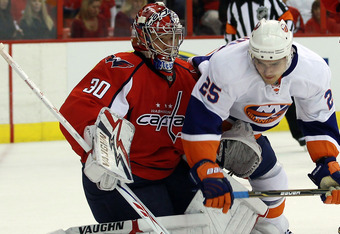 Bruce Bennett/Getty Images
There will be an interesting battle to watch in tonight when the Washington Capitals travel to play the New York Islanders.
Both the Capitals and Islanders allow their opponents to score the game's first goal at an alarming rate. One of these teams will add to this not-so-flattering stat tonight and it will probably not take long to see which one does.
The Capitals lead the NHL in allowing the first goal. 29 times this season and in six of their last seven, the Caps have trailed 1-0. Making matters worse for the Caps is they appear to be allowing the goals to occur very early on in the first period.
In Washington's last two games, they allowed the Flyers and Senators to score less than two minutes into the contest. The Caps may not be scoring like last year, but they still have enough talent to recover in half of those games to earn points.
They lead the NHL in winning games when trailing first with a 13-12-4 record. Unfortunately, the Islanders also surrender first goals, but they do not have the talent to recover when doing so.
Not to be outdone, the Islanders are tied for second with the Carolina Hurricanes, having allowed the first goal 28 times. Without the talent that Washington has, the Isles have only managed to win just four times when trailing first.
The Isles have surrendered the first goal in seven straight games and in six of them have allowed the opening goal in the first five minutes of the period.
Bruce Bennett/Getty Images
The Capitals' offensive numbers continue to alarm fans as the season moves towards the All-Star break.
Tuesday night's 3-2 loss in Philadelphia was the 11th straight game in which the Caps scored three or fewer goals, the team's longest streak in more than five years.
Tuesday's loss was also the fourth-straight game the Capitals did not register at least 30 shots, again a streak that has not happened in over five years.
Luckily for the Capitals, the Islanders surrender 33 shots per game this season.
The lack of production is no longer just a slump. It's become "offensive" to watch as the once mighty Capitals and their stars struggle to score goals.
The numbers can be broken down into periods and again, there doesn't appear to be any offensive improvement on the horizon. According to Capitals.com, Washington has not entered the third period of any game with the lead since it took a 2-1 advantage into the final frame of the Winter Classic at Pittsburgh on New Year's Day.
The Capitals have scored just one first period goal in their last eight games and are now extending that into what used to be a strong second period as Washington has gone four games without a second period marker.
With no answers for his struggling offense, head coach Bruce Boudreau seems to find comfort in the way the Caps are playing defense.
Which Capital snaps his scoring slump first
Boudreau said following Tuesday's loss, "We're starting late (in games), but we're trying to fix that. I want to accentuate how good that we are playing defensively. We're not scoring more than three goals, and yet if we win Thursday night, we're one of only five NHL teams with 60 points or more."
Boudreau continued, "That's some pretty good defensive work from a group that was chastised about being too offensive and not good enough defensively last year."
The Capitals have a tendency to play down to the competition and if they do so tonight it could be an ugly affair to watch. The Islanders rank in the bottom three of the NHL in offense and defense.
The Isles have lost four of their last five and allowed almost five goals per game in doing so. The Capitals have registered 13 points in their last ten games despite only scoring 22 goals during the stretch.
The Caps are 1-0 against their former Patrick Division rivals this season, beating them 2-1 back on October 13th in Washington. Alex Ovechkin scored a late third-period power-play goal to boost the Caps' record to 8-0-2 in their last ten meetings against the Islanders.
Washington is 5-0-1 in their last six trips to Long Island and while the Caps do enjoy a good measure of success against the Isles, five of their last 10 games have gone to overtime.
Those were the days, weren't they—Ovechkin scoring a goal and on the power play. Speaking of the power play, the Caps are nine for the last 79 and have gone from second to 18th in NHL during the slump.
Bruce Bennett/Getty Images
The Islanders power play ranks 16th converting 18.1 percent of their extra man chances. Down a man the Isles rank 19th in the NHL, killing 81.7 percent of the opposition's power plays.
The Caps' starting goal tender situation may be an interesting one to watch for tonight's game. Both Michael Neuvirth and Semyon Varlamov missed practice on Wednesday with injuries. As a result Washington recalled Braden Holtby from the Hershey Bears.
Holtby has been solid this season in Hershey and could be called upon to start against the struggling Islanders tonight. Holtby, the Caps' fourth round draft choice in 2008 is 10-5-2 in 18 games with the Bears this season, ranking third in the AHL in GAA (1.82) and fourth in save percentage (.937).
Holtby has four shutouts this season in Hershey. The Islanders with injury issues of their own expect to get a former first round pick back tonight.

Forward Kyle Okposo, who was expected to have a breakout year for the Islanders will make his season debut tonight after missing more than three months following shoulder surgery on Sept. 28.
While Okposo will give the Isles a lift they do have five players that have scored 10 or more goals, led by John Tavares with 18. Tavares was the number one overall pick in the 2009 NHL entry draft.
Greg Fiume/Getty Images
The Capitals have a chance with tonight's game and Saturday's road game in Toronto to correct what ails them, or at least start working through the struggles a little more.
Both the Leafs and Isles are on the bottom of the Eastern conference standings and giving up goals lately like their playing indoor soccer.
If Washington fails to take advantage of this opportunity they will regret it. As of today the Capitals do not face teams with losing records in back to back games until the play the Islanders successively on February 26 and then again on March 1.
After Saturday the Capitals will play ten straight games (five on the road) against teams with a winning record, the 11th game is against the Sabres who are 20-20-5.
Despite their paltry offensive numbers, Washington continues to earn points because of better than expected goal-tending and defensive play. As Bruce Boudreau pointed out, a win tonight means the Caps are just one of five teams with 60 points in the NHL.

I do believe that Boudreau knows deep down inside that at some point his offense better start showing up.
Boudreau is running out of answers and pointing out how well he thinks his young defense is playing is a sure fire sign that Boudreau is clueless about his struggling offense.
This article is
What is the duplicate article?
Why is this article offensive?
Where is this article plagiarized from?
Why is this article poorly edited?

Washington Capitals: Like this team?