NBA Trade Rumors: Which Team is the Best Fit for Steve Nash?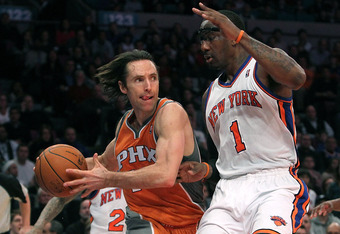 NBA Trade Rumors: Which Team is the Best Fit for Steve Nash?
Steve Nash and the Phoenix Suns are still technically in the playoff picture in the Western Conference. And the trade they made with the Orlando Magic that netted them Marcin Gortat, Mickael Pietrus, and Vince Carter seemed to signal that they're not going to concede anything quite yet.
No, sir. That will happen if and when they trade Steve Nash, a move that seemingly the whole world wants them to make.
As for which teams could use Nash, the list is pretty long.
The best fit of all is probably the Miami Heat. They could really use a point guard, and adding Nash to the mix would officially make their entire roster an unfair competitive advantage.
That being said, it's not going to happen. Not unless the Heat can pull some kind of Pau Gasol-to-the-Lakers magic.
Speaking of the Lakers, there have been some who have said Nash would look great in the Staples Center. And this is true.
But like the Heat, it's not going to happen.
Reuniting Nash with Mike D'Antoni and Amar'e Stoudemire in New York is an intriguing possibility, but it would seem right now that the Knicks are too distracted with Carmelo Anthony to put any thought into the deal.
The Dallas Mavericks would also probably love a reunion with Nash. They've slipped quite a bit in recent games, thanks in large part to Dirk Nowitzki's absence. But because it's hard to see the Suns agreeing to a Jason Kidd-for-Nash deal straight up, this is another long shot.
The Atlanta Hawks are another intriguing possibility. Mike Bibby is a nice option, but he's nowhere near Nash's level. Instead, a trio of Nash, Joe Johnson, and Josh Smith would easily spell headaches for the rest of the Eastern Conference, and maybe even a playoff upset or two.
But on balance, there are more speculative options than there are realistic options. Because of this, it just seems more likely that Nash will stay put.
For more on the Nash trade scenario, check out our list of 10 Title Contenders That Need Nash to Complete Puzzle.
Most recent updates:
This article is
What is the duplicate article?
Why is this article offensive?
Where is this article plagiarized from?
Why is this article poorly edited?