Ending The Drought: Does Monta Ellis Deserve To Be an All-Star?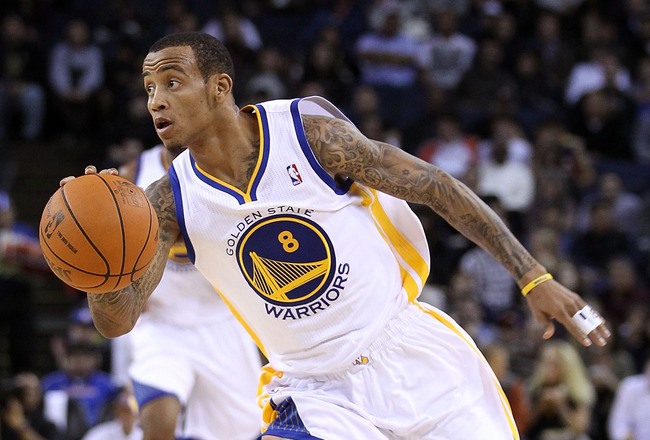 Ezra Shaw/Getty Images
Can you name the last Golden State Warriors player to be named an All-Star? If you guessed Latrell Sprewell in 1997, you would be correct (the following season, Sprewell choked head coach PJ Carlesimo and never played another game for the Warriors. Oh, the life of a Warriors fan).

It has been 14 seasons since Sprewell was honored, which is easily the longest drought in the NBA. Kobe Bryant was a rookie and Shawn Kemp was still skinny.
Since Sprewell, Warriors fans have been pushing for an All-Star. Fans tried to make a case for Jason Richardson to make the team on numerous occasions, only to be disappointed. Warriors fans were up in arms when Brandon Roy was chosen over Baron Davis in 2008 when Baron had better statistics and the Warriors had a better record than Portland. Now, Warriors fans are driving the Monta Ellis All-Star bandwagon.
But Monta Ellis hasn't always had a great relationship with the Warriors fanbase. After turning into a fan favorite in Don Nelson's uptempo offense, Warriors fans quickly turned against him after a sequence of questionable decisions including lying about his moped accident and making negative comments about Stephen Curry on media day last season. This seemingly divided the fanbase in two. You were either a Monta Ellis fan or a Stephen Curry fan, and for the most part fans were in Curry's corner. Last year, I polled my blog's readers about trading Monta, and the general consensus was that they would have traded him for Rasheed Wallace's bald spot.
If there is a fourth reserve spot, who deserves it?
Things have changed this season, however. Monta came to training camp early to work out with his new teammates after an eventful offseason in which he got married. Monta credits his wife, Juanika, and his son, Monta Jr. for his maturation and development as a leader and teammate. She implored him to squash the beef with Curry so that they could put it behind them and concentrate on winning. Monta invited Curry to his wedding and paid for Curry's birthday dinner. Their relationship has continued to grow from there.
Since then, they've developed into the highest-scoring backcourt in the league. The fans have noticed the change, and they have responded. Although a quick glance into the Oracle Arena crowd will show more No. 30 jerseys than No. 8, the true test occurs when the starting lineups are announced. When the lights are out and hype-man Franco Finn is doing his thing, the Warriors fanbase shows more love for Monta than any other player.
Who should Monta Ellis make the All Star team over?

Russell Westbrook

0%

Steve Nash

0%

Other

0%

He doesn't deserve to be an All Star

0%
Monta Ellis' development as a leader and teammate has not only translated into a more cohesive locker room, but production on the court as well. Ellis is putting up All-Star numbers. He is third in the NBA in scoring at 25.7 points per game, trailing only Kevin Durant and Amar'e Stoudemire. The only other player besides LeBron James to average 25 points and five assists is not Dwyane Wade, Kobe Bryant or Derrick Rose; it is Monta Ellis.
However, like every year in the Western Conference, there is plenty of competition for the All-Star nod. There are three or four reserve spots for guards on the roster depending on if the coaches decide to take a fourth guard or forward.
If the voting remains the same, Chris Paul and Kobe Bryant will be the starting guards. Manu Ginobili is an MVP candidate. Lock him in as a reserve. Deron Williams might be the best point guard in basketball. He's in. Russell Westbrook is having an All-Star season on one of the best teams in the Western Conference. He's in.

That leaves Steve Nash, Eric Gordon, Tony Parker, Kevin Martin and Monta Ellis either on the outside looking in or fighting for the last spot if the coaches decide to go with a fourth guard. Who will it be?
After a brief pit stop for the Monta Ellis bandwagon, the fans are back on-board. His positive attitude and dazzling circus shots have convinced fans that he is an All-Star. However, it remains to be seen if he has convinced the Western Conference coaches that select the reserves.
Although Monta has an outside shot at making the team and ending the Warriors' 14-year drought, my sources at Wikileaks are telling me that the outlook does not look good. Chalk another one up in the loss column for the Warriors.
This article is
What is the duplicate article?
Why is this article offensive?
Where is this article plagiarized from?
Why is this article poorly edited?

Golden State Warriors: Like this team?