UFC MW Contender Brian Stann Challenged Wanderlei Silva: What He Can Expect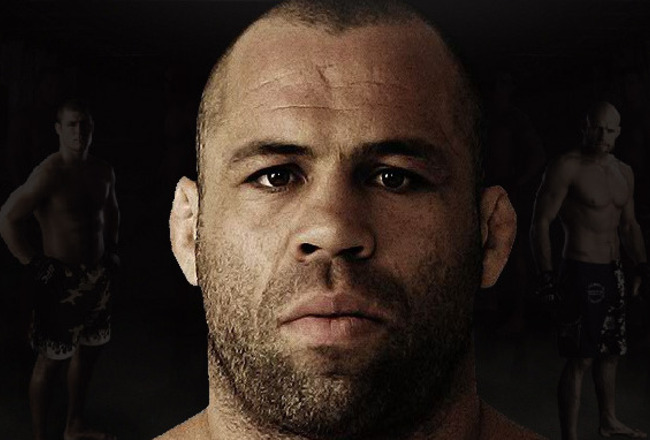 Wanderlei "The Axe Murderer" Silva

UFC middleweight contender Brian "The All American" Stann made short work of the seasoned veteran, Chris "The Crippler" Leben, at UFC 125 on New Year's Day.
A lethal combination of punches and knees by Stann devastated Leben and forced a TKO stoppage at 3:37 of Round 1.
Respectfully calling out Chris Leben, Stann clearly stated prior to his co-main event on January 1 that "to be the best, he has to beat the best."
In accordance to this moniker, proceeding "The All American's" short work of "The Crippler," Stann stated that he would like to challenge Wanderlei "The Axe Murderer" Silva in his next fight.
Stann was quoted, "I think I'd like to fight Wanderlei next. He's been a guy who I've watched for years before I ever put a glove on. He's amazing, he's as tough as they come, he's as good as they come, he's a multiple weight champion, I think I'd like to fight him next."
Wanting to be ranked within the top 10 of the middleweight division prior to year's end, Brian Stann has clearly stepped up in competition vs. Wanderlei Silva.
Silva is 33-10-1 with multiple championships in various weight classes and promotions, "The Axe Murderer's" nickname describes his style within the octagon.
Known for his relentless stand up game and throwing caution to the wind, Silva has been a human highlight machine as an ultimate fighter for over a decade.
Brian Stann clearly wants to compete against the best in the world to prove that he is one of the top middleweight fighters.
With this fight rumored to take place sometime in the spring of 2011, Stann will have his opportunity to either make a run at the middleweight championship or become another victim of Silva's vicious assault in the cage.
Anticipating an epic battle between the technical striker in Stann and the unorthodox, yet highly effective Muay Thai practitioner in Silva, the following is a video highlight of what "The All American" will face when he steps foot inside the octagon with "The Axe Murderer."
I welcome your comments.
Todd Seyler
"Like" me on Facebook
Follow me on Twitter @magnus06
Wanderlei Silva's Tremendous Training Regimen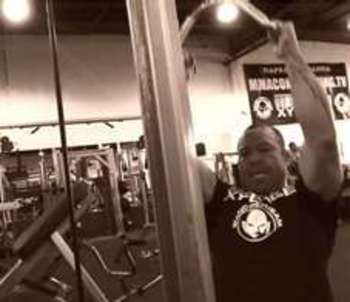 Wanderlei Silva Weight Lifting
With 45 professional fights, it is clear that Wanderlei Silva places the necessary work outside of the octagon to guarantee his success inside the octagon.
Originally training with the fabled Chute Boxe Academy in Brazil, Wanderlei currently trains in Las Vegas, Nev., with his Wand fight team.
Preparing for his fights consists of a variety of aerobic and anaerobic conditioning, as well as strength training and the necessary fight training.
Legendary for his work ethic, Wanderlei trains like he competes, balls to the wall. Click on the link to view Silva's workout program with his Chute Boxe Academy teammates.
Wanderlei Silva's Legendary Stare Down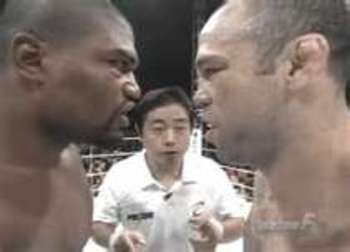 Wanderlei Silva stare down with Quinton Jackson
Wanderlei Silva is not only tenacious during his fights, he is equally as intimidating prior to the bell.
Known for his eye-piercing stare down, hand movement and sauntering back and forth, Silva's mental preparation inside the cage enforces his nickname as "The Axe Murderer."
An unflinching stare down between Mirko Cro Cop and Wanderlei Silva is the example of what Brian Stann can expect when he enters the octagon against "The Axe Murderer" this Spring.
Wanderlei Silva VS Kazushi Sakuraba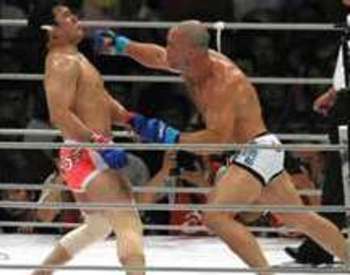 Wanderlei Silva VS Kazushi Sakuraba
Defeating Kazushi Sakuraba on three separate occasions, this feud between the Brazilian and the Japanese star fueled PRIDE Fighting Championships for over two years.
Delivering an onslaught of punches, knees and soccer kicks, this match up between Sakuraba and Silva never left a fan in their seats.
Wanderlei Silva Vs. Quinton "Rampage" Jackson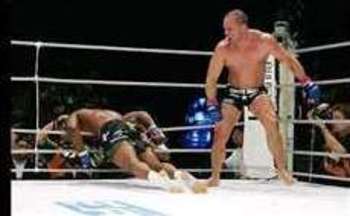 Wanderlei Silva KO'd Quinton Jackson
Following up his rivalry with Kazushi Sukaraba, Wanderlei Silva's epic battles with Quinton "Rampage" Jackson continued from 2003-2008.
Devastating Jackson in their first affair at PRIDE Final Conflict 2003, Wanderlei would knockout Quinton with knee strikes at PRIDE 28 in 2004.
Gaining the upper hand at UFC 92 in 2008, "Rampage" would win the rubber match with a knockout victory over "The Axe Murderer."
The bad blood between these two ultimate fighters provided the world with tremendous fights, loaded with unrelenting attacks by each competitor.
Wanderlei Silva Vs. Dan Henderson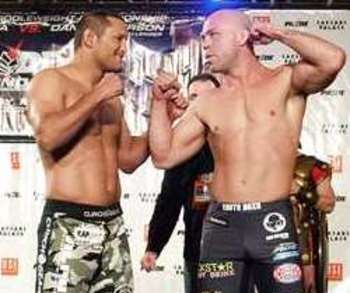 Wanderlei Silva VS Dan Henderson
PRIDE 12 in December 2000 at the Saitama Super Arena in Saitama, Japan was the first match up between Wanderlei Silva and Dan Henderson.
Earning a unanimous decision victory, Silva would once again compete against Henderson. This time on American soil at PRIDE 33 in Las Vegas.
Avenging his loss to Silva, Henderson would win the PRIDE middleweight championship belt with a knockout victory over "The Axe Murderer."
Similar to Brian Stann in his technical prowess, Dan Henderson's stand up game will provide Wanderlei with a source of experience in his fight against "The All American."
Wanderlei Silva Vs. Chuck Liddell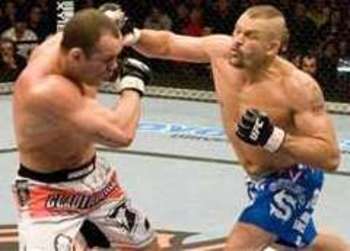 Wanderlei Silva VS Chuck Liddell
Providing MMA fans worldwide with fireworks that lit up the Las Vegas skyline, this epic battle between two legends in the sport at UFC 79 in 2007 earned both competitors Fight of the Night and Fight of the Year accolades.
Stylistically opposite in their stand up approach, Wanderlei Silva's aggressive, straight forward strategy was evenly matched with Chuck Liddell's patient, counter-striking game plan that has served "The Iceman" well over the years.
Eerily similar in their willingness to stand and trade with wide, powerful punches, this fight was a knockdown, back-and-forth affair with Chuck Liddell earning the unanimous decision victory in the end.
Wanderlei Silva Vs. Keith Jardine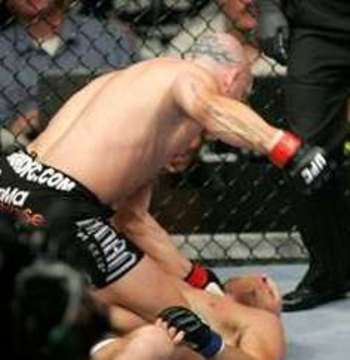 Wanderlei Silva VS Keith Jardine
Coming off of an upset victory over Chuck Liddell at UFC 76, Keith "The Dean of Mean" Jardine's win streak was decisively snapped against Wanderlei Silva at UFC 84 in 2008.
Earning Knockout of the Night honors, Silva caught Jardine with a right hook that sent "The Dean of Mean" barreling to the mat.
Following up with a vicious ground-and-pound assault, the conclusion came at 36 seconds of Round 1.
Wanderlei Silva Vs. Michael Bisping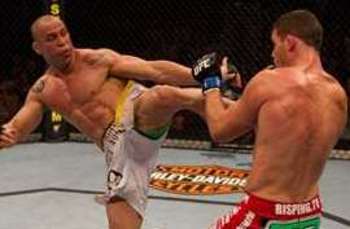 Wanderlei Silva VS Michael Bisping
UFC 110 in February 2010 was Wanderlei Silva's debut inside the famed octagon at middleweight vs. Michael "The Count" Bisping (I apologize, no video for this fight).
Of all of Silva's recent opponents, Bisping is most similar in his fighting style to that of Brian Stann.
Capable of delivering technical strikes from all angles and levels, Bisping's stand-up game features a variety of punches, kicks and knees: just as Stann's.
In the end, Wanderlei Silva earned a unanimous decision victory over Bisping.
Could the same be true for his match up against Stann?
I look forward to Silva vs. Stann in the Spring of 2011 to answer that question.
Keep Reading