MVP: Why Derrick Rose Is the Best Player in the NBA This Season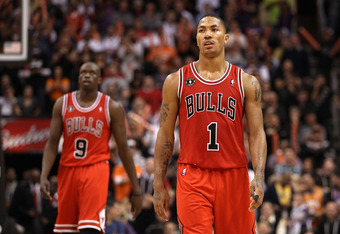 Christian Petersen/Getty Images
Three. The number three represents the amount of times the MVP has gone to a point guard. All of those point guards are soon to be Hall of Famers, if not, already Hall of Famers. As Steve Nash, Bob Cousy, and Magic Johnson are the only point guards to ever achieve the great honor of MVP.
This year, that number might change as Chicago Bulls Point Guard, Derrick Rose, will be looking to become just the fourth Point Guard, in NBA history, to hoist the MVP trophy.
When most people think of who should be the MVP this season, a lot of talk has come from the names Amare, LeBron, Dwight and even Dirk. Most wouldn't stop to think about the 22 year old Point Guard from Chicago, as this years MVP.
Earlier this season, fans were having debates to see who was going to be the best player and even point guard in the NBA. Answers usually starting with Chris Paul and ending with either Deron Williams or Rajon Rondo as the top point guard. Some people thought that Derrick Rose deserved consideration, but the idea of Rose as the top point guard was crazy, according to others.
At the beginning of the NBA season, Rose became a man on a mission to be not only the leagues best point guard, but the best player overall. Rose was featured on the cover of Slam Magazine with the headline, "No Bull: Derrick Rose Wants To Be MVP."
Even after a game less than a month ago, Rose stated in an interview that,"There's no point in playing this game if you're not trying to be the best. And this year I want to be MVP."
Although Rose isn't the top scorer, or even the league leader in assist, he still has the stats to back up his phenomenal play throughout this season. Rose is seventh among all players in points per game and first among Point Guards with 24.5. He is also top ten among all point guards in assist with 8 assist per game and is third among all point guards in rebounds per game with 4.5.
Another great stat by Rose is the fact that he is sixth, according to NBA.com, in the combined stat of points plus rebounds plus assist per game with a 37.0 average, highest among all guards.
Whats most impressive and why he deserves serious consideration for the MVP running is that this season Rose has made or assisted on 44 percent of his teams field goals this season. This shows that Rose has been a complete team player for the Chicago Bulls.
The real reasons why Rose deserves to be the MVP aren't necessarily in his stats, as they are in the league standings. Rose has led the Chicago Bulls to a 28-13 record and third overall, in the Eastern Conference. He has helped lead the Bulls to signature wins over teams like the L.A. Lakers, Miami Heat, and Boston Celtics, this season. The great part is that he has got the Bulls to a very comfortable 10.5 game lead over the second place Indiana Pacers in the Central Division.
When you're playing without one star for every game this season besides nine, I find it tough to have the record that the Bulls have currently. The first 15 games this season featured the Bulls without the talents of Carlos Boozer. The next nine games, had the Bulls soaring, only losing two games, but against the Toronto Raptors terrible news occurred, as Joakim Noah was going to be sidelined for a while.
The effect that this had on the Chicago Bulls and Derrick Rose was absolutely minimal. Rose has been playing stellar against teams without one of his stars. Even recently, when both Noah and Boozer were gone, Rose ended up having a triple-double in a win against the Memphis Grizzlies.
When I think about the MVP I feel like the award should go to the player that makes not only his team better, but his teammates better and Derrick Rose shows that. Rose has made players around him, like Luol Deng, Carlos Boozer and Joakim Noah a lot better when he is playing with them. Even role players like Kyle Korver and Kurt Thomas agree that Rose has helped out their production during this season, as well.
Derrick Rose clearly deserves to be this year's MVP, so far, with the fact that Rose has been playing shorthanded this season. Rose has matched up with the likes of Kobe Bryant, Dwayne Wade, and Rajon Rondo when playing against their teams.
For the second half of this season, look for Rose to be the leading candidate for the MVP award as the season progresses. Look for Rose to have a big impact in making the Bulls as one of the top teams come playoff time.
No doubt in my mind, Derrick Rose deserves to be the MVP as the leader of one of the youngest and injury-prone teams in the NBA. I mean who would come in second anyways, Brian Scalabrine?
-------------------------------------------------------------------------------------------------------------
To see more amazing articles visit The Sports Dish (or if you interested in writing for a sports blog, in addition to B/R, message me) (http://www.thesportsdish.com)


This article is
What is the duplicate article?
Why is this article offensive?
Where is this article plagiarized from?
Why is this article poorly edited?