NFL: AFC Divisional Playoff Pre-Review-Baltimore Ravens at Pittsburgh Steelers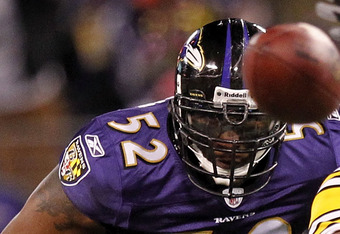 Geoff Burke/Getty Images
Pre-review, huh? A friend of mine told me about that. What is a pre-review, exactly?
Thanks for asking. For a better idea of what, exactly, a pre-review is, please refer to the inaugural pre-review here: http://bleacherreport.com/articles/265431-ncaa-football-pre-review-17-miami-hurricanes-vs-8-oklahoma-sooners
1st quarter
Baltimore kicks the ball after winning the toss and deferring until the second half
Pittsburgh starts the game from their 20 yard line with a play-action pass to Rashard Mendenhall.
The Ravens are not amused, nor are they confused. Ray Lewis reads the play and forces a fumble, which is recovered by Ed Reed for a TD.
Still stinging from the first play, the Steelers start their second drive with consecutive runs.
Pittsburgh drives down the field surely, but slowly. Mendenhall gains 22 yards on 6 rushes, including two first down runs. Baltimore's defense tightens up and forces a 22 yard FG.
Baltimore's offense finally gets on the field with 7:12 left in the quarter. After failing to gain significant yardage on the ground, Joe Flacco finds Anquan Boldin for a couple short routes and a couple first downs.
The Ravens stall on the Steelers 13 yard line and settle for a 30 yard FG.
End of 1st: Ravens 10- Steelers 3
2nd quarter
The Steelers have no success moving the ball as Baltimore's defense is on top of their game. Pittsburgh is forced to punt after going 3 and out.
Baltimore, on the other hand, is able to create space and gets Desmond Mason free on a fly pattern against single coverage. The pitch and catch nets 39 yards and puts the
Ravens on the Steelers 15 yard line.
Two plays later, Flacco finds Ray Rice on a delay pass in the middle of the field. Rice runs for 10 yards en route to Baltimore's second TD with 10:11 left until halftime.
Pittsburgh manages to put together a decent drive after two pass interference calls bail them out on third down plays.
Mike Tomlin has his first tough decision to make this post season when Pittsburgh faces 4th and 1
Geoff Burke/Getty Images
from the 6 yard line down two TDs. The gamble falls short as Ray Lewis disrupts the play in the backfield.
Baltimore takes over at the 8 yard line with 4:20 left in the half. Hoping to work the clock while still putting points on the board, the Ravens grind their way to Pittsburgh's 31 yard line with a mix of Ray Rice and Todd Heap.
Baltimore's sudden overconfidence allows Flacco to pass three consecutive times, connecting with Boldin for a 31 yard TD on the third pass with less than 10 seconds left in the half.
Halftime: Ravens 24-Steelers 3
3rd quarter
Baltimore opens the half looking to milk the clock, but not before finding Boldin on a wide receiver screen for 19 yards.
A heavy dose of Ray Rice and Willis McGahee enable the Ravens to work 5: 32 off the clock before they kick a FG.
Pittsburgh's offense starts the second half down 24 points. Big Ben is forced to put the ball in the air.
After connecting with Hines Ward for a couple short gains, Roethlisberger finds Mike Wallace for a 43 yard gain down the sidelines.
After Mendenhall plows his way through the middle for a 4 yard TD, the Steelers cut the lead to 27-10.
Baltimore's offense sputters and is held to its first 3 and out of the game.
Pittsburgh receives the ball at their 28 yard line with 2:39 left in the quarter.
After gaining 4 yards on a Mendenhal carry, Big Ben and Hines Ward combine on a reverse double pass to Wallace down the middle of the field. The play cuts Baltimore's lead to 10 with just under a minute to play in the quarter.
End of 3rd: Ravens 27- Steelers 17
4th quarter
Heinze Field is rocking after Pittsburgh holds Baltimore to another 3 and out.
The Steelers have momentum on their side and look to take advantage of the reeling Ravens.
Jared Wickerham/Getty Images
A couple of short gains to Ward allow a nice play-action pass to Wallace behind the linebackers and in front of the safeties. The 27 yard completion puts the Steelers at Baltimore's 14 yard line.
Two plays later Big Ben finds Ward in the corner of the end-zone, a la Santonio Holmes in Super Bowl XLIII.
The Ravens are finally able to put together an extended drive in the second half with McGahee running for tough yards and Boldin making tough catches.
After working a few minutes off the clock, the Ravens settle for another FG, extending their lead to 30-24 with 3:23 left in the game.
Pittsburgh looks to put another stake in the heart of the Ravens and their fans.
Baltimore's defense, aggressive all afternoon, retreats into a prevent defense on the final drive. A little Big Ben magic puts the Steelers at the Ravens 16 yard line with 0:07 on the clock.
A well-designed play out of the bunch formation allows Mike Wallace to find room in the back of the middle of the end-zone, but a ball-hawking Ed Reed recovers in time to defend the pass.
Final Ravens 30- Steelers 24
Who wins today's Divisional Playoff games?
Summary:
Baltimore finally sheds the gorilla-sized monkey off its back and returns to the Super Bowl ten years after it won the whole thing. Baltimore's defense controlled the game and Joe Flacco erased any doubts about whether he can lead his team in the post season.
Notable stats:
Baltimore
Joe Flacco 19-29 232 yards, 2 TD
Ray Rice 22 rushes 89 yards
Willis McGahee 15 rushes 57 yards
Ed Reed 5 tackles, 1 Fum Rec, 1 TD, 3 passes defended
Ray Lewis 13 tackles, 1 Forced Fum
Pittsburgh
Ben Roethlisberger 22-37 209 yards, 1 TD
Rashard Mendenhall 23 rushes 78 yards
Other game:
Atlanta 28- Green Bay 27
Atlanta outlasts Green Bay on a Michael Turner TD run with less than a minute to play.
Matt Ryan vs. Aaron Rodgers did not disappoint as both QBs threw for over 250 yards and 2 TDs.
This article is
What is the duplicate article?
Why is this article offensive?
Where is this article plagiarized from?
Why is this article poorly edited?

Baltimore Ravens: Like this team?