2011 Michigan Football: Should Wolverines Have Gone For Broke With Brady Hoke?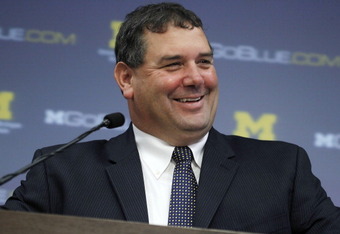 Gregory Shamus/Getty Images
Dear Maize and Blue Nation,
A couple days have passed since Dave Brandon and the University of Michigan made the hiring of Brady Hoke as our next football coach official. I say our because I consider myself part of the Michigan fan base. I've given a lot of thought to the entire situation, and I must admit that I'm more than a little concerned.
My misgivings do not center around the fact that Brady Hoke is now the head football coach—they go deeper than that. For fans and supporters of Michigan Football, this will undoubtedly be difficult to read. It's going to be hard to write, but I really believe it needs to be said.
Let me say right off the bat that I was in the small minority of those who thought Rich Rodriguez should have been given another year. Almost anyone will tell you that it takes a minimum of three years to turn a program around when a coach brings in an entirely new system and has to bring in players who fit that system. That's exactly what happened in the case of Rich-Rod.
I, just like all of you, am not satisfied with going 7-5, losing to Ohio State, and getting embarrassed in a bowl game. However, the team showed measurable improvement each season under Rodriguez, and I honestly believe he had the program headed in the right direction. Was he perfect? No, but who is?
That being said, he's gone and Brady Hoke is in Ann Arbor. That brings me to what I really want to say.
Gregory Shamus/Getty Images
Coach Hoke was hired primarily on one credential—he was a Michigan man. Period.
Okay, this is where it might get dicey.
Are we so arrogant to believe that being associated with the Michigan football program is still the be-all, end-all in Division 1 College Football, and that there is nothing of greater importance when it comes to hiring a football coach to lead this team?
Let me be real with you. As great and storied of a history as the University of Michigan's football team has, it's just that—history. Michigan fans, myself included, tend to view our past glories as more relevant than they really are. On top of that, there is a growing sense of entitlement. (Notre Dame, anyone?)
So Michigan owns the most victories of any school in FBS history. Ask Auburn, Ohio State, Florida, Texas, USC, Alabama, or LSU how much that means to them? They've each won a national title since the Wolverines earned a share of one back in 1997.
All I'm saying is that it seems like Brandon, at the urging of the university and supporters, went out of his way to bring in a Michigan man to clean up house after the dismissal of outsider Rich-Rod.
So, Michigan got their man—if their man just happened to be the third man on the list behind Les Miles and Jim Harbaugh.
Could Michigan have hired a more qualified coach than Brady Hoke?
We were so sure we'd land Harbaugh or Miles (either of whom would have been good choices) that we put all of our eggs into one of those two baskets. After all, they'd jump at the chance to coach the Wolverines in 2011 and beyond.
Why? Because it's Michigan...and well, it's Michigan! Guess what? The luster of Michigan wasn't enough to entice either Miles or Harbaugh, because that luster is not nearly what it once was.
Well Maize and Blue Nation, you got what you asked for—a Michigan man. A man who managed three winning seasons in eight years in the MAC and Mountain West.
A man with a losing record, and one with no head coaching experience at a big-time program. But hey, he's a Michigan man. That's all that counts.
Don't get me wrong, I wish Hoke the best. I hope he can turn our fortunes around sooner than later.
However, was it so important to get a coach with ties to the program that we may have let a more accomplished, qualified person get away? I'm not so sure it was.
So, we've put our hopes in Brady Hoke. From a Michigan fan to a Michigan man, I hope you prove me wrong. I would never be happier about being wrong in my life.
Just for those of you who still believe having ties to Michigan was, is, and should be the most important factor, there is one person who was not a Michigan man when he took over the program—Bo Schembechler.
Go Blue!
@MikeMacOnBr
Author's Note: Was I too hard on Brady Hoke? If you think so, please read this.
This article is
What is the duplicate article?
Why is this article offensive?
Where is this article plagiarized from?
Why is this article poorly edited?

Michigan Wolverines Football: Like this team?