50 Sexiest Bodies in Sports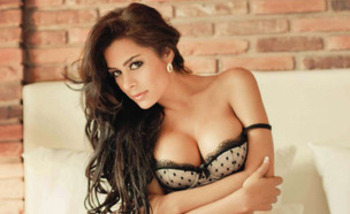 When you watch hot women playing sports, what is one of the most notable things you notice first? If you are like me, the body is the one thing that grabs your attention the longest.
Sure, some women have great butts, breasts or legs, but what about the total package? If we added them all together, what kind of women would make the list?
Well, I have removed the guessing and formed a list of the 50 sexiest female bodies in sports. This list has everything from WWE Divas to ESPN reporters. I did my best to include all the beautiful women in the sports world with the best bodies.
If you do not have anything to do today, grab a cold one and enjoy the sexy babes...slideshow style!
50. Heather Mitts: Soccer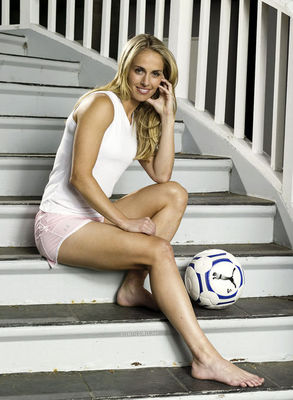 If you do not watch women's soccer, it is time to start now.
With the 2011 Women's FIFA World Cup coming up in a few months, it is the best time to start setting the DVR up and getting it ready to watch some of the most beautifully underrated women in sports. If you are looking for a hidden gem of hotties, women's soccer is your place.
49. Misty May-Treanor/Kerri Walsh: Beach Volleyball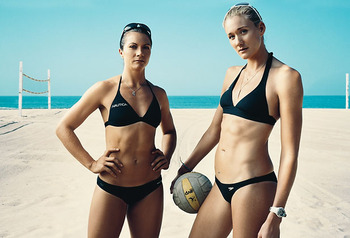 They are the mac and cheese of the sports world. You can not have one without the other.
We need both of them together to fill in this spot on the list for one reason: They are good looking alone, but when combined, they are fantastically fantastic, if that is even a real phrase.
48. Natalie Coughlin: Swimming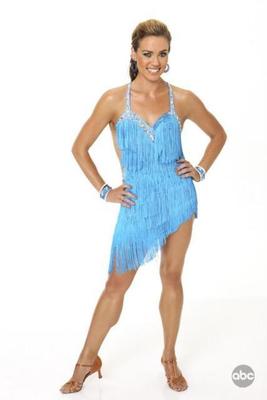 Cough, cough...hot!
If you watched the Summer Olympics in the past eight years, you would have seen this beauty in a bathing suit swimming around the pool.
If not, you missed out, but can still catch her in a couple years when she pops up again at the 2012 Summer Olympics.
47. Jennie Finch: Softball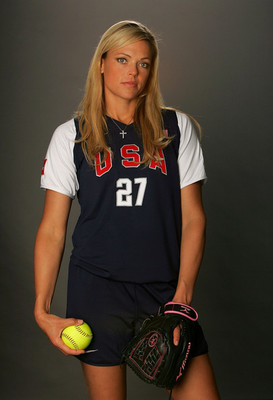 Normally, the older you get, the ability to maintain your high level of hotness fades away—but this is not true for the beautiful Jennie Finch.
Jennie continues to get hotter every time she makes an appearance. It is like she has a key to the fountain of youth, because she is only getting better every time I see her.
46. Julia Mancuso: Skiing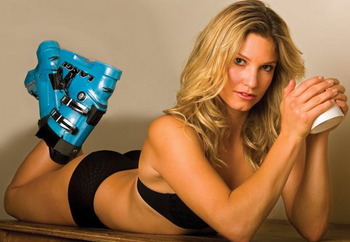 Julia Mancuso can go on to pose for countless magazines and even a Playboy shoot possibly, but none of them will ever replace this wonderful photo.
She owns the snow-boots-and-lingerie look. She made me add that to my fantasy list.
45. Diana Taurasi: Basketball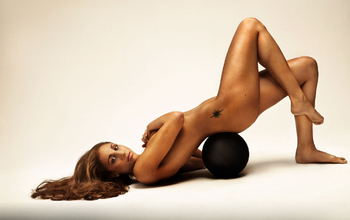 Seriously? Poor Diana Taurasi. She is still going to be one of my favorite players, and I do not care what the league she plays for does to her. They can suspend her all they want, she is still the best player in the game.
She was the best player prior to the using the banned substance, and she will be after this stuff goes away. In the meantime, we can just keep on admiring her naturally sexy body no one knew she had until ESPN the Magazine exposed it to us.
44. Michelle Wie: Golf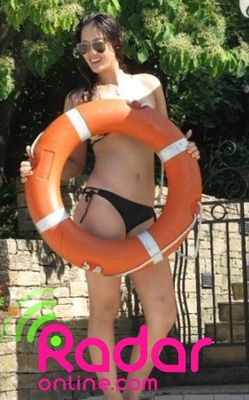 You do not have to be good at a sport to be hot. If this were the case, half my list would be gone and I would have trouble finding athletes to fill in the rest.
Michelle Wie is an example of this point. I think the last time she won anything was 1999. However, her smoking hot body still makes this list because we all can agree, she is hot.
43. Kyra Gracie: MMA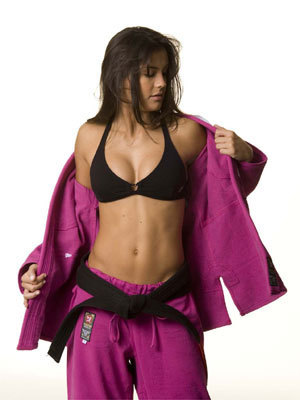 Please go and tell Kyra Gracie you do not think she has a sexy body.
Go ahead, I dare you. If you aren't afraid of her, maybe the name Gracie should get your mind right. They are the Corleones of mixed martial arts.
42. Sandra Gal: Golf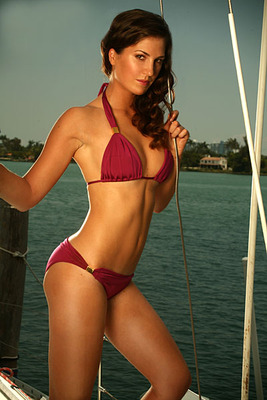 Welcome to the big time, Sandra. This is how you become famous—you pose in a bikini on a boat.
Now if only we could convince all female athletes to take this advice, then my job would be that much easier.
41. Natalie Gulbis: Golf

Natalie Gulbis is the reason I rate female athletes. She is the first female golfer I have ever seen make her sexual appeal into a business.
She has used herself to promote herself. It is brilliant. It always helps when you are hot.
40. Tanith Belbin: Figure Skating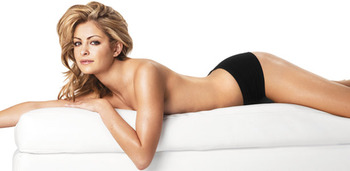 Did anyone know who this was prior to 2008?
OK, let me rephrase. Did anyone who does not watch figure skating, unless during an Olympic year, know who this was prior to 2008? If you said yes, then you are most likely lying.
It does not matter—she is hot and I am glad we get to look at her beautiful body. It makes most men smile.
39. Stephanie Rice: Swimming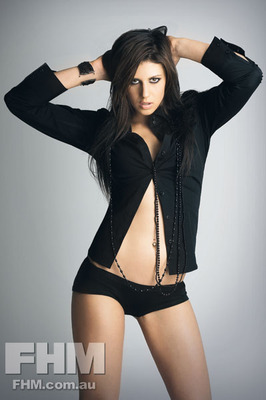 In how many articles do I have to feature Stephanie Rice before the world begins to see her?
Ms. Rice is the hottest thing to happen to Australia since boomerangs. She deserves more photo shoots, videos and whatever it takes to get her out there.
38. Sara Galimberti: Track and Field
I bet you are staring at this hottie wondering who she is. I am not going to lie, I am too. Apparently, she is the European version of Allison Stokke. She is the version 2.0 of Stokke.
It does not matter where she came from, as long as we get to look at her now.
37. Lokelani McMichael: Triathlete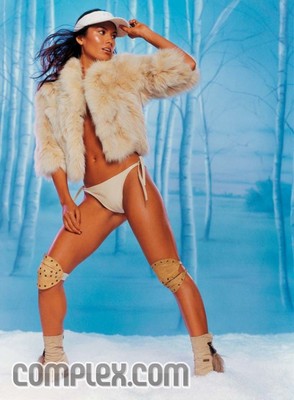 What is a triathlete? Is that something that involves running, swimming and biking? Does it happen all year long? Where can we go to watch an event like this?
Better question, where can we go to watch an event like this while also getting a chance to hang out with Lokelani McMichael?
36. Ashley Harkleroad: Tennis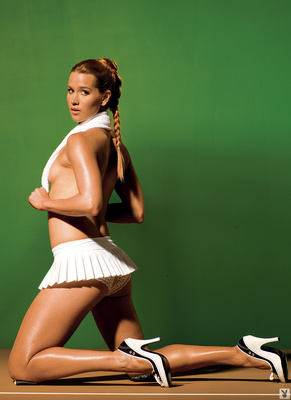 Who knew that posing for Playboy could make you more famous than Angelina Jolie?
Wait a second, let's not get too crazy here. She might be smoking hot, you should see her spread in Playboy, but she is no Angelina Jolie—sorry.
35. Bella Twins: Wrestling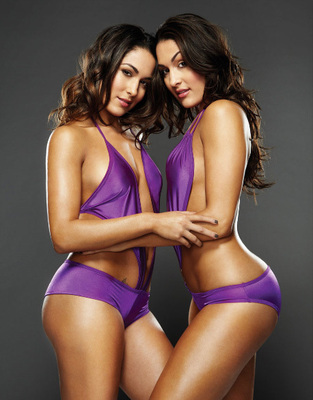 And now for something completely different—twins!
Twins are to men what weddings are to women. Men dream about twins all their life. We go to bed at night waiting for the one day when we finally get our chance to walk to the altar—and by altar I am referring to the beautiful twins.
34. Gretchen Bleiler: Snowboarding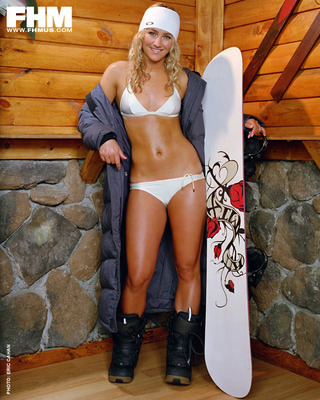 She is the cutest of all the women on my list. Gretchen Bleiler makes the snow melt when she skids across it. She has made young boys from all over the U.S. tune into the Olympics.
She is the only reason I watch the Winter X-Games on ESPN. Without her around, I would just watch reruns of Mash.
33. Kristi Leskinen: Alpine Skiing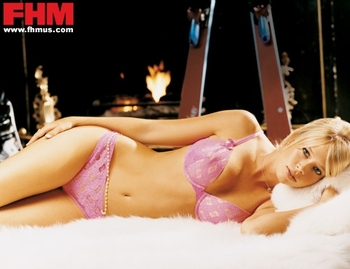 Dear Kristi,
Where have you been since the Winter Olympics?
Yours Truly,
Tommy
32. Ana Ivanovic: Tennis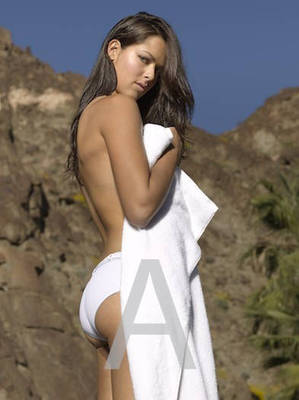 Ana Ivanovic is a real American hero, except she is not from America, so we will call her a real Serbian hero.
I bet you are curious as to why she is a hero, right? Well, she has taken average looks and turned herself into a beautiful model and tennis star. I don't know how she did it, but she transformed herself, using only her natural gifts, into this super-hot star.
31. Gina Carano: MMA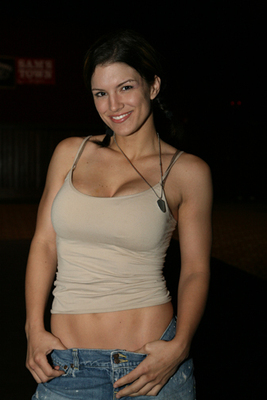 Do you ever watch UFC and wonder how amazing it would be to date the fighters?
If you answered yes, you might want to click the button marked by an "X" on your computer screen.
If you answered no, then imagine how great it would be if the UFC had Gina Carano fighting in the Octagon? Then you could answer yes.
30. Blair O'Neal: Golf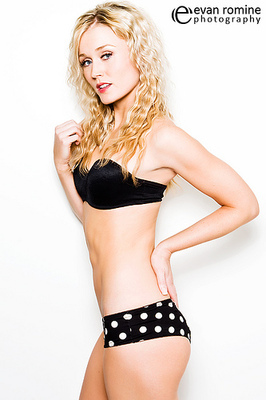 I have never tuned into women's golf. I apologize to any women who might be reading this, but I do not watch the sport. It is boring and it takes too long.
However, when I hear about Blair O'Neal playing golf, and winning the Golf Channel's reality show about golf, I have to start paying attention. Are there more women out there like her?
29. Erica Hosseini: Surfing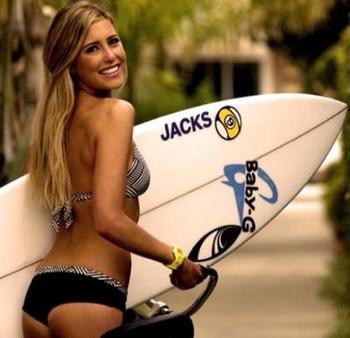 Erica Who?
Erica Hosseini is her name and surfing is her game. If you don't know her by now, then I guess you will after today.
She is a hottie on the waves and deserves our praise.
Did I just make a rhyme?
28. Maria Sharapova: Tennis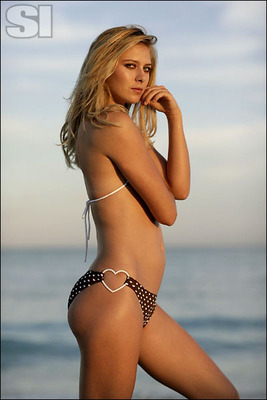 To make a list of beautiful women and not feature Maria Sharapova would be crazy. She belongs on every list made, ever.
She has done nothing but take sexy photos her entire career. She is the tallest women I have ever seen who is also a great tennis player, too. She has the entire package and has earned her place on the list.
27. Vojislava Lukic: Tennis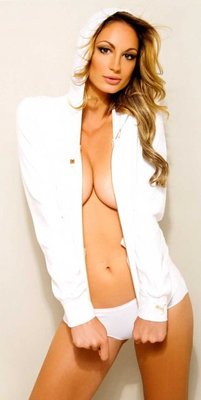 Speaking of super-hot tennis players, how can I make a list and not talk about the always-sexy Vojislava Lukic?
Vojislava Lukic is my new favorite on the tennis courts. I honestly just found out about her recently and cannot believe no one else knows anything about her.
On second thought, I might keep her my little secret. You know, lessen the amount of dudes sweating her, thus increasing my chances at...who am I kidding? She is so far out of my league, I can't even ask the commissioner to reinstate me.
26. Anna Rawson: Golf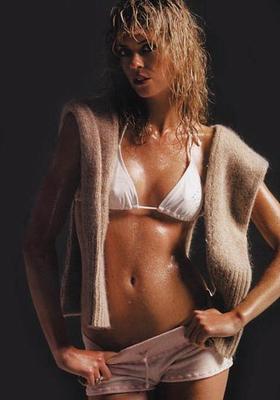 With a body like hers, maybe golf is not the best sport. She should be taking up swimming or gymnastics.
Please don't deprive us of that beautiful figure anymore, Anna: move to a sport that shows it off.
25. Erin Andrews: Sports Reporter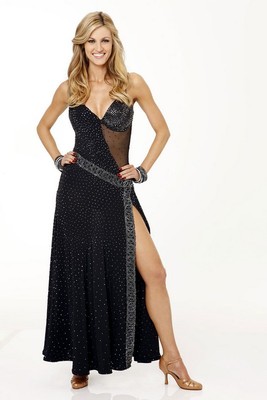 If you are going to hate on Erin Andrews, that is fine by me. I am pretty sure she doesn't care either, and here is why:
SHE IS HOT AND SHE KNOWS IT!
Most people who hate on her are doing it because they want to be part of this elite group of people who hate everything—I believe they are called haters. So keep on hating and leave the hotties like EA for the rest of us who appreciate beautiful women with sexy bodies.
24. Anna Kournikova: Tennis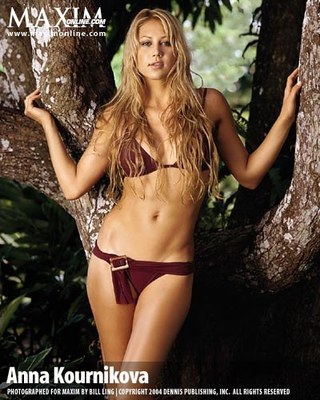 This is the one time in my life where I can say the exact same thing as I did for Erin Andrews for Anna Kournikova.
Katt Williams says, "If you got 14 women hating on you, you need to figure out how the f*** to get to 16 before the summer get here."
You might not like her, but she still has one of the sexiest bodies in the sports world today.
23. Danica Patrick: Racing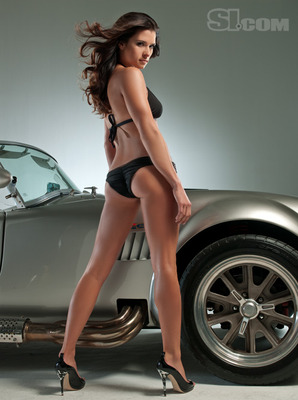 Never once did I watch Danica Patrick race to see if she would win. I never did care for her driving skills, only her body.
I watch NASCAR now because she is there. That is all.
22. Amanda Beard: Swimming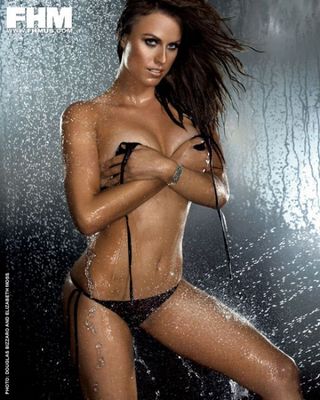 The stories are true, Amanda Beard posed nude for Playboy.
Oh wait, that is not what this is about? You guys already knew that? Whoops.
Maybe she can pose for Penthouse and really give us something to talk about.
21. Maria Kirilenko: Tennis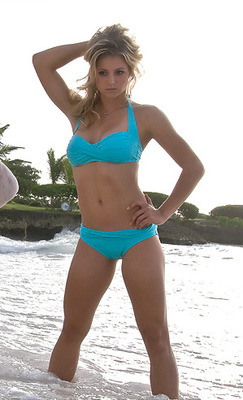 I was just speaking to a friend who had no idea who Maria Kirilenko was, and I had to explain to him that she is one of the sexiest female tennis players ever.
That is right, folks, I did say ever. Would you disagree that she could easily be ranked in the top 10 for all-time female tennis players?
20. Malia Jones: Surfing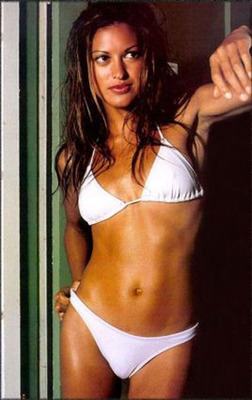 Malia Jones is a female surfer. She is also, by my definition, a female mega, super hottie.
I don't usually use two adjectives to describe how hot someone is, but for Malia it is necessary.
19. Sophie Horn: Golf
Don't know her yet?
Hang in there, you will soon. She is like the blockbuster movies of summer, coming soon.
18. Ana Paula Mancino: Volleyball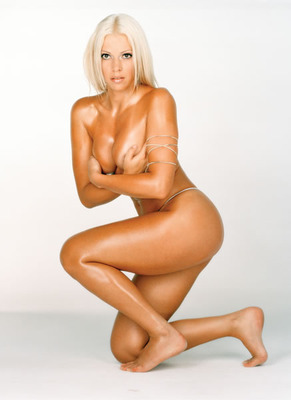 I continue to pledge my allegiance to whatever country sprouted this lovely woman.
If I had known she was going to appear in the sports world, I would have moved to Italy years ago before she became an internet starlet.
17. Michelle Waterson: MMA
Never have I seen a beauty like Michelle and not think she was only a model.
Michelle Waterson is a model by day, ass-kicker by night. She is a mixed martial artist ready to pounce on anyone willing to give her a shot. She might look soft but, trust me, she can throw down.
16. Ines Sainz: Sports Reporter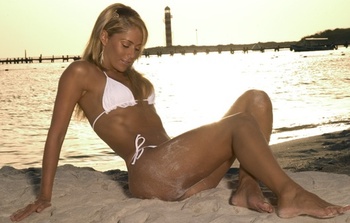 I am not sure what was said or what exactly happened during that day she messed around in the New York Jets locker room, but one thing is true: when you look like her, it is hard not to stare.
It is equally hard for grown men in the NFL not to make comments. It is like a frat house in those locker rooms; come on Ines, you should have expected that.
15. Stella Vidal: Lingerie Football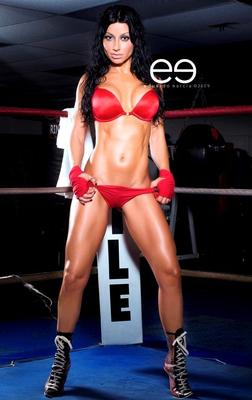 Lingerie football is a man's dream. It is a wonderful sport that will be around for years to come.
If Stella Vidal is playing in the league, imagine how many other beautiful women are out there.
14. Ashley Massaro: Wrestling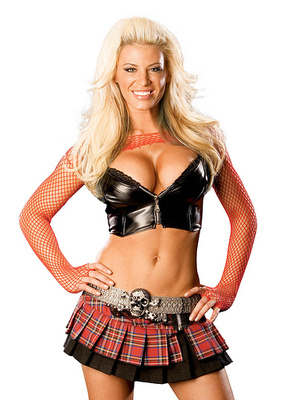 For the 34th time in my life, I have featured Ashley Massaro in one of my slideshows.
If she still does not understand how much I think she is a total babe, then I might have to go to drastic measures and ask her for an interview. Now, does anyone have her number?
13. Bia and Branca Feres: Synchronized Swimming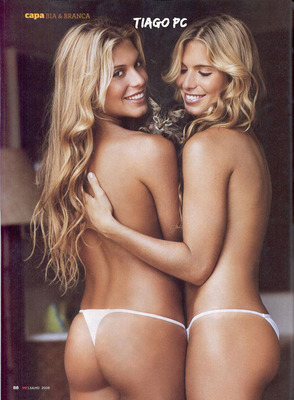 Topless twins holding one another. Is this real? Do these two women truly exist in nature or am I being punk'd?
If this is a joke, it is not funny. If it is not a joke, then we have ourselves one of the hottest women in the world, twice.
12. Bianca Cruz: Softball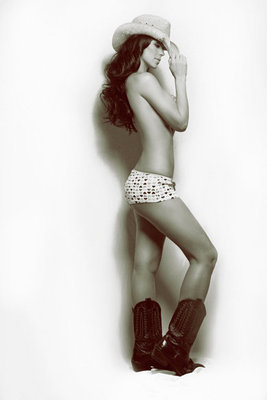 I found Bianca Cruz a few months ago while conducting research for another article. I typed in the phrase, "hottest women ever," and she popped up first.
If I had known softball had this much talent, I would not have given up my tickets to London for the Summer Olympics in 2012.
11. Anastasia Ashley: Surfing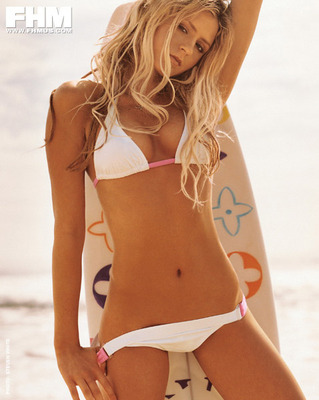 Where are the Beach Boys when you need them?
Anastasia Ashley is the girl in all their songs. She is the reason they wrote songs in the first place. If they could design the perfect female for all their music, it would be her.
10. Victoria Vanucci: Tennis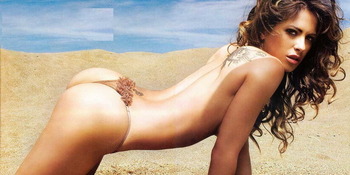 If you have never seen this hottie before, it is probably because she never truly made it as a professional tennis player.
She had a promising career ahead of her, but a terrible back injury ended her future in tennis. Lucky for us, she did not give up on modeling, however.
9. Francesca Piccinini: Volleyball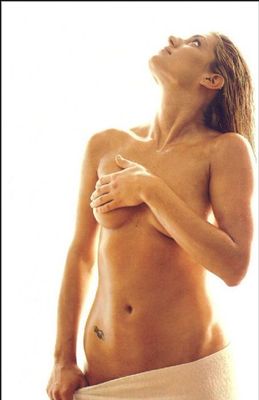 I have practiced her name over and over but I still cannot get it right.
Can I just call you Francince or something easier than Francesca Piccinini? There are too many i's in the last name to begin with.
8. Leryn Franco: Track and Field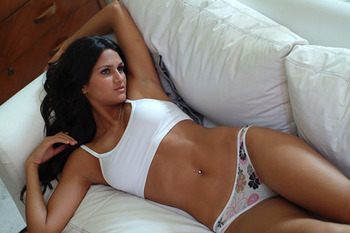 She is tall, lean, sexy and has the legs of a Greek goddess. Leryn Franco has been around the sporting world for a few years now. If you have not heard about her, you have probably been living under a rock.
Come to think about it, even the people living under a rock know about her.
7. Maryse: Wrestling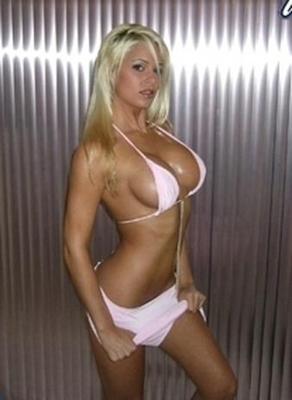 I am giving you the chance to peek into the world of wrestling for a minute.
If you do not watch it for whatever reason, maybe Maryse can change your mind. If not her, then maybe some of the next few slides will entice you to try on some WWE action.
6. Jenn Brown: Sports Reporter/Softball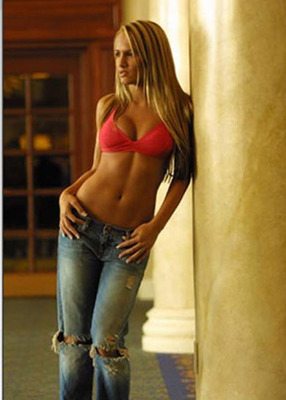 If you are looking for a new woman from ESPN to be the next Erin Andrews, look no further.
Jenn Brown is already that woman. She is smoking hot, very talented and has the body to make everything else fall into place.
5. Torrie Wilson: Wrestling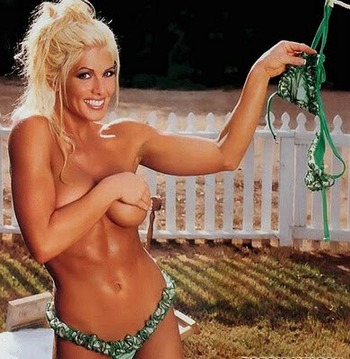 I want to shake hands with the man responsible for Torrie Wilson.
The phrase "rock hard" always seems to follow her around. And no, it has nothing to do with what you probably thought it did. I was talking about her body.
4. Allison Stokke: Track and Field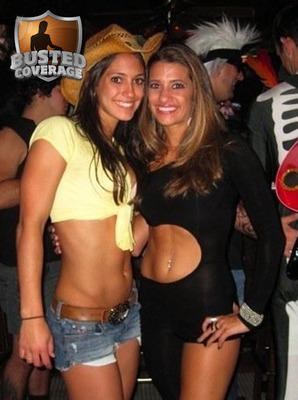 Allison Stokke can thank the man, and we know it was a man, who snapped her photo and posted it online a few years ago. Ever since that moment, she has become a huge internet phenomenon.
Her body is more sculpted than an Egyptian statue. She is easily the hottest woman in pole vaulting today.
3. Anna Semenovich: Figure Skating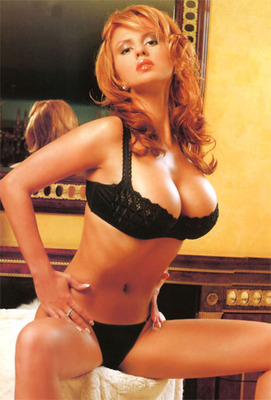 Chest: A+
Legs: A+
Stomach: A+
Face: A+
Body: How many A's can I give out for one feature?
2. Stacy Keibler: Wrestling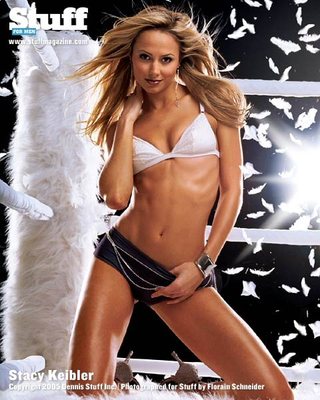 Stacy, Stacy, Stacy. She makes me want to do things I would normally not do, like buy her nice things and mow her lawn.
Let's face it, she is one of the hottest women to ever grace us with her presence and we are ever so thankful.
1. Trish Stratus: Wrestling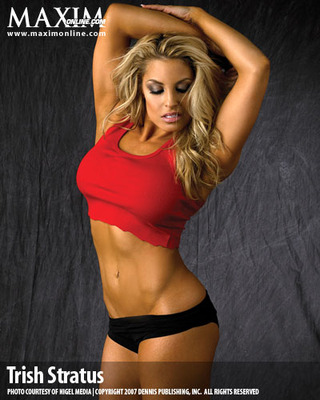 When it comes to having the sexiest body in sports, Trish Stratus wins by a mile.
She has been a fitness guru for most of her life, before and after wrestling, and the results are shown from head to toe.
Keep Reading