College Hoops Shockers: Ranking The Upsets of The New Year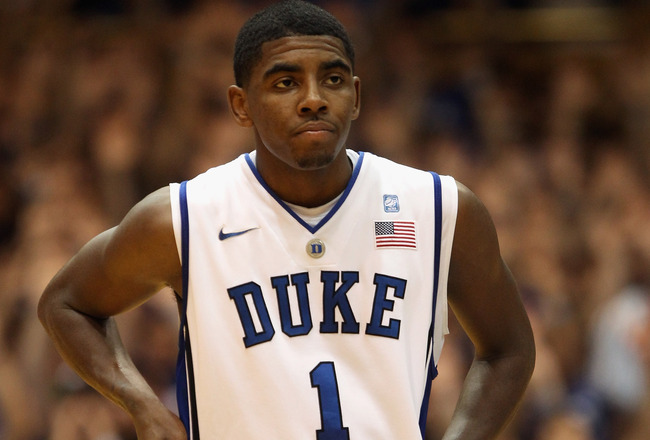 Streeter Lecka/Getty Images
Although we are only a few weeks into the year 2011, there have already been plenty of major upsets in college basketball.
Upsets are expected in any sport but to see so many happen in such a short period of time is amazing. In fact there have been 17 games since January 1 that have resulted in the un-ranked or lower ranked team winning.
To rank the upsets, I mixed in the margin of victory, where the game was being played, and most importantly, the ranking differential between the team that won and the team that got upset. This list will not include games in which neither team was ranked.
There will certainly be many more upsets to come in this college basketball season, one that has already proven itself to be very unpredictable. For now, I present the biggest upsets of the young year.
(This was written before the end of any Saturday basketball games.)
17. Tennessee Over 22 Memphis 104-84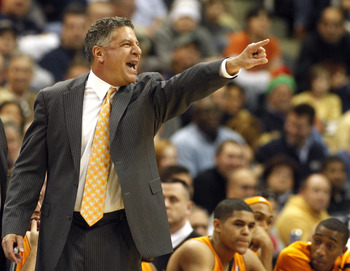 Justin K. Aller/Getty Images
The result of this game shouldn't have shocked many people but it was still surprising how much better the Volunteers looked than the Memphis Tigers.
Memphis really did not deserve to be ranked heading into this game with most of their wins coming against far inferior opponents. Just three days before, Memphis barely escaped Tennessee State and had previous scares against Arkansas State, Austin Peay, and Texas A&M Corpus Christi.
Tennessee, a pre-season top 20 team, had its own share of problems heading into the home game against Memphis. The Volunteers had lost to both Oakland and Charleston and they have not won since their defeat of the Tigers.
This season has been a big disappointment for both schools but at least Tennessee beat one of their in-state rivals.
16. 24 Michigan State Over 21 Wisconsin 64-61 (OT)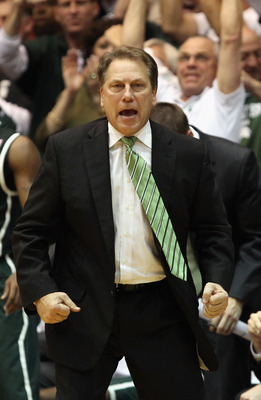 Streeter Lecka/Getty Images
Michigan State was one loss to Wisconsin away from completely falling out of the top 25 after starting the season ranked second.
Trailing by nine points with only a few minutes to go in the game, the Spartans' chances of winning looked pretty low. But somehow, Tom Izzo's team went on a 9-0 run to send the game into overtime and eventually came back to defeat the higher ranked Badgers.
Wisconsin let a golden opportunity slip away to pick up a good road victory while Michigan State. Jon Leuer was held to only 10 points and his player of the year odds took a big hit, especially after BYU's Jimmer Fredette dropped 47 on Utah.
The Spartans picked up a much needed conference victory but are clearly not the team we thought they would be this season.
15. Oklahoma State Over 17 Kansas State 76-62
Jonathan Daniel/Getty Images
It has been a tough year for Frank Martin and his Wildcats. Once a pre-season Final Four favorite, Kansas State is currently in a tie for last place in the Big 12 and Oklahoma State was the team to give the Wildcats their first conference loss.
The Cowboys were actually losing with about six and a half minutes remaining but went on a huge run to beat Kansas State by double digits. Jean-Paul Olukemi scored 22 points and had 11 rebounds to lead Oklahoma State, who were playing their first top 25 opponent of the season.
The reason this upset is so far down on the list is because this game marked the 11th straight time that Kansas State had lost at Gallagher-Iba Stadium.
Following their win over the Wildcats, Oklahoma State got demolished by Texas A&M but still look to be in position for a post season tournament.
14. South Carolina Over 24 Vanderbilt 83-75 (OT)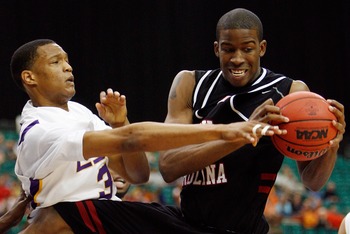 Chris Graythen/Getty Images
On a day where seven ranked teams lost, this upset was one of the least surprising.
The Commodores were certainly favorites heading into the game but winning in Columbia is never an easy thing to do. However, Vanderbilt had a decent lead for most of the second half but let South Carolina force the game into overtime.
In OT, the Gamecocks outscored Vanderbilt 11-3 and senior Sam Muldrow blocked his tenth shot, giving him a triple-double.
South Carolina still faces many obstacles in their hopes of getting into the Big Dance. Vanderbilt on the other hand appears to be a threat to win the SEC, even after their loss.
13. Houston Over 18 UCF 76-71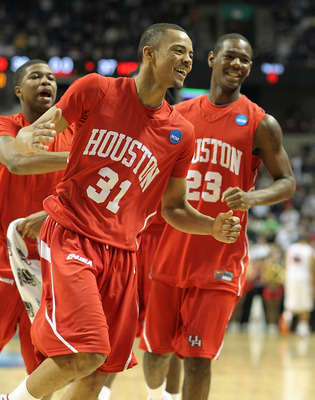 Otto Greule Jr/Getty Images
Heading into this game, UCF led by Michael Jordan's son, Marcus Jordan, were undefeated and ranked in the top 20 for the first time in school history.
The Knights' dreams of a perfect regular season were shattered pretty quickly as Houston opened up the game on a 12-2 run and never trailed the rest of the way.
Houston, once an elite basketball program, has faded recently so this win was very big for the school.
UCF is trying to replicate what Houston was able to do a few decades ago and one loss will not ruin their season. They still have Marcus Jordan who is leading the team with a little more than 16 points a game. The Knights are certainly in line for an NCAA Tourney bid but this game proved that they are not unbeatable.
12. Penn State Over 19 Michigan State 66-62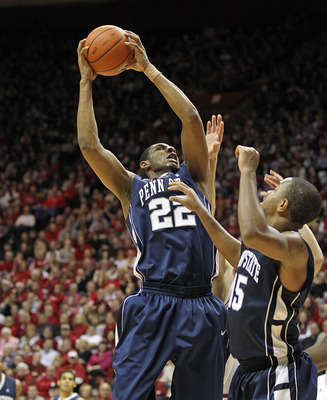 Andy Lyons/Getty Images
You could make a very good case that the Spartans have been the most baffling team this season, even after their win over Wisconsin.
Maybe head coach Tom Izzo summed up their loss best, "It was one of the most disappointing losses of my career, not because of Penn State, but because of the way we prepared."
The game itself was very exciting as neither team ever led by more than a couple baskets. In the end, Penn State was able to prevent Michigan State from scoring and won their first Big 10 game.
More on Penn State later...
11. Colorado Over 20 KSU 74-66
Jamie Squire/Getty Images
Colorado has impressed many people around the country this year and their upset win of Kansas State is one of the reasons why.
The Buffs were able to come back from a large first half deficit to beat the Wildcats by eight points, marking the second straight game in which Colorado beat a ranked team.
The game was played in Manhattan, a place where Colorado has not been very good historically. In fact, their road win over Kansas State marked only the tenth time they have won in Manhattan.
Kansas State's season is much like Michigan State's, a big disappointment. The Wildcats were supposed to compete for a one seed but don't even look a team that can compete for the Big 12 title right now.
10. Penn State Over 16 Illinois 57-55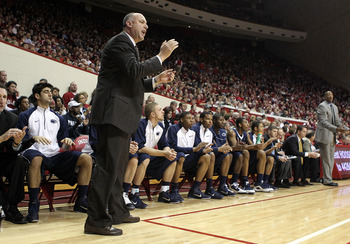 Andy Lyons/Getty Images
Penn State was once considered to be the doormat of the Big 10. That was before they won back to back games against ranked teams.
The Nittany Lions' Andrew Jones put-back with a second remaining in the game gave Penn State a two point win and sent the students pouring onto the court when the final buzzer blew.
Illinois suffered their fourth loss of the season but is still in the top third of the Big 10.
Penn State is now 10-6 and will face their toughest challenge yet in Ohio State. If the Nittany Lions somehow upset the Buckeyes, they would have a good case for a national ranking.
9. West Virginia Over 13 Georgetown 65-59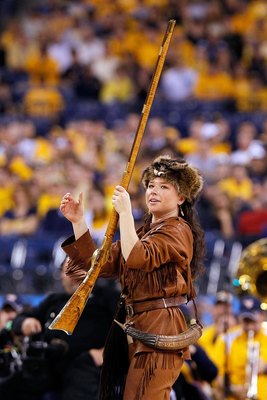 Kevin C. Cox/Getty Images
West Virginia's upset of Georgetown marked the second time in five days that the Hoyas lost to an unranked team. Following their loss to Pitt, Georgetown is now only 1-4 in the Big East after starting the season 11-1.
The Mountaineers are not nearly as good as they were in recent years but are still very capable of making the Big Dance.
Casey Mitchell led West Virginia in their upset win with 28 points and the Mountaineers' defense was able to keep one of the top shooting teams in the nation to only 59 points.
8. Stanford Over 18 Washington 58-56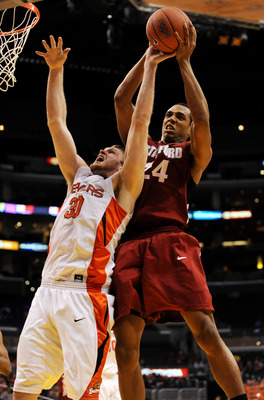 Harry How/Getty Images
In terms of rankings, seeing the 18th team go down to an unranked opponent shouldn't be as astounding compared to when a top 15 team gets upset.
However, many people were predicting Washington would only lose one or two games in Pac-10 play or perhaps go undefeated so seeing them lose to a school that wasn't even supposed to be in the top half of the conference is quite amazing.
Stanford kept Washington to only 56 points, more than 30 less than what they were previously averaging. Even after the loss, the Huskies are still third in the country in points per game.
The Cardinal's only loss in conference play has come to the hands of Arizona and the game was in Tucson, following the tragic shootings.
Washington was the clear conference favorite heading into 2011 but since then guard Abdul Gaddy was injured and will be out the rest of the season and a "prominent" player is being investigated for raping a 16 year old.
7. St. Johns Over 13 Georgetown 61-58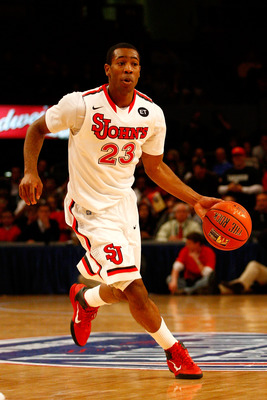 Chris Chambers/Getty Images
St. John's has improved drastically but hardly anyone thought they would beat the Hoyas.
Therefore, the Red Storm's upset of Georgetown may have sent a message that St. John's will be a factor in the Big East a year earlier than expected.
With 10 seconds remaining in the game, Justin Brownlee scored the go-ahead basketball for the Red Storm and they went on to win by three.
Georgetown's loss to West Virginia made things even worse for the Hoyas who now find themselves near the bottom of the strongest conference in the country.
6. 15 Notre Dame Over 9 UConn, 73-70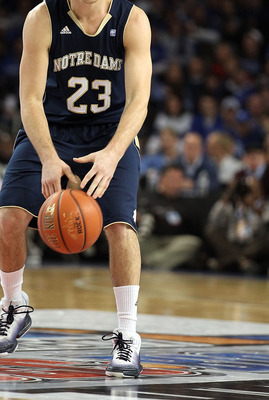 Andy Lyons/Getty Images
Notre Dame handed UConn only their second loss of the season on January 4, mainly because they were able to hold Kemba Walker to under 20 points.
Walker had eleven straight games of scoring 20 points or more before the Notre Dame defense was able to him down to the best of their abilities.
UConn dropped to 1-2 in the Big East at the time and showed that they were not the team to beat in the conference.
Notre Dame was led by Ben Hansbrough's 21 points who guarded Walker successfully for most of the game. More on the Irish in a second...
5. Marquette Over 11 Notre Dame 79-57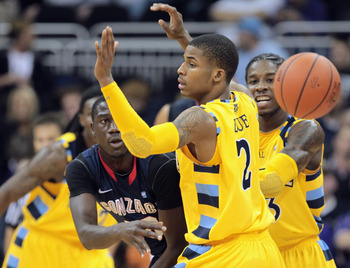 Jamie Squire/Getty Images
Six days after Notre Dame upset the UConn Huskies, they got upset by Marquette, proving that anything can happen in the Big East.
The Golden Eagles made almost all of their three point attempts and ended up absolutely crushing the 11th ranked Irish. Marquette used a 30-13 run in the second half to open up the game, much to the dismay of Notre Dame fans.
To be fair on the Irish, its hard to beat a team when they make 12 of 17 three pointers and shoot 53 percent overall. Notre Dame just caught a dangerously hot Marquette team at the wrong time.
Both teams have winning records in Big East play and both should be factors in the conference for the rest of the season.
4. Colorado Over 8 Missouri 89-76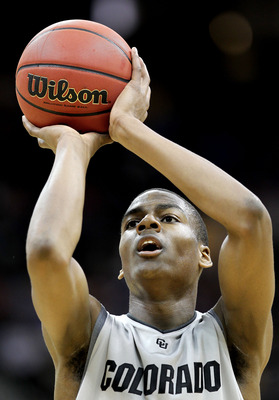 Jamie Squire/Getty Images
Colorado's upset of Missouri was the first of two upsets over ranked teams in a span of four days.
The Tigers, much like Notre Dame against Marquette, happened to play Colorado at the wrong place and wrong time.
The Buffs' Alec Burks may have been playing with extra motivation against Missouri because they completely passed over the home grown recruit while Colorado was the only Big 12 team to offer him a scholarship.
Burks scored a career high 36 points and led Colorado to a big home victory over the then 8th ranked Tigers. Colorado and Burks then upset Kansas State just a few days later and put themselves at the top of the Big 12.
The Pac-10 must be pretty happy with their decision to bring Colorado to their conference next season.
3. 25 Minnesota Over 8 Purdue 70-67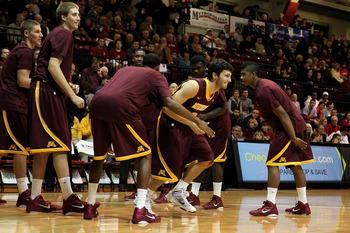 Chris Chambers/Getty Images
Minnesota continued their cinderella regular season with an upset over 8th ranked Purdue.
What makes this upset so shocking was the off the court turmoil surrounding the Golden Gophers heading into this game. Leading scorer and rebounder Trevor Mbakwe was dropped from the starting lineup after receiving a misdemeanor charge.
Blake Hoffarber took over the role as leader, scoring 26 points. Mbakwe was still a major factor in the upset on defense by grabbing 10 rebounds.
Purdue allowed a season high in points and shooting percentage while losing their second game of the season.
2. UGA Over 11 Kentucky 77-70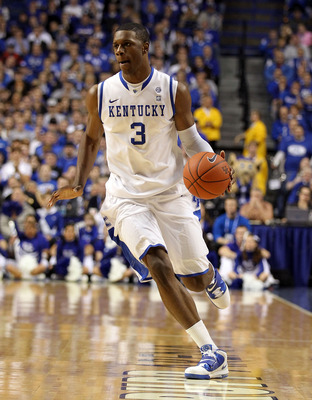 Andy Lyons/Getty Images
Georgia completely shocked Kentucky fans around the country by never even letting the Wildcats take the lead in the upset victory.
11-2 heading into the game, Georgia was in need of a signature win and they certainly got it against Kentucky.
"This is the type of game we needed to make a run for the NCAA tournament," said Trey Thompkins, the leading scorer in the Bulldogs' win. Thompkins scored 25 points which was the most by either team.
The recruiting differential between the two teams made this game look like it would be a blowout for Kentucky but Georgia slightly outplayed the Wildcats from the first minute to the last.
1. Florida State Over 1 Duke 66-61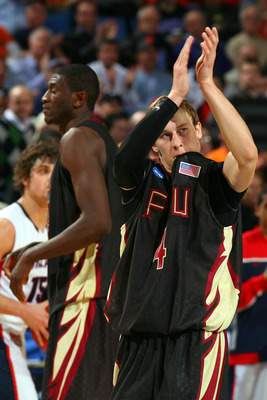 Rick Stewart/Getty Images
This year's Duke Blue Devils probably aren't as good as the ones that won the national championship last April but seeing them lose to Florida State was totally unexpected.
Florida State got lucky but aren't all upsets at least somewhat because of luck? Duke shot a season low 31 percent and were forced to shoot 35 three pointers, a season high.
The Seminoles' defense was the key in their upset over the top ranked team in the nation but they wouldn't have won if Derwin Kitchen didn't score 17 points in the second half.
The most surprising stat of the game might be that it was the third time that Florida State beat a top ranked Duke team at home, since 2002.
The last game Duke lost was to Maryland, back on March 3 of last year. There were 316 days in between the two losses that will never be forgotten by Duke fans.
Keep Reading

Duke Basketball: Like this team?