Brandi Favre: What Brett Favre's Sister's Behavior Could Mean for His Legacy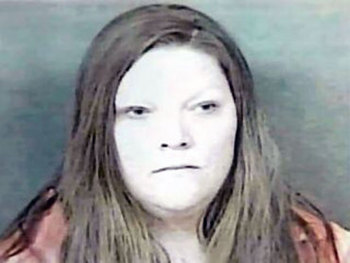 Brandi Favre has dragged her famous brother's name into the news after she was busted in a drug raid this week.
She was in a location that was producing crystal meth, and this evidently isn't the first time Favre's sister has been in trouble with authorities. This isn't the only thing to make Favre look bad this year. Inside is a roundup of all of the things that have happened to the legendary quarterback this year.
Has the past year hurt Favre's legacy at all?
Leave it in the comments.
Drawn Out Return
Adam Bettcher/Getty Images
As this season got closer and closer, there was no word on if Brett Favre was going to return for the final year of his contract.
Eventually, Brad Childress sent a couple of players down to Favre's home in Mississippi to get him to come back, and they tacked more money on to his deal to make him want to come back to the Vikings and make a run at a Super Bowl.
As you can tell, that worked out well.
Awful Start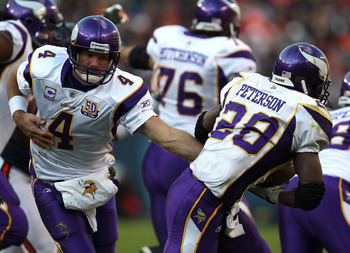 Jonathan Daniel/Getty Images
Once Brett Favre returned and the season got underway, things didn't get better.
The Vikings lost the season opener to the New Orleans Saints, and things just started to disintegrate from there on. Minnesota stumbled out of the gate and didn't look anything like a contender as Favre played poorly.
It looked like bad Brett was here to stay.
Feud with Childress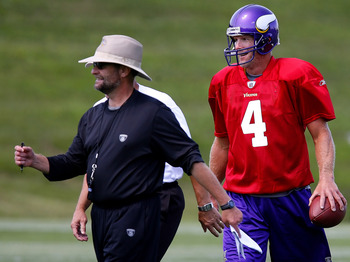 Scott A. Schneider/Getty Images
As things got worse for the Minnesota Vikings, so did the relationship between Brett Favre and Brad Childress.
The two never really liked each other to begin with, and it was more a marriage of convenience than anything else. So when the team started to fall apart, the relationship came tumbling down with it. Favre and Childress took shots at each other in the media, and the feud eventually ended when Childress was fired.
I don't think those two will be exchanging Christmas cards for years and years.
Jenn Sterger Accusations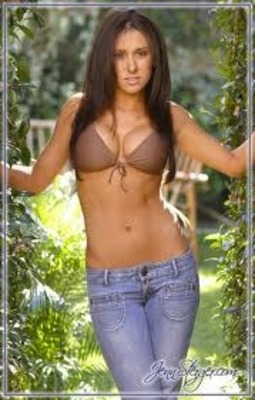 As the season continued, Deadspin shocked the world with the report they published on their website about Brett Favre and Jenn Sterger.
The post was filled with voicemails that Favre sent to Sterger when they were both with the New York Jets and even worse was the photo that Favre allegedly sent her which was very leud in nature. It started a firestorm that wouldn't die down.
It was embarrassing for Favre and his family.
Stalls on Investigation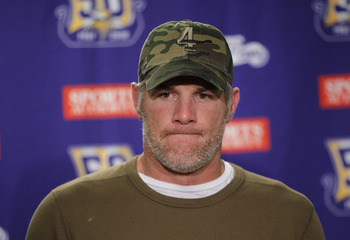 Leon Halip/Getty Images
The NFL decided to look into the allegations into Brett Favre's behavior, and it took forever.
That was partially Favre's fault as he took his sweet old time in talking to the league about what happened, and it was clear he was dragging his feet on the matter and trying to avoid the public embarrassment that came with it.
He eventually met with the league and got it over with though.
The Streak Is Snapped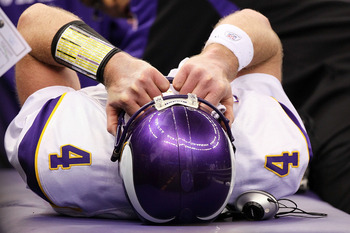 Jed Jacobsohn/Getty Images
Brett Favre has always been a warrior.
He's fought through countless injuries in his career, but this year, it was eventually too much for Favre's body to tolerate. Favre was hit from behind against Buffalo, and that shoulder injury snapped the streak that had lasted for so long.
It was more than strange to see Favre in street clothes on the sideline.
Returns To Get Injured Again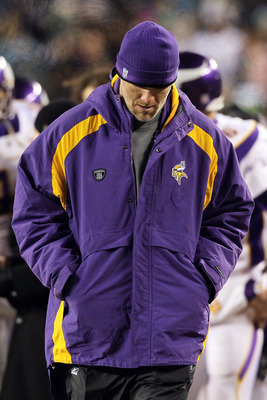 Jim McIsaac/Getty Images
After the streak was snapped, a lot of people weren't sure he'd be back on the field again.
However, Brett Favre shocked us all and returned for a Monday night game against the Chicago Bears. Sadly, it didn't turn out so well. Favre suffered a concussion and stayed down on the field for some time before being helped off.
We didn't see Favre for the rest of the season.
Fined by the League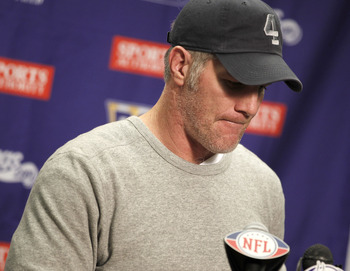 Gregory Shamus/Getty Images
Eventually, the NFL concluded its investigation into the Jenn Sterger mess, and it wasn't great for Brett Favre.
Favre was fined by the league for stalling the investigation but not cooperating with the investigation into his behavior when he was with the New York Jets. There was no suspension or anything like that, despite it being a personal conduct violation.
Some would say he got off easy, but it wasn't a fun time for Favre.
Lawsuit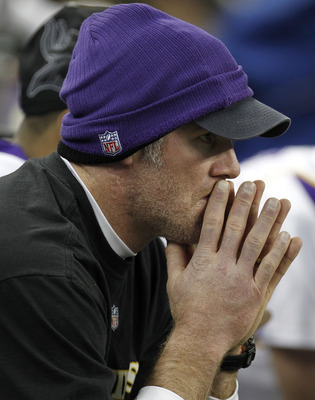 Gregory Shamus/Getty Images
Recently, Brett Favre was sued by two massage therapists who dealt with him when he was with the New York Jets.
They accused Favre of sexually harassing them much in the way he was accused of doing in the Jenn Sterger case. It was a long story that made Favre look even worse than he did in the Sterger fiasco. It was salt in the wound for Favre.
That case is still pending.
His Sister's Drug Bust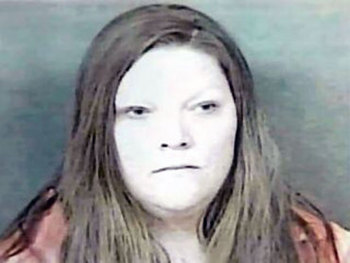 The latest incident that has brought Brett Favre into the news has nothing to do with the quarterback himself.
His sister Brandi was arrested in a drug bust where people were making crystal meth. It's a shame because according to reports, she is always in trouble with the authorities, and I'm sure this is something Favre would rather not see in the news.
It will be interesting to see how all of this plays out.
Keep Reading