MLB Power Rankings: Who Is the American League's Top Power-Hitting Lineup?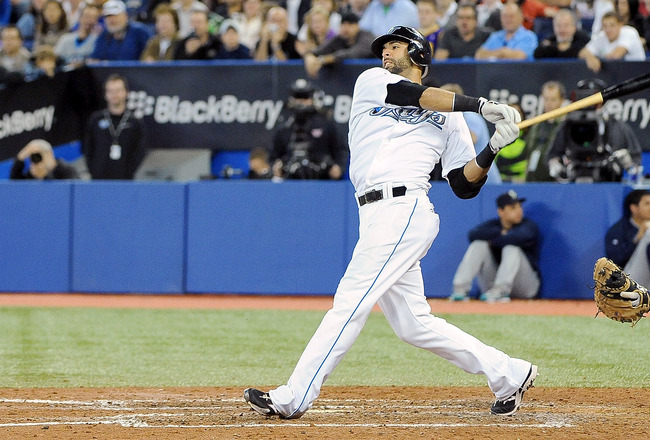 Matthew Manor/Getty Images
The best power hitting team in the game came out of the AL East in 2010. No, it wasn't the Yankees, or the Red Sox, or the Rays. It was the Toronto Blue Jays. Lead by outfielder Jose Bautista, combined the Jays led the league in home runs by a mile.
The Blue Jays return a majority of their lineup, but with Adrian Gonzalez now in Boston, and Alex Rodriguez and Mark Teixeira looking for rebound seasons, the Blue Jays title will be under siege. Who will be the best power hitting team in the American League in 2011? Let's find out.
14. Seattle Mariners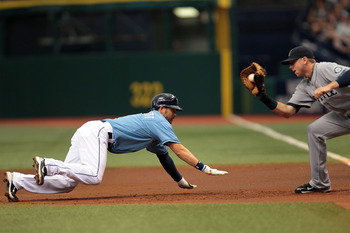 Eliot J. Schechter/Getty Images
It might not be fair to call the Mariners lineup a major league offense.
In 2010, the Mariners scored 507 runs, 99 fewer than the next worse offense in the Major Leagues. They were also last in home runs, last in SLG, and last in isolated power. And oh yeah, they were the only team in the league with an OBP bellow .300.
Unfortunately for the M's, they aren't getting much better, at least not yet. Justin Smoak still seems far away, and Dustin Ackley has yet to hit the big leagues.
This lineup will improve, but it will take a while. For 2011, don't expect much.
13. Kansas City Royals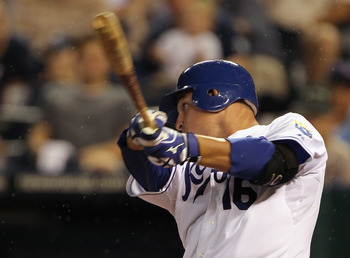 Jamie Squire/Getty Images
The Royals lineup is severely lacking in the power department. How lacking? Yuniesky Betancourt led Kansas City in home runs last season.
The loss of Betancourt will, amazingly, hurt the Royals power production next year. The team now returns just two players who topped 10 home runs in 2010, led by 15 home run hitter Billy Butler, the teams first baseman and the closest thing they have to a slugger.
But KC fans should be patient. Help is on the way in the form of Mike Moustakas, Eric Hosmer, and Will Myers. It wont be this year, but sometime soon the Royals lineup will not look nearly so bad.
12. Oakland Athletics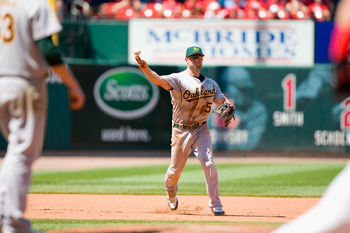 Dilip Vishwanat/Getty Images
Playing in the massive Oakland Coliseum doesn't help the Athletics power production, but it certainly doesn't hurt it as much as a lineup highlighted by Kevin Kouzmanoff and Daric Barton. While the Athletics have spent the past half decade building an impressive minor league system and a strong rotation, they lack the offensive pieces to contend as of now.
The Athletics return just three double-digit home run hitters from the 2010 team, lead by Kouzmanoff (16), Barton (10), and Kurt Suzuki (13). While the A's brought in Hideki Matsui, a solid middle of the order bat, they otherwise lack any significant power potential at the big league level. Guys like Cliff Pennington and Mark Ellis are not going to hit home runs.
Fortunately, the Athletics have some solid offensive pieces in the farm system. Top prospects Chris Carter and Mike Taylor offer some hope for the future, even in a pitcher park in the AL West.
11. Cleveland Indians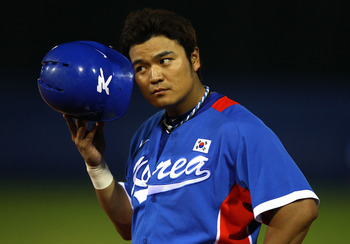 Richard Heathcote/Getty Images
The Indians offensive struggled signficantly last season, but there may be some reason for hope.
Sin-Soo Choo is one of the better, and more underrated all around players in the game. He hit 22 homers last seasons, and may be able to up that total. Carlos Santana hit six home runs in just 46 games, and has as much power potential as anyone on the Indians. And Travis Hafner, while just a shadow of his former self, is still a useful middle of the order bat.
Cleveland isn't going anywhere in 2011, but their lineup should improve, if only slightly.
10. Detroit Tigers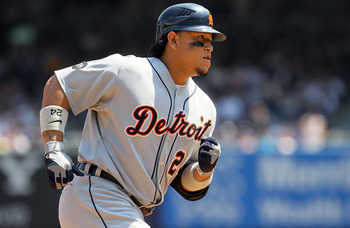 Jim McIsaac/Getty Images
Any team with Miguel Cabrera is going to have some ability to hit the ball out of the ballpark. Cabrera led the team last year with 38 home runs.
The problem for Detroit is.... everyone else. Cabrera hit 23 more home runs than anyone else in the lineup, far out-homering No. 2 Tigers slugger Ryan Raburn.
The Tigers aren't a power hitting team right now, and I don't see the talent coming in to put them over the edge in the power department. A breakout season from Raburn, or Brennan Boesch, or a good year by Brandon Inge could land them a bit higher than this. But as it stands, this is one of Detroits major weaknesses.
9. Baltimore Orioles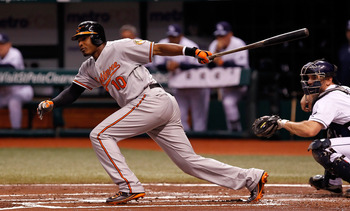 J. Meric/Getty Images
The Orioles may have a horrible Major League roster, but their offense as a whole isn't too bad. Every team from 1 through 9 has some shot of making the playoffs, or at least contending in 2011, and the Orioles don't. But the real problem lies with their rotation.
Luke Scott hit nearly 30 homers last season. Adam Jones hit 19, and given his age and talent, that could simply be the tip of the iceberg. Ty Wiggington hit more, 22, and Matt Wieters hit 11. Derek Lee is also a good middle of the order bat with some pop, and the O's inked him to a one year deal this winter.
All and all, the Orioles could be a breakout team power wise in 2011. They aren't quite there yet, but offensively, this is a talented team. Fix that rotation, and the bullpen, and a .500 record could be within reach.
8. Tampa Bay Rays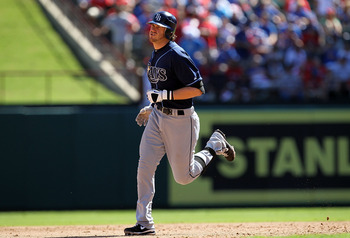 Ronald Martinez/Getty Images
The Tamp Bay Rays lost a lot this off-season. Carl Crawford is in Boston, Carlos Pena is in Chicago, and Rafael Soriano is certainly gone as well. With Pena and Crawford out of the picture, how good is the Rays line?
The Tampa Bay lineup is obviously led by All-Star third baseman Evan Longoria, who hit just 22 home runs last season, hit 33 in 2009 and 27 in 2008. Given his age, 30 home runs seems like a solid bet for Longoria next seasons. The Rays also return BJ Upton, who is capable of chipping in 20 home runs and stealing a bunch of bases. But after that, things get pretty rough. Ben Zobrist was great in 2009, but struggled last year. Can Desmond Jennings make the jump to the big leagues and replace Crawford?
This lineup could be a major issue for the Rays, and given their strong rotation and pitching-heavy farm system, I think a trade is likely.
7. Los Angeles Angels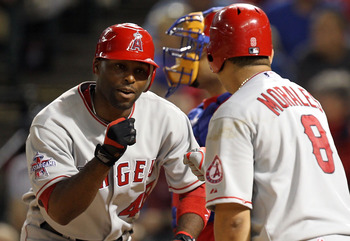 Ronald Martinez/Getty Images
Last summer, with the Angels still mildly in contention, Kendry Morales injured himself celebrating a grandslam. Despite the fact that Morales missed most of the seasons, the Angels will return three players with 20 plus home runs from the 2010 team, a solid base on which to build a powerful offense.
The Angels offense last season was led by Torii Hunter, who hit .281 with 23 home runs, and by Mike Napoli, who hit just .238, but chipped in an additional 26 home runs. Bobby Abreu and Juan Rivera, who return in 2011, hit 20 and 15 home runs respectively. And Morales hit 34 just two years ago.
6. Minnesota Twins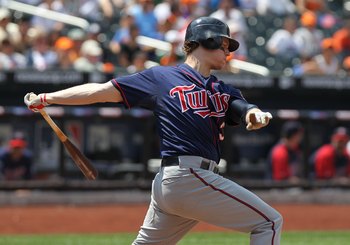 Nick Laham/Getty Images
With Minnesota, we begin to get into the good offensive teams of the American League.
The Twins ranked near the top of the league in runs scored last season. The one area they struggled in was power, hitting just 142 home runs on the seasons. Is this likely to remain somewhat of a weakness? Probably.
Justin Morneau missed much of the season, and a healthy Morneau could have contributed an extra 10 or 15 home runs for the Twins. They also have some potential for bounce back in Joe Mauer, though Mauer's nine home runs were not uncharacteristic. And potentially losing Jim Thome, who led the team with 25 home runs, would hurt.
The Twins are a good team with a good offense, but it's not a powerful offense. They hit for a high average and get on base. And it works.
5. Texas Rangers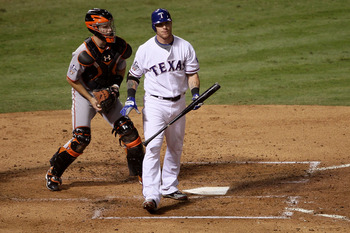 Elsa/Getty Images
Whenever you have a lineup led by Josh Hamilton, Nelson Cruz, Ian Kinsler, Adrian Beltre, and Michael Young, you know you are going to hit a few home runs. Put that lineup in Arlington and watch out.
The Rangers are returning Hamilton, who hit 32 home runs last season, and Cruz, who hit 21 last season, both of whom missed a significant chunk of time. They also return Kinsler, who struggled with injuries and ineffectiveness last year but has previously made a run at 30 home runs.
Bringing back Vlad Guerrero would be a big boost to an already improved lineup, but with Beltre in town, it's not likely and not necessary. For now, the Rangers are settles in at No. 5.
4. Chicago White Sox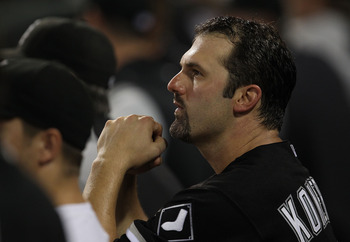 Jonathan Daniel/Getty Images
The White Sox always seem to quietly land among the league leaders in most power categories.
Last season, Paul Konerko hit 38 home runs. Carlos Quentin hit 26 home runs. Alex Rios hit 21, and Alexei Ramirez hit 18. The White Sox also brought in Adam Dunn this past off-season. Dunn has hit 38 or more home runs in each of the past seven seasons, and DHing full time, should be able to concentrate fully on his bat.
This is the kind of team that challenges for home run titles, and also for division titles. It'll be fun to watch.
3. New York Yankees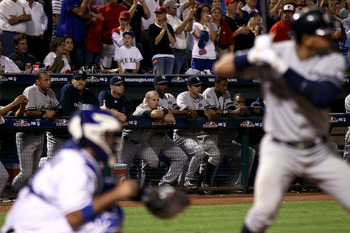 Elsa/Getty Images
Finishing third in your divisions in home runs usually doesn't out you in the top five in the American League. In the AL East though, it does.
The Yankees lineup is still loaded. Robinson Cano is a threat to hit 30 home runs, and Alex Rodriguez and Mark Teixeira are capable of hitting 40. Nick Swisher and Curtis Granderson are above average power hitters, safely in the 20s, with potential for more. Jorge Posada is always in the double digits, and Jesus Montero is a power hitting machine waiting to take New York by storm.
And this is the third best power hitting team in the AL East. That's scary.
2. Boston Red Sox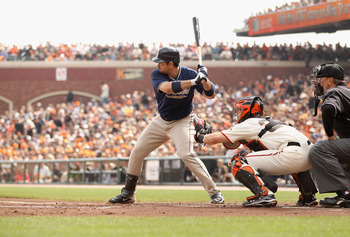 Ezra Shaw/Getty Images
When you finish second in the league in runs and home runs, and then bring in Adrian Gonzalez, you know you have a pretty special offense. When you also return a healthy Kevin Youkils and Dustin Pedroia, the rest of the league better watch out.
That's the position the Boston Red Sox now find themselves in. Gonzalez was a perennial 30-40 home run hitter playing half his games in Petco field, and could easily lead the league in home runs as a Red Sox. Youkilis is a 30 homer guy, David Ortiz still has it, and JD Drew isn't half bad either.
Losing Adrian Beltre and Victor Martinez will hurt, but the pluses outweigh the minuses. The Red Sox should be in the top three in the league in home runs, slugging, and isolated power again in 2011.
1. Blue Jays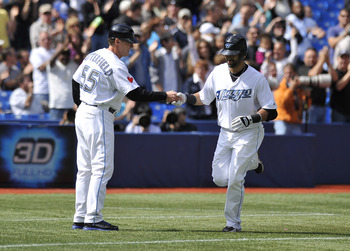 Brad White/Getty Images
Let's face it, it's very unlikely that Jose Bautista hits 50 home runs again. But take Bautista off the Blue Jays, and they still rank second in the American League in homers last season, just eight back of Boston. This lineup is stacked, and with Adam Lind and Aaron Hill looking to bounce back in 2011, it could get even better.
Bautista hit 57 home runs to lead the team, and the league, but Vernon Wells hit 31. Aaron Hill hit 26. Edwin Encarnacion hit 20. Adam Lind hit 23. Meanwhile, former top-prospect Travis Snider hit just 14. Snider's best tool is his power, and given a full time role, that total could easily increase.
The Jays also have some help coming in the form of JP Arencibia, the catching prospect who hit 32 home runs in AAA last season. All and all, this team has the offensive fire power to again lead the league in home runs. Maybe they will, maybe not. But right now, they look like favorites in my eyes.
Keep Reading