WWE Monday Night Raw 1/10/11: What the Heck Is WWE Thinking?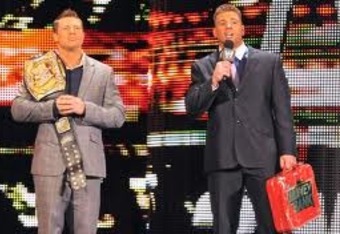 That dang case!

This was an odd Raw, so I'll just get to the point of my review. Enjoy!
Santino Marella & Vladimir Kozlov vs. ???
Okay, so the tag team division sucks and for some reason CM Punk is being a little odd about accepting his Nexus members.
The Nexus members all follow Punk's orders and "initiate" Michael McGillicutty by attacking him and then carrying him to the back. This is where the odd starts to begin.
So the "NEW NEXUS" now consists of CM Punk and Mike McGillicutty. I do like the new Nexus/Punk t-shirts though. Pretty cool.
SmackDown! Superstar Alberto Del Rio def R-Truth
Why is Del Rio on Raw again? Well, his "personal announcer" distracted Truth which I thought was very funny.
"HEY! HEY! WHATS UP?! WHATS UP?! QUE PASA?! WHATS UP?!" Until Truth gave him a smack to shut him up and then was counted out while Rio sneakily slid back in the ring.
Very heel win but I still don't know why he's going against Truth every Monday. That won't win you the Royal Rumble. Oh, and laughing at your personal announcer singing won't either.
What the heck was that? Odd, that's what it was.
Husky Harris' New Nexus iniciation
What the heck?! Each member of "old Nexus" whips Harris with a belt three times and then CM Punk goes totally ballistic with a belt. I'm really getting confuse here.
Did Punk take over the Nexus only to lead it to it's demise? Well it's now Punk, Mike and Harris.
Whipping a human being is not very PG...
United States Champion Daniel Bryan and Mark Henry def Ted DiBiase and Tyson Kidd
Wow, a match with three talented performers and one role player. This is the United States Championship division ladies and gentlemen.
How long did this match last before Tyson once again being squashed by Henry? This match was just sad.
A waste of Tyson and DiBiase's talent. Oh, and did anyone see Tyson Kidd's almighty powerful bodyguard anywhere tonight? I did not.
Odd...
John Morrison vs Sheamus
Well, another match between these two. I have one question: Why? Why in the heck did this match take place?
We've seen it tons of times and tonight was not the best of matches these two have put on. Why wasn't it Morrison and Orton vs Miz and Riley?
News flash WWE: Nobody wants to see Jerry "the King" Lawler wrestle anymore!
Well, a match that ended with what seems to be Morrison's 700th finisher change that knee thing.
First 2011 Hall of Fame inductee is: SHAWN MICHAELS!
AND HE WAS THERE AT RAW! VERY ODD AND SURPRISING moment for Monday Night Raw.
I am very surprised they did't advertise this for tonight. Del Rio came out before HBK could say anything and again I think: WHY IS THIS GUY ON RAW?
Is he out here to sing to Shawn? He bragged that he was the next Mr. Wrestlemania and right when it looked like we would get a catchy/funny comeback from the showstopper, he gave Rio a huge Sweet Chin Music and left.
ODD.
Gabriel and Slater's initiation into "New Nexus"
This segment just makes me feel like these two will be back as full time FCW superstars.
CM Punk Segment
Well Punk pretends to commit suicide, which is not very PG at all, but then doesn't and this just confuses me.
Why was this part needed? It's so stupid and does not have anything to do with the Cena-Punk feud?
Apparently the New Nexus is just Punk, Mike, Otunga and Harris. We'll see how that works out...
Randy Orton and Jerry Lawler defeat WWE Champion The Miz and Alex Riley
First of all: Why the heck is Alex still carrying that case?
At first, it was the MitB case, which was kind of understandable seeing that Miz used it to win the championship, but now it's a different one—a silver case.
I've heard rumors that it's a new WWE Championship belt the Miz will introduce, but who knows? I didn't really care for this match, considering I felt like I'd seen it a million times and "The King" was wrestling and not commentating.
But I guess it was a decent main event. Still thought Morrison should've been Orton's partner. Oh well.
Well, there it is. I thought this was a very strange Raw. From whipping guys to two Smackdown stars on the show, to Punk teasing commiting suicide and John Cena saying a naughty word.
But I look foward to Cena vs Punk next week.
Tell me what you thought! Thanks!
This article is
What is the duplicate article?
Why is this article offensive?
Where is this article plagiarized from?
Why is this article poorly edited?