2011 NFL Draft: 10 Players the New York Giants Should Consider for 19th Pick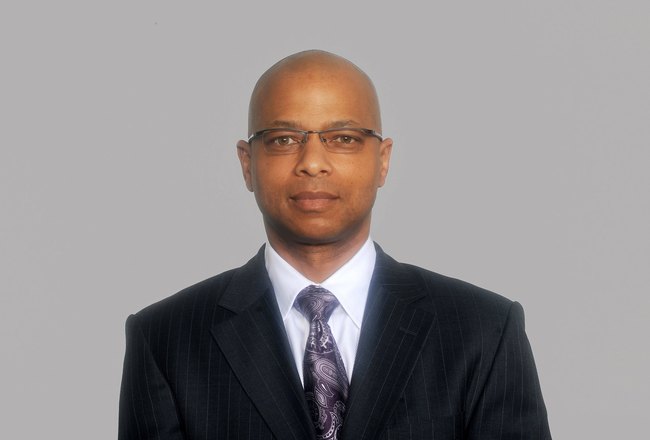 NFL Photos/Getty Images
The New York Giants were eliminated from playoff contention when the Green Bay Packers beat the Chicago Bears (it looks like the better team made it, since the Packers beat the Eagles twice, whereas the Giants lost to them twice), and when that happened, the switch to offseason mode had been flipped.
The owners came out and said they were retaining Tom Coughlin despite rumors spreading that his days were numbered—apparently his job was never in jeopardy—and they may have to search for new coordinators, as both are linked to head coaching vacancies.
The other concentration will be who to take with the 19th overall pick in the 2011 NFL Draft (oh yeah, and the other picks too).
The Giants don't have any glaring needs but will need to make a smart pick to set them up for the future. You could argue that in the immediate future they need a center and an outside linebacker, but they also need to start getting younger at the other positions on the offensive line.
That said, here are 10 guys I believe will be on the Giants' radar with the 19th pick.
Find Jeff covering the Giants at NY Giants Central, a product of Rant Sports.
Follow him on Twitter @NYG_Central

Ryan Williams, RB, Virginia Tech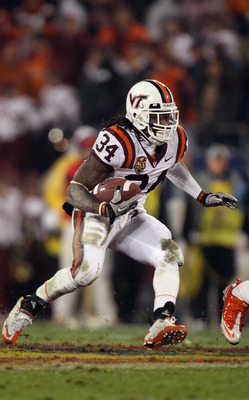 Streeter Lecka/Getty Images
You see that run by Marshawn Lynch this weekend? That's how much an explosive running back can change a game.
The Giants have that in Ahmad Bradshaw, but he is getting into his prime now and is a free agent. The Giants will need to have a serviceable replacement if he or Brandon Jacobs ends up leaving via trade or free agency in Bradshaw's case.
LaMichael James upset me greatly when he decided to return for his junior season (from an NFL fan standpoint—I love his decision to return as an advocate of guys getting their degree), meaning the Giants won't have a chance to get him for the 2011 season.
That said, Ryan Williams had two good seasons with Virginia Tech, but he split time this past year and will have to impress people at the combine if he is going to remain a top 20 prospect.
He had 1,655 yards and 21 touchdowns in 2009 as the full-time starter.
Derek Sherrod, OT, Mississppi State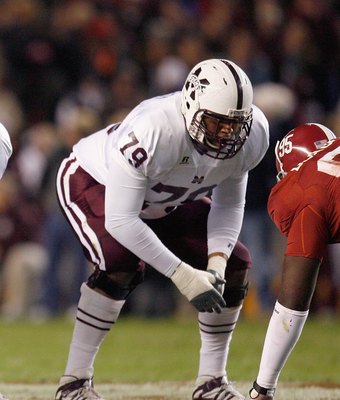 Kevin C. Cox/Getty Images
The Giants' offensive line is getting old and showed it this season with how many injuries they battled. Despite that, they were still very formidable and very much a strength for this team.
As long as Tom Coughlin and Jerry Reese are in charge, that is going to be a point of emphasis.
Derek Sherrod is a great prospect from an SEC school and an expected first-round pick. While the 2011 class is not as stacked as the 2010 class was, there are still some gems to be found, and Sherrod is one of them.
Sherrod started three seasons for the Bulldogs and was an All-SEC selection twice.
Michael Floyd, WR, Notre Dame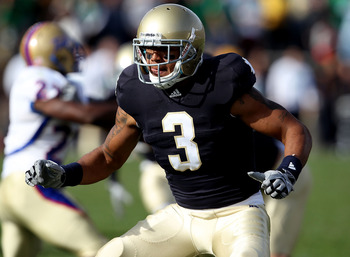 Jonathan Daniel/Getty Images
"Wait a minute, Jeff. The Giants have three fantastic wide receivers. Why would they draft another one?" That's what you might be thinking. Well, I'll tell you why.
What you may not be aware of is Steve Smith is set to be a free agent this March and is coming off major knee surgery that might threaten his career. The Giants are in love with this guy but won't let emotion affect business decisions.
Don't be surprised if Smith finds himself in another uniform.
If that is the case, we will know it by draft time and will know if wide receiver is a need position, so there should be wide receivers on their board.
Michael Floyd had a fantastic season for the Irish, including a brilliant performance in the Sun Bowl against the Miami Hurricanes. He finished the season with 79 catches, 1,025 yards and 12 touchdowns.
Joseph Barksdale, OT, LSU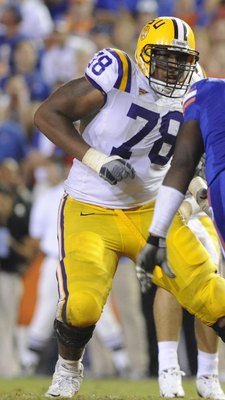 Al Messerschmidt/Getty Images
Yet another option for the Giants to get younger along their offensive line. They do have several good options right now at offensive tackle, but only one (William Beatty) is under the age of 30 whose natural position is tackle—Shawn Andrews is 28 but played guard until this season.
At 32 (before the start of next season), Kareem McKenzie might have seen his last season as a starter for the Giants.
Barksdale did a very good job in the Cotton Bowl last Friday against top 15 prospect Von Miller out of Texas A&M, and the Tigers ran all over the Aggies all game long.
He has rare athleticism from his position and has the best technique of anyone in the draft class. He would best be suited as a left tackle, and the Giants could move Beatty over to right tackle and have two outstanding young tackles for a long time to come.
Mark Ingram, RB, Alabama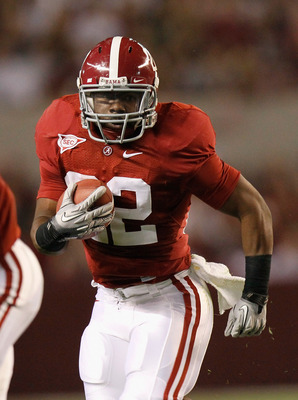 Kevin C. Cox/Getty Images
Not really much to say here that wasn't already said in the Ryan Williams slide.
If you don't already know a ton about Mark Ingram, you must have been living under a rock the past two seasons.
Heisman winner. 2,533 yards and 30 touchdowns in 2009-2010 seasons. That's really all you need to know.
Bruce Carter, OLB, North Carolina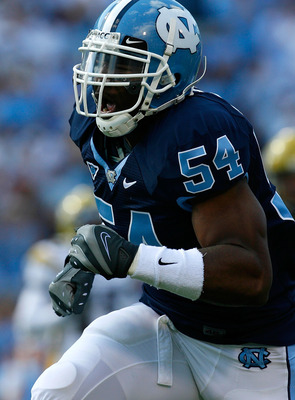 Kevin C. Cox/Getty Images
The Giants used Keith Bulluck in a limited role this season by mainly using him on rushing downs in the outside linebacker spot. He was originally brought in to be the middle linebacker, but Jonathan Goff outplayed him for that position.
He has come out and said he would rather retire than play a limited role again, so the Giants may be looking for a strong side linebacker this draft.
Bruce Carter is a big hitter and has tremendous athleticism for a linebacker, something the Giants need, as they lacked a good blitzer from the linebacker position (Deon Grant was used a lot in that role).
Carter was a three-year starter at North Carolina and racked up nine sacks and over 190 tackles.
Kyle Rudolph, TE, Notre Dame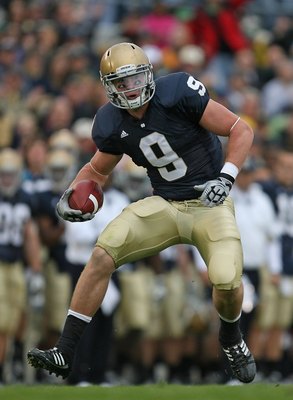 Jonathan Daniel/Getty Images
Very rarely do you see a tight end taken in the top 20 picks of the NFL draft, let alone the first round, but when you see a talent that deserves it, you tend to ignore the trends.
Rudolph missed most of this season with an injury, but when he did play he showed that he is an unbelievable talent from the tight end position, no more so than in his eight-catch, 164-yard performance against Michigan.
Kevin Boss is a good tight end, but he needs help because he has assumed all of the blocking responsibilities, and it affects his ability to be consistent week in and week out.
Jonathan Baldwin, WR, Pittsburgh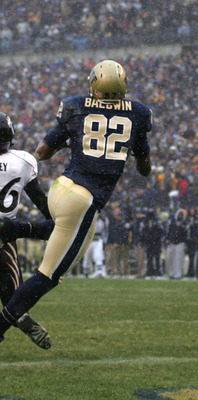 Jared Wickerham/Getty Images
Again, not much to say about the current roster for the Giants that wasn't already said in the Michael Floyd slide.
Jonathan Baldwin is a dream combination of size, speed and athleticism. Oh, and he has great hands too. While he may not be the best prospect in the draft (A.J. Green, Julio Jones), he is a nice consolation prize.
The Giants drafted Ramses Barden two years ago, but he hasn't exactly panned out and developed the way the Giants had hoped. If they want to go in another direction and bring in a young guy rather than go after Plaxico Burress this summer, Baldwin is an unbelievable deep ball threat.
Akeem Ayers, OLB, UCLA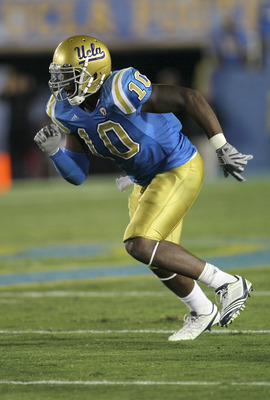 Stephen Dunn/Getty Images
Ayers is not as big of a hitter as Bruce Carter, but he would be a tremendous help in the passing game. He is quick and has the speed to keep up with slot receivers in zone coverage as well as tight ends in man coverage.
Not only that, but he can rush the passer as a blitzer as well. In two years as the starter for the Bruins, he had seven sacks, six interceptions and two forced fumbles.
The Giants are all about getting after the quarterback and forcing turnovers and will look to keep that trend going next season by drafting a guy like Ayers with one of their picks.
Mike Pouncey OG/C, Florida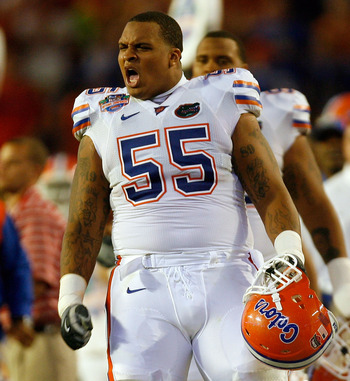 Eliot J. Schechter/Getty Images
Twin brother of Pittsburgh Steelers center Maurkice Pouncey (2010 first round pick), Mike Pouncey has every bit as good a chance to succeed in the NFL as Maurkice already has.
The Giants will be looking to draft a center this year with Shaun O'Hara battling an Achilles injury and Rich Seubert having a torn kneecap after his 10th season in the NFL.
If I had to pick one of these 10 guys I think the Giants would draft above all others, Pouncey would be the guy.
Despite his natural position being guard, Pouncey can easily play center in the NFL. Until his brother left for the NFL last year he played right guard, but in his senior season at Florida he played center and did it very well.
He only played one season at center, but made the All-SEC second team and was a second team All-American at guard in 2009. No matter what way you look at it, Pouncey is a terrific talent.
Keep Reading

New York Giants: Like this team?