The Hottest Women Dressed As Athletes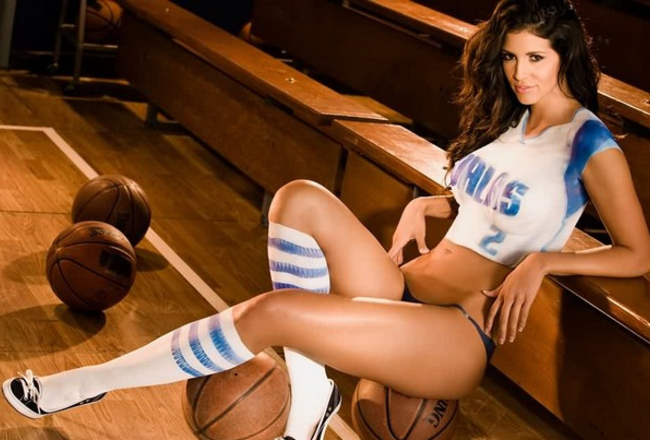 What is considered a fake female athlete or women dressed as an athlete?
There are a few different types of fake athletes. We have the obvious choice first, female actors in sports movies playing athletes. That is just too easy to even mention but I still must.
The next two are a little less obvious but are still straightforward, women wearing jerseys and women wearing sports gear.
If a women is donning the jersey, she gets a shot at the list. If she is wearing some sports gear like shoulder pads, she also gets a chance.
The biggest determining factor that I have not mentioned yet, they must be hot. If she is not hot, she mine as well be wearing jeans and a sweatshirt.
All right, here we go. The list of the hottest women dressed as athletes, as described above. Enjoy!
Honorable Mention: Erin Andrews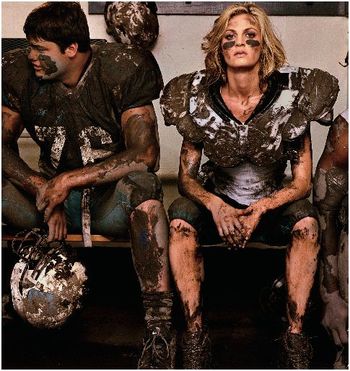 What is a sexy sports slideshow without Erin Andrews?
It is sadly missing one of the hottest females in the sports world. Luckily for us, we get to look at her just as this thing gets going.
40. The True World Cup of Soccer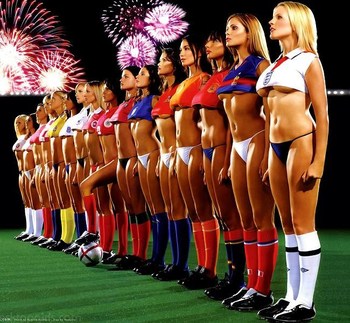 I do not think the networks would have any issues having viewers for the World Cup if this was the lineup?
Maybe if they just used these uniforms, people would want to watch.
39. Buffalo Bills Newest Quarterback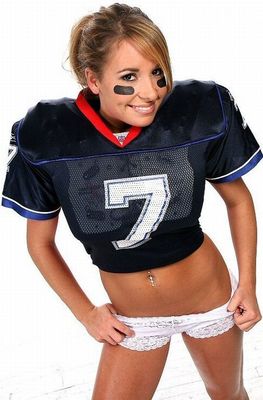 Another season, more disappointment for the Buffalo Bills.
The good news is that next season they will be trying out women like this babe for their starting quarterback position.
If she does not work out in Buffalo, maybe she has a shot in Minnesota.
38. Keira Knightley: Bend It Like Beckham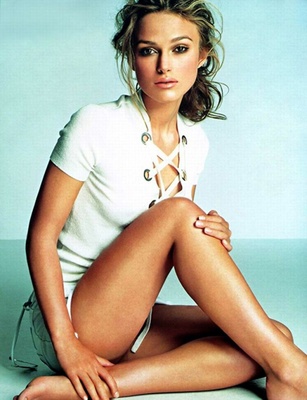 Keira Knightley played a female soccer player in Bend it Like Beckham. We are all glad they chose this hottie.
I have never seen such a sexy woman in a soccer uniform before. I think if Blake Lively decided to star in a soccer movie, I might stand corrected but until that time, Keira owns the trophy.
37. Can I Pick First?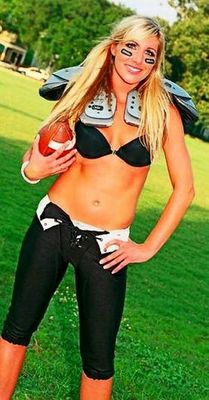 It seems that whenever I play football with my friends, it is always dudes and no hot chicks.
When can we start playing games with hot blondes like this one?
I would move to another city to play pickup games of football with her.
36. Another One Bites The Dust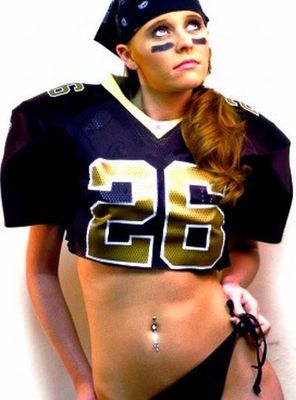 The New Orleans Saints might be done for the 2010 season but they still have some loyal fans willing to sport the gear.
Lucky for us, she still thinks Deuce McAllister is playing.
35. Women Never Change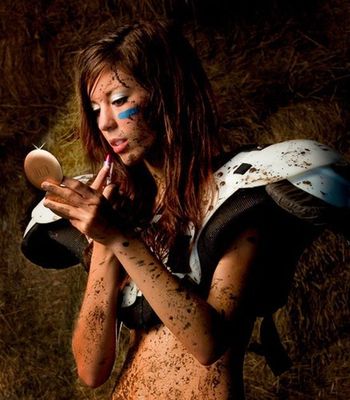 She is covered in mud, dressed for the game, and still finding time to put on makeup.
If this photo does not underline how women are, I am not sure what does.
34. She Could Lift The Curse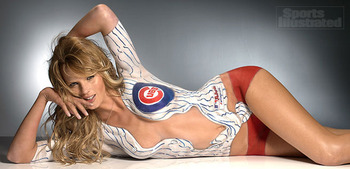 Now that the Chicago Cubs are in the offseason, they can figure out ways to bring people into Wrigley Field next season.
What about a body paint day? Just one day where all the women in the stadium dress down and plaster body paint all over themselves.
That would be the greatest day in MLB history for the Cubs, easily.
33. Packers Rookie Tight End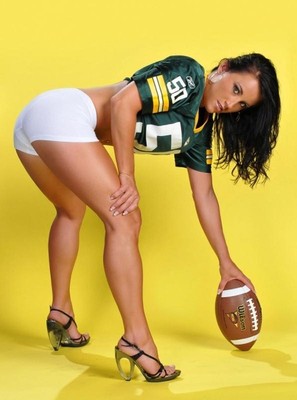 Now that the NFL Playoffs are fully underway, we can stop wondering about who will play whom and where. We can start to get ready for the Super Bowl.
If the Green Bay Packers want to win a Super Bowl without their star TE, good luck.
If they use this beauty in the meantime, she might have some tricks up her sleeves.
32. Hooters Players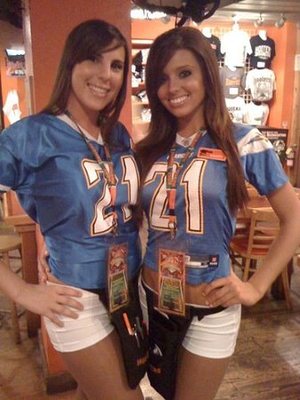 When I go to Hooters, I go for the food and beer.
I also go for the beautiful women too, especially when I am in San Diego.
The level of talent in San Diego Hooters far surpass anywhere else I have ever been.
31. She Could Make Any Team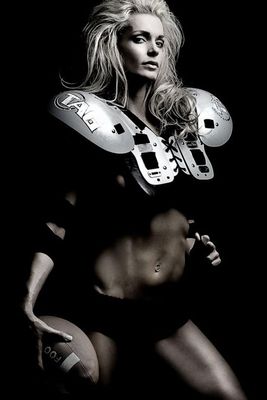 This hottie could literally play for any team she wanted. All she has to do is show up dressed like that and she is golden.
It also does not hurt that she already has the gear on.
30. The Asian Sensation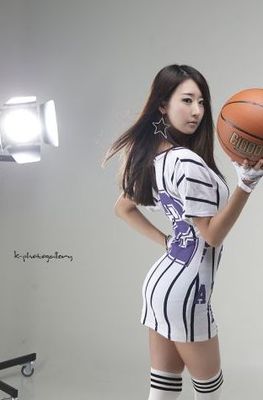 If you do not know who this is then I shall introduce you to her.
This is Park Hyun Sun, a Korean model who makes all the others obsolete.
She has a booty that makes me want to change religions.
29. Tough As Nails, Hot As Fire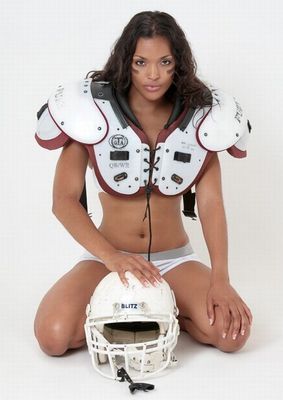 There is only one time in my life that I will say I would not even think about messing with a chick.
This would be one of those moments. She might be hot, but there is something about this beauty that makes me want to be cautious.
28. Those Shorts Are Not Regulation Size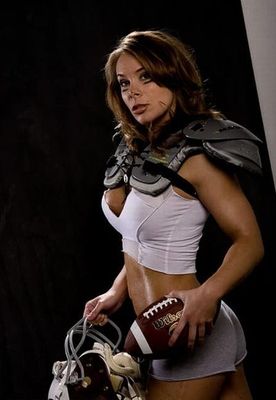 Now that is what I call sexy use of football shorts.
What can she do next? Wear a smaller top? My thoughts exactly.
27. Paris Hilton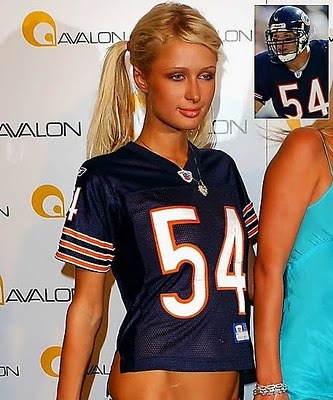 I seriously doubt that her love for the Bears is any more than her love for English Literature.
She was probably attending a party in Chi-Town when she realized she had to sport the jersey.
Regardless of why, she is still hot enough to make a list in honor of women in her shoes.
26. A True Mets Fan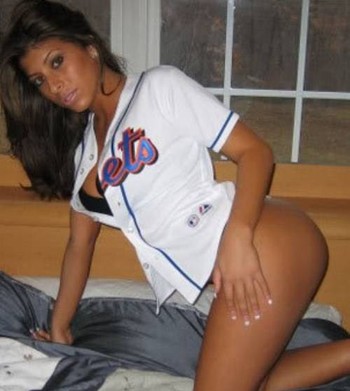 When I think of the New York Mets, the first thing I see is the beautiful women in New York posing very sexually in the Mets uniform.
This babe is just one of a million beautiful Mets fans, but at least she had the courtesy of taking a picture of herself.
25. Kate Bosworth: Blue Crush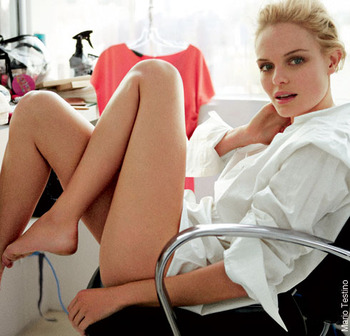 Kate Bosworth makes the list as the hottest actress to ever play a female surfer.
Wait a minute, she is the only actress to ever play a surfer. Oh well, at least she is hot too.
24. Better Than The LFL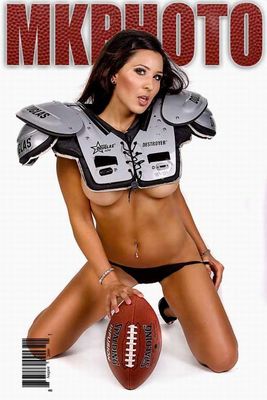 I am starting a group on Facebook called Replace the LFL with topless football.
This is one of the main reasons I bring this idea to life. Imagine a world of women, as shown above, running around the field hitting each other.
Their tops might fly off every now and then, but what a show!
23. Nice Ball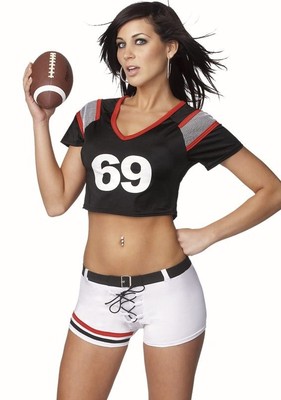 This photo is screaming sexual innuendo.
If I had known any better, I would guess that the camera man had that in mind when he snapped the shot.
22. Just Another Day in The Living Room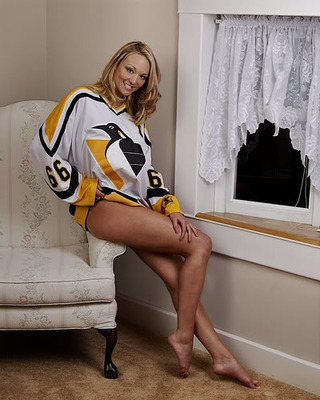 I would suggest we begin to allow women to wear NHL jerseys and nothing else, as a dress in public.
Would the world be any sexier than a bunch of women, like this babe, running around in hockey jerseys and no bottoms?
That is the world I want to live in.
21. Put Those Pads On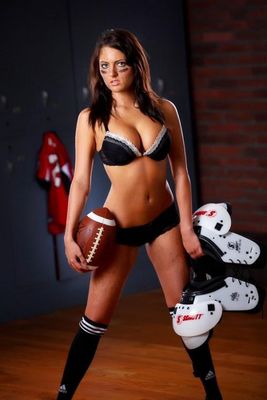 She does not need the pads to kick your ass. She just needs your home address.
So go ahead, give her your information. She might not destroy you for fun.
But don't say I didn't warn you.
20. Amanda Bynes: She's The Man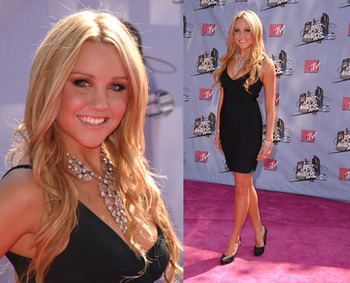 I remember when she was a cute innocent little girl on Nickelodeon's All That.
But today, she is this grown up woman with bigger boobs than feet. She is a mega hottie and deserves a little more attention than Lindsay Lohan.
Let's not shift all the attention away from Lohan, I mean, she is hilarious to watch and I would not want to take that away from you all.
19. Abs Of Steel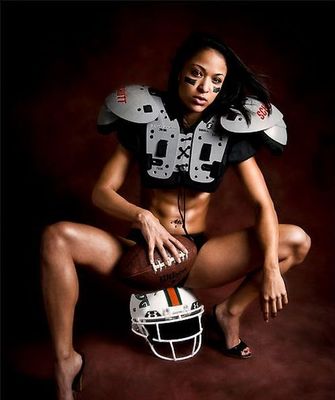 I mentioned her abs in the title of this photo for one reason, they are rocking.
Not only is she a mega star when it comes to babedom, she is also rocking a killer set of abs.
Those things are so defined, I could wash my clothes on them.
18. I Will Play Hard, Bodog!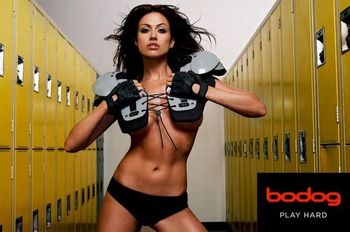 No need to guess which company this photo is for, I have already given you that information on screen.
But when you display a beautiful woman in almost no clothing aside from her football gear, you might want to change the slogan from Play Hard.
It is just a tiny suggestion, Bodog.
17. Thanks For The Invite Into Your Locker Room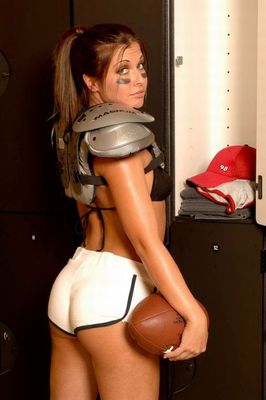 Have you ever been inside a girl's locker room? I have and it was glorious.
I have never been so excited in my life. I will never forget that moment.
I was a Freshman in high school and I had gotten lost.
I thought I was walking into the men's locker room until a loud scream and a few kicks to the groin reminded me of where I really was.
16. TWINS!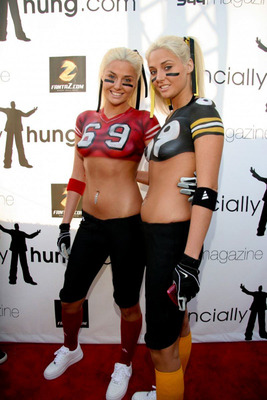 Twins! Twins! Twins!
Do I need another word to describe the situation?
Oh crap, here comes Mike. Dammit, why didn't anyone stop me from saying the situation.
Here he comes again...somebody stop it, please!
15. You, Me, My Team: GO!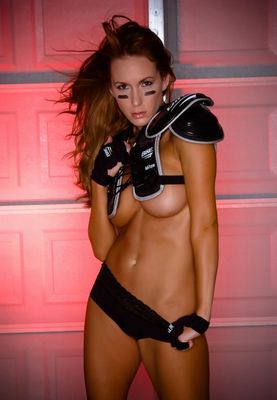 Let's pretend that this woman is dressed like this in real life. Now imagine she walks into your gym looking to play a game.
How fast do you think every man in the gym drops the weights and grabs a football? If you answered ten seconds you are right.
14. Holly Madison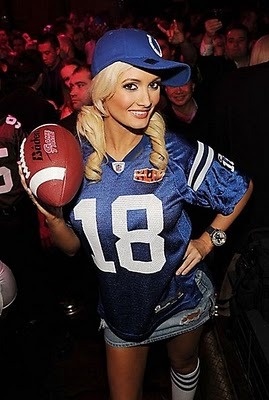 Holly Madison has done a lot of things correctly in her life.
She has become a Playmate, kept her body looking great, always pleased us with her tata's, and did a few UFC gigs.
The only thing she did wrong was date that tool Josh Koscheck. Sorry UFC world but that dude is a tool and I hope she realizes it someday.
13. No That Is Not Erin Andrews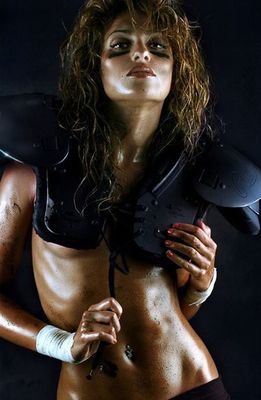 This hottie looks an awful lot like that beauty we are use to staring at on ESPN.
No not Jenn Brown. She looks like Erin Andrews minus the constant references to how great the Florida Gators are every time we see her.
12. What Is a Canuck?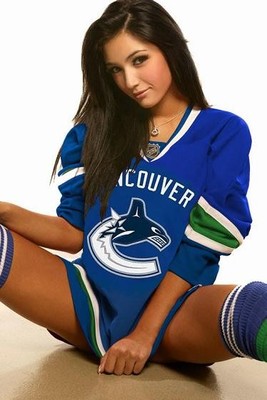 I have been told by a colleague that a Canuck is a slang name for a Canadian.
Ok, I get that part, but what is with Shamu in the big "C"?
11. Sanaa Lathan: Love and Basketball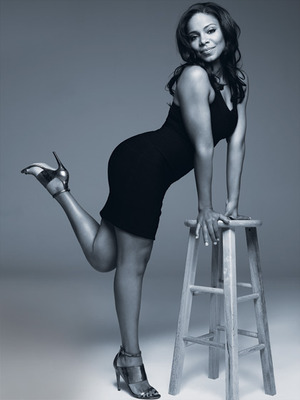 If you have not seen Sanaa Lathan in any movie, you are sadly missing out. She is one of the hottest actresses in Hollywood today and gets no love from the media.
I know this article is about sports movies and fake athletes, but go watch her in the movie Life. She has a small part but she is too fine.
10. Two Chicks, One Ball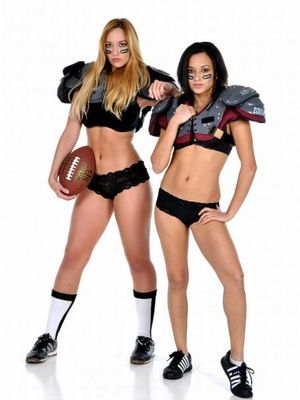 I think the title of this picture speaks alone.
What happens when you take two beauties, give them one ball, and ask them to play? I guess we will just have to wait for the video.
9. Is Alyssa Milano Still Getting Work?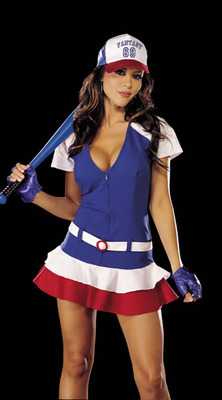 I guess being a teen celebrity qualifies you to latch onto the spotlight like a leech in the swamp.
I think Alyssa Milano is damn sexy but every time I see her, she is sporting a new uniform and dating another athlete.
8. Kathy Ireland: Neccessary Roughness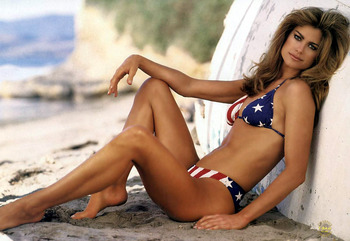 Kathy Ireland was the hottest woman in the world twenty years ago and is still pretty damn sexy today.
She has been forgotten by most people because she grew up and became older than everyone. Who cares? The woman is gorgeous and will always be.
7. The Best Yankees Fan Gear Ever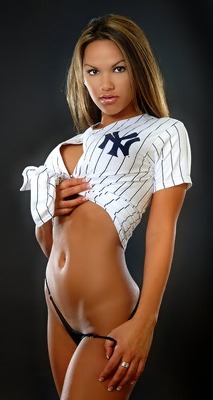 All we need now is a introduction and we shall have our newest Derek Jeter ex.
She could also become A-Rod's ex, but one thing at a time.
6. Gold Rushin' Cheerleaders Like to Play Too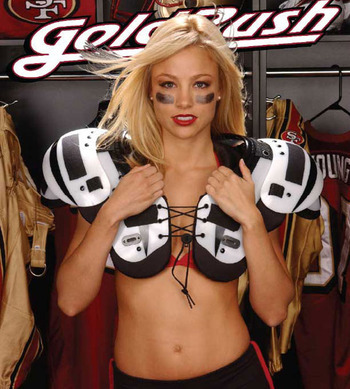 When the NFL cheerleaders of the San Fransisco 49ers begin to wear shoulder pads, it is game on.
They already have a coach, Jim Harbaugh, now all they need is a quarterback and they are ready to roll for 2011.
5. Body Paint and Soccer Always Work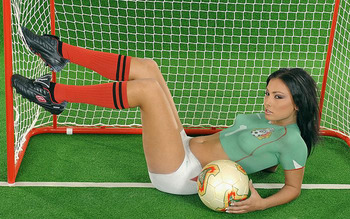 Soccer Ball - Check
Net - Check
Cleats - Check
Socks - Check
Uniform - Um, about that. When the truck came to drop off the uniforms showed up, all they had was paint and no uniforms. We did not want to waste all that money so we just painted the gear on their bodies.
I speak for every man in the World, "Works for me!"
4. Hope Dworaczyk and No Clothing Always Works Too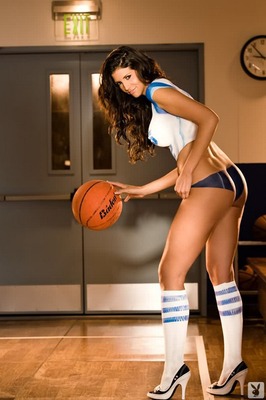 Jason Kidd has more triple doubles than Michael Jordan and Larry Bird combined. He has been playing for seventeen years and has 105 triple doubles.
That being said, man does his woman look good naked? She is the reason I started watching the Mavericks games. Just like Eva Longoria, I am hoping they show up at a game or two.
3. If You Don't Like Boston, You Must Hate Life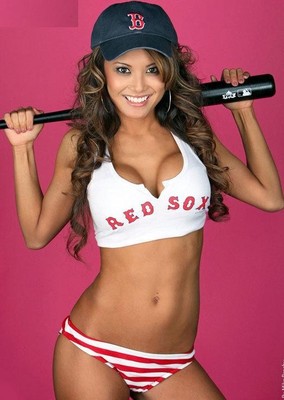 No need to thank me, I was not the one that set up this photo shoot.
If only we could convince every other woman in Boston to dress like this, then we would be rolling.
2. Wow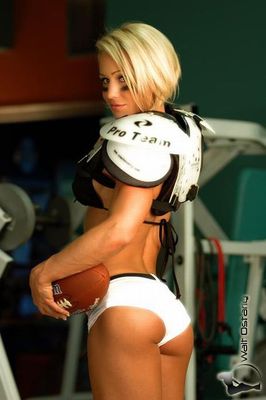 Does the phrase, "Holy Santa Claus S**t!" , work for this photo?
If that is not the right phrase than how about we just sit here and wonder how she is the second hottest woman. Who could possibly be hotter?
1. Double Wow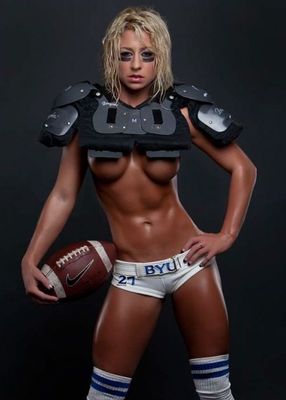 Now that is hot!
I think we should replace the Lingerie Football League with the TFL, Topless Football League. She could be my starting quarterback.
Keep Reading