Ravens Leading Chiefs 23-7 After Three Quarters, Chiefs Turnovers Hurting Chance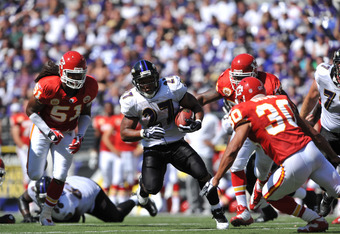 Larry French/Getty Images
Welcome to Day Two of Wild Card Weekend. I am Alan Zlotorzynski and a die-hard Ravens fan. I will live blog today's Ravens vs. Chiefs game.
I invite Ravens and Chiefs fans to join me in debating today's contest in Kansas City. The Ravens were 12-4 this season and are riding a four game winning streak entering today's game.
The Chiefs ended the season 10-4, getting blown out at home by the Oakland Raiders 31-10. Despite last week, the Chiefs were able to hold off the surging Chargers to win the AFC West for the first time since 2003.
This is the Chiefs' first playoff appearance since 2004, and currently the Chiefs own a six game playoff losing streak. John Harbaugh and Joe Flacco came to Baltimore the same year, beginning in 2008.
They will be making their third straight trip to the post season together. Harbaugh and Flacco are 3-2 in the playoffs, having played every game on the road.
If today is anything like yesterday, then we should all be in for a great day of NFL football. Hurry and grab your refreshments and snacks. Kick back and relax as we discuss everything Ravens and Chiefs.
My first question of the day is, if the NFL has a lockout next season, could this be the last time we see Ray Lewis?
See you back here in 15 minutes.
Larry French/Getty Images
Mcgahee turns out the lights as the Ravens now lead 30-7 as the Ravens drive of 10 plus minutes is the third longest in the NFL since 2004
Lets talk about next weeks opponent, the Pittsburgh Steelers.
The Ravens are 1-1 versus Pittsburgh this season and should be 2-0 but that will all be re-visited in the next few days.
The NFL looks to be getting a rivalry week re-match for the AFC Divisional round. The Jets will travel to New England and the Ravens to Pittsburgh.
Back on the weekend of December 5th the Ravens lost to Pittsburgh on Sunday when Troy Polamalu strip sack fumble of Joe Flacco led to the game winning TD.
In New England the Patriots dismantled the Jets.
It should be an interesting week here on the Bleacher Report.
The Ravens just picked off Casell for a third time and prior to the interception sacked him two more times. This was as dominating a playoff game as the Ravens have ever played.
The 379 total yards by the Ravens are a franchise playoff record.
See you next week in Pittsburgh.
Ravens 30 Chiefs 7
Doug Pensinger/Getty Images
Todd Heap, Joe Flacco and Anquan Boldin have reemerged in the Ravens offense today, Heap leads the way with 10 catches for 106 yards. Boldin has four catches for 58 yards and a touchdown.
Joe Flacco after a solid start and a rocky middle has take command in this game. Flacco is 22/31 for 245 yards and two touchdowns. He is still the Ravens leading rusher with 28 rushing yards.
The defense has caused four turnovers as the Ravens have shown what physical play and three straight playoff appearances can do for a team. The Ravens have run 70 offensive plays today
The Chiefs just jumped offsides on a fourth and three during punt, giving the Ravens a first down and pretty much icing this game.
There is 6 minutes to go and KC is showing no signs of being able to control their emotions and stop the Ravens.
Doug Pensinger/Getty Images
The Chiefs are going to catch a break here as Matt Casell will get the replay overturn.
Question is, does he really want the ball back.
Casell is folding before your eyes Chiefs fans.........
Doug Pensinger/Getty Images
This isn't over as the Ravens should lead this game 23-7 but as my father said if my aunt had, well you get the point. Jamal Charles on the sidelines for first down following the kick-off.
The Ravens have not given a third quarter in 25 games an this according to CBS has not happened since 1933.
Casell throws another INT but this one doesn't get lateraled and the Ravens take over after a great Dwan Landry pick and return. The Chiefs defense has to hold Baltimore to another field goal. The Ravens score a TD here the game is over.
The Chiefs are playing scared offensive football, check that Matt Casell is playing scared. Sorry Chiefs fans it's true.
Flacco converts a beautiful pass to to Todd Heap on the five and the Ravens again have first and goal.
This time the Ravens don't miss and lead 23-7. Anquan Boldin hauls in a nice Flacco pass for a TD putting the Ravens way out in front. The TD came six plays following the McClutser fumble and covered 31 yards
Doug Pensinger/Getty Images
The Ravens continue to rack up yards but failing to score touchdowns could prove costly.
This is the same problem the Ravens have battled all year long. Failure to score touchdowns and put teams away have been a major cog in giving up nine fourth quarter leads this season.
The Ravens have scored ten unanswered points in taking a 13-7 lead.
The Ravens have obviously made some halftime adjustments puzzling Matt Casell.
Cassel dumps off to Dexter McCluster on third and 25 and he fumbles the ball back to the Ravens deep in Chiefs territory.
After an Eric Berry illegal contact penalty on Todd Heap the Ravens again fail to score a touchdown.
Billy Cundiff kicks field goal number three giving the Ravens a 16-7 lead.
Don't go away Chiefs fans remember that fourth quarter stat about the Ravens defense.
Dilip Vishwanat/Getty Images
Haruki Nakamura made what could be game changing 14 point swing trying to lateral that ball. An unecessary play that simply wasn't necessary.
You don't get "my bads" in the post season. Luckily Charlie Weiss decides not to run inside on the Ravens which again I don't understand.
It's basic math isn't it? 6 inches and he goes outside with it. "COME ON MAN"
Don't get me wrong I'm Ok with it but if I were a Chiefs fan I'd be pisses at that play call......
The Headline on this drive reads
WEISS BAILES NAKUMURA OUT.
JB said at halftime the Ravens have never given up a 100 yard rusher in post season play.
Doug Pensinger/Getty Images
Flacco takes Ravens 80 yards in 11 plays chewing up 5:30 seconds. Flacco find ray Rice underneath (whats new) and the Ravens take a 10-7 lead.
It was the Todd Heap drive. Heap had 3 catches for 44 yards.
Halftime stats;
Ravens had 226 totals yards, 13 first downs. Flacco was 17/24 196 yards and 1 TD. He also had a costly fumble which KC converted to 7 points two plays after taking over. The ravens leading receiver was Todd Heap 7 catches for 81 yards. Joe Flacco is the Ravens leading rusher with 24 yards. Not a good sign Ravens fans.
The Chiefs have 136 totals yards, 6 first downs Cassel was 4/5 for 40 yards as Jamal Charles lead all backs carrying 7 times for 87 yards including a 41 yard touchdown run.
The Ravens dominated time of possesion 20:31 to 9:14.
Tamba Hali recorded two sacks and forced a fumble and Eric Berry led the Chiefs with 7 tackles.
On defense for the Ravens Ed Reed led the way with 3 tackles including a crushing hit on Chiefs back Thomas Jones on a third down stop.
Doug Pensinger/Getty Images
Eric Berry leading a defense that is now beginning to get a major push on the Ravens offensive line.
Heap now becomes Ravens leading receiver. Flacco starting to step up a little more as the speed of the Chiefs O-line pushes past. Flacco is 15/22 for 175 and Heap has 6 for 69 yards.
Flacco has converted three third wons so far on current drive.
two minute warning comes at a good time for KC.
The lack of speed in the Ravens receiving core is getting blanketed by quick KC secondary. Heap is getting open underneath but thats it right now.
Heap is now 7 for 81 and Flacco 16/23 for 187....Ravens time-out
Doug Pensinger/Getty Images
Joe Flacco must start playing smarter. That's a bad three and out. This defense is getting older and with that potent KC running attack three and outs on offense will kill Ray and company.
He came out looking poised but now Flacco is playing rattled and must settle down. The Chiefs are giving him the intemediate portion of the field with their zone.
Great stat 6.38 yards per stat, really great company Jamal Charles is in. Jim Brown, OJ Simpson and Barry Sanders.
Chiefs are catching up very quickly in the stat category. They now have 6 first downs to Baltimore's 8 and KC trails in total yards by just 13. Baltimore 146 KC 133.
Big third down here Chiefs fans. A score after deferring the opening coin flip would put big pressure on the Ravens offense to get a score before the half.
Ummmmmmmmm that was a pretty good hit by Ed Reed, wouldn't you say so?
Doug Pensinger/Getty Images
Ravens dominate the first quarter but Jamal Charles says big deal as his 41 yard TD has the Chiefs out front 7-3.
The Ravens ran 27 first quarter plays to the Chiefs 5 but it only takes one play to score and Charles can do that from anywhere on the field.
Flacco was 11/18 for 135 yards. The Leading receiver was Anquan Boldin 2 catches for 41 yards.
Jamal Charles continues to make the Ravens run defense look non-existant.
Charles has 5 rushes for 73 yards and the running game will start to open up the play action Matt Cassel is good at executing.
The Chiefs are driving after starting at the their own 13.
Terrance Cody ends the drive wrapping Charles up and causing him to fumble as the Ravens start with decent field position at their 45 after the turnover.
Tim Umphrey/Getty Images
Two plays after the Flacco turnover Jamal Charles takes off for 41 yards and gives the Chiefs a 7-3 lead.
The Ravens have not played against a back as fast as Charles this season. They went head to head with a lot of big backs.
They need to adjust to his speed.
It could be a long, long day if they do not seal those gaps quicker. Bad angles by Reed and Landry
Dilip Vishwanat/Getty Images
Chiefs curiously come out and throw the ball. That is the one of the things that scared me today as a Ravens fan was the experience of Charlie Weiss and Rome Crennel. That New England connection is stout.
I'm not sure I would have tried to do anything but establish Charles and my goodness did he look quick through the hole on his only carry.
Three and out not the start a young offense is looking for.
The Chiefs defense is hitting hard today. they are flying to the ball when Flacco gives it to ray Rice.
Thats a bad challenge considering where the Ravens have the ball. Ravens or Chiefs to play Pittsburgh on Saturday.
Flacco is getting time and with the Chiefs playing zone the way they are it could open up some big downfield plays.
Boldin picks up a big first down and takes and even bigger hit. Protect the jaw Anquan.
Flacco is 9/14 for 106 yards. The Ravens have 7 first downs but fails to protect the ball.
That is Joe Flaccos fault, he has to get rid of the ball a lot quicker than that, or he needs to step up.
Chiefs ball on the Ravens side of the field.
Doug Pensinger/Getty Images
Chiefs win the toss and defer.
Ravens do come out with play-action. Tony Moll lines up in yet another different up front opening formation.
It's obvious the scripted plays are pass oriented. Four of the first five plays are a pass.
Flacco is 4/8 for 62 yards and looks poised. Although he did almost have two interceptions.
It is good to have Heaaaaapppppp back. Flacco throwing it all over the place.
1st and goal, Flacco fumbles snap and recovers, 2nd and goal Mcgahee stopped cold.
3rd and goal Flacco flushed out and the great young DB Eric Berry breaks up a huge sure TD pass to Heap.
Flacco drives them down chewing up six minutes. Ravens 3 Chiefs 0.
Good to see Heap and Boldin involved on the drive, Ravens will not win with out them today.
Larry French/Getty Images
Watching ESPN NFL Countdown and TJ, Chris and Key all like the Chiefs while Ditka, Adam, Mort and Boomer pick the Ravens.
Meanwhile on CBS Bill Cowher and Boomer Easiason are debating if Drew Brees and Peyton Manning will ever win another Super Bowl.
At least one team in the NFL has gone from worst to first for eight consecutive seasons. Kansas City being this years team.
JB asks, which team does it next year?
Arizona or what about Detroit next year.
Don't get excited about the photo Chiefs fans. It's from the last time these two teams played. Week one in 2009. Flacco lit KC up for 307 yards and 3 touchdowns in a 38-24 Baltimore win.
Ray Rice went 80+ yards on the first play last year in New England, will it be a play action and 80 yards to Boldin.
We will see kickoff in less than 4 minutes.
This article is
What is the duplicate article?
Why is this article offensive?
Where is this article plagiarized from?
Why is this article poorly edited?

Kansas City Chiefs: Like this team?