Mark Prior and the Top 10 MLB Prospect Flame-Outs of All Time
Jonathan Daniel/Getty Images
When a player gets drafted by a Major League Baseball team, by no means does it ensure that he will ever play on the biggest stage.
In fact, many players never even get close.
These 10 guys were all supposed to be the next big thing for the franchises that drafted them, only to turn out to be bigger duds than the ones that were drafted 40 (or more) rounds later.
These guys got all the hype and plenty of attention though.
Unfortunately for them, it was because they all really stunk.
10. Kris Benson, SP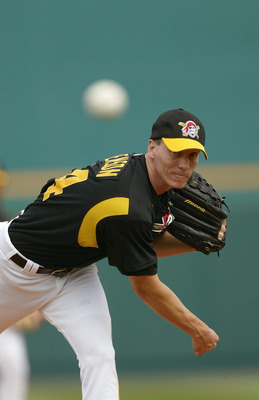 Eliot J. Schechter/Getty Images
Kris Benson was the first overall pick in 1996, drafted by the Pittsburgh Pirates.
After spending four and a half seasons with the team and never posting a winning record, the Pirates shipped him off to the Mets, where he enjoyed the best success of his career.
That's still not saying much though.
With a 70-75 career record, a 4.32 ERA and a 1.39 WHIP, it's safe to say the Pirates didn't exactly receive the ROI they sought from the man they pegged as numero uno.
9. Paul Wilson, SP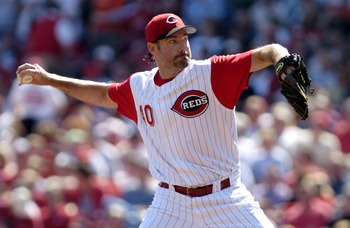 David Maxwell/Getty Images
Like Benson, Paul Wilson was drafted as the first overall pick by the New York Mets in 1994.
Wilson spent just one season with the team in 1996, posting a 5-12 record, then was sent packing to a freshly-formed Tampa Bay Rays team.
He didn't resurface at the major league level until 2000, and even that was probably too soon. The journeyman's only winning season came in 2004 as a member of the Cincinnati Reds, where he went 11-6 over 31 starts.
He finished his career with a 40-58 record, well shy of the expectations held for him.
8. Clint Everts, SP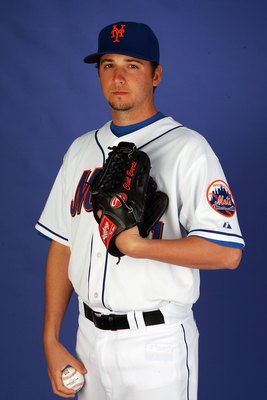 Doug Benc/Getty Images
Never heard of him? You're not alone.
Most people don't have a clue about the No. 5 overall pick from 2002 and with good reason.
Drafted a slot ahead of Zack Greinke, and two ahead of Prince Fielder, Clint Everts hasn't done much to warrant his selection. He was also picked ahead of Cole Hamels, Scott Kazmir and even James Loney.
Most recently he was designated for assignment by the Mets, and it appears his playing days are finally winding to a close.
7. Steve Chilcott, C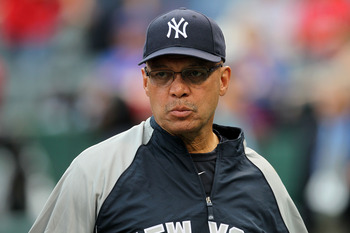 Stephen Dunn/Getty Images
Yes, that's a picture of Reggie Jackson.
You will soon understand the reason for that.
The first overall pick of the 1966 draft, Steve Chilcott was selected ahead of Reggie Jackson by the New York Mets because he played catcher.
I'm sure the Mets would like to have a redo on that pick, because we all know what Mr. October is capable of.
Chilcott never made it to the major leagues.
6. Dewon Brazelton, SP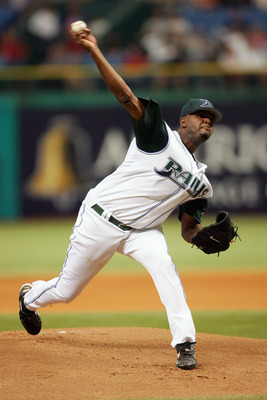 Nick Laham/Getty Images
Dewon Brazelton was supposed to anchor the Tampa Bay Rays' pitching staff for years to come when he was selected third overall in 2001 behind Joe Mauer and Mark Prior.
Well, that one didn't exactly pan out as planned.
Proving he couldn't cut it as a starter in Tampa Bay, Brazelton went 8-23 during his tenure with the team, which lasted a little more than three full seasons.
He owns a career 6.38 ERA and 1.68 WHIP, and doesn't deserve to be anywhere near a 40-man roster.
5. Bryan Bullington, SP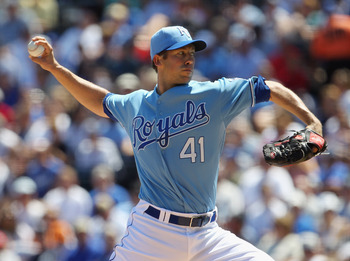 Jamie Squire/Getty Images
Another excellent pick by the Pittsburgh organization, Bullington was made the first overall choice in 2002.
Drafted ahead of BJ Upton (second overall) and the list of players mentioned Clint Everts' slide, Bullington never made the impact the Pirates sorely needed when they decided to roll the dice on him.
He appeared in just 26 games over the life of his MLB career, collecting a 1-9 record, a 5.62 ERA and a 1.58 WHIP.
Hopefully he'll be better off in Japan.
4. Matt Bush, SS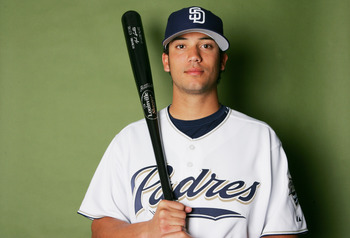 Ronald Martinez/Getty Images
A prep school shortstop, the Padres shocked everyone when they selected Matt Bush with the first overall pick back in 2004.
Taken ahead of Justin Verlander, Jered Weaver, Billy Butler, Stephen Drew and Phil Hughes, Bush has struggled mightily through the minor league ranks and hasn't even seen Triple-A yet.
Maybe the Padres fooled themselves into thinking this kid would eventually grow into his potential. It's pretty clear he's not going to be helping anyone anytime soon.
3. Mark Prior, SP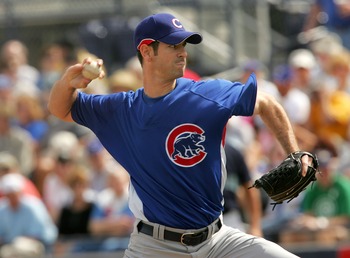 Stephen Dunn/Getty Images
This one doesn't need much explanation.
The second overall pick in 2001 behind Joe Mauer and a spot ahead of fellow bust Dewon Brazelton, Mark Prior was supposed to be the future of the Cubs' rotation.
To his credit he hasn't given up yet, despite his massive history of injuries, and recently signed a minor league pact with the Yankees.
However, he will never live up to the hype that surrounded him in 2003 after he went 18-6 with a 2.43 ERA for the Cubs.
2. Todd Van Poppel, SP/RP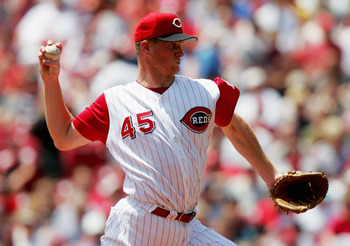 Matthew Stockman/Getty Images
Come on, just look at how he's about to throw that ball.
Maybe there is a lesson to be taken from all of this, as Todd Van Poppel is yet another pitcher who winds up on this list.
Playing on six different major league teams throughout his tenure in the big show, Van Poppel never came close to living up to the billing he received as the 14th overall pick in the 1990 amateur draft.
For his career, this ultimate bust was 12 games under .500, and his ERA sits at a very inflated 5.58.
It's no wonder he bounced around so frequently.
1. Jeff Clement, C/1B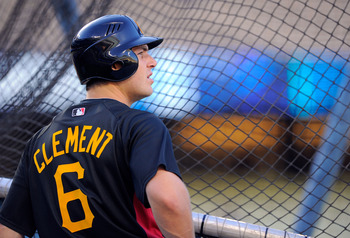 Kevork Djansezian/Getty Images
Justin Upton, Alex Gordon and Jeff Clement.
Those were the first three selections in 2005.
Some might say Gordon hasn't exactly lived up to expectations either, but Clement has been a disappointment in every sense of the word.
Expected to be a franchise face of the rebuilding Seattle Mariners, the team selected him with hopes he would become the catcher of the future. He's not even playing behind the dish anymore.
The real problem here is Clement was taken ahead of the following players: Ryan Zimmerman, Ryan Braun, Troy Tulowitzki, Ricky Romero, Mike Pelfrey, Cameron Maybin, Andrew McCutchen, Jay Bruce, Jacoby Ellsbury and even Matt Garza.
In a draft loaded with premiere talent, the Mariners swung and missed for a big strike three.
It seems the team and this pathetic catcher actually do have something in common, the inclination to strike out when it matters most.
Keep Reading