The 50 Most Awkward Moments in Sports History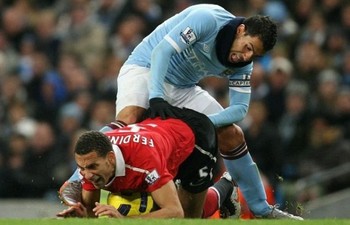 Dead silence: the result of most extremely awkward situations.
From failed high-five attempts to unintended racism to press conference drama, awkward moments are commonplace in the world of sports.
It's all live—and since it's unscripted, anything can happen. That "anything" often turns into an "I don't know what to do next" situation.
Of all the awkward situations that have occurred, what follows are the 50 worst—in other words, the most awkward moments in sports history...
50. Drew Brees
"All right, who just kissed you?"
It won't come off!
49. Sasha Vujacic
The fact that Vujacic is the one falling makes it 10 times funnier.
Have any other athletes had this happen before?
48. Phil Jackson
My face itches.
Good ol' knuckles.
47. Kobe Bryant
Best poker face ever.
Forget coaching, forget television. After Kobe retires, he has a career in Texas hold 'em.
46. Lamar Odom
The definition of a "brain fart."
Odom thought he was playing street ball in NY.
45. Avery Johnson
Role reversal.
"Don't stutter."
44. Scott Tolzien
No love for the quarterback.
It's not even like he was the backup/clipboard holder either.
43. Mark Madsen
Who says white men can't dance?
"Get back in your cage."
42. Shawn Marion
Marion was just about to go showtime.
Rookies...
41. Mark Mallory
Now that's what you call a wicked curveball.
Seriously, though, how do you miss that bad?
40. Bruce Pearl
Bruce Pearl has to be one of the funniest head coaches of all-time.
Never mind—he wins hands down.
39. Gus Johnson
"He's got getting-away-from-the-cops speed!"
This would be so much worse if Gus Johnson wasn't black.
38. Andrew Bogut
Everybody loves Andrew.
And since when are there seven players per team on the court?
37. Albert Haynesworth
Fast-forward to 4:45.
Don't hate—he was just protecting against the cutback.
They don't call him "Fat Albert" for nothing.
36. Kevin Love
Kevin Love will be on an All-NBA team soon enough, but he's already on the All-Awkward Team.
He walks hunched over for about 10 feet lunging for the high five.
35. Mike Brown
The reporter who asked the question is my hero.
Looks like Brown had a nice pre-press conference puff-puff pass.
34. Ron Artest
Ron Artest should write a book. Who wouldn't buy it?
Ron Law No. 379: If you can't stop 'em, pull their pants down.
33. Random Commentator
Run, Forrest, run!
I counted 10 seconds of silence.
32. LeBron James
If you listen really closely, you can hear the gasps in the background.
Shortly after, you can hear the faint sound of the entire city of Cleveland imploding.
31. Steve Stamkos
Stupid ice skates.
At least he almost got in the net.
30. Carl Lewis
"Uh-oh, I'll make up for it now."
One player has to hide in his warmup jacket so no one sees him laughing.
29. Shaq and Kobe
Fast-forward to 1:00.
This could have been so much worse.
On national television, they managed to stay professional despite "Hey, Kobe, tell me how my @#$ tastes," about a year earlier.
28. Dennis Green
"The Bears are who we thought they were!"
Thanks, coach...
27. Owen Schmitt
My name Owen, I play football.
My name Owen, I no graduate.
26. Brian Kinchen
"Your hands are tender; they can move and caress the ball."
The funniest man in America was then fired.
25. John Chaney
"That's why I was telling my kid to bust your !@#$%& kid in the mouth!"
John Chaney is one fiery old grandpa.
24. Mike Tyson
"I'm killing this mother !@#$%&."
How Tyson made it through first grade I'll never know.
23. Jim Rome
"Chris!"
Jim Rome got burned.
22. Derek Anderson
"It's not funny, it's not funny—nothing's funny to me."
I bet he thought this was funny.
21. Nicole Richie
"You got a favorite Laker?"
Then Vanessa Bryant stopped beating Khloe Kardashian and pulled out a gun.
20. Random Singer
Ouch, the double-whammy.
She forgets the lines and she falls on the ice.
19. Floyd Mayweather Jr.
Fast-forward to 0:55.
Mayweather was about to put his gloves back on and fight Larry Merchant.
Who else sees "Pretty Boy Floyd" as an auctioneer when he retires?
18. Eli Manning
After telling San Diego and the national media that he would refuse to play for the Chargers, Manning was drafted by them anyway.
As Eli's trying to force a smile, Paul Tagliabue's thinking, "Take that, you stuck-up little brat."
17. Kevin Borseth
"That's how I feel!"
I didn't think anyone could get that intense over women's basketball.
16. Terrell Owens
"That's my quarterback."
Whenever Jeff Garcia and Donovan McNabb need a good laugh, they watch this clip.
15. Pete Rose
If athletes and coaches voted for their most hated interviewer, Jim Grey might be a unanimous decision.
"This is a prosecutor's brief; it's not an interview."
14. Boomer Esiason
TV: $400. Cable: $60 per month.
Seeing Dan Marino's death stare: Priceless.
13. Kellen Winslow
"I'm a !@#$%& soldier!"
All football players should think like Kellen Winslow.
12. Jim Marshall
I want to know what that 49ers player said to Marshall after he threw the ball out of the end zone.
I bet Marshall had a hard time playing "pin the tail on the donkey" as a kid.
11. Mike Gundy
"I'm a man! I'm 40!"
If whoever wrote the article was at that press conference, they were probably ready to crawl in a hole.
10. Bob Huggins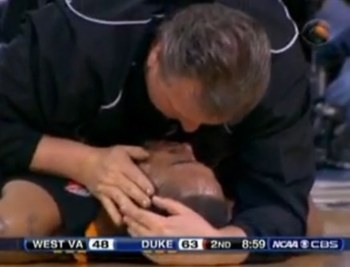 I'm not trying to make fun of the situation at all.
It's still awkward—not funny, but awkward.
9. Joe Namath
"I couldn't care less about the team strugg-l-ing."
Joe Namath may be different sober, but when drunk he's just like every other drunk.
8. Gus Frerotte
How'd you get hurt, Gus?
Well, see, I scrambled away from the rush, dodged a linebacker or two and as I dove for the pylon their safety hit me head-to-head...But I still got in; check the box score.
7. Bill Gramatica
How'd you get hurt, Bill?
Well, see, I was kicking a field goal when the defender dove for the ball trying to block it and he took out my leg, but I still made the kick despite the contact; check the box score.
6. Hal McCrae
Nobody ever told Hal that there are no stupid questions.
The guy who appears 56 seconds in asked the stupidest question.
5. Random Boxer
Don't touch my baby!
Not because of age, not because of head injuries. This boxer retired because of embarrassment.
4. Ellis Lankster
Again, I'm not trying to make fun of the situation, especially if he has a speech impediment.
It's awkward—not funny, but awkward.
3. Kelly Tilghman
Are you serious?
I know it was unintentional, but just wow.
2. Mike Sanford
He's like a little kid who won't move until he gets his way, except this little kid has a receding hair line.
"I need to speak to the athletic director!"
Keep Reading