Sexiest NFL Fan Bases: Playoff Edition
The NFL playoffs are now underway. Many teams have packed up their gear until next season while those teams fortunate enough to make it into the post-season are getting ready for some more football.
But what about the fans? Actually, the better question should be, what about the sexy fans? Which playoff team possesses the hottest of them all? Who stocks their stadiums with beautiful woman?
You are going to have to read on to find out. All I can tell you is that the top three teams ran away with this thing. It was not even close.
So if you are looking for something to do for the next few minutes, why not check out the Sexiest NFL Fan Bases: Playoff Edition?
Begin Slideshow

»
This is it! This is all the Seattle Seahawks bring to the table?
Do not get me wrong, body paint is hot, almost always, but this is the only thing I could possibly find to represent the Seahawks sexy fan base. I am not sure if the women are hiding are they just do not exist.
Before you start commenting, back it up with a little proof because I can not find any. So just like in the real world, the Seahawks back into the slideshow by default.
Due to the lack of sexy fans in Green Bay, sorry Wisconsin, I had to use a place holder for the Packers.
I do not think many people will argue with me that Jaimie Edmundson is hot. This past year she modeled for a new line of NFL clothing and for that we thank her.
At least they are not wearing jackets. It was truly hard to find nice representation out of a city that is usually freezing cold during the football season.
The hottie on the left is not only hot, she has the ability to palm two beers in one hand, nice.
Once again, a lack of sexy fan photos available online leave me to use the always beautiful Jaimie Edmundson.
I am not sure why there is not a lot of photos of the beautiful women in Baltimore. I have been there and I can easily say that there are bunches of them at the Ravens games. They just never seem to get in front of a camera. Maybe next time I will make my own photo album.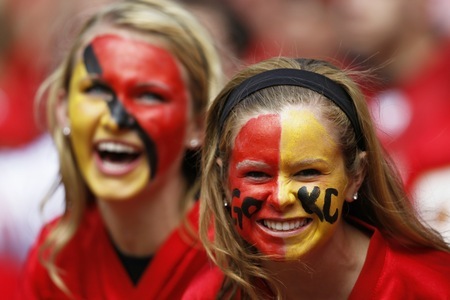 Whether you are doing the tomahawk chop or the yelling to the song Rock and Roll Part 2, being in Arrowhead stadium during a Kansas City Chiefs game is crazy.
It is one of the greatest venues in sports with the most loyal fan base I have ever seen in the NFL, sorry Saints fans.
When beautiful women start to paint their faces in red and gold, you know they are loyal. It was hard to find a good looking woman in Chiefs gear without her face painted.
When the best player in your team's history marries a Victoria's Secret Angel named Gisele, you get bumped up a few spots.
I wonder what he will do next?
Everyone loves body paint.
If body paint were an Olympic sport, she would be a Gold Medal.
If you have a problem with beautiful women wearing almost no clothes, playing in sand, while sporting a football jersey cut off around her chest, then this is not the slide for you.
The Atlanta Falcons fan base is represented by this beautiful blonde but she is only the beginning. There are plenty more hottie in the 404 to go around.
The fans might be mean. The city might be historic. The team might be one of the best in the NFL this year.
But none of that matters when we are looking at sexy women. It is like we forget about all the negative things in life when someone like this beauty walks into a room.
Nicole Scherzinger, my favorite person ever, is a Jets fan. That is the greatest piece of news I have ever heard in my life.
I now have another reason to use her beautiful self in one of my articles, hell yeah.
I think Rex Ryan should change his fetish from feet to ass.
There is more fine tail running around the city of New York than a dog show in Georgia.
You already know what I am about to say but I want to say it anyways.
DAMN!
I said earlier that body paint is something everyone loves. If you were one of the few to disagree, maybe you should reconsider.
I have given more than enough evidence to prove my theory that body paint is the greatest thing known to man. Thanks.
Heather became famous from wearing a shirt that said, well, "F**K Da Eagles" during the 2006 NFC Divisional playoff game between New Orleans and Philadelphia.
The shirt mentioned above was not censored when the camera first picked it up and that is when the internet buzz around her went crazy.
Thank goodness she was hot, otherwise it would have been a wasted moment in sports television.
Some will say that she is one in a million but I live in New Orleans. I have been to several Saints games in the past and present and I have seen many just like her.
I wonder if anyone in that entire section knew what the final score of the game ended up being?
Until another team can produce fans at a higher level of sexiness, the Pittsburgh Steelers fans shall own the top spot.
There is not another team in the NFL that could compete with the amount of beautiful fans of the Steelers. There are several teams that come a distant second.
Who needs side boob when you have a tiny jersey?
Does this picture help out my argument that Steelers have the sexiest fans?
How about a hot blonde wearing a school girl outfit, donning the Steelers gear, and laying on a bed?
If this picture does not prove my point about the hottness of the Steelers fans, I am not sure what else I need.