Emmanuel Adebayor: Love Him or Hate Him, the Guy Has a Heart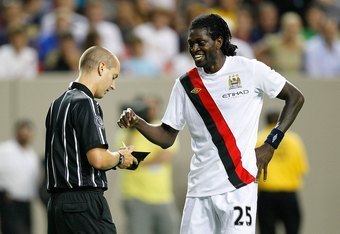 Sk
Kevin C. Cox/Getty Images
Emmanuel Adebayor burst onto the scene with a scintillating season at Arsenal where he was openly compared to Thierry Henry, in the fluid and graceful way he moved on the pitch and for his goal scoring exploits. What followed was the classic tale of ego explosion, a condition linked almost inextricably with a fading of sorts. His play became labored, and his team mates disaffected, as the player thought himself bigger than the game and fundamentals such as loyalty to a club and manager.
Shipped out to the mercenary crew that is Manchester City, he enjoyed success again for a time, before a change of manager and injury curtailed his first team activities.
Perhaps the most notable thing that has occurred in football over the period since the Togo player left Arsenal was the tragic shooting that took place on the Togo team bus as they traveled to the African Cup of Nations. Arsene Wenger has even come out recently saying that Adebayor was profoundly affected by the incident, which gives rise to the idea that perhaps the formerly errant and disrespectful player turned to his former mentor for words of comfort or even apologized, perhaps. You would like to imagine so anyway.
The Togo teams goal keeper Kodjovi Obilale was paralysed by a bullet that struck his spine and has had to endure all manner of hardship and hard hearts in his plight as he has struggled to rebuild his shattered existence. Thankfully, he has made good progress and has even been given compensation in his new life by FIFA, though the CAF have offered little in the way of support so far.
The goals that gave him Arsenal's adoration.
Someone who has offered support however, is the much maligned Adebayor, who has shown here that he is human after all, contrary to a lot of the abuse and rabid rhetoric he has been subjected to by sore Arsenal supporters. His compassion and brotherly care demonstrate something that is often lost in translation in the modern sporting world—the humanity of those players that become idols.
The pedestal they are placed on is high and if they dare to disappoint, they become instant pariahs, rejected and loathed, to the point of outright hatred. Here is a glimpse into the other side of the passion Adebayor showed when he raced the length of the field to celebrate in front of the Arsenal support on the occasion his new club shot down his old one at Eastlands.
After all, did not that incident really show that the fellow was hurt? Hurt by the words spoken about him in the aftermath of his departure from London and the club and manager who gave him the biggest break of his fledgling career. Words that in some ways can be justified as the player had certainly suffered from delusions of grandeur in regards to his importance to Arsenal. Still, the anger was there for the player, and he showed his humanity in the way the angered often do, with an act of vengeance.
All this is past though, and the player has had a sobering few years since his heyday in Arsenal's colors. The terror and tragedy of the militant attack on a peaceful group of sportsman will be with him forever, as will the sadness for his teammate Obilale. Adebayor has assisted financially in his teammate's recovery and maintained contact and friendship with the former goal keeper, throughout his ordeal.
Adebayor himself, is again at a major point in his career as the years roll over, the opportunities at City have just been limited further by the acquisition of Edin Dzeko so it would be expected that Adebayor will move elsewhere to re-ignite the flickering flame that is his prematurely burnt out career.
It would certainly be a good thing if we are able to see Adebayor back to his graceful yet bristling best—the player at times during his peak moving with the grace of a big cat and with the razor sharp reflexes of a Nile crocodile. An excellent striker capable of scoring and setting up goals, he has certainly had time to reflect on how deluded he became during the time of his greatest fame.
Several prominent clubs are rumored to be interested in the acquisition of the powerful and rangy front man, and it will be interesting to see where he decides to make his second bid at glory.
It would be hoped, and it does seem that age is maturing the hot-headed young man that he was known as. Mind you, the fight at training he had recently would say otherwise, though it can be said, that in certain team situations when one is on the outer of a group of players, tempers are easily frayed.
Also, competition is at the heart of the game, and therefore, it is often seen that competitors are quite combustible when it comes even to their teammates. This type of incident is not new to sport, but the levels of modern media coverage would make it seem so.
It would be good to see him regain his temperament for the artistic expression that is football. For this player could certainly have something else to give the beautiful game. It would be a pity if the footballing masses missed out on the chance to witness the player's full recovery from the life-changing few months he has endured.
This article is
What is the duplicate article?
Why is this article offensive?
Where is this article plagiarized from?
Why is this article poorly edited?