NFL Playoff Predictions: Upsets, Bold Picks and Shockers for Wild Card Weekend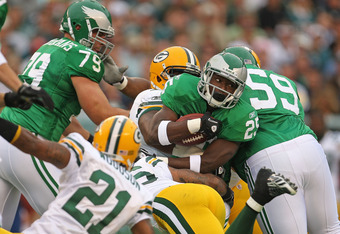 Mike Ehrmann/Getty Images
NFL Playoff Predictions for Wild Card weekend can take many forms. The action in all four of this weekend's games should be fast and furious.
It'll get off to a rousing start on Saturday afternoon when the NFC West champion Seattle Seahawks (yes, you heard that right) play host to the defending Super Bowl champion New Orleans Saints. And it'll come to a dramatic conclusion on Sunday night when the NFC East champion Philadelphia Eagles battle it out with the Green Bay Packers.
So sit in front of the biggest TV you can find, get your beer and bratwursts ready and prepare to take in all the action of one of the year's best sports weekends. Sure, it's also just the second sports weekend of the year, but trust me, no matter what else happens in the months ahead, this'll still be up there by the end.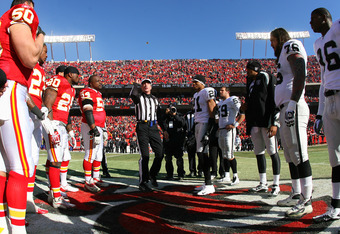 NFL Playoffs 2011: One potentially decisive factor in every NFL Playoff game this season is the fact that the overtime rules have been changed.
It's an issue that got a good amount of attention back in the offseason when the new rule was first implemented by the NFL's Competition Committee, but has since been largely forgotten. Teams would be well advised, though, to keep the new rules in the forefront of their minds should any of this weekend's contests require an extra session.
Remember last year's NFC title game? If that game had happened this year, the Saints would not have won. At least, not the way they did. Now, a game cannot be won on the first drive of overtime by a field goal. In that case, the other team would now get a chance to match, or one-up, the field goal. If the other team proceeded to score a touchdown, they would win. If they scored a field goal, the game would revert to sudden death.
This limits the power of field goal kickers to win games, and will force teams to make more of an effort to score a touchdown when they get the ball after the coin toss. Count on the outcome of at least one January game turning because of the new rule.
Here are some other interesting rule change propositions.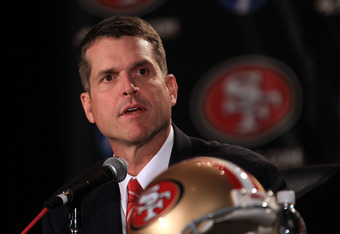 NFL Playoffs 2011: Jim Harbaugh has been casting quite a long shadow over the postseason proceedings.
Now that the news of his signing with the San Francisco 49ers is official, it doesn't mean that we're done with the chess game that is the NFL's coaching carousel.
After all, Harbaugh's jump to the pros wasn't even the first major coaching change to take attention away from this weekend's on-field proceedings. Earlier this week, the news broke that Chiefs offensive coordinator Charlie Weis will leave the team at the conclusion of their playoff run to return to the college ranks with the Florida Gators.
Who's next? Perhaps it's Saints offensive coordinator Gregg Williams. As a coach on a team involved in Wild Card Weekend, he's not eligible to interview with another NFL club until next week, but there are already rumors of strong interest in him by the Denver Broncos.
Distractions are the last things players trying to focus on a title run need, but they've become something that players, and fans, have had to get used to. And there are still more pieces in motion.
NFL Playoffs 2011: Three out of the four games on this Wild Card Weekend are scheduled to take place outdoors.
The first week of January can always be an unpredictable time, weather-wise, in most NFL cities, and this weekend is no exception for Seattle, Kansas City, and Philadelphia (never mind you people in your climate-controlled fake-box in Indy. This is football people, not ballet).
Count on things being cold, but not as rainy or snowy as they could be this time of year. There might be some showers at Qwest Field on Saturday, but nothing that will impact the game to any large degree.
For Arrowhead Stadium on Sunday, the forecast calls for a chance of some flurries, but probably not enough to even show up on anything but the largest HD screens. Temperatures right around freezing, but we're not talking the Ice Bowl, here.
As for Lincoln Financial Field that night, there could be some snow on the ground (read: sidelines) by gametime, but the biggest potential disruptor may just be the wind, with gusts expected to be in excess of 20 mph.
Of course, casting an eye further down the road, weather may become much more prominent of a story.
NFL Playoff Predictions: Wild Card Weekend used to be an exercise in futility.
It was always fun and entertaining, but in the end, the teams that played this weekend rarely mattered when it got down to it. Getting a first round bye is rightfully considered a huge advantage, because in addition to being able to rest an extra week, you're guaranteed a home game in the divisional round, as well.
But teams who don't get the benefit of such a break have become increasingly successful at navigating the gauntlet of three conference playoff games, often all on the road. Even though last year's matchup didn't feature a team from Wild Card weekend, both the Colts and the Saints will be playing during this year's first weekend, and both have as good a shot as any team of making it to Dallas.
Going back further than last year, a team from Wild Card weekend had made the Super Bowl in four straight seasons, and won it all three straight times, from 2005 to 2007 (Steelers, Colts, and Giants, respectively).
Then again, I could be wrong.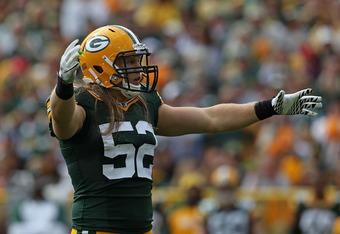 NFL Playoff Predictions: Clay Matthews leads a Packer defense that gave up the fifth fewest yards, and second fewest points in the league this year.
So much hype has surrounded the offensive side of this matchup, that something very important has gone largely overlooked: the Eagles have struggled this year when their quick strike offense has faltered. They're only as good as that offense, and will only go as far as that offense can take them.
Teams that can stop it, like the Packers showed in Week 1, can find success. And with Matthews providing pressure to the tune of 13.5 sacks, and a secondary led by the still excellent Charles Woodson and the ever improving Tramon Williams and his six interceptions, I see Green Bay keeping things close enough to allow Aaron Rodgers and company to manufacture just enough offense to pull off the upset.
But don't just take my word for it.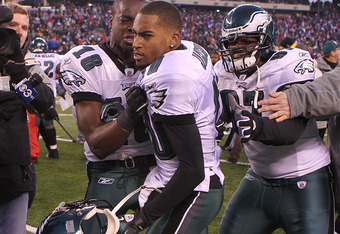 NFL Playoffs 2011: DeSean Jackson hails straight from the land of video games. He lines up all over the field, and whenever he touches the ball, he's got a chance to take it to the house.
If he can just stay out of his own way long enough, he can truly fulfill his promise as one of the most electrifying players in the league. Of course, that's a big if, as Jackson has a history of drawing attention to himself in immature displays of cockiness.
But maybe, just maybe, head coach Andy Reid can get him to just play the game of football enough to make himself stand out simply for his eye popping stats, and nothing else. Like his league leading 22.5 yard per reception average this season. Jackson shines the brightest when the spotlight is the biggest, so watch out for another YouTube worthy clip from him on Sunday night.
Of course, he's not the only potential mismatch as we head into the playoffs.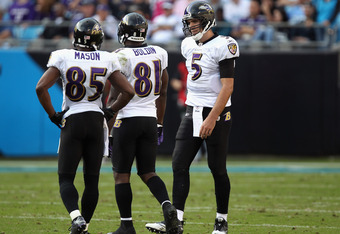 NFL Playoff Predictions: Anquan Boldin, Derrick Mason and T.J. Houshmandzadeh provide the Baltimore Ravens with as venerable a one-two-three punch as any receiver tandem in the league.
They're not as flashy as some other combinations (and they don't have as entertaining nicknames or Twitter feeds), but they do get the job done. Boldin, 30, Mason, 36, and Houshmandzadeh, 33, aren't spring chickens anymore, but none of them is showing signs of slowing down.
They provide quarterback Joe Flacco, 25, and running back Ray Rice, 23, with the savvy and leadership needed to balance out this talented but otherwise unproven offense. Individually, their numbers are down, especially Housh's, but collectively, they're stronger than ever. It's like plugging a leaky dam: Shut down one, there's two more waiting to break loose.
No, they're not quite the Celtics' big three of Paul Pierce, Kevin Garnett, and Ray Allen, but Batimore fans will take their own big three if they can help get the team where they want to be: Dallas, next month.
First, they'll have to handle a capable Chiefs secondary led by Brandon Flowers. Here's how they'll do that.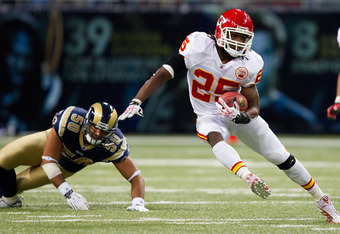 NFL Playoffs 2011: Jamaal Charles split time in the Chiefs backfield this season with veteran Thomas Jones.
Knowing that fact, it's even more remarkable, then, what Charles accomplished, finishing 2nd in the league with 1,467 rushing yards, and averaging a staggering 6.38 yards per carry, one of the best averages in NFL history.
Those numbers were a big reason the Chiefs led the league this season with 164.2 yards per game on the ground, and went 7-1 in the friendly confines of Arrowhead Stadium, where they've always enjoyed one of the best home field advantages in the game. (Of course, their passing offense was ranked 30th, but we won't talk about that here).
He'll need to continue to be spectacular for the Chiefs to have a chance against the Ravens on Sunday. Baltimore has the fifth best run defense in the league, and will be trying for force playoff neophyte Matt Cassell to beat them.
Of course, Charles' numbers weren't the only remarkable ones in this NFL season.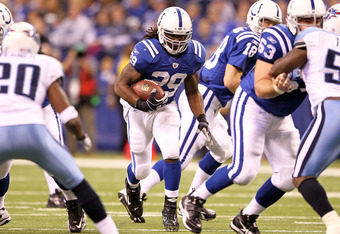 NFL Playoff Predictions: Joseph Addai, and his backfield partner Dominic Rhodes, will have to actually make an impact in the playoffs for Indy to succeed.
Peyton Manning usually has to do it all by himself. Neither runner surpassed even 500 yards on the ground this season, and Addai has battled injury problems and ineffectiveness.
The Colts boast the top passing offense in the league this year, with over 288 yards per game. But they are only ranked 29th in rushing, at just 92.7 yards per game. Combine that with the Jets third ranked run defense, and it doesn't bode well for Indy.
That will have to change for the defending AFC Champions to advance. The Jets are going to be keying on a defensive mantra of not letting Peyton beat them over the top, like he did a year ago. But if the Colts can establish the run early, it may open things up just enough to make a difference.
Despite his importance, this might be his last hurrah in the Hoosier State. Here are some ideas of where he'll end up.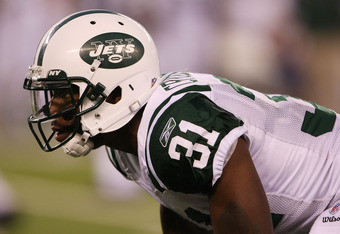 NFL Playoffs 2011: Antonio Cromartie will have a huge burden on his shoulders in Indianapolis.
With All-World Darrelle Revis lining up on one side of the Jets defensive backfield, Peyton Manning is likely to shy away from targeting whoever he's covering, and will focus more of his attention on trying to attack Cromartie.
Now, Cromartie is certainly no slouch, as a former All-Pro himself who led the league with 10 interceptions in 2007, and snatched three more this season. But he will get the lion's share of balls thrown his way in this one, nonetheless. Good thing he's already played a game in which he picked off Peyton Manning three times.
Last year, the 'other' corner is where things eventually fell apart for the Jets in their 30-17 AFC Championship game loss. This year, having Cromartie balancing the equation gives them extra confidence.
Just, uh, make sure you don't ask him about the food.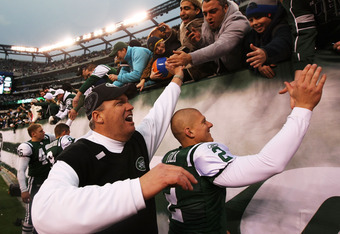 NFL Playoff Predictions: Rex Ryan is already well known for his, how to put this, 'colorful' nature. Well, expect him to be at his Crayola best on Saturday night.
The Jets are headed to Indianapolis to take on the Colts. For those with extremely short memories, that's significant because it's the same matchup, in the same place, where the Jets season ended a year ago.
If you recall further, the Jets actually led that game 17-6 late in the 2nd quarter before the wheels fell off and they succumbed to Peyton Manning's pinpoint passing attack.
Don't bet on the same thing happening this time around in the rematch. The Colts are good, but one thing they aren't is surprising. You can see them coming from a mile away. And when you're an NFL coach, and your last name is Ryan, you had better be able to plan killer defensive schemes to stop even the most creative of offenses. They won't be blindsided again.
And here are some reasons why they could keep rolling.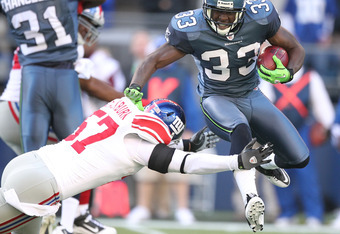 NFL Playoffs 2011: Leon Washington is a guy who hasn't quite cracked the general public's consciousness just yet, but if you follow football, you should be paying close attention to him.
Why? Well, a couple of years ago with the Jets, he led the league in all-purpose yards, with 2,337, made the Pro Bowl and was named first team All-Pro.
This year, he's the Seahawks most dynamic player, having returned three kickoffs for touchdowns, and boasting seven return TD's now for his career. He's arguably the most dangerous return man in the game not named Hester.
The one area where Seattle has a distinct advantage over New Orleans is on special teams, where the Seahawks rank third in the league (and the Saints are a mediocre 22nd). Leon Washington will be looking to make a big play to change the momentum of this game.
For his sake, though, let's hope he doesn't do this again.
NFL Playoff Predictions: Drew Brees and the Saints offense hasn't been as infallible this season as they had been in recent years. While New Orleans led the NFL in both points and yards in both 2008 and 2009, they rank just sixth in yards and 11th in points this season.
That shortcoming leaves a little crack of hope, which the Seahawks must try to use as leverage. Seattle defensive coordinator Casey Bradley will still have his hands full, however, trying to craft coverages to counteract the Saints still effective attack.
Drew Brees remains the difference maker. He's yet to lose a playoff game as a member of the Saints, and he's so comfortable in this offense that he never seems rushed. The storm will be raging around him, but he'll sit in the eye of it and not blink.
His only problem this year has been the interceptions. They doubled this year, from just 11 in 2009 to 22 in 2010. But he'll be focused on on his game tomorrow.
Or, you know, this could happen.