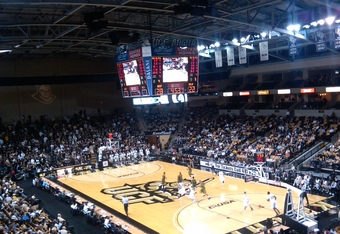 Tonight, the undefeated UCF Knights open conference play when they host Marshall at 7:00.
The Herd is looking forward to facing the coach who left them last year to lead a division foe. Some are not too pleased and not afraid to say so.
"When we go to UCF and get this win, it's going to be big for us because we beat a top-ranked team. And it's going to be big for the fans because they want us to beat Donnie Jones. It's going to make everybody happy." -Marshall player Tirrell Baines
Marcus Jordan, Keith Clanton and co. will have something to say about that.
UCF will inbound the ball with :49 to play and a 61-55 lead over Marshall. 49 seconds away from 14-0 and a 1-0 Conference USA mark.
Clanton is foulde with :42 left. He iises the first but makes the second one. 7 point lead. After the teams trade free throws (no I don't know why UCF is fouling) Marshall cuts the lead to 5 with a Higgins jumper.
63-58 with :21 on the clock. Marshall calls a timeout.
Clanton fouled with 16 to play and he hits two free throws. Knights up by 7.
And that is your final score. UCF 65 Marshall 58!!
Jordan scores 26 points to lead the Knights. Keith Clanton chips in 14.
Herzog contributes 9 rebounds and four blocks.
UCF is now 14-0. Marshall is 10-4. UCF is 1-0 in C-USA while Marshall is 0-1.
Teams trade buckets to make it 58-50 with 2:44 to go. Foul on Jordan will send Johnson to the line. He hits one of two. Now a turnover by UCF and a foul. What in the world? Dago hits two free throws while the clock is stopped. 5 point game now. 58-53.
Teams trade buckets so it's now 60-55 with 1:29 left. Time out Marshall. UCF will have the ball and a five point lead with 1:29. Time to put the ball in Marcus Jordan's hands. He is an excellent free throw shooter under pressure.
And that's what happens as Jordan hits one of two to make it 61-55. A three pointer missed and UCF gets the rebound!! :49 to go and UCF calls timeout.
53-48 with 4:27 to go after a Sykes free throw. Baines misses a layup, Herzog rebounds. Marshall foul. Media timeout with 3:53 to go.
Herzog with a BIG BLOCK! Layup by JORDAN! 8 POINT LEAD!!
UCF goes on a 6-1 run to take the lead at 47-46 with just ubder 7:00 to go. A three point play on a layup and fould by Marcus Jordan gave the knights the one point lead.
A steal by Clanto and a three from Sosa give the Knights a four point lead 50-46! Time out Marshall!
5:41 TO GO. UCF 50 MARSHALL 46!!
Could it be another late rally for the Knights?
UCF is in the bonus and only has three teams fouls. So we'll see if that becomes an advantage as the Knights will shoot free throws on every Marshall foul.
UCF hits three free throws off two Herd fouls and it is now a 42-41 game. The Knights are now in the double bonus with over 10:00 left.
With 8:00 go it's 44-41 Marshall after a jumper by Shaquille Johnson gave the Herd its three point lead. Rompza misses yet another three but Clanton gets the offensive rebound and is fouled. He will go to the line to shoot two shots. Time out with 7:53 left.
Herzog blocks a shot and it turns into a Clanton layup to cut it to one point. Herzog then grabs a missed three point attempt.Isaiah Sykes gets fouled and hits one of two from the charity stripe to tie the game 33-33.
Back to back layups by Marshall's Pena and Baines give the Herd a four point lead again. 37-33.
Action getting fast and furious now as the teams trade fast break buckets. Score is 42-38 Herd with 11:16 to play.
UCF needs to settle down and stop jacking up threes. Get the ball in to the paint and then kick it out if it's there.
Isaac Sosa scores the first points of the second half after nearly 3:00 go off the clock to give the Knights a 30-28 advantage.
Damien Pitts then answers with a three pointer for Marshall to give the Herd a one point lead.
Shaquille Johnson hits a jumper to make it a three point game. at 33-30.
Halftime stats as you can imagine are pretty dead even. Marshall is 11-27 from the field while the Knights are 12-27.
UCF holds a slim 16-15 edge in rebounds. Points in the paint is dead even at 18-18. Points off turnovers is also at 5-5. UCF has 7 turnovers to Marshall's 6.
UCF has apparently put a target on its back with the 13-0 start. These conference teams are gearing up for the Knights. They better get used to playing with a bulls eye strapped to their backs. These conference foes are none too impressed.
From my keyboard to Jones' brain. Herzog checks in.
Tempo picks up a bit as the teams are trading layups. Score is 23-23 at the 4:55 mark
Baines is backing up his words with 10 points thus far.
Deandre Kane hits a layup and is fouled by Clanton. He will go to the line to try and give Marshall a 3 point lead with 3:31 to play.
Free throw good. 26-23.
The two teams are now getting a bit three happy as each miss a pair following a Jordan layup. Timeout Marshall with a one point lead.
UCF takes a one point lead at the 1:31 mark on a dunk by PJ Gaynor.
Two free throws by Marshall's Johnson gives the lead back to the Herd.
UCF is shooting free throws with :27 left. in the half with Marshall up 28-27.
Rompza hits one of two to tie it at 28-28.
Halftime: Marshall 28 UCF 28.
Score now 16-14 UCF with just over 11:00 to play in the first half. Isaac Sosa has hit a pair of threes to give the Knights the first lead of the game.
Jordan hits a layup to make it 18-15 UCF with just over 9:00 to go in the half. A dunk by Marshall's Johnny Thomas cuts it to a one point lead.
Baines dunks another one home for the Herd to give the Herd the lead again at 19-18. Clanton turns the ball over and with 7:13 to go it's Marshall with the ball and a one point lead.
UCF better get Herzog in the game to stop the Marshall dunk fest.
UCF is off to another slow start offensively. Marshall leading it 8-6 at the 14:25 mark of the first half. Jordan has 4 points so far for UCF. Baines has 6 for Marshall.
Clanton has now made his first bucket of the night. Score is 10-8 Marshall at the 13:00 mark.
UCF is really going to have to work on getting better starts. They are really a second half team so far this year.
This article is
What is the duplicate article?
Why is this article offensive?
Where is this article plagiarized from?
Why is this article poorly edited?