Rich Rodriguez, Jim Harbaugh, Andrew Luck and Wednesday's Top Sports Stories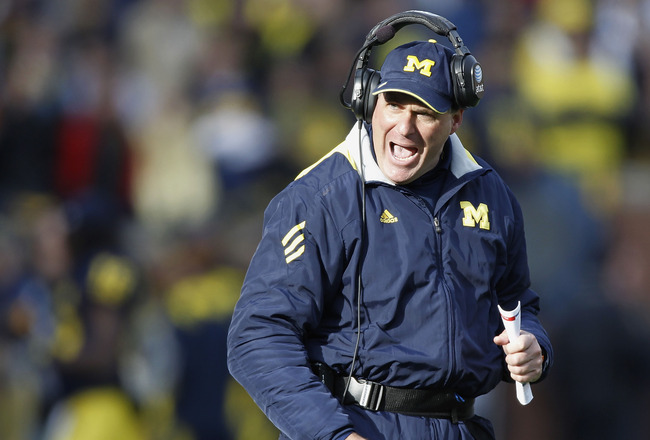 Gregory Shamus/Getty Images
Rich Rodriguez is OUT in Michigan, Andrew Luck begins to contemplate the NFL and Jim Harbaugh speculation begins.
The Michigan Wolverines football program finally let go of head coach Rich Rodriguez. After three seasons at the helm, and amid recent rumors that the coach was out, the announcement was finally made today.
Rodriguez had been meeting with Michigan athletic director Dave Brandon since early yesterday morning. When the meeting continued today, Rodriguez was dismissed from the program.
Andrew Luck's performance in the Discover Orange Bowl only fueled the draft speculation fire. Stanford's dominance of Virginia Tech is perhaps the best evidence that Luck will not be returning for his junior season with the Cardinal.
Les Miles was unable to attend an AT&T Cotton Bowl press conference due to downed power lines Wednesday, but that isn't the biggest story for the LSU head coach. With Rodriguez out in Michigan, whispers along the rumor wires say Miles may be interested in the job. For now, he will focus on getting the Tigers a BCS victory over Texas A&M.
Jim Harbaugh is likely NFL-bound, and it appears the most sensible selection is to remain in the Bay Area. Both the Oakland Raiders and San Francisco 49ers have vacancies, so Stanford faithful shouldn't be holding their breath.
Arsenal vs. Manchester City is underway, but questions have arisen over the health of Łukasz Fabiański, who appears to have injured his shoulder on a diving save during warm-ups.
He is currently in the game, but appears to still be nursing his shoulder. If it gets any worse, back-up Goalie Wojciech Szczesny may have to lace up his gloves.
One site calls Szczesny a "minute-by-minute reporter's nightmare," so it may be vital for Fabiański to remain in net for Arsenal.
Here are the starting lines for both teams:
Arsenal: Fabianski, Sagna, Djourou, Koscielny, Clichy, Song, Wilshere, Fabregas, Nasri, Walcott, van Persie.
Subs: Szczesny, Rosicky, Denilson, Squillaci, Arshavin, Chamakh, Bendtner.
Man City: Hart, Richards, Kompany, Toure, Zabaleta, De Jong, Barry, Toure Yaya, Milner, Tevez, Jo.
Subs: Given, Bridge, Wright-Phillips, Adam Johnson, Boateng, Lescott, Vieira.
Referee: Mike Jones (Cheshire)
Team Colors: Manchester City: Blue and White, Arsenal: Red and White
The game is currently scoreless, 26 minutes into the first half.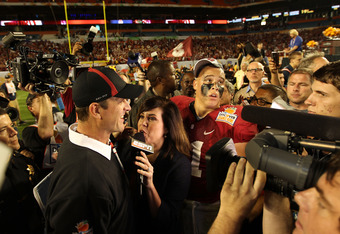 Jim Harbaugh has been linked all over the place, but seems to be more likely headed to the NFL. The latest rumors seem to be the product of recent news more than sound reasoning.
With the dismissal of Rich Rodriguez in Michigan, Harbaugh's name is now intertwined with the possibility of him returning to where he played his college ball.
However, Michigan athletic director Dave Brandon has fielded questions regarding Harbaugh with the same responses, stating he expects Stanford's head coach to elect to take a position in the NFL.
The Washington Post quoted Brandon at the press conference to announce Rodriguez's firing:
"I personally believe Jim Harbaugh is headed to the NFL. My personal belief is that Jim Harbaugh is going to end up with a really, really challenging opportunity in the NFL."
Brandon continued to say he has had discussions with Harbaugh, and will continue to do so. However, the discussions aren't serious, and at this point there is no pending announcement of Harbaugh's decision.
What the 2011 College Football Top 25 Could Look Like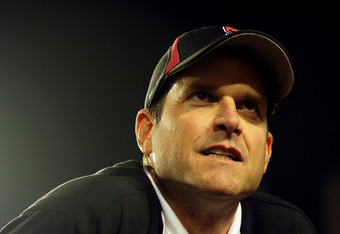 Jim Harbaugh may be headed to the San Francisco 49ers. The Stanford head coach certainly made a statement in the DIscover Orange Bowl, pummeling the Virginia Tech Hokies in a 40-12 win.
Along with Harbaugh's likely departure, Stanford QB Andrew Luck could be on his way out as well. It appears Carolina's decision to hold on to the No. 1 pick hinges on Luck's decision, while Luck's decision may hinge on the influence of Harbaugh's coaching decision for next season.
Meanwhile, a large part of the negotiations between Harbaugh and the 49ers revolves around the head coach's access to personnel moves. The 49ers and Harbaugh are set to meet today to discuss the job. At the same time, there has been speculation the 49ers are the front-runners over the Oakland Raiders and Carolina Panthers, given their proximity to the Bay Area and Palo Alto.
Harbaugh attended Palo Alto High School, so it makes sense that he would stay close to California's Bay Area with the 49ers, and an outside chance with the Raiders. Some are saying Harbaugh and Luck could reunite in Carolina, but that seems to be more wishful thinking than solid prediction.
Who Would Be the Top College Football QBs in 2011?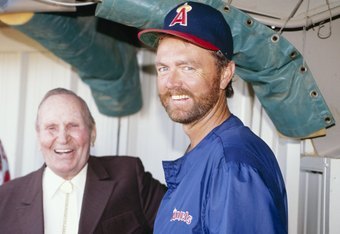 Bert Blyleven and Roberto Alomar are the newest members of Pro Baseball's Hall of Fame. Blyleven received 79.2 percent of votes while Alomar received an even 90 percent of the nod.
Notable players missing from the election were Jeff Bagwell and Rafael Palmeiro. Both players participated in the majors during the Steroid Era, but only Palmeiro was ever fingered for using performance-enhancing drugs.
Bagwell has been the focus of ESPN's fight for Steroid Era players who have never been linked to steroids, stating Bagwell's numbers are clearly Hall-worthy. Meanwhile, Palmeiro has over 3,000 career hits, adding 569 career home runs. His bold-faced lie to the U.S. Congress is still on the minds of Hall voters, with the now-famous finger wag in defiance looming as a constant reminder of what baseball had become.
Mark McGwire received only 19 percent of votes, despite his monster numbers. It appears Bagwell will not be the face of forgiveness yet, but he still has 14 years remaining on the ballot.
Alomar is a 10-time Gold Glove Winner, and was the front-runner for this year's class. Blyleven won 287 games in his 22-year career.
Bold Predictions for the 2011 MLB Season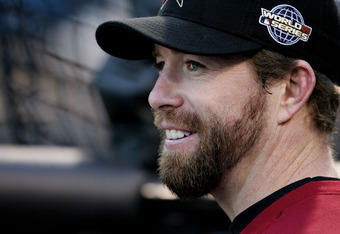 Baseball Hall of Fame voted against Jeff Bagwell and Rafael Palmeiro in today's elections. While Palmeiro was named multiple times as a steroid user, Bagwell has repeatedly denied using performance-enhancing drugs, and has never been found to have taken them.
Roberto Alomar and Bert Blyleven were inducted into the Hall today, and for Alomar, it was a foregone conclusion he would be voted in today anyway. For Blyleven, he was on the ballot for the 14th year of his 15-year eligibility.
Alomar is a 10-time Gold Glove winner and made 12 All-Star appearances. Blyleven won 287 games in his 22 seasons with the Twins, Rangers, Pirates, Indians and Angels.
Blyleven earned just over 79 percent of the vote while Alomar received an even 90 percent. The minimum for election is 75 percent, and neither Bagwell nor Palmeiro neared 50 percent when the votes were tallied.
Bagwell seems to be a victim of the era in which he played, surrounded by steroid users while gaining muscle mass. It appears Hall of Fame voters are still mulling the idea of allowing PED users into the Hall, as evident by Palmeiro's snub despite 3,020 career hits and 569 home runs.
Bold Predictions for the 2011 MLB Season
Ted Williams, a homeless man from Ohio with a "golden voice," may have a job with the Cleveland Cavaliers after becoming an overnight sensation when a video of him surfaced on YouTube.
The video shows Williams panhandling for spare change with a signs that tells the story of his golden voice. While looking rough and beaten down by the cold weather and perils of homeless life, Williams' voice is anything but beaten down.
Williams admitted to the camera that he was going to be a rising star in the industry before alcohol and narcotics ruined his life. The man is the walking embodiment of what can happen when substance abuse takes over.
However, this story may have a happy ending. Multiple reports are surfacing centered around Williams. He is scheduled to do several interviews with talk shows after being discovered on YouTube. The most recent rumor is a potential job with the Cleveland Cavaliers.
Here is a list of potential jobs for Williams, listed by AllAccess.com:
- Arena announcer for the Cleveland, including a salary and help with a home mortgage
- OHIO CREDIT UNION LEAGUE gave him $10,000 cash and a retainer deal for voicework
- ESPN is reportedly offering him a job
- MTV reportedly wants to discuss a reality series
- A free vacation trip to Hilo, HI to voice a commercial...and the list goes on!
The Most Stylish Players in the NBA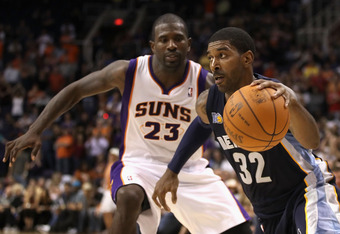 O.J. Mayo and Tony Allen were reportedly involved in a confrontation yesterday. The Memphis Grizzlies teammates got into an argument on the team plane because Allen wanted money Mayo owed him from a card game.
Mayo sat out Tuesday's game, and it was reported he was suffering from bronchitis. However, with the recent reports, his benching may have been due to the altercation. Allen, however, still played and recorded 19 points.
Things seem to be growing increasingly sour for Mayo in Memphis. He has gone from bona fide starter to irrelevant sixth man for the Grizzlies, who are turning on the jets as of late to gain the eighth seed in the Western Conference.
With the trade deadline nearing, Mayo's name could be entered on the Grizzlies' trading block. The Grizzlies are a prime suspect in trade talks, just a few games under .500 and close to making a run at the playoffs shortly before the All-Star break.
Lakers Trade Talks Also Heating Up?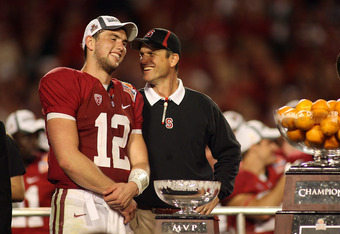 Harbaugh talks are in full swing, and thus far the NFL has the upper hand. The Oakland Raiders informed head coach Tom Cable his option will not be picked up, signaling the end of his tenure with the Black and Silver.
The San Francisco 49ers dumped Mike Singletary last week, perhaps in preparations for Harbaugh's promotion from Palo Alto.
Speculation has been looming since Stanford climbed the polls to No. 4 in the BCS. Following a drubbing of Virginia Tech in the Discover Orange Bowl, Harbaugh talks heated up to a boiling point. An impressive BCS blowout win is the perfect audition for an NFL job, and it isn't likely Harbaugh will return to coaching college football next season.
For Stanford, they stand to lose their head coach and star quarterback. Andrew Luck's 300-yard passing performance in the Orange Bowl solidifies his draft status as the potential No. 1 overall pick of the 2011 NFL Draft.
Ironically, Stanford's impressive win likely signals the end of an era. Luck will likely leave for the NFL, as will Harbaugh. Mysteries will abound for the Cardinal in the upcoming weeks, perhaps in the wake of losing their QB and head coach to the next level.
What the 2011 College Football Top 25 Could Look Like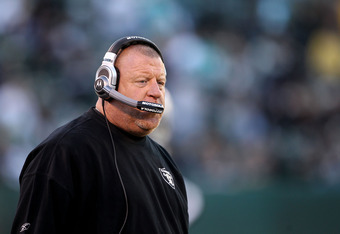 Oakland Raiders football is ever-changing, and with Tom Cable out, there are several strong options to replace him. Jim Harbaugh is all over the place in rumors that he will be headed to the NFL.
Both the Raiders and the San Francisco 49ers have coaching vacancies, and many insiders believe Harbaugh will stay in California's Bay Area, moving from Stanford in Palo Alto, to one of the NFL teams in Oakland or San Francisco.
Other candidates for the jobs in Oakland and San Francisco include Rich Rodriguez and Bill Cowher, although they are both considered as long shots. Rodriguez was let go as the head coach of the Michigan Wolverines today, amid speculation spanning the last few days. Cowher last coached in the NFL with the Pittsburgh Steelers in in 2006, but was recently in the news for reports of his return.
Cowher has expressed interest in a few teams, but no team anywhere near the Bay.
A Preview on College Football's 2011 Top 25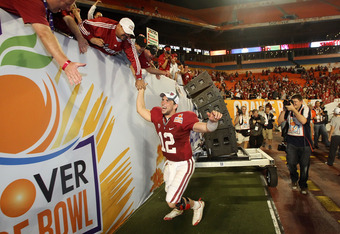 Andrew Luck is being hailed as a lock for the No. 1 pick in the 2011 NFL Draft. His 300-yard passing performance for Stanford in a blowout of Virginia Tech in the Discover Orange Bowl was perhaps the perfect audition for NFL scouts.
The Carolina Panthers were the worst team in the NFL this season, and now own the No. 1 selection. They have made no statements expressing any interest in forfeiting their pick, and the likely move would be to select Luck, after the "Jimmy Clausen Project" was declared a failure.
Should Luck elect to enter the draft, expect him to be in black and blue next year. Much of Luck's decision will sway on the choice of Stanford head coach Jim Harbaugh to leave the Cardinal, or stay in Palo Alto. There is a chance Harbaugh would stay in the Bay Area, but with the Oakland Raiders or San Francisco 49ers.
Carolina's decision to hold on to the No. 1 pick hinges on Luck. Luck's decision could hinge on Harbaugh, and Harbaugh's decision could come in the next week.
Who Are the Top College Quarterbacks That Could Return Next Season?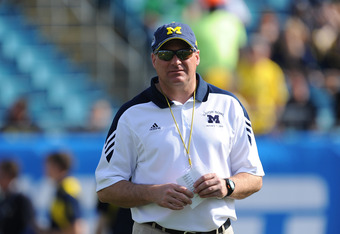 Rich Rodriguez is gone in Michigan, could Les Miles be the top candidate to replace him? The press conference to announce his firing is only half an hour old, but the turnaround in Ann Arbor could be swift.
While Miles is focused on the AT&T Cotton Bowl, Rodriguez will be remembered for one of the shortest tenures at the program since the 1920s, compiling a 15-22 record, and being served three years probation from the NCAA for practice and training violations.
A 52-14 loss to Mississippi State in the Progressive Gator Bowl was the final straw for Rodriguez, a fitting ending for the 7-6 season which started with so much progress.
San Diego State head coach Brady Hoke is another possibility for Michigan, if Miles is unwilling to leave LSU. The hang-up for Miles is the tremendous fanbase he would leave behind, but the prospect of returning to a program he was so successful with as an assistant coach may be a strong lure.
Other Record-Short Coaching Tenures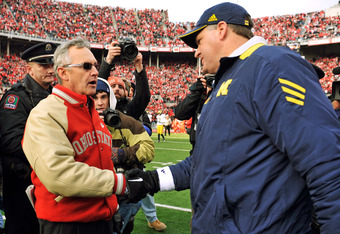 Rich Rodriguez was officially dismissed from the University of Michigan football program today, following two days of meeting with Michigan athletic director Dave Brandon.
Rodriguez finished his tenure with the Wolverines at 15-22 over three seasons, including a 2010 campaign which finished at 7-6 and ended in a 52-14 loss to Mississippi State in the Gator Bowl.
His sub-.500 record is overshadowed by NCAA sanctions stemming from practice and training violations from Rodriguez's staff. The result was three year's probation for the program.
Brandon scheduled a press conference on Wednesday for 12:30 pm ET to discuss the state of the football program under the direction of head coach Rich Rodriguez, and the the coach was officially dismissed.
The list of replacement candidates include Stanford's Jim Harbaugh, although he may be focused solely on the NFL. Les Miles' name is in the mix, although discussions on that front will likely intensify after LSU takes on Texas A&M in the AT&T Cotton Bowl. Mike Leach's name is everywhere as a replacement lately, but his pending lawsuit issues may hang up contract talks.
Denard Robinson and His 2011 Heisman Hopes