Jeff Fisher: 10 Reasons He Could Be the Best Coach Available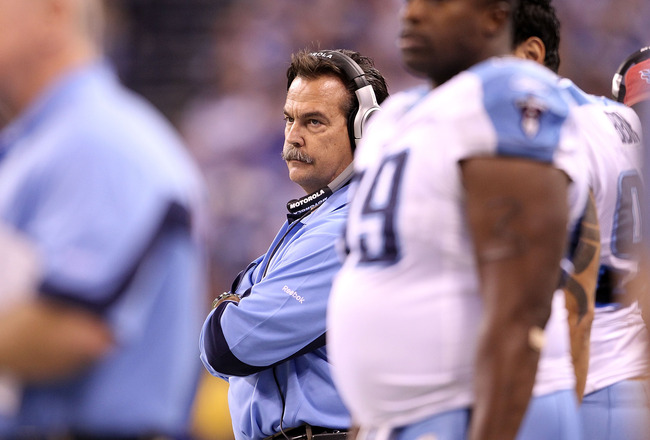 Andy Lyons/Getty Images
Tennessee Titans owner Bud Adams is reportedly contemplating the future of Titans head coach Jeff Fisher.
While Fisher might not have the flashy name that some teams are hoping to hire for their coaching vacancies, he is a solid head coach and could end up being the best coach available.
Here are ten reasons teams might want to take a better look at Fisher if he becomes available.
Let us know what you think about Fisher. Would you be happy if your team hired him?
10. One of the Best Mustaches in Sports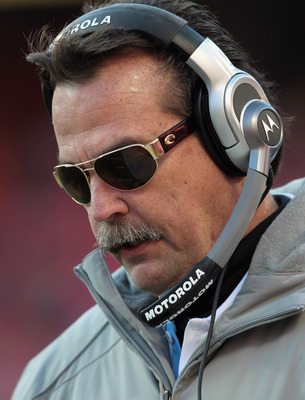 Jamie Squire/Getty Images
Obviously this has nothing to do with his coaching abilities, but Jeff Fisher has a fantastic mustache. It is currently one of the best in sports.
Fisher learned not only the tricks of the coaching trade from Mike Ditka, but apparently he also learned how to grow a really manly mustache.
9. Cowher, Gruden and Harbaugh Might Not Be Available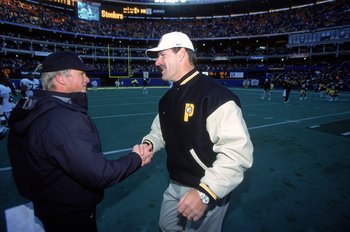 Tom Pidgeon/Getty Images
The hot coaching candidates that keep being floated around are former Steelers head coach Bill Cowher, former Tampa Bay head coach John Gruden and current Stanford head coach Jim Harbaugh. Well those are all fantastic names for fan-bases to talk about, it could turn out that none of the three of them are available.
Cowher is currently an analyst for CBS and has made no indication that he wants to leave the television studio. The same goes for Gruden. He is currently in the booth for ESPN's Monday Night Football coverage, and he seems to enjoy his job.
The only candidate that is currently in coaching is Harbaugh. However, many believe that if he does leave Stanford it will be for his alma mater Michigan, not an NFL team.
That leaves Fisher as the best coach available.
8. Has Been Mentioned as a Coaching Target by Teams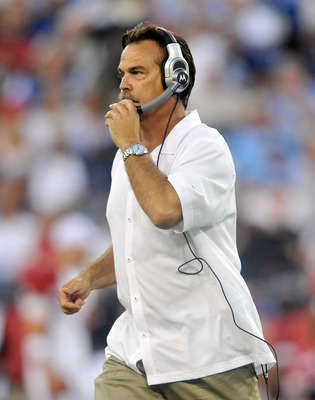 Grant Halverson/Getty Images
Jeff Fisher is a name that has popped up recently as a target that teams would try to get out of Tennessee.
NFL insider Peter King has mentioned that he expects the 49ers to make a serious run at Fisher.
Fisher had also been mentioned last season as a possible coaching candidate for the opening at USC, where he played his college football. However, he decided not to take the job.
It is always a good sign for your job prospects if people keep mentioning your name as someone they would like to target for an opening.
7. Former Player, Relates to Players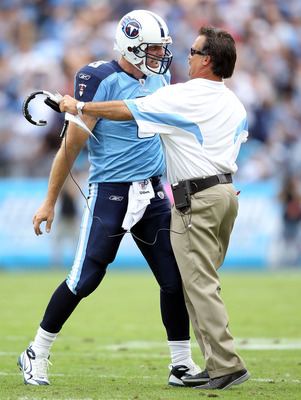 Andy Lyons/Getty Images
Fisher spent five years playing in the NFL for the Chicago Bears and head coach Mike Ditka. He was a cornerback and return specialist that would have had a longer career had it not been for an ankle injury that ended his career.
With Fisher's job status up in the air, many Titans players have said, both on and off the record, that they want Fisher back in Tennessee.
Will Witherspoon even went so far as to say, "I think he'll be back and I hope he'll be back. I wouldn't say most (agree). I pretty much say all (agree).''
6. Great Coaching Pedigree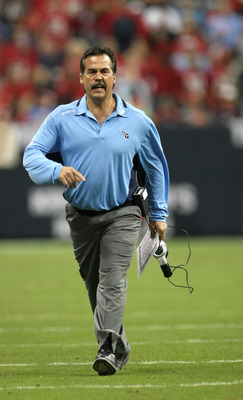 Stephen Dunn/Getty Images
Along with John Robinson from USC, Fisher has been associated with some legendary coaches.
In 1985 Fisher was a defensive assistant for the Chicago Bears under Mike Ditka. He was then the defensive backs coach and defensive coordinator for the Philadelphia Eagles and head coach Buddy Ryan from 1986-1990. He then joined Robinson and the Los Angeles Rams in 1991 as the defensive coordinator.
From 1992-93 Fisher was the defensive backs coach for the San Francisco 49ers under George Seifert. Followed by a move to Houston as the defensive coordinator for Jack Pardee before being named the head coach there.
Fisher has coached with some of the greatest in NFL history and it has helped him to become a great coach himself.
5. Passionate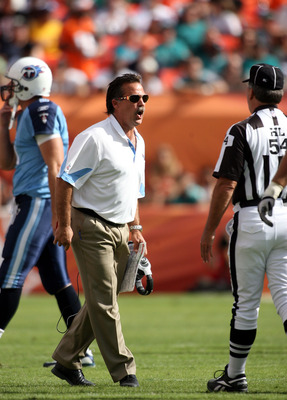 Marc Serota/Getty Images
Jeff Fisher has always been known as a fiery guy. He is never afraid to yell at referees or let his displeasure with his players known.
While he is never really over the top, he is definitely a passionate coach and as someone who has seen what a reserved coach can do to a team. I always want a coach who acts like he cares about the outcome.
4. Great Defensive Mind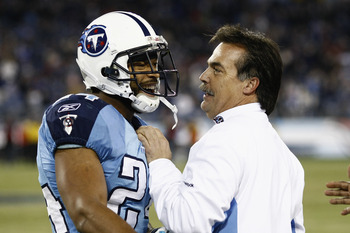 Joe Robbins/Getty Images
Fisher has always been known as a great defensive coach. Nine of his teams have been ranked in the top half of the league in total defense.
During his coaching career, teams have been ranked in the top half of the league 11 times in scoring defense. The rushing defense has also been great for most of his career.
Fisher's defensive scheme would be a great addition to any team.
3. Post Season Expereince
Andy Lyons/Getty Images
Jeff Fisher might not have a Super Bowl championship on his resume, but he has at least taken his team to one. In the 1999 season Fisher and the Titans came within one yard of a Super Bowl win over the St. Louis Rams.
Fisher has coached in 11 playoff games and won five of them. Not stellar success, but better than really any other candidate available.
2. Longest Tenured Head Coach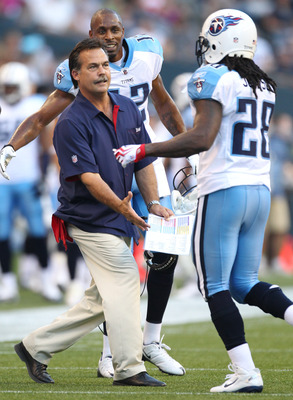 Otto Greule Jr/Getty Images
Jeff Fisher was named head coach of the Houston Oilers on Nov. 14, 1994 when then head coach Jack Pardee was fired. Since then, he has been the head coach of the team for just over 16 years.
He saw the team through a relocation when the team moved from Houston to Tennessee in 1997, and he saw the team go through a rebirth when they changed from the Oilers to the Titans.
The next longest tenured coach in the NFL is Andy Reid who was hired in Philadelphia in 1999.
1. Respect By Opponents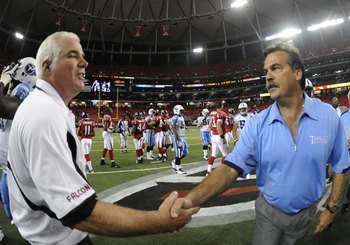 Al Messerschmidt/Getty Images
Colts President Bill Polian runs a class organization in Indianapolis. Fisher and Polian have served together on the NFL Competition Committee for a long time, and the two have been division rivals for some time. However, Polian had some really nice things to say about the Titans head coach earlier today.
"I'm not going to tell anybody else how to run their business. All I can tell you is, there are very few guys in this league that I respect more than Jeff Fisher, both as a colleague on the competition committee and a leader in this league, and most importantly as a coach on the field.

"You measure coaches by how their teams play when there is nothing at stake. And there was nothing at stake for those guys [Sunday]. They were prepared flawlessly, basically they played flawlessly except for the one fumble. They had a great plan on both side of the ball and they executed that plan and, as a result, the game went 60 minutes.

"I didn't expect anything less because I know what Jeff Fisher is all about. He's a great competitor, he's a great coach, he's got a great coaching staff and they did a heck of a job.

"I have a world of respect for him."
If Polian has that sort of respect for Fisher, he is a guy that I would love to have as my head coach.
Keep Reading

Tennessee Titans: Like this team?