USA-Canada: Canadians Dominate U.S. In 4-1 Win, Will Play Russians For Gold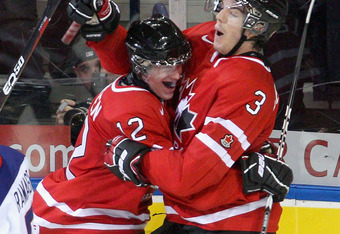 Rick Stewart/Getty Images
It's a great night for a rematch.
Just when you thought it couldn't get any better after Saturday's Winter Classic, we are treated to a rematch between Team USA and Team Canada in tonight's semifinals of the World Junior Hockey Championship. The winner will move on to play the Russians, who dramatically beat Sweden in an overtime shootout.
The United States team is the defending tournament champion after beating Team Canada in Saskatoon to win the 2010 gold medal. The United States won group A with 11 points, earning a bye into tonight's semifinal battle.
Canada stumbled against Sweden, losing on New Year's Eve in a shootout. Sweden went on to win group B, setting up tonight's contest between Canada and the United States.
Coming into this matchup, Canada's Brayden Schenn has almost lapped the field, leading the tournament in scoring with 16 points (9,7). His teammate, and Team Canada's Captain Ryan Ellis, is second with nine points.
The tournament's leading goaltender starts between the pipes for Team USA. Jack Campbell has an astounding 96.65 save percentage, giving up just a little more than one goal per game.
So grab a Molson or Budweiser, put your country's jersey on and enjoy what is sure to be another classic battle between these two teams. It will be interesting to see how Canada's high-powered offense matches up with Team USA's stiff defense.
For me, it's USA all the way.
Jeff Vinnick/Getty Images
Some quick stats for the up-coming gold medal game.
The Canadians and Russians have met 11 times for the gold medal in U20 WJC play.
The Canadians have won six of those contests.
The last time the two teams met in the WJC gold medal game was back in 2007 in Sweden.
Back in 2005 Sidney Crosby, Ryan Getzlaf and Patrice Bergeron led team Canada to a 6-1 WJC gold medal win over Alex Ovechkin, Evegeni Malkin and Team Russia.
The USA last played Sweden in the bronze medal game in 2007 when Patrick Kane led the U.S squad to a 2-1 victory
Final score Canada 4 United States 1
Both goalies were the players of the game Jack Campbell for the U.S and Mark Visentin for Canada.
Total domination in this Canadian victory. I can't tell you how happy (NOT) I was to hear OOOOLAY O LAY O LAY OLAY once again. As a Caps fan I heard that tune in my sleep following last year's first round playoff loss to the Montreal Canadians....
See you Wednesday night..A.B.C people A.B.C>>>>>Anybody But Canada.....Oh well
Good luck to all of my Canadian friends...See you next year in Calgary and Edmonton.
Rick Stewart/Getty Images
Canada adding insult to injury kills all U.S hopes by killing their power play and then scoring a goal increasing their lead to 4-0.
Canadian forward Zach Kassian converted what looked like a ten on one. Kassian took a pass at the blue line and skated in all alone as he fired the puck passed Jack Campbell.
A few minutes later Team USA finally solves Canadians goalie Mark Visentin. Chris Brown deflected a Jeremy Morin shot into the net to give the U.S a power goal. With nine minutes remaining Team USA trails 4-1
Bruce Bennett/Getty Images
Pictured here is Brock Nelson, a few minutes ago he was almost deposited into the Canadians bench.
The USA MUST score on this power play...I suppose getting it set up would be a good start.
Rick Stewart/Getty Images
Team USA assistant coach Phil Housley said that the United States are not going to open up their play. They will instead try to chip away.....Come on Phil, REALLY? It's the third period.
Jack Campbell has faced 28 shots and he has looked great in making the 25 saves, if not for Campbell this game would be 6-0.
The U.S. do not appear to be chipping to start the third. At least I get to see the rink board advertisements in the other end.
If the U.S don't get on the board by the 15 minute mark there will be no chance to win this game. Just looking for some hope.
Rick Stewart/Getty Images
A fight a hard hit or how about trying this one on for size, A GOAL......Team USA needs something big to happen and quickly. I'd be happy to see the board advertisements in Canada's end for a minute or two,
Sun Life, Tim Hortons and RBC Bank are forever etched in my mind.
I think I saw Jack Campbell standing upside down on his head.
Canada has team USA scouted perfectly. The Canadians know where the Americans are going to pass the puck before they do.
Would be nice to Keith Allain show some emotion, perhaps a little Bruce Boudreau on them between the upcoming periods.
Richard Wolowicz/Getty Images
Team USA power play provides no boost for a lethargic Team USA and are now down two men to the best power play in the tournament.
Canadians score a two man advantage goal and this game may be out of reach for Team USA.
Working the rebound, Ryan Johansen converted a slap shot from power play quarterback Ryan Ellis staking Team Canada to a three goal lead. Johansen scored his third goal of the tournament, all three on the power play.
The Americans are going to have to start taking some chances and that may cause this one to get ugly and very lopsided.
Tom Szczerbowski/Getty Images
Team USA forward Ryan Bourque looked like a deer in headlights during a second period interview with the NHL Network's Billy Jaffe. Bourque said "we expected they would try and run us out of the building coming out to start".........Really Ryan!?
Getting run out of the building is an understatement......Team USA better be ready because if they thought Canada tried to run them out of the building to start, I can only imagine how they will try to finish.
I made a huge blunder....I had the first team Canada goal scored correctly but listening to Gary Thorne tell everyone Howden scored both goals I second guessed myself and changed it...Changing it back.
Rick Stewart/Getty Images
Quinton Howden scored putting the Canadians on top of a lost Team USA 2-0. Once again forcing the play Team Canada worked a two on one through a flawless neutral zone transition. Brett Connolly put the puck on Howden's stick and he didn't miss.
Team USA still seems to be working out the nerves as they are continually getting beat to loose pucks. Canada is crisp while the Americans can't seem to weather the first period storm.
The Canadians are keeping the Americans on their heels as team Canada leads in shots 11-4.
Rick Stewart/Getty Images
After finishing sixth last year, Russia will get to play for the gold again on Wednesday night against tonight's winner. Russia beat Sweden in the first semi-final in a shootout.
Russia last won a medal in 2009, a bronze and during Canada's run of five straight championship wins lost three straight gold medal games to the Canadiens.
Canada out worked the Americans to get the early 1-0 lead. Curtis Hamilton puts a rebound past a very badly beaten USA defense and Jack Campbell. Nerves appear to be an issue for Team USA as Canada is outworking the Americans.
Team Canada is having their way as Team USA must settle down....
Richard Wolowicz/Getty Images
http://bleacherreport.com/articles/560978-usa-canada-re-match-of-last-years-gold-medal-game-to-take-place-tonight
preview article..........
This article is
What is the duplicate article?
Why is this article offensive?
Where is this article plagiarized from?
Why is this article poorly edited?