NFL Sexiest Cheerleaders: Playoff Edition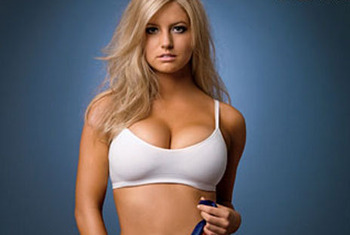 The 2010 NFL season is over. It is time to pack up all the gear and start to prep for the playoffs.
What is a better way to celebrate the NFL playoffs than scrolling through beautiful pictures of the sexiest cheerleaders in the playoffs?
Has there ever been a better excuse to look at these women? If anyone asks, you are conducting research on the opposition for the playoffs. They will never know what you are doing. It is a flawless plan.
Thanks to the Chicago Bears, Green Bay Packers and Pittsburgh Steelers for not having a cheerleading team. In efforts to keep this slideshow on point, I have included slides of the sexy fans to replace the missing cheerleaders.
Enjoy.
10A. Chicago Bears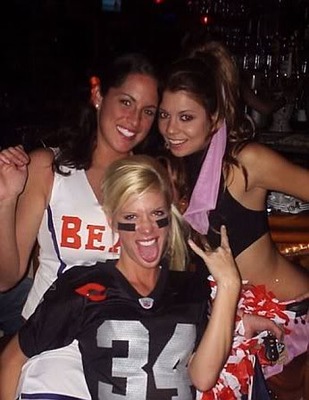 For the first of three teams without cheerleaders, we get the Chicago Bears.
From the looks of these beauties, there is no immediate need for cheerleaders with fans like them.
10B. Pittsburgh Steelers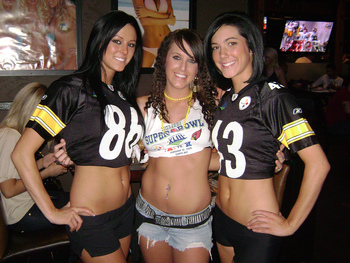 Pittsburgh has always had more than enough sexy fans to go around. They have found themselves in several different sexy fan slideshows already.
From the left to the right, there is absolutely nothing wrong with these babes.
10C. Green Bay Packers
Jaime Edmondson is hot. She is a Playboy Playmate who modeled a new line of NFL clothing this past year.
If only more Playmates could get on board with this idea.
9. Indianapolis Colts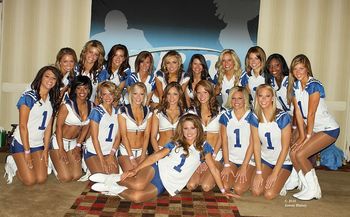 If you are wondering which one to choose, look no further.
I will take all of them except for, uh, never mind. There are no exceptions, I shall take them all.
Christmas Time in Indy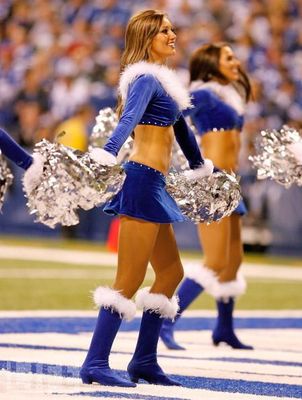 Just when you thought Christmas was over, the Colts cheerleaders bring sexy back to us in the form of Christmas uniforms.
I am pretty sure Christmas will never be the same once you see beautiful women in Santa gear like the Colts cheerleaders.
8. Baltimore Ravens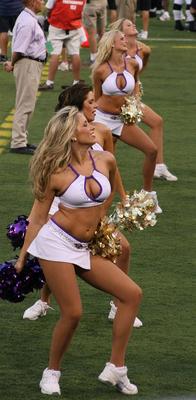 I was wondering what four beautiful NFL cheerleaders would look like standing in a row.
Now I no longer have to wonder what it would look like. It is awesome.
Michelle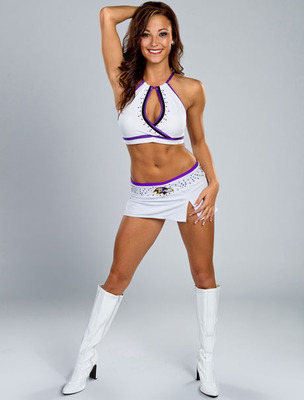 If Michelle was taking applications for her next boyfriend, where is that line?
Seriously folks, she should be on the next dating reality show on VH1.
Sideline Posing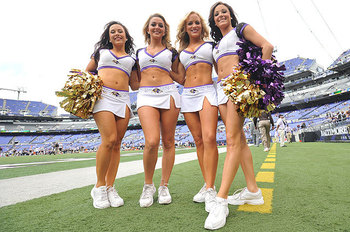 If we were to rate these women based on legs alone, the Ravens would have been a top contender.
Those are eight of the sexiest legs in Baltimore and luckily for us, they are all in one place at the same time.
7. New York Jets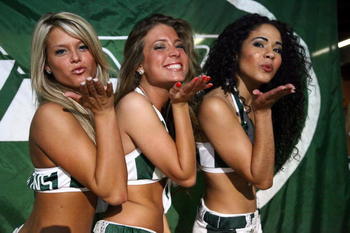 I wonder if any of these sexy women have a foot fetish too?
Come on Rex Ryan, you know I had to. It was just too easy not to make a joke about it.
Naughty Cheerleaders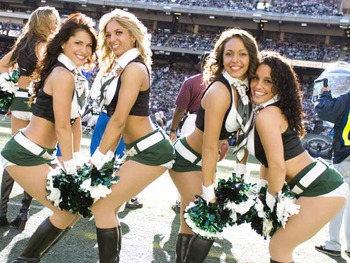 When Jenn Sterger decides to become a NFL cheerleader, give me a heads up.
I have to take some photos to send her. Don't worry, they are not going to be of me, just of Brett Favre.
Best Dance Ever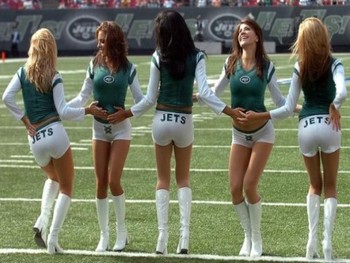 Not sure which dance they are moving to but it is working.
Note to self: Learn how to dance so that beautiful women, like the Jets cheerleaders, will find themselves begging for more.
Four Blondes Make a Right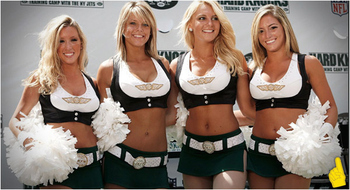 I can see Mark Sanchez standing in the background making witty comments.
The only problem is that he is not at USC. When you do stuff like that in the NFL, it has consequences. Just ask Matt Leinart, Brett Favre, Big Ben, etc...
6. Kansas City Chiefs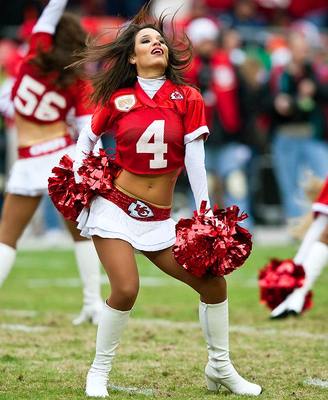 It the Kansas City Chiefs do not make it to the Super Bowl, I am going to be upset.
I am not a fan of the team, just of the cheerleaders. Those beautiful women get no love from the media so a Super Bowl run would get them much recognition.
The Chiefs Have Their Own Refs
I guess there is always the obvious question, why does she need a helmet?
She could referee any game I attended and there would be zero complaints from me.
They Might Be Sisters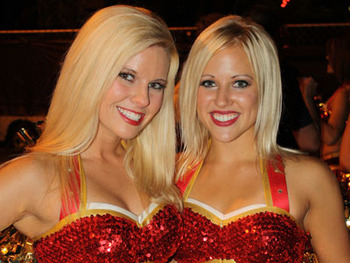 These two beauties look an awful lot like sisters. They have similar hair, eyes, and smiles. It is like two of a kind.
If only someone could convince them that three is better than two, than the real fun begins.
Put Your Hands Up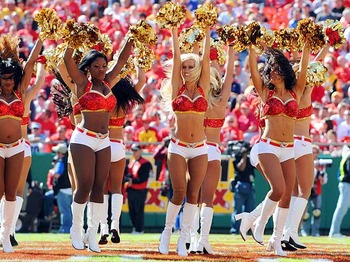 What question do you think was asked?
Who knows where Matt Cassel played college football? Who wants to play for the Super Bowl in chilly New England? Who does not know what a Super Bowl is?
5. New Orleans Saints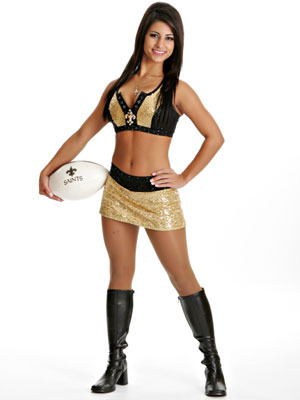 It is playoff time in New Orleans and that can mean only one thing...party!
If you live in New Orleans than you already know this but we will use any reason to party.
On The Stage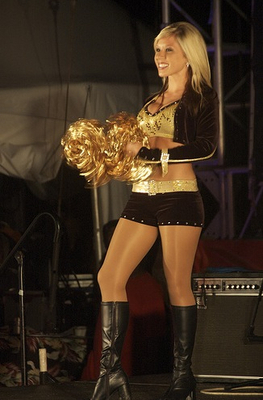 If American Idol had contestants like this beauty, more people would watch.
It is not like they have problems attracting viewers, I just think more sports fans would watch hotties like her instead of ugly dudes who can not sing.
Great Googly Moogly
I am not sure why this photo is the most popular photo of all the Saints cheerleaders photos. Do you think it is because of the dance routine? No that can't be it.
I think it has a little to do with the actual dance moves instead.
4. Seattle Seahawks
All the Seattle Seahawks did was win their division and become the first team in NFL history with a losing record to make the playoffs.
That's like trying out for the Olympic swim team and not making it until after you lose both arms in a car accident. Sure, you made the team, but how useful will you be?
At The Pregame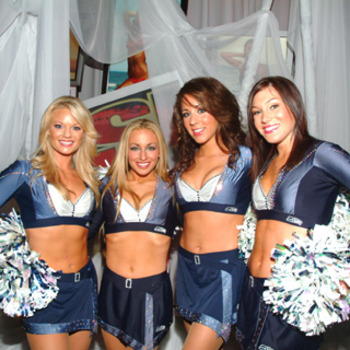 The best part of Seattle is standing directly in front of you. Take a minute and absorb it folks.
This is the reason we wanted the Seahawks to make the playoffs, their cheerleaders.
In The Stands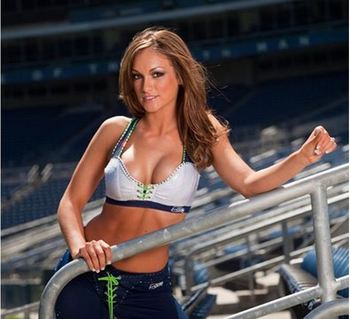 She might be lost. I am not sure but the field is about 25 rows back down that way. (points to the left)
If the cheerleaders were to dance in the stands during an NFL game, many drunk people will make some great decisions.
Now That Is Sexy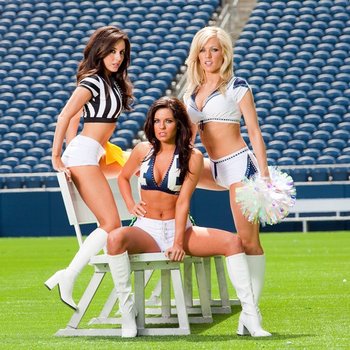 Are we choosing teams? Can I pick first?
If so, I want the two on the left and the one on the right.
3. Atlanta Falcons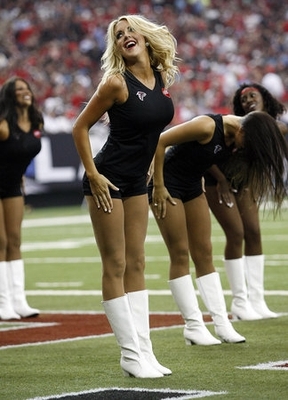 What are they wearing? Is that a one piece uniform that is super short?
A better question would be, where do I go to meet these women?
Best Use of a Jersey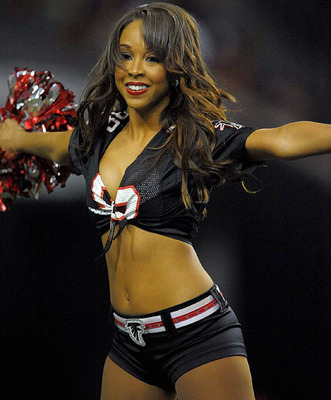 And I thought the one piece was a sexy uniform. This babe has no idea that she just beat her teammates in the sexiest use of a Falcons jersey contest.
Her prize will be mailed to her in March. I am just going to need a phone number and address please.
Time to Go Clubbing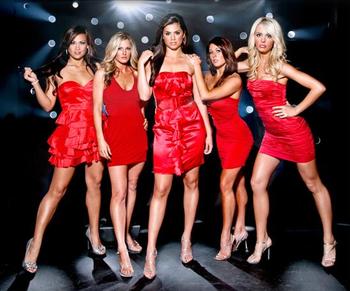 Where there is a club, there are five mega hot NFL cheerleaders ready to enter wearing the same color.
If this club is a real place, please let us all in. That looks like a fun time for anyone inside the club.
NFC South Champions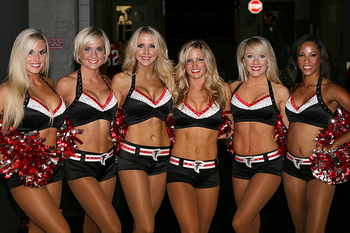 It is time to celebrate the Falcons NFC South championship.
So for the next three hours, you get to choose whichever lovely lady you like and head on over to the bar for some "celebratory" wine.
2. New England Patriots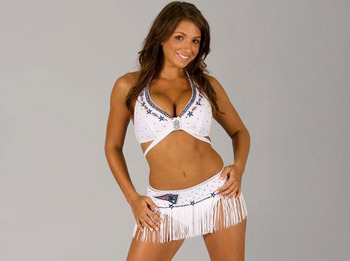 It is bad enough the Patriots have the best team in the NFL, now they have the second sexiest cheerleaders too? Some things just are not fair.
Tom Brady is married to the hottest women alive, Gisele, but he also gets to look at beautiful women on the sidelines whenever he wants to.
...Freeze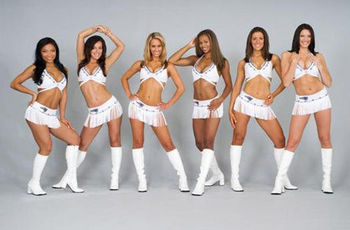 There is no need to adjust your screen, there are six smoking hotties standing in a line across your screen.
If I were you, I would grab a plane ticket to New England for their next home game.
Jessica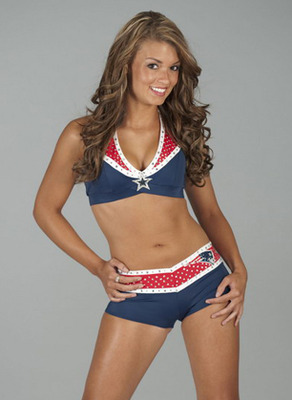 I find it very hard to imagine another group of cheerleaders that could beat the Patriots hotties.
But somehow, I think there is one more team...
1. Philadelphia Eagles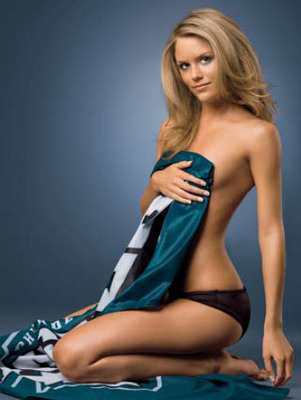 If the question was, what is the best way to wear a Philadelphia Eagles team flag?
This beautiful cheerleader answered correctly.
On The Field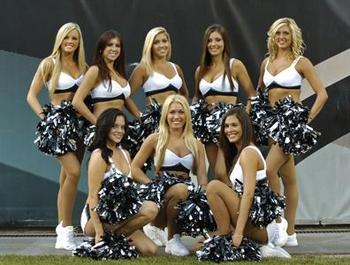 This is a small percentage of the hotties that prance around the Philly sidelines on Sundays.
I will find myself rooting for the Eagles this post season, just so we can see more of the beauties.
Best Vacation Spot of 2011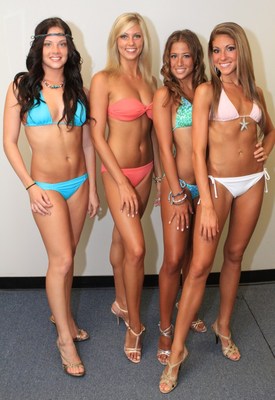 The Eagles cheerleaders make everyone else look like amateurs.
Their cheerleaders are so hot, it would be hard for any other playoff cheerleaders to compete.
Keep Reading