NFL Playoffs: Why the Green Bay Packers Can Beat Every Team in the Postseason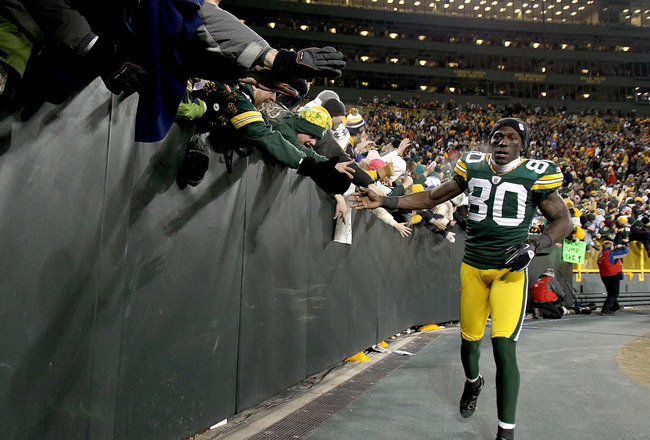 Matthew Stockman/Getty Images
After officially clinching the number six seed in the NFC playoffs, the Green Bay Packers are undoubtedly back in contention for a Super Bowl run.
Green Bay's victory against the Chicago Bears in Week 17 proves once again how resilient Mike McCarthy's crew can be, even under the most immense pressure.
Although the offense has had its struggles in the first three quarters of play, Aaron Rodgers and company found their stride against the vaunted Chicago defense so many have dubbed "unbeatable."
However, the playoffs are a whole new season. Any team is capable of defeating any other team.
With that in mind, let's take a look at why the Green Bay Packers are capable of edging the entire playoff field.
Seattle Seahawks (7-9)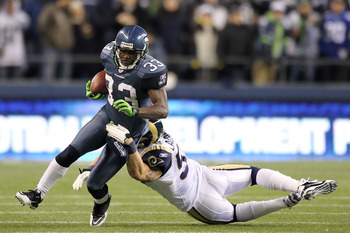 Otto Greule Jr/Getty Images
Level of competition
Sorry Seattle, an NFC West title doesn't exactly qualify you as worthy competition to the Packers.
Besides—the Seahawks hold the league's 27th-worst pass defense.
Tell me what you think.
Philadelphia Eagles (10-6)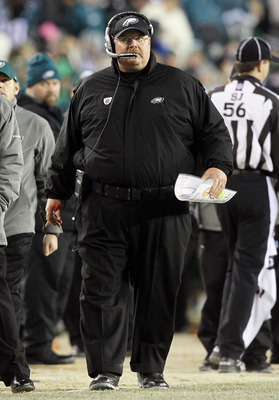 Jim McIsaac/Getty Images
Uneasy feelings?
Fittingly enough, these two teams will duke it out on Sunday to decide who moves on—making my analysis a whole lot tougher.
In their Week 1 meeting in Philly, Aaron Rodgers exposed the Eagles' lacking pass defense and this week looks to be the same.
However, Michael Vick only played in the fourth quarter of that game—and, surprisingly enough, almost came back to beat Green Bay.
Still, the Packers defense never game-planned for Vick and with Philly now on a two-game losing streak heading into the playoffs, the green and gold defense will be primed and ready.
Kansas City Chiefs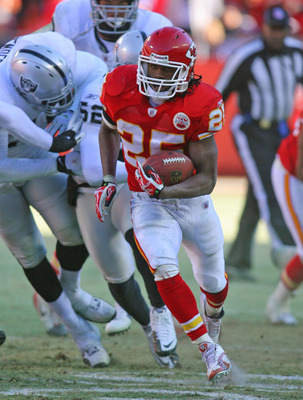 Tim Umphrey/Getty Images
Ground game galore
Kansas City's rushing attack is as good as it gets in the NFL and the Packers should know that.
Averaging a league-best 164.2 yards per game via the ground game, the Chiefs are obviously a threat to Dom Capers' game-plan on defense.
But let's not forget Green Bay's 9-0 shutout victory against Rex Ryan's Jets on the road—also one of the better run teams on the ground (148.4 yards per game).
Despite KC's dual-threat in Jamaal Charles and Thomas Jones, the Packers' inside presence of Clay Matthews and A.J. Hawk are just too much to handle.
Indianapolis Colts (10-6)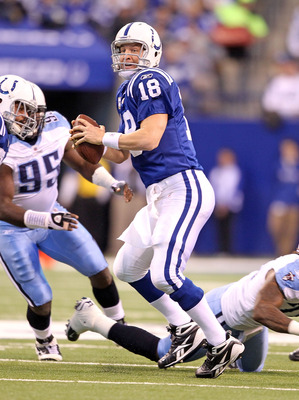 Andy Lyons/Getty Images
Aerial assault... or not?
After just managing yet another AFC South title, Peyton Manning and the Colts managed to sneak into the playoffs as a major underdog.
Indy averages a league-best 288.0 yards per game through the air. However, Peyton has been severely exposed this season, with 18 picks this season.
Green Bay attains the league's most talented cornerback combo in Charles Woodson and Tramon Williams—not to mention their Pro-Bowl bound safety Nick Collins.
Just too much talent for Peyton to get through.
New York Jets (11-5)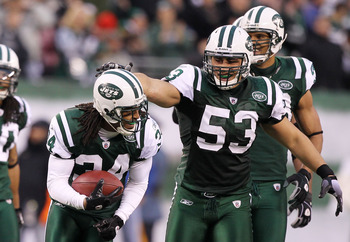 Al Bello/Getty Images
Déjà vu for Rex Ryan?
Well, it's true.
In Green Bay's shutout victory against the Jets in Week 8, the Packers held New York to just 119 yards on the ground. Yes, I understand that's over one hundred yards. However Rex Ryan's bunch has averaged over 140 yards per game on the ground.
Packers quarterback Aaron Rodgers was limited to just 156 yards that game, but with a second chance at a severely overrated secondary for New York, Rodgers would make use of the opportunity.
Chicago Bears (11-5)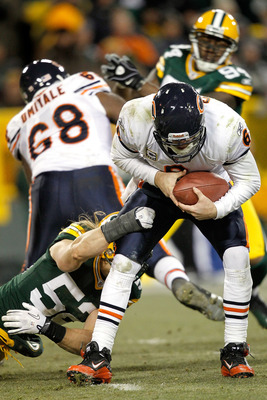 Matthew Stockman/Getty Images
Defense, defense, defense
It was plain to see why the Packers defeated the Chicago Bears Sunday afternoon, and it wasn't because of Aaron Rodgers.
In fact, it was far from it.
Two costly interceptions by Bears quarterback Jay Cutler in the late stages of the game turned out to be Chicago's downfall.
If history is to repeat itself, Green Bay has the edge over Lovie Smith's crew.
New Orleans Saints (11-5)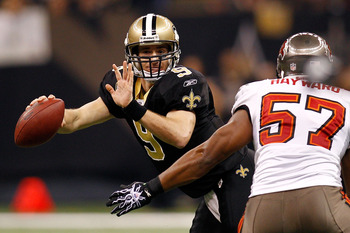 Chris Graythen/Getty Images
Turnover margin
As the playoffs begin, the New Orleans Saints will attempt to repeat as Super Bowl champions—something that has proved to be a much taller task than previously thought.
Last season was a dream season come true for the Saints, as well as their star quarterback Drew Brees.
But this season has been a whole different ball game.
Brees has contributed to a bulk of the Saints' turnovers this season, leading to New Orleans' -5 turnover differential compared to that of Green Bay at +10.
That alone makes Green Bay the favorite in this one.
Baltimore Ravens (12-4)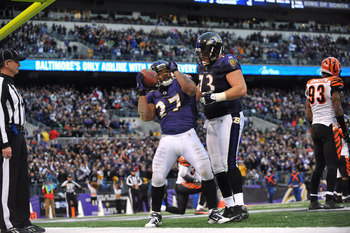 Larry French/Getty Images
Weak pass defense
A Packers-Ravens Super Bowl would certainly be a game for the ages, without question. However, Baltimore's Achilles heel this season has been their aging pass defense.
A pass defense led by Ed Reed seems like the perfect counter to Aaron Rodgers, right? Wrong.
Baltimore has allowed 224.9 yards per game through the air this season, enough to be 12th worst in the entire league.
With Green Bay's multitude of receivers, there's no telling what Aaron Rodgers can do in the passing game.
Pittsburgh Steelers (12-4)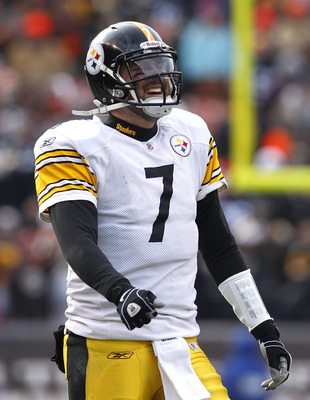 Matt Sullivan/Getty Images
Stout run defense...
The Pittsburgh Steelers find themselves at or near the top of every major statistical category in the entire league.
A solid run game, pulverizing defense and decent special teams make them one of the top teams heading into the playoffs, without question.
However, their biggest attribute is their run defense, averaging a league-best 62.4 yards per game to the opposition on the ground. Unfortunately for Pittsburgh, that doesn't affect Green Bay's game plan whatsoever.
The focus on passing the football in Green Bay is their number one threat in the field and they have proved to handle the toughest of pass defenses in the league.
Pittsburgh's average pass defense is their downfall.
Atlanta Falcons (13-3)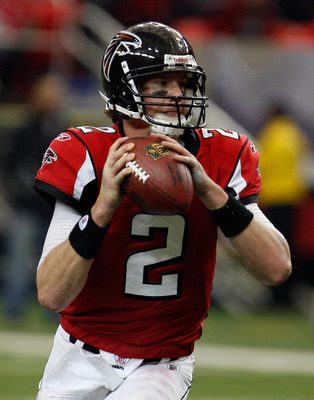 Scott Halleran/Getty Images
Exposed defense
Despite having beaten Green Bay earlier in the season with a field goal in overtime, the Atlanta Falcons have recently been exposed—at the hands of none other than Drew Brees.
Why is this significant?
Well, both Brees and Aaron Rodgers play in virtually the same type of offense: pass first, then run the ball if absolutely necessary.
Atlanta could barely handle Green Bay's pass attack in Week 12, and they certainly won't get away with it twice in one season.
New England Patriots (14-2)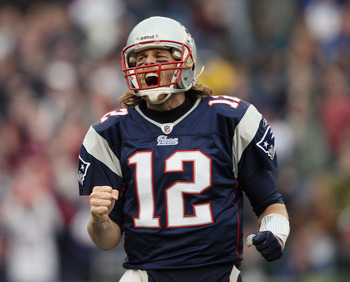 Elsa/Getty Images
Missed opportunities
What you take away from New England's 31-27 slight victory over the Matt Flynn-led Packers in Week 15 is yours to choose.
However, let's point out some key things that transpired.
Packers all-pro cornerback Charles Woodson dropped two would-be interceptions from the legend that is Tom Brady. In addition, Green Bay also allowed a 320+ pound man to run back a kickoff 70 yards.
Maybe it's just me, but I don't think that will happen again.
Along with a healthy Aaron Rodgers behind center for the Packers, Green Bay's chances of an upset immediately skyrocket.
Besides, we all know about the Patriots' pass defense: allowing 258.5 yards per game to the opposition, enough to be third worst in the entire NFL.
The addition of playing on a neutral field in the Super Bowl makes New England only that much more vulnerable compared to their 8-0 record at home.
Keep Reading

Green Bay Packers: Like this team?