SATIRE: Brett Favre Reflects on Career and Scandals, Discusses Football Future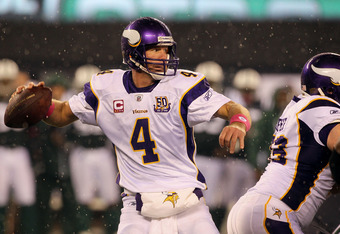 Jim McIsaac/Getty Images
On Tuesday word came out that Brett Favre was getting sued by two massage therapists who worked for the New York Jets in 2008, for sexual harassment, this coming off the heels of Favre getting fined $50,000 by the NFL for the Jenn Sterger sexual harassment allegations.
It has been a wild couple years for good 'ole number 4, one that has scarred his once brilliant Hall of Fame career.
To add insult to injury, Favre was benched in the Vikings final regular season game, a 20-13 loss to the Detroit Lions. Many expect that this is finally the end of Brett Favre's career, a career that has been full of incredible highs, incredible lows.
Favre is the example of the everyman -- a guy so average and typical of most people, who has made his series of mistakes in life, but one who's incredible athletic gifts make it hard for the rest of us to accept his truly mortal status.
Favre's career will culminate in Canton in six years -- hopefully by then we can remember Favre for the guy who won a Super Bowl in Green Bay, and gave football fans across America a hero they could root for, before this very bizarre three year period that proved to be the public relations meltdown for Favre's brilliant career.
Lets head down to our roving reporter, who took some time to speak with Favre about his career and football future.
RR: Ok, Michael we got Brett here sitting right across from us, and...Mr. Favre...are you...are you crying?
Is Brett Favre Still A First Ballot Hall of Famer, even with the scandals and indecision on retirement?
Favre: (Sniffle, Sniffle) No. (Sniffle Sniffle)
The roving reporter gets some hankies and hands it over to Favre, who blows into them very hard. He rubs his hands over his eyes to clean the tears, and get composed.
RR: Brett let me ask you, what are your thoughts to your final season in Minnesota?
Favre: To tell you the truth I'm really disappointed, I mean I had a 297 game starting streak on the line there, and the coaches didn't let me finish it..
RR: But the question is how do you feel about the team?
Favre: Oh, well, as for the Vikings, I mean, hey, we didn't play well. Ummm, I really wanted to be a part of that organization and try to get back to the NFC title game. They have a lot of talent there, and I still feel they can get back to the top.
RR: Do you think you could have played in those final three games to keep the streak alive?
Favre: I won't say no. Anything is possible. So I got pounded into the ground against the Bears. I know I could go back out there and sling it.
RR: Brad Childress and Leslie Fraizer?
Favre: Chilly was kind of chilly to all of us. He made Bill Belichick look like Adam Sandler. I was sad to see him go; knew him a very long time, but that's life. As for Leslie, he'll be a good coach. I think I'm old enough to remember playing against him...I think?
Otto Greule Jr/Getty Images
RR: You say the Vikings have a shot to get to the top next year, what's missing?
Favre: (thinks for a minute) Me.
RR: So you are not done playing?
Favre: No I didn't say that, I just think they will miss me.
RR: Are you retired?
Favre: Ummm you know, I never say never. Right now I don't know if my body can take the punishment. I mean my hand was purple a couple weeks ago. But if the right opportunity comes along...
RR: Would you want to play for Minnesota again?
Favre: Sure, you bet.
RR: If not the Vikings then who?
Favre: I hear rumors that my old coach Mike Holmgren could be taking over the Cleveland Browns. I always liked their helmet.
RR: So you are not retiring?
Favre: I really don't know. As of now I am retired, I don't know if I can do it anymore.
RR: What will you do in August?
Favre: I might go to the high sc...I mean I might go fishing, maybe take a tour of the Grand Canyon with the family, maybe even Las Vegas. Haven't been to Vegas in a while.
RR: Let's talk about your time with the Jets. There has been a lot of talk about your time there, especially of late regarding your relations with Jenn Sterger, and a handful of other former Jet-employees.
Favre: I don't think I can comment on that. I'll just let it play out. All I can say is that it's not me.
RR: You didn't send the photos?
Favre: Wasn't me.
RR: Do you have any regrets about your time with the Jets?
Favre: At least I didn't make a foot fetish video and post it on YouTube.
RR: What do you remember about your time with the Jets?
Favre: (thinks, thinks some more) ummm, next question.
RR: Can you name five of your former Jets teammates?
Favre: Ummm, there is Chrissy, Jenn, ummm.
RR: Brett those aren't Jet players. You don't remember anybody on the Jets do you?
Favre: Can I be excused, I'm getting a text message.
RR: We're almost done.
Favre rolls his eyes, and shakes his head.
RR: What do you remember about that Jets season?
Favre: I remember I felt like a douchebag when they gave me a street sign at Mayor Bumberg's office, and I remember we really sucked at the end.
RR: That's Mayor Bloomberg by the way.
Favre: Whatever.
RR: Are you sorry for what happened with those former Jet employees?
Favre: Next question, buddy, I have a Viagra commercial to shoot after this.
RR: Most memorable moment for you as a Packer?
Favre: Wow, finally a question I want to answer. I always thought winning that Super Bowl was extremely special, because years later you realize how hard it is to win one.
RR: Do you regret how it ended in Green Bay?
Favre: Yes and no. I wanted to play, they knew I wanted to play. That's the NFL, it's a business. I think they regret trading me.
RR: What are your thoughts of Mike McCarthy and Ted Thompson, a couple years later?
Favre: I got to the NFC title game and you didn't. (Favre looks toward camera and sticks his tongue out.)
RR: If you can do it all again, starting with your first retirement in March of 2008, would you do it the same?
Favre: Yes. Yes I would - just minus getting traded to the Jets.
This article is
What is the duplicate article?
Why is this article offensive?
Where is this article plagiarized from?
Why is this article poorly edited?

New York Jets: Like this team?