New York Islanders: Countdown of the 10 Hottest Ice Girls In Franchise History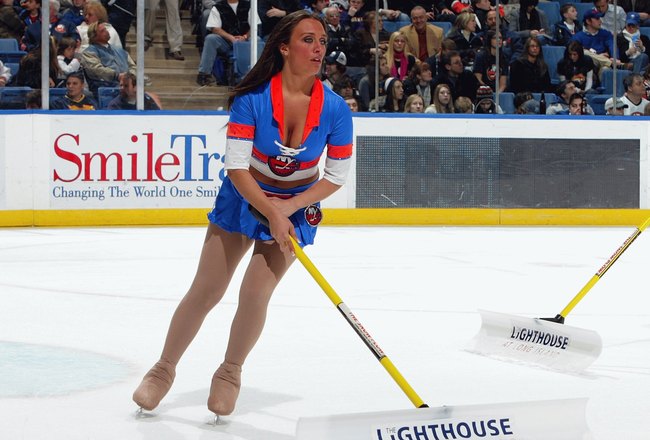 Islanders Ice Girl
Jim McIsaac/Getty Images
Following the 2000-01 season, the New York Islanders were desperately looking for a new way to draw fans to the dilapidated Nassau Coliseum to watch a hockey team that was in rebuilding mode.
The organization came up with the simple concept of ice girls, who were "cheerleaders on skates" that would clean around the net during timeouts and commercial breaks.
The idea quickly caught on around the league. Currently, there are 17 teams in the NHL that incorporates some form of a cheerleading squad or ice dance crew.
The sting of painful New York Islanders losses over the last nine years has been eased by the sight of these beautiful ladies. Here is a look at the 10 hottest ice girls in franchise history.
10. Samantha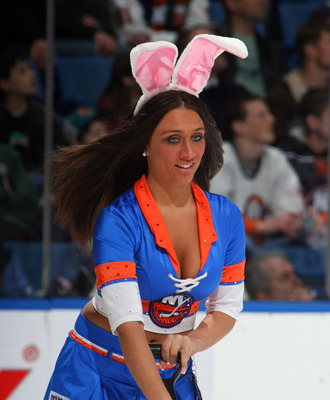 Samantha
Bruce Bennett/Getty Images
Samantha is the seasoned veteran on the squad and was a key component in the early success of the operation. She has been a familiar face at Nassau Coliseum since 2008 and quickly became a fan-favorite for her friendly attitude.
9. Sage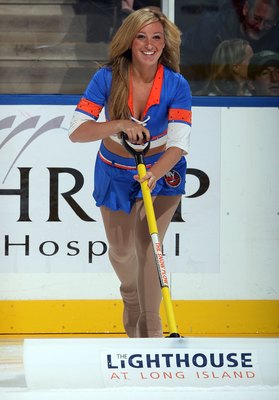 Sage
Jim McIsaac/Getty Images
One of the most dynamic and talented skaters on the squad, Sage rose to prominence amongst Islanders fans for her hard work and positive spirit.
8. Danielle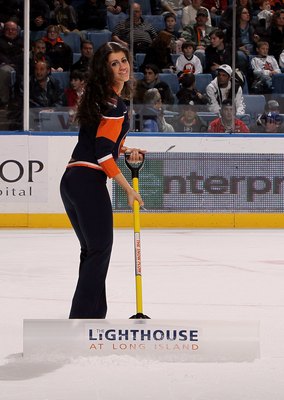 Danielle
Jim McIsaac/Getty Images
Danielle scrapes and cleans the ice around the net with a golden smile and graceful charm.
7. Kelly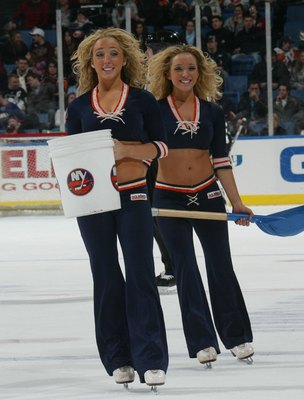 Kelly
Bruce Bennett/Getty Images
Kelly, a native of Long Island, was a professionally trained figure skater. Her classy performances became well-respected around the league and paved the way for other teams to employ ice girl squads. While no longer with the team, she has been sorely missed this season.
6. Kristy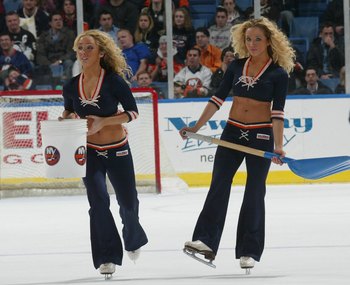 Kristy
Bruce Bennett/Getty Images
Kristy, along with her twin sister Kelly, were fan favorites at Nassau Coliseum. Kristy was well-known for her love of Bob Marley and tropical beaches.
5. Dina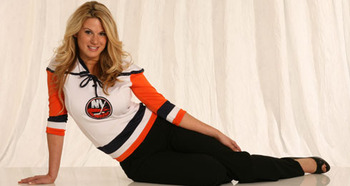 Dina
While not technically an ice girl, Dina serves as the Islanders arena hostess. Fans give her kudos for her ability to walk across the ice in stiletto high heels during intermissions.
4. Stephanie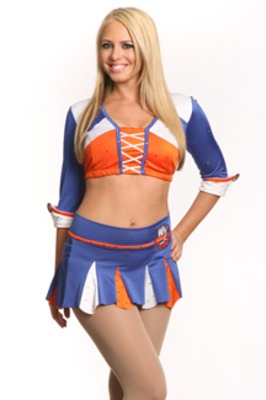 Stephanie
Stephanie likes to keep a low profile. While relatively new to Islanders fans, she is sure to take the arena by storm with her fan-friendly attitude and charisma.
3. Chanel
Chanel
Chanel's great looks and superb skating turned plenty of heads at Nassau Coliseum over the last few seasons.
2. Christi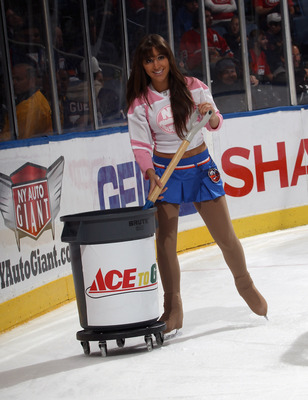 Christi
Bruce Bennett/Getty Images
Who cares that the team stinks ? This girl is gorgeous!
1. Janine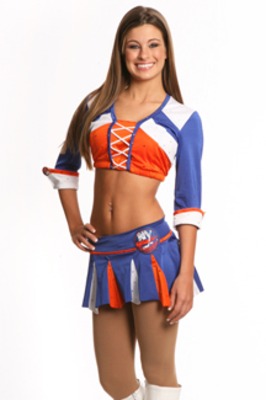 Janine
Islanders fans instantly fell in love with Janine when she joined the ice girls this season. Her great personality and beautiful smile never fails to brighten the atmosphere at the Nassau Coliseum.
Keep Reading

New York Islanders: Like this team?