TCU's Rose Bowl Victory Is More Significant Than BCS National Championship Game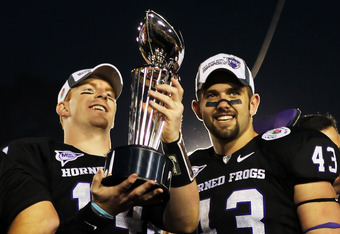 Rose Bowl stars of the game - Andy Dalton and Tank Carder
Jeff Gross/Getty Images
With no playoff system in college football, TCU knew that their only chance to win the national title was an upset loss by either Oregon or Auburn on the final weekend of the college football season. Auburn won their game early in the day, and then Oregon slammed the door on TCU's BCS National Championship Game hopes by beating in-state rival Oregon State.
Under the current system, TCU and their fans had to accept the fact that their schedule would keep them as the lone undefeated team on the outside looking in. But it didn't matter. The chance to play Big Ten heavyweight Wisconsin in the Rose Bowl was looked at as a positive. Finally, TCU would be given the chance to prove that they are amongst the elite teams in college football.
Last year's Fiesta Bowl loss after an undefeated regular season was disappointing for TCU, mostly because it came at the hands of Boise State. Despite the fact that these were two outstanding, undefeated teams, the game had the feeling of a consolation prize since both schools came from non-automatic qualifier conferences. Even if they had won the game, it wouldn't have meant as much as beating a school from an automatic qualifier conference.
As TCU rolled through their schedule this year, they dominated almost every opponent. With the exception of a late meltdown against San Diego State, their undefeated season was never really in jeopardy. In every other game, their stout defense was too much for opposing offenses to handle. Some attributed TCU's top-ranked defense to their schedule, but anyone who watched them play on a regular basis knew that was simply not the case.
Jeff Gross/Getty Images
When the Rose Bowl match-up was officially announced, TCU and their fans celebrated. It was not the BCS National Championship Game, but it was a very close second. The best opportunity for TCU to prove their mettle and show the world that their defense was for real was to shut down the powerful Wisconsin offense who steamrolled over their opponents all year long. Twice during the season, Wisconsin rang up 70 points on the scoreboard, while hanging 83 points on Big Ten rival Indiana.
On the first play from scrimmage in the Rose Bowl, Wisconsin RB Montee Ball gashed the vaunted TCU defense for 40 yards. Even the most die-hard TCU fan had to be wondering if this really was the David vs. Goliath match-up that so many TCU detractors predicted. Eventually, the TCU defense buckled down and forced Wisconsin to settle for a field goal.
Andy Dalton, coming off of a disappointing performance in last year's Fiesta Bowl, showed great poise as he marched the Horned Frogs down the field. He capped off the drive with a beautiful 23-yard touchdown pass to WR Bart Johnson.
With TCU geared up to stop Wisconsin's dominant rushing attack, Badger offensive coordinator Paul Chryst caught the Horned Frogs by surprise by moving the ball down the field through the air. Two long completions by QB Scott Tolzien set Wisconsin up at the 1-yard line. Running back John Clay punched it in and gave Wisconsin the lead back.
Jeff Gross/Getty Images
Poised and confident from the first drive, Dalton marched the Horned Frogs down the field. His 44-yard completion to WR Josh Boyce set TCU up at the Wisconsin 12-yard line. A few plays later, Dalton scored on a 4-yard run, giving TCU the lead in what looked to be a back and forth battle.
With each team scoring points on its first two possessions, it started to look like the last team to have the ball was going to emerge with the victory. However, both defenses eventually clamped down and turned the game into a slugfest.
TCU went into halftime with a 14-13 lead.
TCU got the ball back to start the second half, and methodically worked their way down the field. Key completions by Dalton took the Horned Frogs deep into Wisconsin territory, and then TCU turned to the ground game. Fullback Luke Shivers capped off the drive with a 1-yard touchdown plunge, giving TCU a 21-13 lead.
Wisconsin continued to drive the ball on the Horned Frogs, but were unable to score again until Ball rushed for a 4-yard touchdown with two minutes left in the game. With the possibility of overtime looming if Wisconsin converted the two-point conversion, defensive star Tank Carder made the play of the game, swatting away a Tolzien pass that would have evened the score.
With only one Wisconsin timeout remaining, all TCU needed was a first down to seal the victory. On 3rd and 4, RB Waymon James picked up five yards, and the rest was history. Purple pride swelled in Pasadena as TCU and their fans celebrated the victory and their undefeated season.
Jeff Gross/Getty Images
An emotional Gary Patterson talked about how this victory was for everyone: TCU, its fans and for all the small schools that don't get the recognition that they deserve. He spoke about the text messages that he received from Boise State and other schools across the country telling Patterson "go win this for us!"
TCU's victory over Wisconsin is bigger than one team completing an undefeated season. It is bigger than winning one of the best Rose Bowl games ever played. It is bigger than the discussion over whether or not there should be a playoff system in college football.
In many ways, TCU's Rose Bowl victory holds much more significance than who wins the BCS National Championship Game.
Years from now, when people look back on the 2010-2011 bowl games, they will remember how David slayed Goliath. They will remember that TCU's Rose Bowl victory over Wisconsin proved once and for all that small conference schools can be every bit as good as large conference schools.
The debate over a playoff system is one for another day. Today, TCU should bask in the glow of what they have accomplished.
It won't be long before everyone will be hard-pressed to remember who won the 2011 BCS National Championship Game, but they never forget the significance of TCU's Rose Bowl victory over Wisconsin.
This article is
What is the duplicate article?
Why is this article offensive?
Where is this article plagiarized from?
Why is this article poorly edited?

TCU Football: Like this team?