New Year's Day Bowl Games: Full Coverage of Today's Action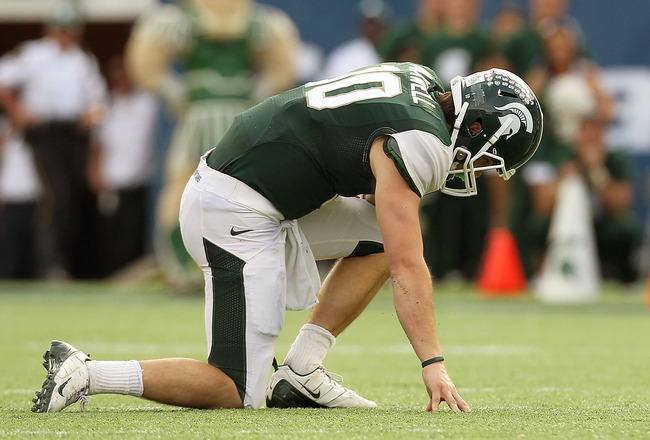 Mike Ehrmann/Getty Images
New Year's Day bowl games were exciting, but for the most part, were not the close games everyone expected.
While Texas Tech and Northwestern duked it out to a seven-point game, and the Rose Bowl came down to a the final moments, the rest of the college football witnessed major blowouts.
The Rose Bowl was claimed by TCU, two-point winners over Wisconsin, after the Badgers failed to convert a two-point conversion in the closing minutes.
Along with Wisconsin, the rest of the Big Ten also performed miserably, failing to pick up a win for the conference in five total tries.
The conference knew that would be facing difficult competition heading into 2011's debut, but little did they know just how bad it would get.
The first BCS bowl is in the books, and another one is currently playing out, with another one-sided affair beginning to take shape.
All these games and more are included in Bleacher Report's coverage of New Year's Day bowl action.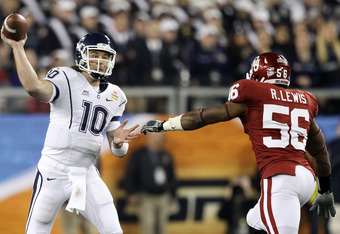 Ronnell Lewis Injury Update:
The medical staff at the Fiesta Bowl has taken Oklahoma linebacker Ronnell Lewis to the hospital after suffering a neck injury. Lewis was involved in a helmet-to-helmet blow and laid motionless for several moments before being loaded up on to a stretcher with his neck stabilized.
Lewis was responsive and able to communicate with team doctors before leaving the stadium. There has not been an official update from the television crew at ESPN to this point.
The Sooners have been in control of this game throughout, now up 21 points with just under eight minutes remaining. Connecticut came into the game hoping to keep the score respectable. Although they are losing by a few scores, they have represented the Big East well.
Jordan Todman got off to a slow start, but it appears he may be NFL bound after beginning to heat up. Impressing NFL scouts, even in a loss, may boost his draft stock. Todman told the media he would announce his decision, immediately following the Fiesta Bowl.
Rose Bowl vs. Fiesta Bowl: Which game was more exciting to watch?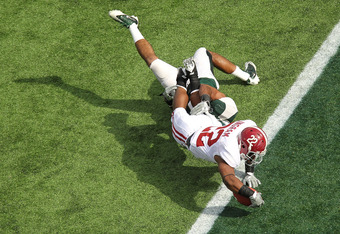 Capital One Bowl 2011 saw Alabama roll over Michigan State in perhaps the most surprisingly lop-sided game of this bowl season thus far.
Mark Ingram, the 2009 Heisman Trophy winner, ran for two TDs, breaking the school record for career touchdowns. The Crimson Tide had no troubles burying Michigan State 49-7 on Saturday. Alabama's win was the biggest margin of victory in Capital One Bowl History. Ingram also passed Shaun Alexander's school mark of 41 TDs with 42 career touchdowns.
The last time a team won a Capital One Bowl in such a lop-sided affair was in 1953, when East Texas State ran away from Tennessee Tech in a 33-0 drubbing. The contest was known as the Tangerine Bowl back then.
Greg McElroy threw for 220 yards and one touchdown, and was pulled with the rest of the Crimson Tide's offensive starters early in the third quarter. Alabama finished the season 10-3, and added to the Beg Ten's woes, helping the conference finish 0-5 in bowl games.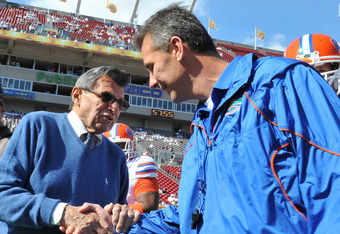 Outback Bowl 2011 was the site of Urban Meyer's curtain call as the head coach of the Florida Gators, his team payed tribute to him admirably with a 37-24 victory over Joe Paterno's Penn State Nittany Lions.
The post game scene seemed slightly backwards, with 84-year-old Paterno shaking the hand of 46-year-old Meyer. Paterno plans to return next season while Meyer will be leaving head coaching due to health concerns.
Meyer's six-year tenure at Florida included two National Champions. Meyer told ESPN after the game, "I'm at full peace because I saw a bunch of smiles in that locker room. Locker rooms really aren't very much fun when there's ... a pain in your stomach and your chest and everything else. There was a lot of fun in there. A lot of fun."
Meyer's resignation announcement last month came after he had initially intended to leave the year before. However, despite his doctor's recommendation, the resilient coach returned for a final year.
The Gator's victory was capped by Omarius Hines and Mike Gillislee rushing touchdowns, and three Chas Henry second-half field goals. With a six-point lead and about two minutes remaining, Ahmad Black sealed the win with an 80-yard interception return TD. Florida (8-5) sends Meyer out with a solid finish to a stellar coaching tenure.
Coach Joe Paterno and his most memorable bowl wins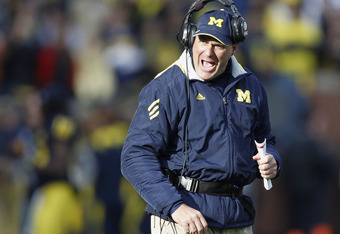 Rich Rodriguez would be wise to text his agent following his team's dismal performance against Mississippi State in the Gator Bowl. Michigan never really got going against the Bulldgos, and Rodriguez has been on the Hot Seat for months already.
MSU's Chris Relf was involved in four touchdowns, while teammate Vick Ballard ran for three scores. The No. 21 Bulldogs embarrassed Rich Rodriguez's Wolverines 52-14 on Saturday. The loss can't be blamed on Denard Robinson, who got the Wolverines off to what seemed to be a solid start with decent momentum.
Michigan's defense couldn't be found, and the 38-point drubbing was the worst bowl loss in Michigan's history. Consecutive losing seasons and sanctions from the NCAA for recruiting violations put Rodriguez in serious jeopardy of being unemployed after just three years with the program.
A decision from the school will likely be coming swiftly, and Rodriguez should be packing his bags.
For on Rich Rodriguez and his potential departure from Michigan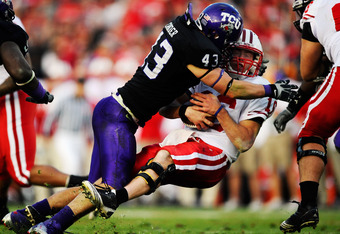 Tank Carder sealed the deal for the TCU Horned Frogs when he leaped in the air to bat down a pass attempt on a two-point conversion that would have tied the game late.
The Wisconsin Badgers had scored a touchdown with just over two minutes remaining in the game, but needed two points to tie the game at 21 each. However, as Wisconsin's Scott Tolzien attempted to find his wide open tight end, Carder was blitzing and had managed to push the offensive line back far enough to get a solid leap off the ground.
The failed two-point conversion was then followed by a doomed onside kick attempt from the Badgers, and TCU took a knee to end the game.
The Horned Frogs finished their season undefeated (13-0) for only the second time in the program's history, and won their first ever appearance in the Tostitos Fiesta Bowl, overcoming last season's loss to Boise State in the same BCS bowl.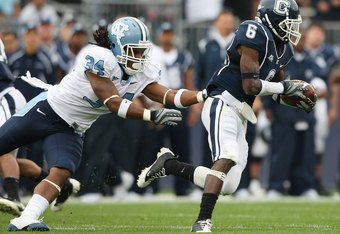 Jasper Howard was laid to rest 14 months ago after being fatally stabbed, just hours after UConn's win over the Louisville Cardinals.
However, the Huskies remember his impact on the team, and have chosen to honor him with banners and a pre-game tribute.
In the UConn locker room hangs a sign that reads, "Play every play like it's the last play you'll ever play," words Howard reportedly spoke before the Louisville game, that would truly prove to be his last game.
UConn defensive tackle Kendall Reyes admitted to Newsok.com that he and teammates think about their slain teammate every day.
"He's a big part of where we are, and he's still with us. It was our goal when he was here to get to the BCS. It's really special we finally made it."
The night of Connecticut's win over Louisville 35-28, Howard went to a school dance with friends. According to the police report, Howard was fatally stabbed following a confrontation and subsequent fight with someone who said something inappropriate to a girl. The Police has since arrested the primary suspect in the case, John Lomax III, who is awaiting trial on murder charges. Lomax III maintains he is not the man who stabbed Howard.
Predictions on Remaining Bowl Games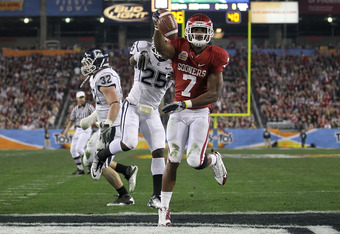 Fiesta Bowl 2011 is underway, and so far Oklahoma leads UConn as expected, but the game is not yet a blow out.
The Sooners struck first and second with a touchdown strikes on a pass from Landry Jones to James Hanna, and a three yard rush from DeMarco Murray.
Connecticut countered with a defensive score, an interception by Dwayne Gratz at the Okla 46, returned all the way back.
So far UConn's offense has failed to move the ball efficiently, and Oklahoma looks like the team everyone was expecting. Jordan Todman has 11 carries for just 14 yards. Despite QB Landry's interception, which was a bobbled pass on the mark, the Sooners seem to have this one in control.
Oklahoma has already passed for over 200 yards, while UConn has just 73 total yards of offense. The Sooners have tacked on two field goals and lead 20-7 with 2:05 left before halftime.
Will These Bowl Predictions Come True?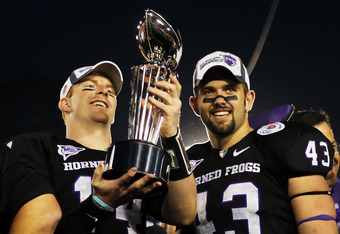 TCU football and Andy Dalton claimed a victory for the their school in the Rose Bowl Presented by Vizio today, but also claimed a victory for all non-AQ conferences everywhere.
Dalton threw for a touchdown and ran for another as the Horned Frogs finished their season undefeated (13-0), for only the second time in the program's history. TCU Linebacker Tank Carder deflected a pass attempt on Wisconsin's 2-pt conversion try with around two minutes to play. TCU's Bart Johnson recovered the on-side kick attempt late and the third-ranked Horned Frogs chipped No. 4 Wisconsin 21-19 in Pasadena.
TCU's QB also threw for 219 yards, and Montee Ball rushed for 132 yards and a touchdown late in the game Badgers for the Big Ten co-champion Badgers, who joined the rest of the conference in a five-loss performance.
For TCU, then finally get closure following a loss to Boise State in last year's Tostios Fiesta Bowl. There is a chance the Horned Frogs could finish second in the final standings, a big statement for all non-Automatic Qualifying schools fighting the BCS system.
More on the Rose Bowl and other New Year's Day games